Some stories take a bit of time to unfold. It's not because the story isn't good. There are simply times when you are chasing way too many squirrels, and time gets in the way. For me, today's story about Dion Vineyard started on May 21, 2021.
Micheal Alberty tweeted a link to his article on OregonLive titled, "Highway 18 revisited: Uncovering Yamhill County's hidden wine treasures." He started by describing Remy's Black Heart:
Every epic wine journey should begin with sparkling wine, so let's start with one of Oregon's best-kept secrets. Its name is "Black Heart" Blanc de Noirs, and I can't get enough of its frothy combination of red fruits and citrus. If I ever make a list of the top Oregon bubblies, winemaker Remy Drabkin's "Black Heart" will crack the top three.
At this point last year, I was in the process of gathering Oregon Bubbles for my Sparkling Report, and so after reading the article, I had to ask Micheal about other Sparklings via Twitter. His response was, "Here's a sleeper pick: Dion Vineyard." Of course, the more I dive into Dion, there are a ton of tiny gemstones to unpack, so let's get started.
Kevin Johnson and his wife Beth Klingner are the current winemakers, stewards of the vineyards, and everything else when it comes to operating a winery. Kevin is the third-generation winemaker who ran away from the vineyard to join the Navy. The vineyard was planted when Kevin was three back in 1973 by Ron and Joanne Johnson on a five-acre plot. In the 90s, Ron wrote the first petition for the Laurelwood AVA inside the Chehalem Mountains AVA. Today the vineyard has 60 acres under vine.
When it was time for Kevin to choose to embrace the vines, he decided to join the Navy instead. He decided to follow his passion for airplanes, space shuttles, and drones, which led to a place where he nearly got clipped by a Tesla Roadster driven by Elon Musk at SpaceX. As cool as SpaceX was, his job at Intel played a more prominent role in the overall story.
From the 1970s until 2006, the family farmed and sold the grapes. Then, in 2005, Kevin attended his sister's wedding, where a Pinot Gris was highlighted. It wasn't just any Pinot Gris, though, it was a batch Kevin and his dad made together. The moment of sharing a wine he made with his family led him to leave the Navy to help make the family's first commercial wine.
If you follow Greek Mythology, you know Dion is Dionysus, the god of harvest and wine. It also happens to be Kevin's middle name.
Beth lived in Colorado and started to get into wine while working for Intel. At one point, Intel gave employees the option to transfer to Oregon. With her passion for wine growing, Beth decided to make the trek to Oregon Wine Country when presented with an opportunity.
During one of her visits to Archery Summit, when Anna Matzinger was the winemaker, she started to take some shifts on the weekends. Then, in 2010, she decided to attend a Wine Festival in Portland, where she met Kevin for the first time. Beth found out he was a winemaker as the two talked and offered to help. Can you guess what happened next? Kevin took her up on the offer because winemakers always need help!
The two continued to date while both of them were working on Intel. In 2011, they made their first vintage together, and in 2013 they got married in front of the 100-year-old maple tree you can't miss as you drive into the parking lot. It is also the tree on their Wedding Tree Cuvee Sparkling.
Getting back to the "sleeper" tweet. I reached out to Dion about their Sparkling, and Beth replied to my email. We coordinated a time to meet, and she was super gracious to meet me at my house. I was pleasantly surprised when she dropped off two different Sparkling wines!
We stood in my driveway easily for 20 minutes, chatting about all sorts. It has at this point I found out Kevin worked for SpaceX. She also told me Luisa Ponzi makes the best Sparkling in the Valley. During the conversation, this was also the first time I heard Micheal Lundeen's name brought up in conversation.
As Beth was leaving, she invited me to come to visit, and Dion immediately went onto my list of wineries I must go out and taste. The driveway conversation occurred in June of 2021. I finally got out to visit in March of 2022. Yes, I know you are thinking, "Why did it take me so long to visit?" I ask myself that same question, and it boils down to many excuses. I should have accepted the invitation way sooner!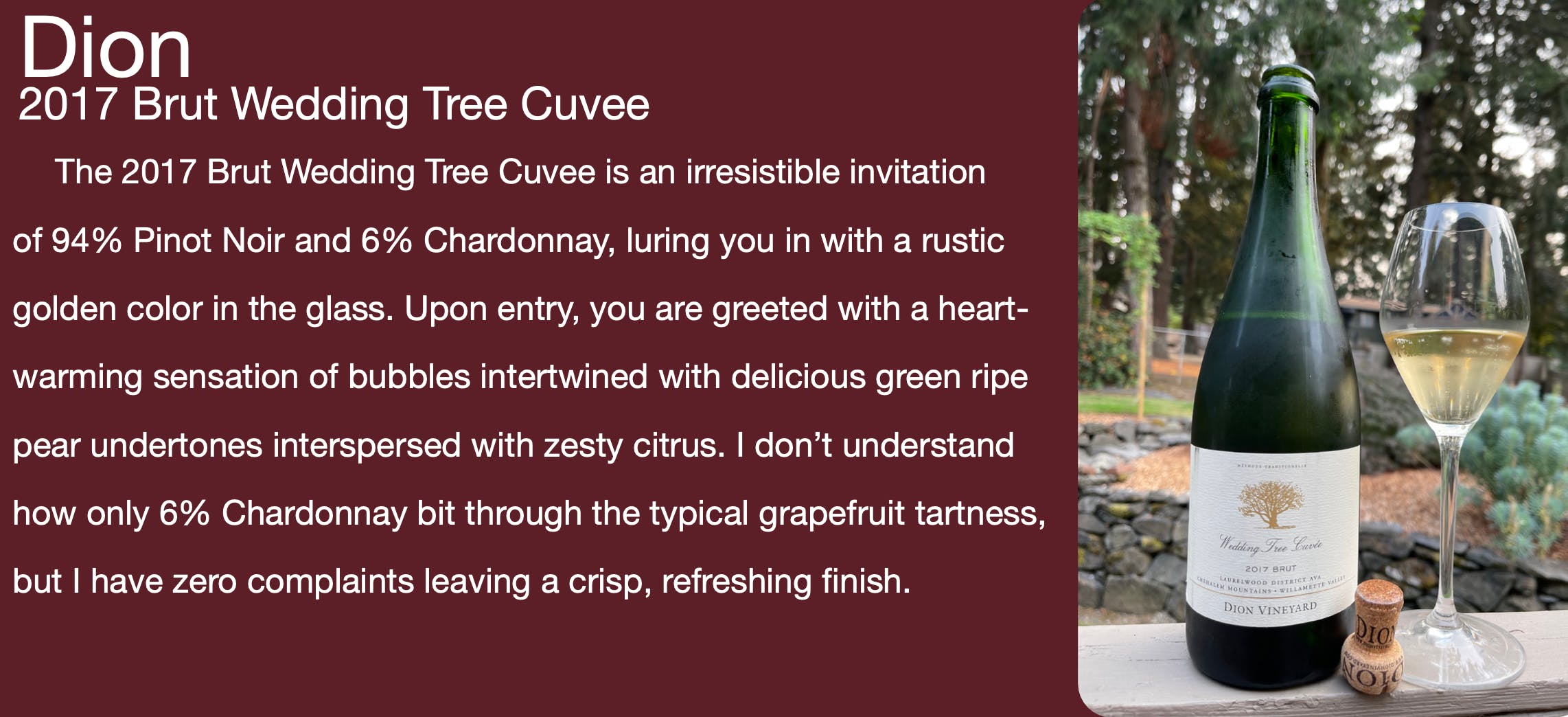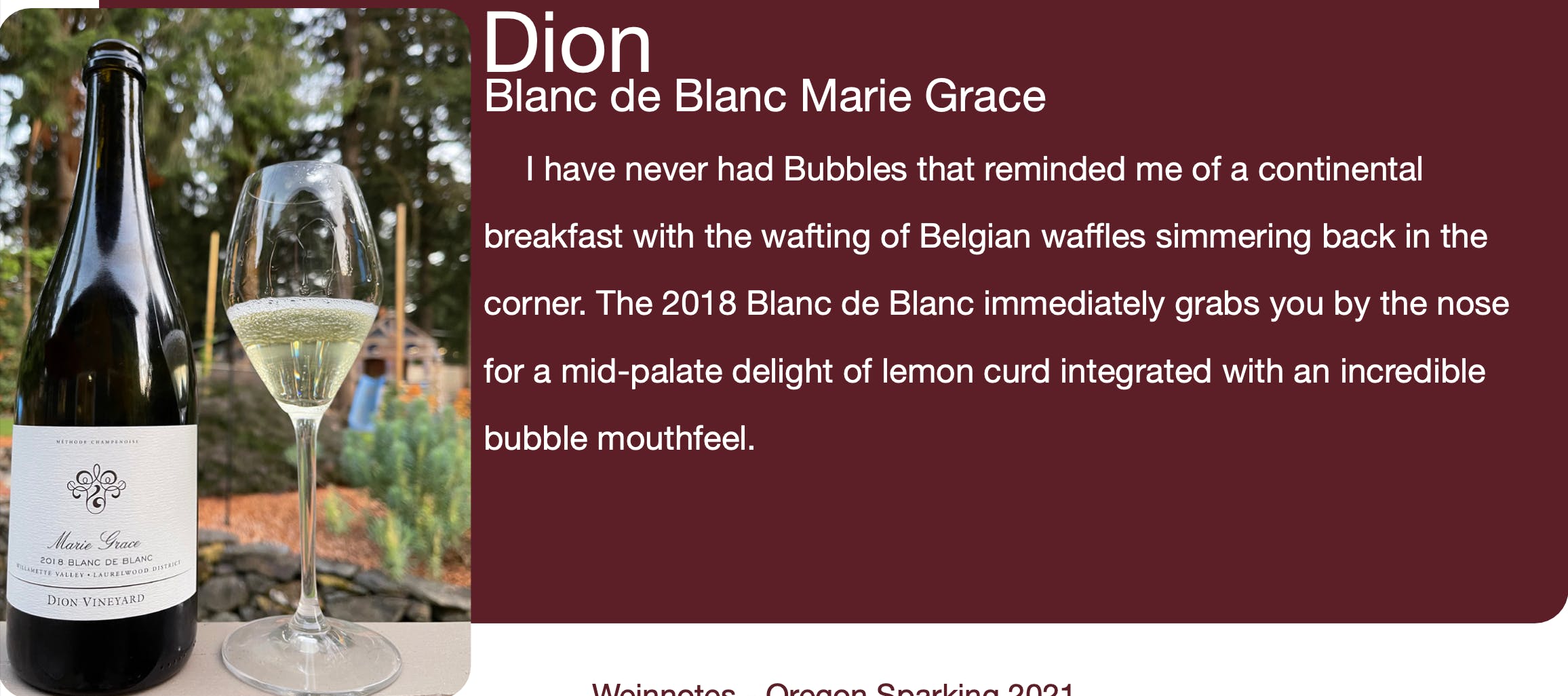 On the morning of March 5th, I pulled into the parking lot of Dion, and I am pretty sure it was warmer than it was this morning. I stood out on the deck with Beth, Kevin, and Sara (tasting room manager), chatting up a storm while tasting their wines. Customers came in, and we moved into the winery before walking the old Pommard vines.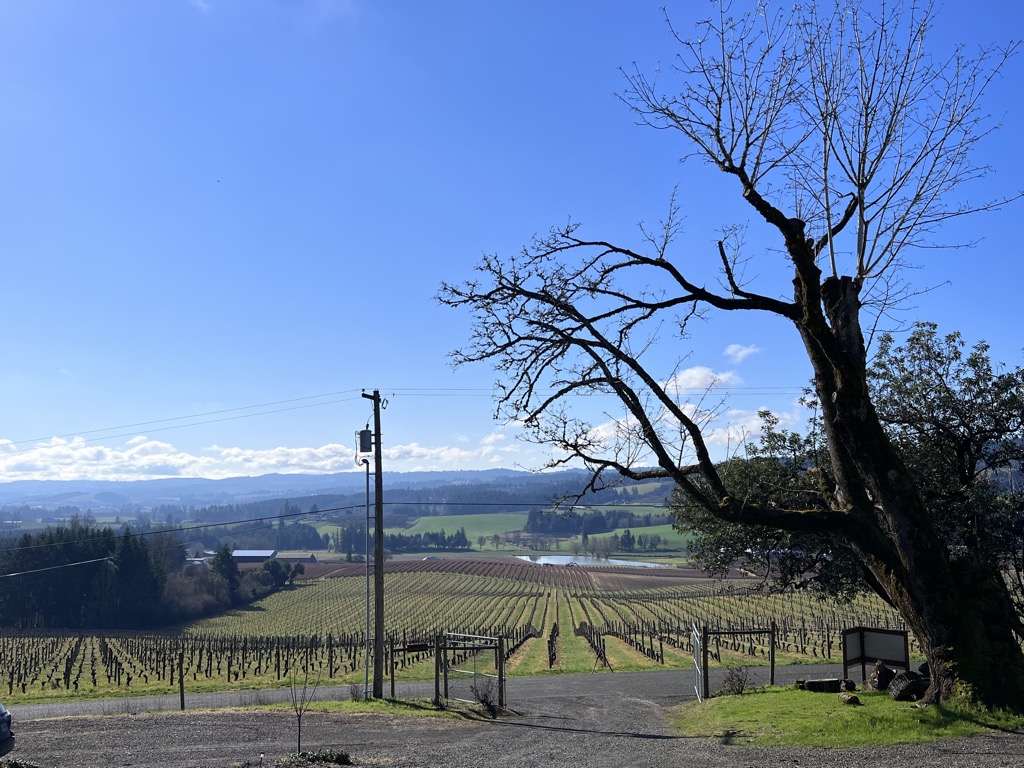 In total, we talked for a solid three hours! I enjoy the heck out of talking with winemakers. Unfortunately, my trusty journal, where I record as much as possible, was barely opened. I was enjoying myself way too much! When I got to the car, the first thing I did was write down all of the wines we tried with a little bit of information so that I wouldn't forget.
2017 Wedding Tree Cuvee Sparkling
2018 Wedding Tree Cuvee Sparkling
2021 Pinot Gris
2018 Chehalem Mountains Pinot Noir
2017 Old Vines Pinot Noir
2016 Old Vines Pinot Noir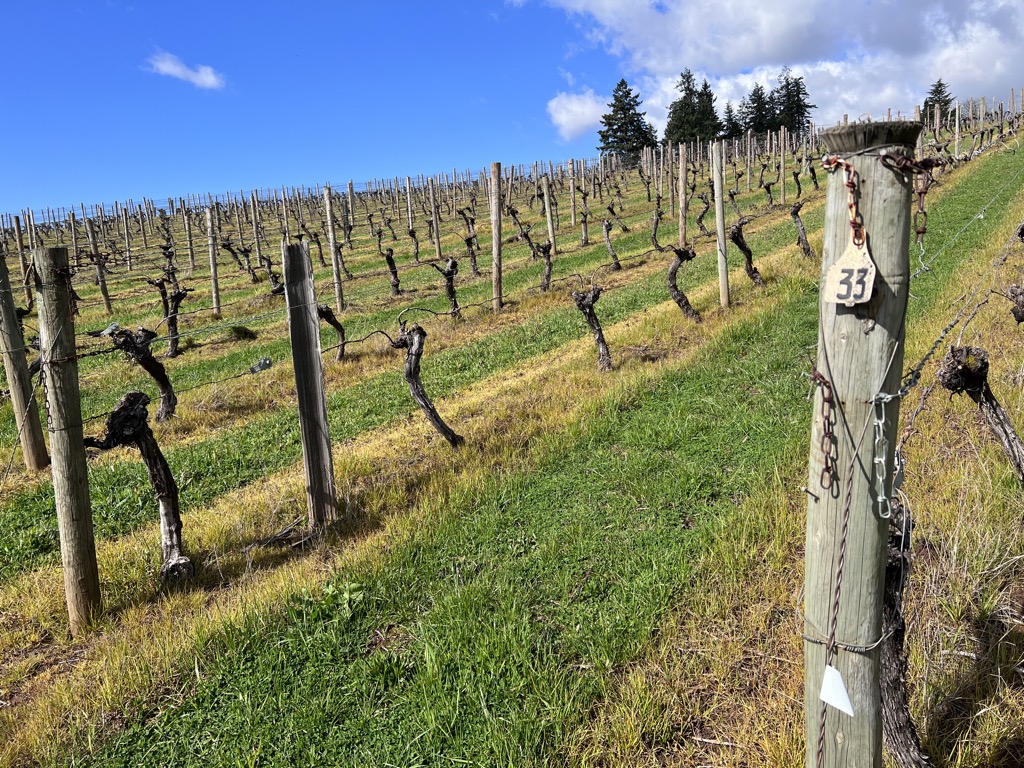 The 2018 Chehalem Mountains Pinot was killer from a quality and price perspective. It was in my top four, and with a price point of $35, it could be a Tuesday night bottle while impressing guests for a special Saturday night bottle. My favorite wine was the 2016 Old Vines Pinot, with the 2017 Old Vines not being very far behind.
Oh, the Sparkling wines need a paragraph all to themselves! If I had to rank the wines, I would put both Sparkling wines alongside the 2017 Old Vines. There are so many things happening with a Sparkling it is challenging to compare with a Pinot. I don't think you will ever hear, "Oh, this Sparkling is a good Tuesday night wine." Sparkling is excellent for any day of the week, and it is an automatic crowd-pleaser. You never hear someone turn down a glass of Sparkling!
I enjoyed the Pinot Gris, and I am starting to appreciate the variety more and more. I would slightly put it behind 2017 Old Vines and Sparkling. If you are a Pinot Gris fan, there is a considerable likelihood you will disagree with me and enjoy it way more.
I went onto Dion's website and noticed they have a 2011 Winemaker's Reserve available for $65. Without tasting this bottle, I would buy two in a heartbeat. One bottle is to open immediately just to have the opportunity of tasting an 11-year-old Pinot. The second bottle I would open a year or two after the 2022 vintage is released to try side by side. Doesn't that sound like fun?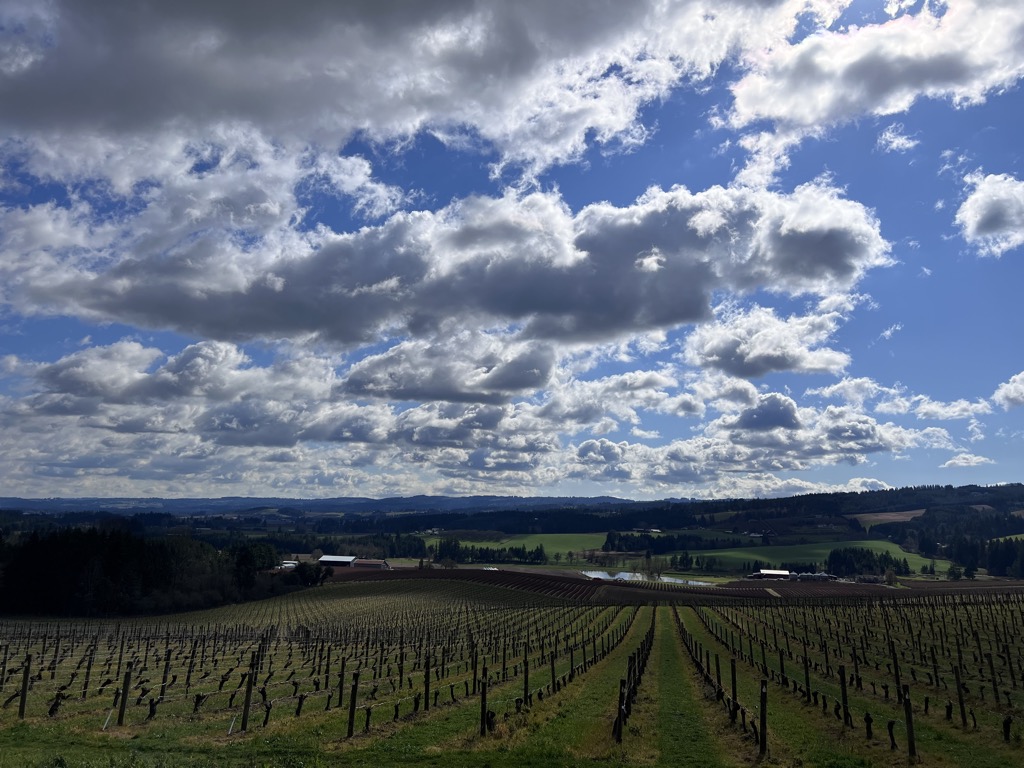 Something to know about Dion, they are out towards Hillsboro and not in the central part of the Valley. They are an authentic gemstone, and if you don't go looking for them, there is a decent chance you will not find them. When I started this newsletter in July of 2019, my goal was to find these gemstones to pass along to you. At this point in the newsletter, I am sure you know what I will say next. Visit Dion's website, make a reservation to taste, and when you see Beth, please tell her, "A.J. sent me!"
With Gratitude,
A.J.