Twenty years ago, a 3.5-acre vineyard named Elle Reve was planted with Dijon clones 115, 114, 667, 777, and Pommard. The winery was called Laura Volkman Vineyards, and Laura was part of a dynamic husband-wife duo. She was mentored by Michael Etzel of Beaux Freres, tended to the vines, personally bottled, and sold the wine through her mailing list. Legend has it the winery had a cult following.
Ten years ago, Laura came down with an unfortunate illness right before harvest, forcing her to sell the property. Bill and Sandy Sanchez bought the property to what we know today as Potter's Vineyard with a label known as "Vino Vasai," meaning "Wine Potters." January of last year, I provided more backstory, and you can read it here.
When I attended the McMinnville Wine and Food Classic back in March, I stopped by Potter's booth, tried a Rose Sparkling, and had a great conversation with Bill. He brought up the topic of an idea he had and wanted to see if I would be interested in participating. So I made sure he had my phone number. A couple of weeks later, we talked about celebrating the 20th anniversary of the vines and the tenth anniversary of Potter's Vineyard being in business.
The celebration was to have a small group of people blind taste different 2014 Pinots from a few other AVAs. I am always down with a blind tasting and was honored beyond all get out to attend. A few more emails were sent, a date was set, and the calendar entry made it real.
In between the last email and the event, something else happened. Great Northwest Wine named Potters as 2022's winery to watch. Another notable event occurred in January when I volunteered for the McMinnville Wine Competition. I took a picture of Bill's 2018 Barrel Select and the 2018 Estate Reserve Pinot, letting him know both won double gold.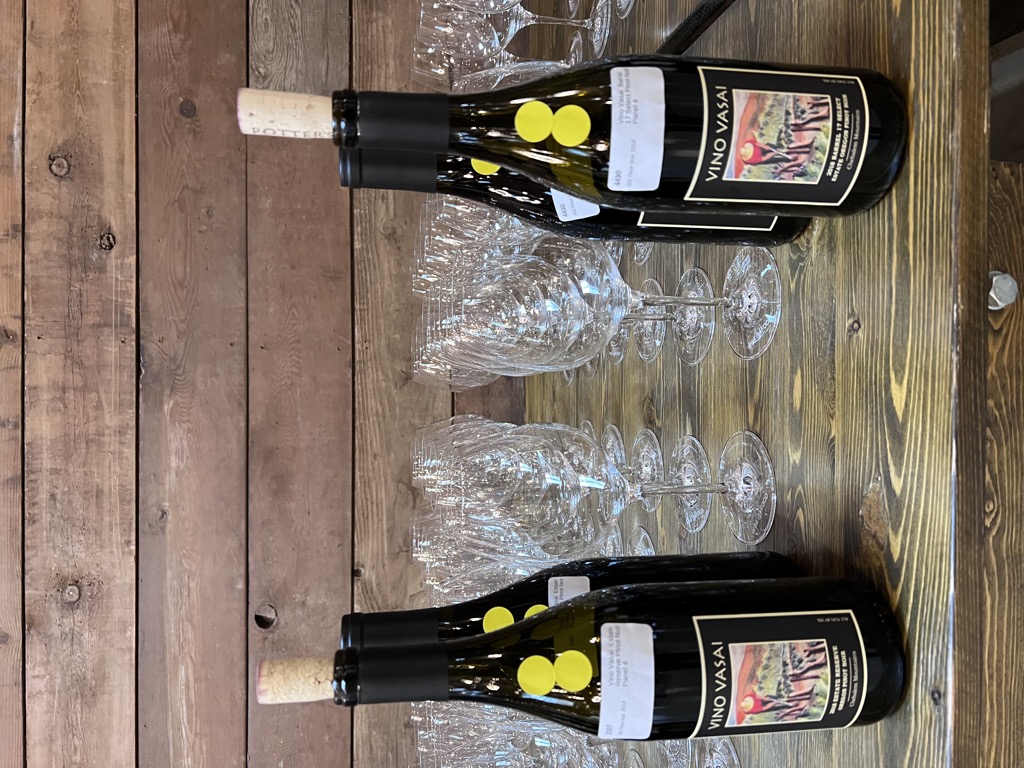 A few days before the event, I got another email from Bill about what he sent everyone who was attending. I was flattered to read, "We will include the score sheet from our Celebrity Taster A.J. Weinzettel in the unlikely event of a tie in the top-ranking wine. A.J. is a local wine writer, judge, and author of a weekly newsletter where he describes his experiences and impressions of Oregon wines. It will be great to hear A.J.'s thoughts after the big reveal and discuss how the 2014's are holding up, what we liked or disliked about them, and if there were any consistent differences by AVA."
I am so far from a celebrity taster, but such kind words nonetheless! Thank you, Bill!
On the day of the event, I arrive at the winery a couple of hours before everyone else shows up. The bottles are in a box with brown paper bags over the labels. There are letters on the bags starting with A and ending with H. Bill meticulously pops one cork at a time, and both of us take a sniffy sniff from a glass to ensure nothing is corked. Sandy has the hands of a surgeon pouring the wines into little bottles with stickers to indicate which wine is which.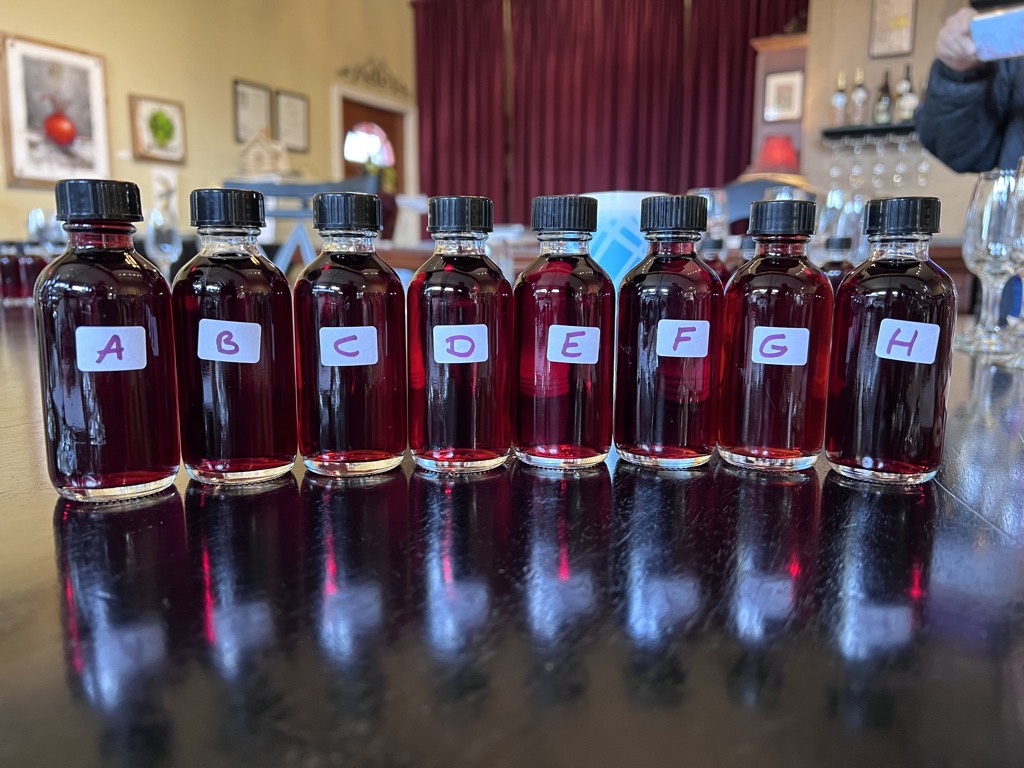 It had been a bit since the last time I visited. While Sandy finished pouring wine into the bottles, Bill showed me some improvements. The fire pit is now covered to help with the rain, but most importantly, to help shade us Oregonians who love the sun while being in the shade.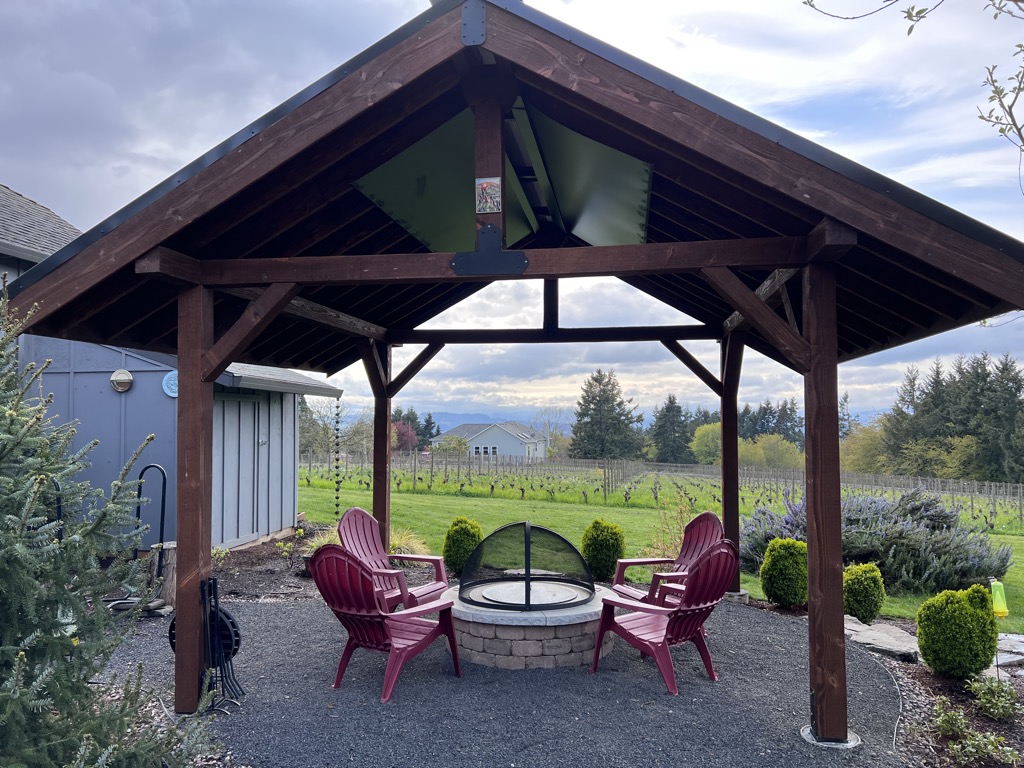 Bill told me how a crew came out to level the patio area allowing for more outdoor seating, and I have to say it looks marvelous!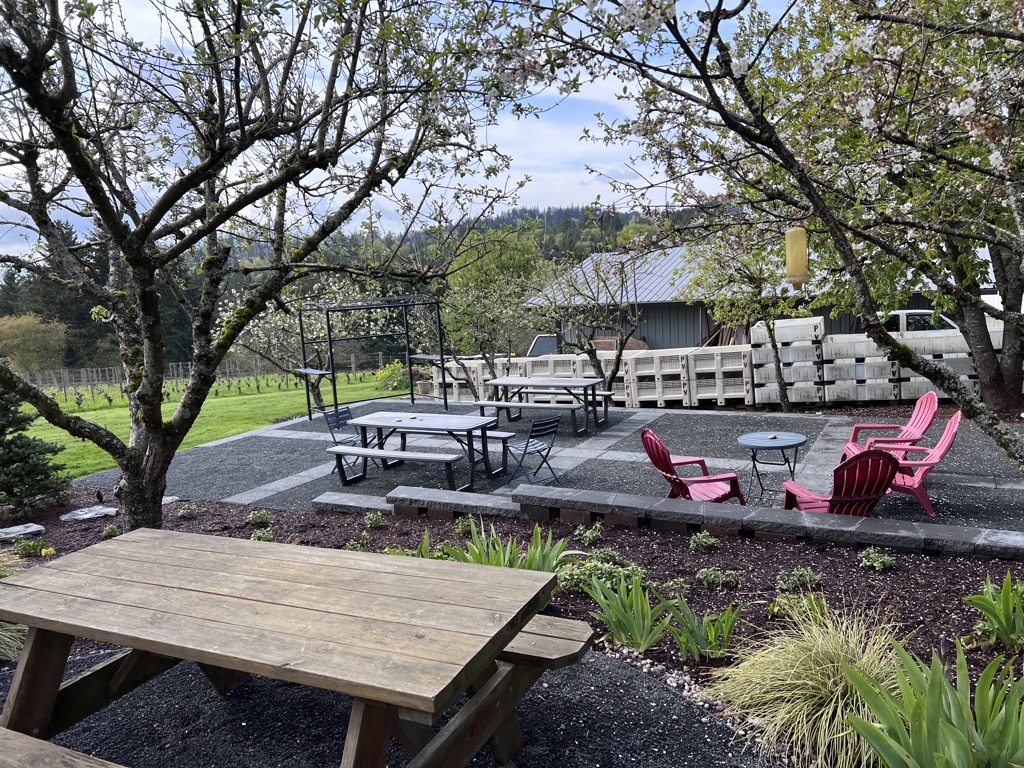 We moved on to talk about the vineyard and frost. Bill thought half of the 2021 crop would be lost due to frost. He was showing me how some buds didn't make it.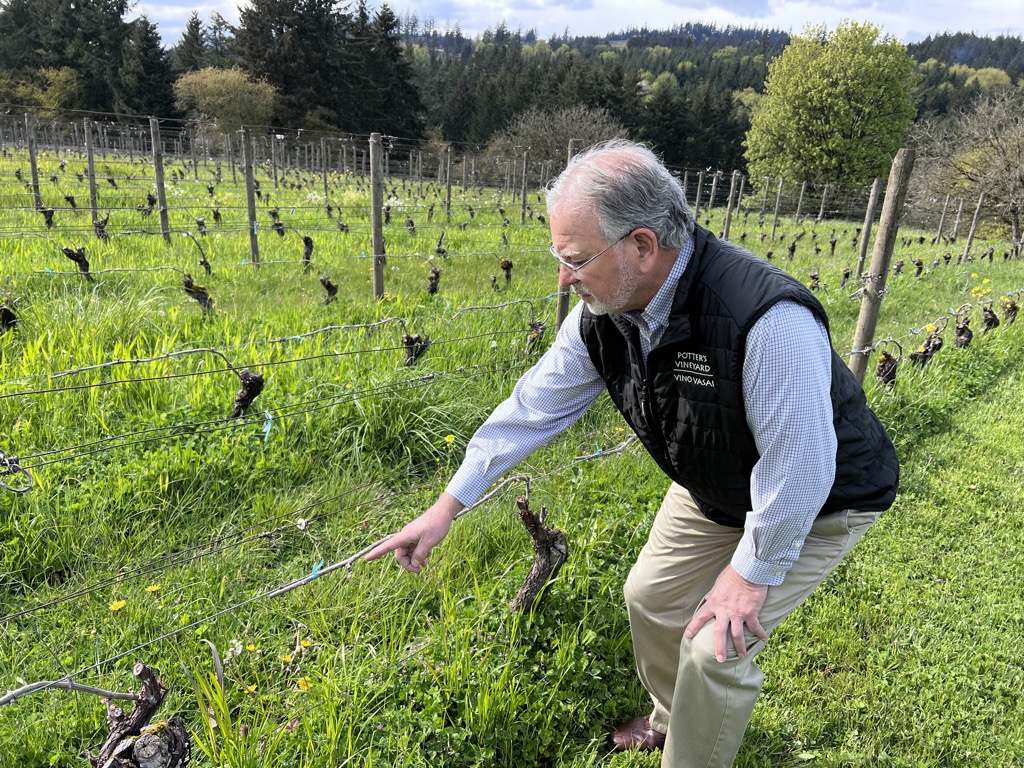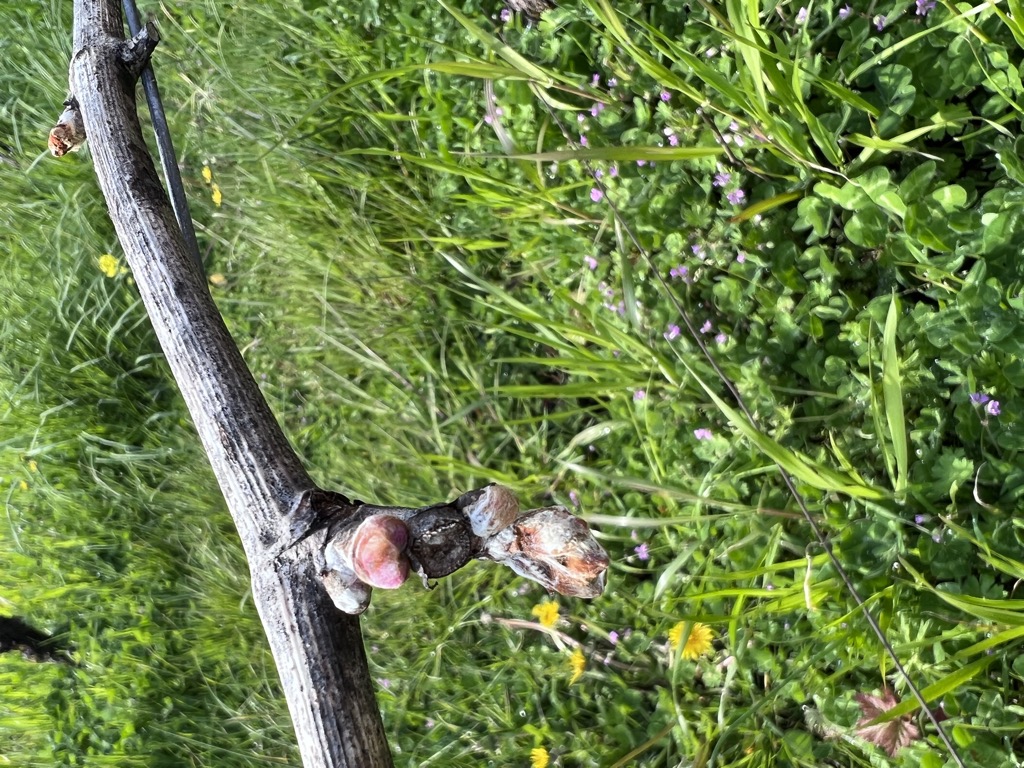 Once we came back inside, Sandy was done with pouring the wine. I helped Bill put the bottles on the tables, and there was plenty of time left before people started to show up, allowing me to browse the pottery and artwork on display.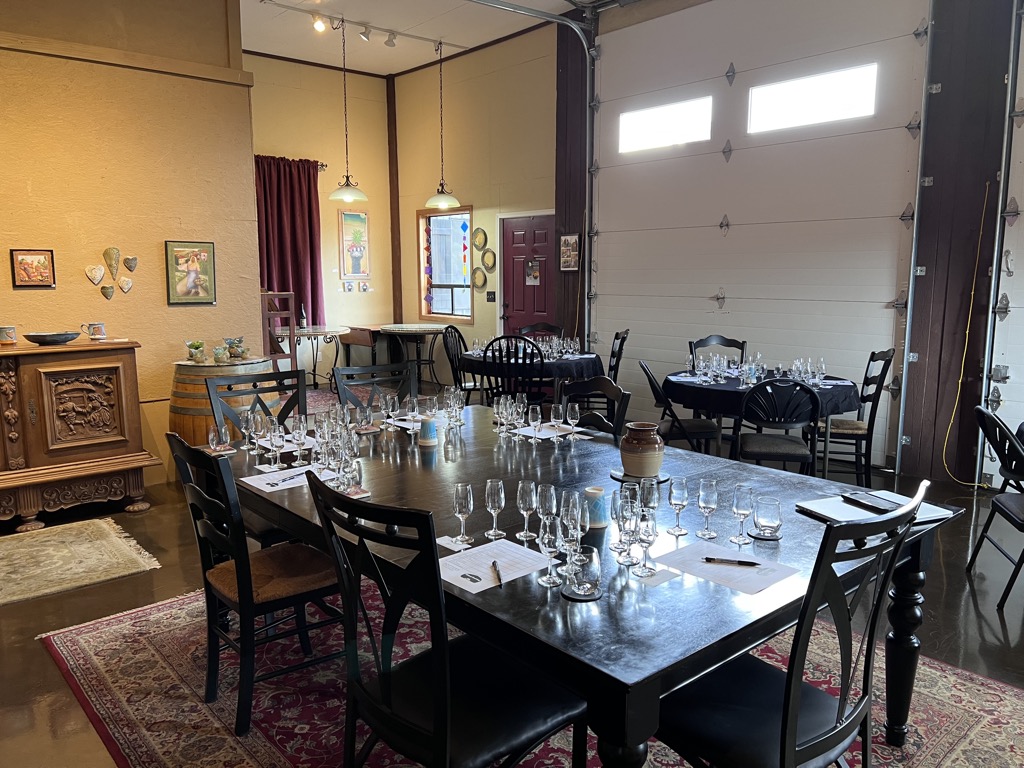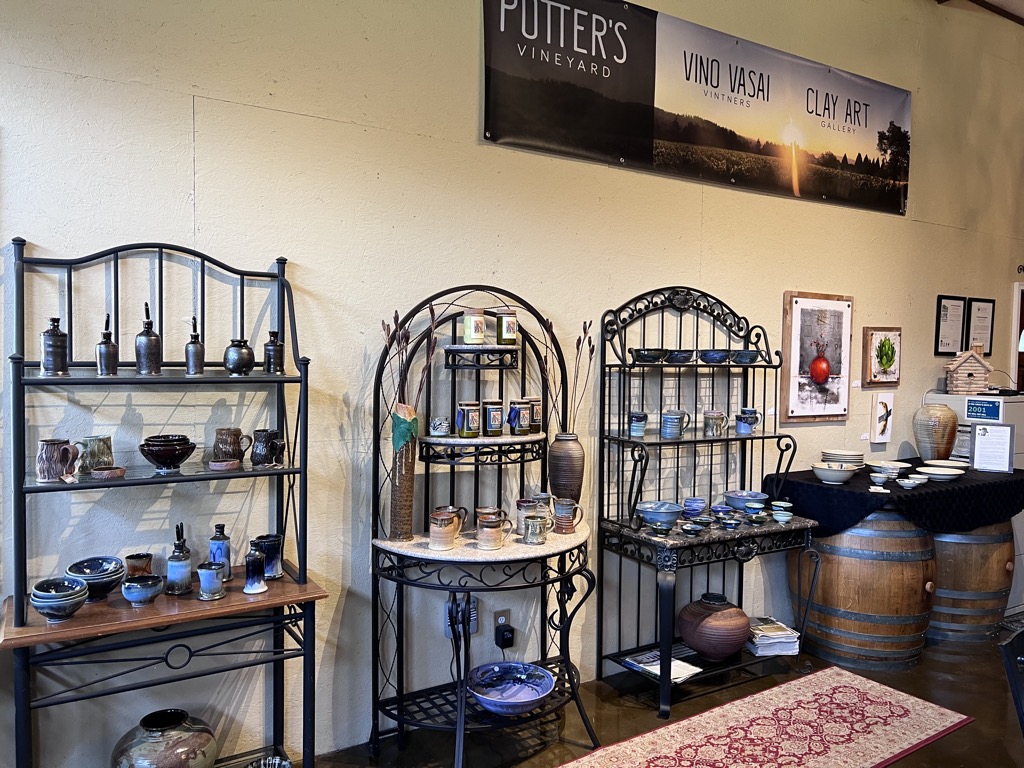 My two favorites were from Rosie Augustine. The attention to detail and realism of the artwork spoke to me.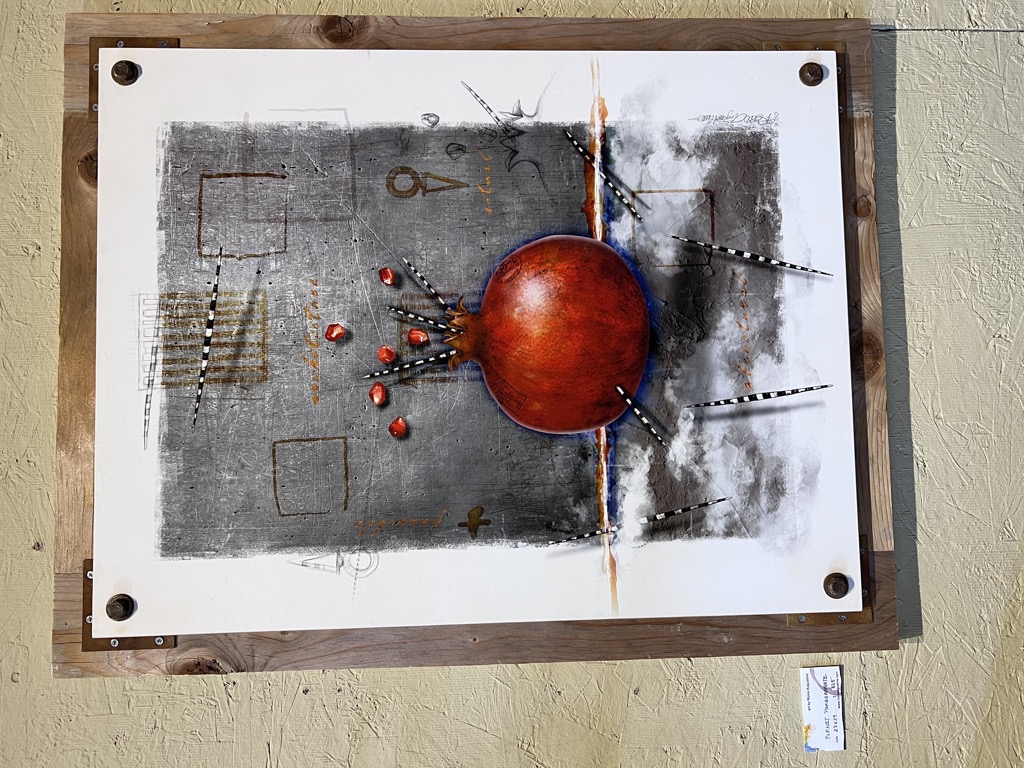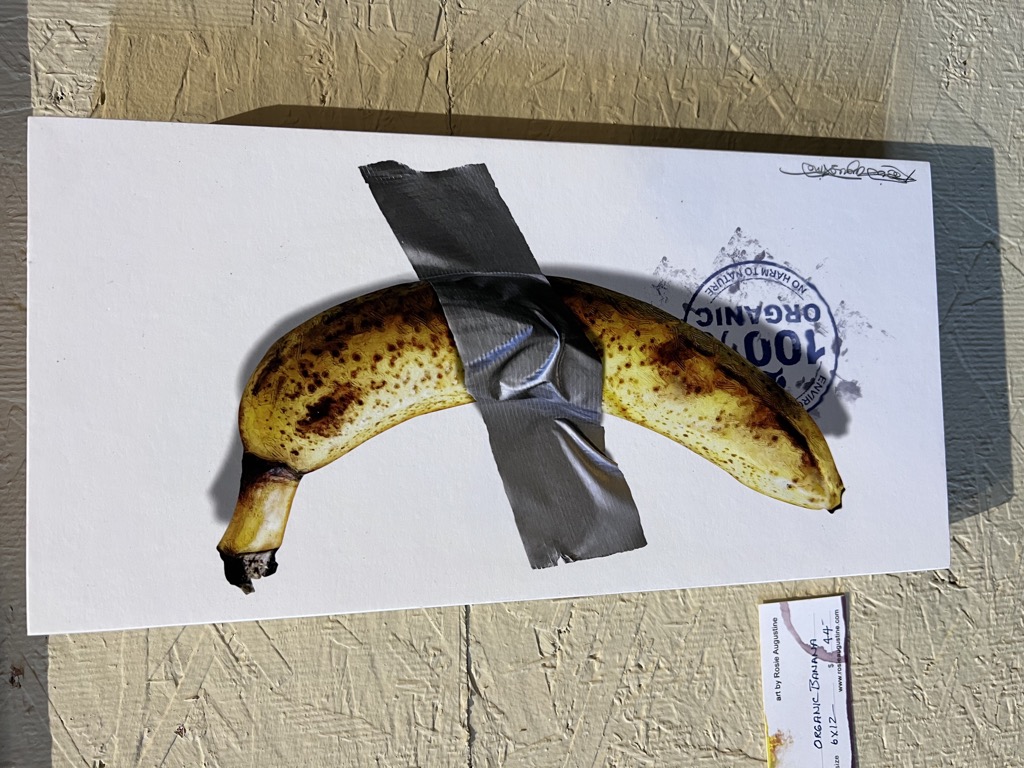 The two objectives for the blind tasting were super simple. First, rate from 1-8 which wine you enjoyed the most. Secondly, try and name the AVA of the wine. Whoever had the highest number of correct AVAs won a Vino Vasai 2014 Estate Reserve.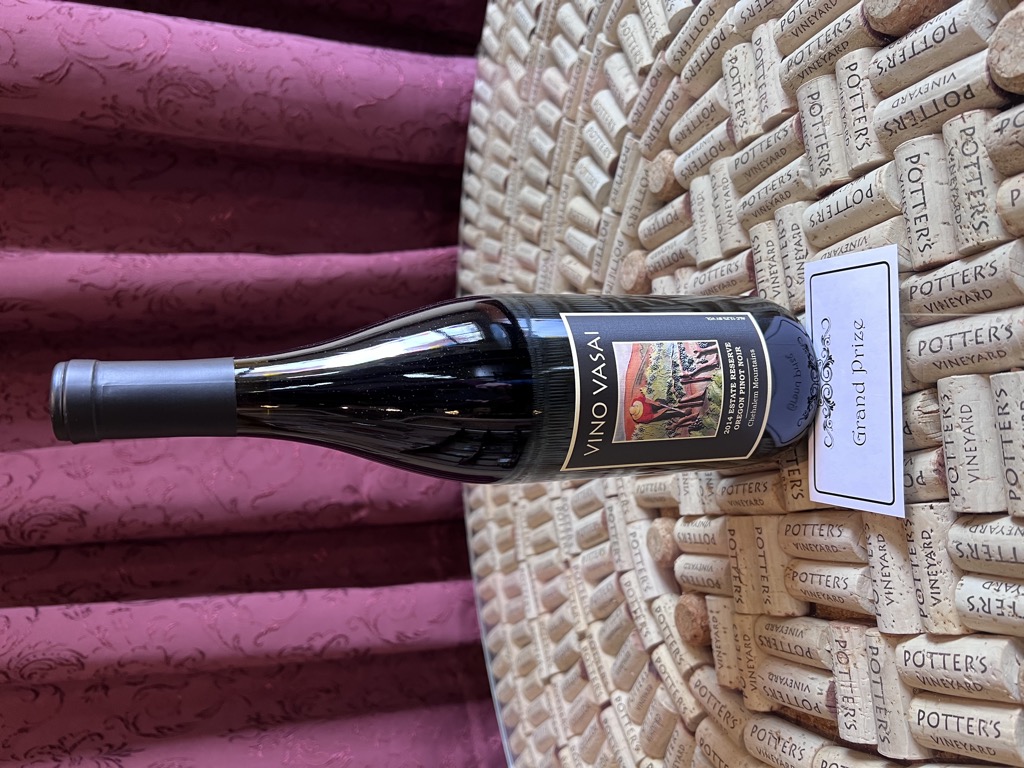 As people started to arrive, I witnessed firsthand how much Bill and Sandy care about their club members. They didn't need a CRM program to tell them about their customers. The couple was genuinely sincere, rattling off names of dogs and family members as if everyone was part of their family. One person in the group was roommates with Bill way back in the day. Tonight was about having a good time, celebrating a memorable occasion, and exploring eight different Pinots from 2014.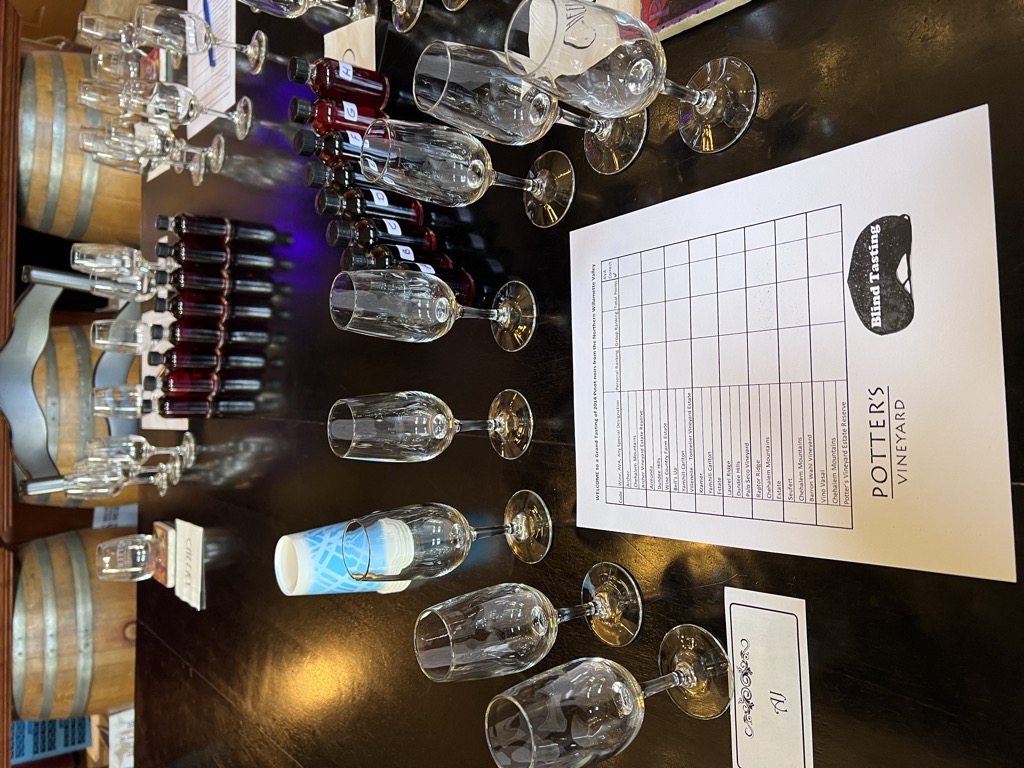 After some brief introductions, everyone was supposed to be quiet, heads down, tasting through the eight wines and ranking them for the next 45 minutes. Of course, there was talking, but nobody dared to try and sway other people into which wine was the best. I will say I compared notes with a couple of people after all of our opinions were committed to paper. The three of us were pretty darn close to one another.
Before I go into the results, I want to touch on the AVA guessing. Have you ever tried to blind taste a wine and guess if it was from The Dundee Hills, Chehalem, or the Yamhill-Carlton AVA? I hadn't, and I have to say guessing was my guiding light. Maybe I was overthinking it also. There are apparent differences in soil and elevation for the AVAs, but how can you get to those differences when there are different clones, toast levels of the oak, aging in the barrels, whole cluster or not that goes into the equation.
Bill took our sheets and started scoring to see what everyone liked the most and who got the most AVAs correct. Sandy proceeded to hand out a charcuterie box with a glass of Vino Vasai 2014 Estate Reserve.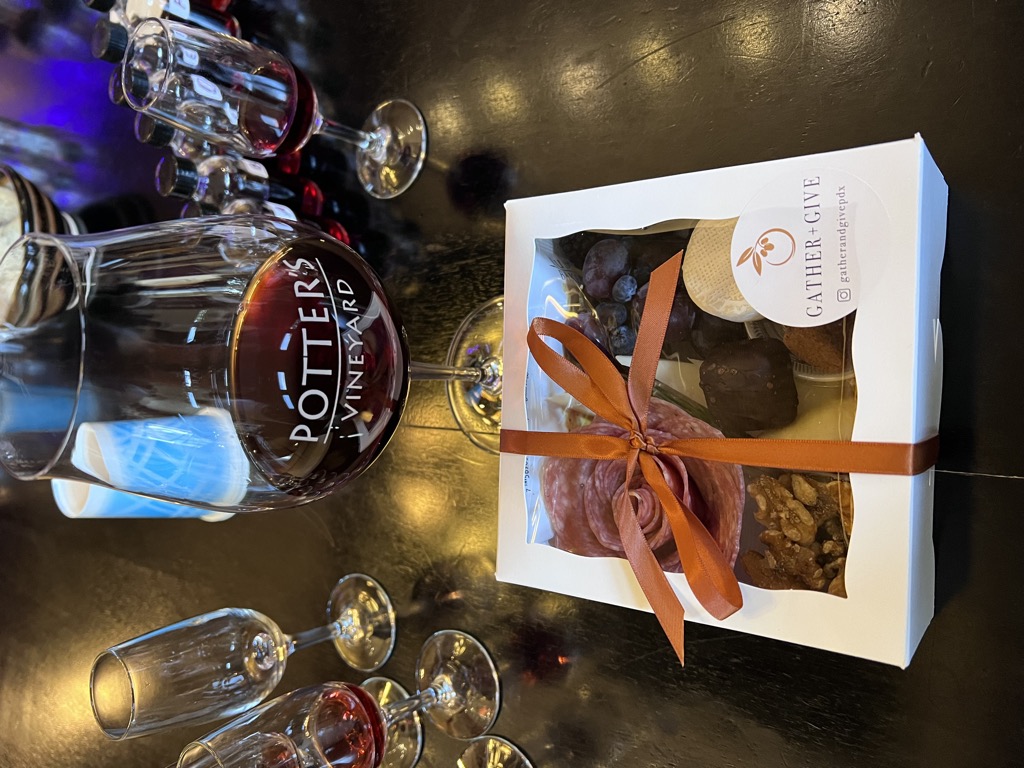 Here are the wines, my rating from 1-8, and what the group rated the wine.
Archer 2014 Estate Reserve Chehalem Mountains
My Ranking: 5
Group Ranking: 4
Armonea 2014 Wine Country Farm Estate Dundee Hills
My Ranking: 8
Group Ranking: 5
Bells Up 2014 Villenelle – Tonnelier Vineyard Yamhill-Carlton
My Ranking: 2
Group Ranking: 2
Kramer 2014 Estate Yamhill-Carlton
My Ranking: 7
Group Ranking: 7
Laurel Ridge 2014 Palo Seco Vineyard Dundee Hills
My Ranking: 3
Group Ranking: 6
Raptor Ridge 2014 Estate Chehalem Mountains
My Ranking: 6
Group Ranking: 1
Seufert 2014 Barron Wahl Vineyard Chehalem Mountains
My Ranking: 4
Group Ranking: 8
Vino Vasai 2014 Potter's Estate Reserve Chehalem Mountains
My Ranking: 1
Group Ranking: 3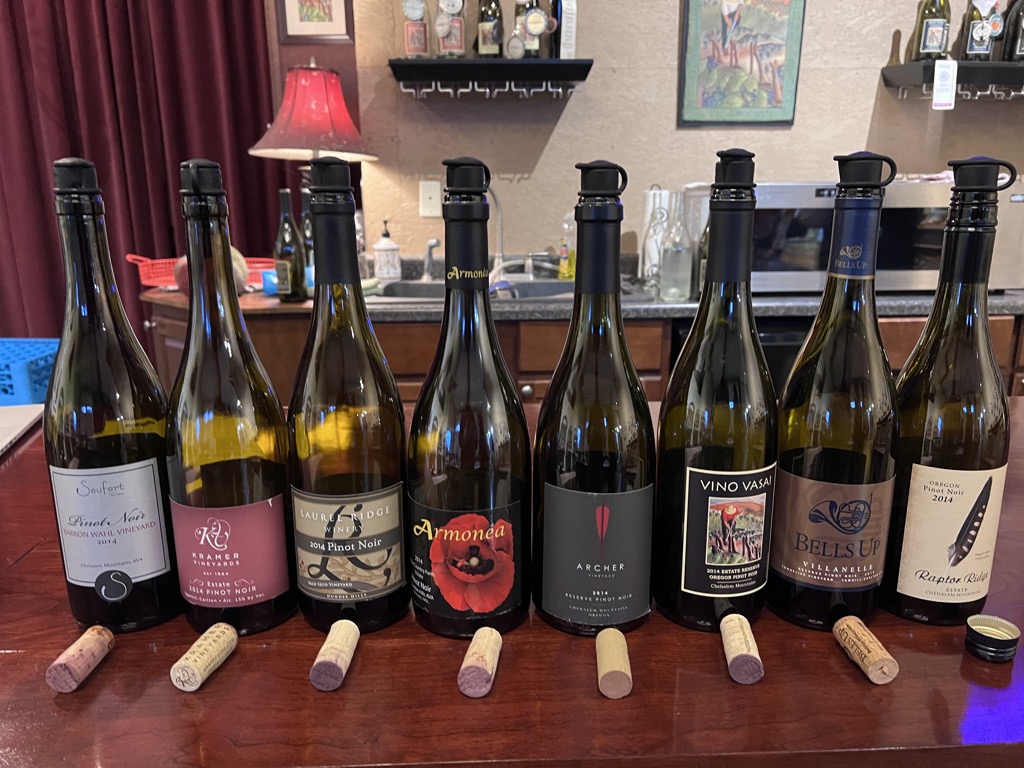 It's incredible to see how 4 of the wines I "agreed" with the group, but the other 4, I was almost the polar opposite. I got one AVA correct, but again I was guessing. One person, I think, got four or six of them right. I wanted to talk with the winner afterward to see if they were guessing as well or if they were a supertaster.
As I left for the evening, I was highly honored to be part of an intimate celebration. I wouldn't be as involved in the Wine Community if it weren't for connections like Bill and Sandy have with their members. I have been asking myself what is it like to live in Champagne and have the ability to visit Krug whenever you want? What kind of hospitality do you get? I wonder how many Champagne Houses are smaller like Potter's Vineyard? How does one know of these smaller wineries living on the other side of the globe? Do the locals want outsiders to know of these secret little gems in Champagne? Oregon wineries aren't unique in this regard, are they? There is an endless sea of questions I want to be answered, and I hope never to answer all of them. I want to stay curious and learn until the end of time.
You should feed your curiosity and make a reservation to visit Bill and Sandy. My first memory of Bill was making sure the music playing over a Bluetooth speaker was ok. He goes out of his way to ensure you are well taken care of! So when you visit and are walking up to the tasting room, say hi to Bill, and please let him know, "A.J. sent me!"
With Gratitude,
A.J. Weinzettel