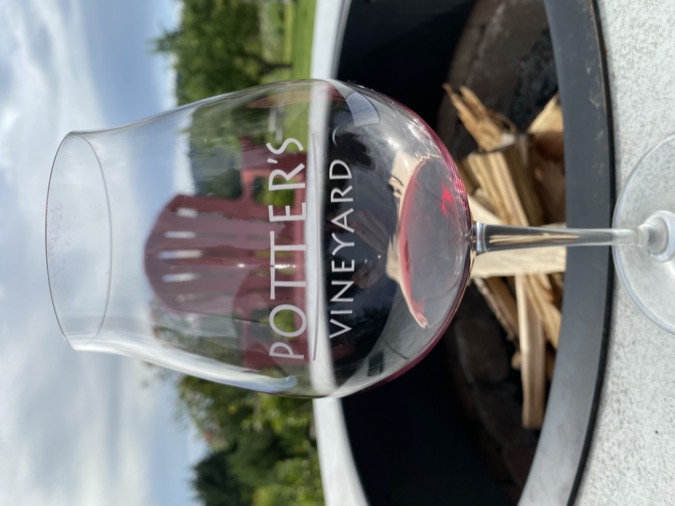 Thinking back to last summer, I visited a few wineries one day and stumbled across one of those gems I am constantly searching for. Quick side, if I am finding all of these little gems in Oregon, can you imagine all the little gems we have zero knowledge of in Burgundy? In the ruff, this particular diamond was Potters Vineyard, a couple of minutes off 99 going up the hill towards Sherwood on the left. If you pay attention, there is a blue tourism sign with the words Potters Vineyard.
When I visited in June, the winemaker and owner Bill Sanchez went above and beyond, providing amazing hospitality. I remember sitting out by the fire pit, overlooking the vineyard, while my bald head was getting sweet, gentle kisses of sun rays. Bill came out asking if Classic Rock was ok for music. In my head, I was pondering what his definition of Class Rock was. I mean, if you ask some people, it could mean grunge from the late 90s. I like late 90s music, but that is not Classic Rock, in my opinion. The hair bands of the late 80s are not Classic Rock either. As I said, "Sure" to Bill's question, I was quickly reassured we were on the same definition of 70s Rock being Classic Rock.
During the tasting, Bill poured the 2017 Cello Reserve Chardonnay, and it struck me how good it was. For $38 a bottle, you couldn't go wrong. Around this same time, I was finishing up my WSET 2 Wine Certification, and one of the facts in the course material was how Chardonnay doesn't have any tannins. When I talked to Bill, he talked about tannins in his Chardonnay. I was perplexed, confused, and not sure who to believe. How in the world could there be tannins? Chardonnay with character, depth, and structure. Oh my!
Let's talk a bit about why Potters Vineyard is called Potters. It is super easy to say Bill and Sandy have a passion for pottery while having pottery available for sale in the tasting room. It goes a bit deeper. When Bill was growing up, he had a dream of selling pottery at the Saturday Market. He asked his dad about the possibility of putting a potter's wheel in the basement. After some deliberation, an agreement was reached to purchase the wheel if Bill kept up with his school. Getting a Ph.D. from the University of Florida, Bill kept his end of the bargain.
The other half of Potter's Vineyard is Sandy. When you visit the winery, it appears to me she makes sure everything behind the scenes is taken of. Bill and Sandy started dating their senior year, where pottery was a hobby for the first 30 years. In 2007, they decided to sell on a professional level finally. They traveled from show to show and market to market, living the dream with a shared passion.
Before Potter's was Potter's, it was Laura Volkman Vineyards. Laura was part of a husband and wife dynamic duo, but in this rare case, Jim, the husband, was the person behind the scenes. Laura tended to the vines, bottled and sold the wine. She was a force to be reckoned with and took each bottle of wine personally.
In 2002, the 3.5-acre plot of land was called Elle Reve Vineyard with Dijon 115, 114, 667, 777, and Pommard clones. The Prince of Pinot was highly impressed with the 2008 barrel samples describing them as "medium in weight, silky textures, with impeccable harmony and display that elusive sensuality that pinotphiles worship." Laura had a cult following for her wines available only via her mailing list. Before the 2012 harvest, an unfortunate illness forced her to sell the property. Bill and Sandy Sanchez bought the property to what we know today as Potter's Vineyard. All of the labels say "Vino Vasai," meaning "Wine of the Potter" in Italian accentuating Sandy's Italian heritage. Another way to think about this is Potter's Vineyard is the place and the wine is Vino Vasai.
There is respect for Laura on the wine bottles Bill and Sandy craft. When putting the wine labels side by side, the layout and design follow a similar pattern. The artwork for Laura's label depicts Laura in her vineyard from watercolor artist Terry Peasley. Patrick Noe created the "Vineyard Worker" for Potters.
What I adore about Bill and Sandy is the merging of multiple hobbies into one. As I mentioned earlier, Bill was all about pottery as he was growing up. He and his wife went from market to market, selling their creations. Along the way, Bill got the wine bug. Visiting the tasting room, you are surrounded by beautiful pottery pieces to marvel over and, of course, purchase.
Getting back to my visit in June with Classic Rock playing in the background. I had the 2019 Estate Rose, 2017 Celio Reserve Chardonnay, 2015 Dario Estate Pinot, 2017 Estate Pinot, and the 2017 Reserve Cab Sauv. I vividly remember the high acidity of the Chardonnay. As I mentioned earlier, Bill worked to integrate character into the wine giving it a tannic structure. For $38/bottle, this was a great wine. I enjoyed the Dario and Estate Pinots as well. I remember seeing the Cab on the tasting flight and was a little surprised. I don't see many Cabs available for tasting, and I am not the best person to give an opinion about Cabs. In general, I feel that the tannins reach out in their youth and suck every little bit of moisture from your palate. The 2017 Cab from Bill was a bit heavy on the tannins for me, but I would expect that from a 2017. Give those tannins some to relax, and I am sure it will be delish!
At the end of October, I went back to visit Potters. I had tasted quite a few Chards since my last visit, and there was a need to revisit Bill's Chard. This time around, the tasting flight was the 2018 Reserve Chardonnay, 2017 Dario Pinot, 2016 Barrel 17 Pinot, 2017 Estate Reserve Pinot, and the 2018 Cab.
Revisiting the Chardonnay, I wasn't disappointed. The $38 price point is great, and this bottle took a Silver medal in the 2020 McMinnville SIP. The other wine that really stood out to me was the 2016 Barrel 17 Pinot. I enjoyed how integrated the tannins were integrated for a pleasurable long spicy finish. James Suckling gave this bottle a 93 and has won a gold medal at the 2020 SIP wine competition. The other wines were great as well.
For 2020, Bill is doing a Sangiovese, a White Pinot, and the 2nd vintage of Merlot. I adore the spirit of Bill and Oregon winemakers. The constant push to try new things and push the boundaries warms my heart.
When I recommend Potters, I feel it is a winery you should visit on the tail end of your wine tasting day. Here's the reason why. There is a decent likelihood, some of the other wineries have larger crowds, more people around, and visiting Potters allows you to wind down after a long day. Potters is the perfect little winery where Bill and Sandy take the time to talk and pamper you while enjoying the wines and the vineyard's silence in the background. Please say "Hi" to Bill for me and let him know A.J. sent you when you visit.
With Gratitude,
A.J. Weinzettel