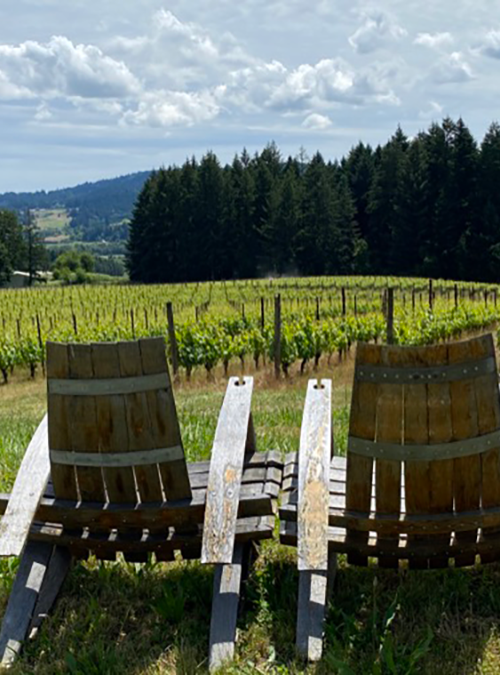 Remember last week when I was reminiscing about summer while visiting Potter's Vineyard? All of this snow has me thinking about that day even more. Before I visited Potter's, I was sitting in an Adirondack chair having some amazing conversation, sipping wine, overlooking vines while my bald head was taking on the color of a watermelon Jolly Rancher at Utopia Winery. I talked about the experience last year, but I feel I didn't do the greatest of doing a deep dive. I was sun struck, and getting outside during COVID was a treat. Being 100% honest, it's still a luxury to get out.
In November, I had the pleasure to chat with Dan Warnshuis, the winemaker, without the interruption of sun and watermelon Jolly Ranchers. Arriving at the vineyard, I looked around the vineyard and compared my current experience to that of the fantastical clear blue sky day back in July. The vines were setting in for the long days of winter, and the immense, never-ending skyline was interrupted with clouds of gray. My bald head was wishing it had a beanie to keep in some of the warmth. Instead, I was giving back what was captured during summer.
After a bit of gazing, Dan was walking up from the depths of the vineyard dressed way more appropriately than myself, welding off the cold with a nice heavy jacket. My thin-lined hoodie was all comfy but nowhere near worthy of the conversation standing before me.
Dan went to school at Michigan State with a swimming scholarship and made his way to Silicon Valley. At the age of 23, Dan converted a laundry room into a Wine Cellar where his fascination with wine did nothing but exponentially grow faster than the stock for GameStop this week. All of us who love wine understand how it overtakes us. For Dan, it lead to him opening up a wine shop in Napa and doing trade tastings alongside Ronn Wiegand.
I had no clue who Ronn was, and so here is some background info. He is the world's first Master Sommelier(1986) and Master of Wine(1991). In 1988, he began a restaurant industry wine periodical, Restaurant Wine. Visiting Ronn's website, there is quite an impressive list of qualifications.
Back to Dan, while Ronn was starting the Restaurant Wine, the winemaker at Utopia was starting to import French wines for his wine shop. He was also an early proponent of Oregon Pinot Noir, giving him the nickname of the "pied piper of Oregon wine." As well all know, Dan progressed further down the rabbit hole of wine, but before purchasing the land for Utopia Vineyards, Dan had his own label in 1994 called Le Corse. Sadly, the amount of information for Le Corse is next to nothing.
Onward. The rabbit hole of wine gets deeper and deeper for Dan. I wonder at what point Dan realized there is no bottom to the rabbit hole? Anyway, in 2000 Dan took a trip from California to Oregon to "look" at land for a winery. He promised his wife not to make a rash decision. How many dozens of roses would it take to make up for the fact he bought 19 acres on Ribbon Ridge with a promise to only look and not buy? It doesn't matter now, and to ponder the question of roses is irrelevant. Dan has worked his rear off to make his dream become a reality.
Let's divert a bit into Ribbon Ridge a bit. The first vineyard was planted in 1980 by Harry Peterson-Nedry. Harry took a chance on Ribbon Ridge. It was thought by many winemakers the higher elevation, close to 700 ft, the shadows of the Coast Range, and being too far west getting grapes to ripen was an impossible task. 30 years later, Harry's daughter Wynn Peterson-Nedry, who recently gave birth, has taken over the winemaking for RR wines. She is also the winemaker for a cult winery known as 00 Wines. I could easily frolic further down the Ribbon Ridge rabbit hole, but I will surface a bit to focus on Dan and Utopia.
Going down the wine rabbit hole happens way quicker than producing any sort of upshot. As I mentioned, Dan purchased the vineyard in 2000, planted vines in 2002, and his first vintage was 2005. In 2007, Dan and his family made the permanent trek from California to Oregon. Seven years. When was the last time you dedicated seven years to a dream you wanted to accomplish?
I am going to borrow a Delorian, put my foot on the pedal, travel 88 mph to 2021, where Dan is the president of the Ribbon Ridge Winegrowers Association, has a thriving winery with a Bocce Ball court, and the most important factor during our socially distanced "fun" is plenty of outside seating.
Dan has been campaigning for Ribbon Ridge to farm without herbicides, and last year this became a reality. Another initiative Dan is pushing for is biodynamic farming practices throughout the appellation.
Dan told me a story regarding harvest and his truck breaking down. Recently, Dan purchased some additional land where he has planted vines for Cab Franc, Grenache, Riesling, and Gamay. This plot is a new winemaking facility that is still on Ribbon Ridge and is a hop skip and a jump from Utopia. One day, after getting pallets of grapes loaded onto a trailer hitched to Dan's truck, he proceeds to pull out onto the road when all of a sudden, the transmission literally falls out. Harvest is always full of stories for everyone, but can you imagine a trailer full of grapes and your only method of getting grapes to the facility goes belly up? Bewildered, Dan's only other option is to take each pallet of grapes one by one via forklift. I would have been cussing up a storm at that point, but they always say anything worth doing costs a little blood, sweat, and tears. Lucky for Dan, a semi came up the road with a huge empty trailer. After some talking, the driver agreed to haul the pallets to the new winery. One trip to the winemaking facility was all it took to help keep the 2020 vintage on track. Dan offered to pay the driver, but no payment was needed. Instead, the hero of the day left with a big smile, knowing he helped someone and some wine to enjoy.
Speaking of the 2020 harvest for Utopia. Dan and I spoke about this a bit. According to Dan, he has researched and understands the protocol surrounding smoke taint. In November, he felt confident about this protocol and producing quality wines. I have no idea if any of this has changed in the past couple of months, but time will tell, as with anything with wine. Circling back this time next year, I will be checking out to see how Dan's protocol worked out.
Regardless of the outcome, Dan's spirit and his winemaking prowess hold a special place for me. Going back into the early days of Oregon winemaking when a handful of winemakers from UC Davis decided to go against the grain to plant Pinot while many naysayers said, "It can't be done." There is something to be said for that same spirit to hold true today.
Oh oh oh, I almost forgot! We are all dying to get out of the house and need a vacation of sorts. There is a log cabin at Utopia on AirBnB. It looks gorgeous!
Next time you visit Utopia, say hi to Dan for me and let me him "A.J. sent you."
With Gratitude,
A.J. Weinzettel