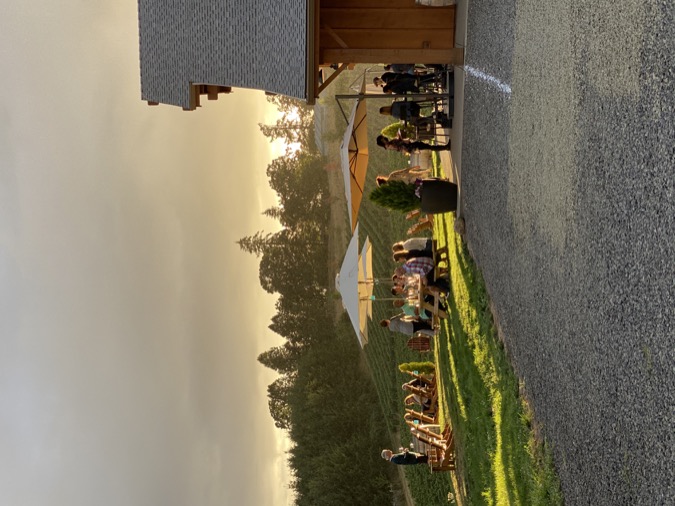 If you don't recognize the winery, it is Domaine Divio. I can still taste the pizza and the 2015 Toison D'Or. The pizza was delicious and went down way too quickly. The Toison was this gorgeous Old World meets Oregon funk making the nerves from the earlier in the day fade away into nothingness. I am not making any remarks on how quickly it went down. Last year being 2020, there were a nice amount of people partaking in pizza and wine consumption. The beauty of it all was we were all outside with way more than six feet between us. Being outside with real people, hearing other people talk sends chills up and down my spine at this very second sitting here thinking about it. Human interaction, what a concept! Several times that night, the winemaker Bruno came over to chat. If you have never met Bruno, he is one heck of a guy. His work ethic is top-notch, and how many winemakers do you know go around to make sure he talks to everyone in attendance at events? Yes, it is natural to do this at the super small wineries, but we are talking a decent number of people munching down on wood-fired pizza. Domaine Divio considers itself a boutique winery, but this wasn't some event where there were only 20 people. Bruno had to be tired after making his rounds.
Speaking of Bruno, I realized I didn't know much about him and did a little digging. Growing up in Burgundy, his family was part of the 4th generation of winemakers. He went to school, got his degree, and had a nice paying job. The job wasn't what he wanted to do, though. When he left security behind to follow his passion for grapes, his mom wasn't exactly happy with the decision. Eventually, she came around. Bruno has grown grapes in South Africa, France, and all areas, Tahiti.
There are several things to think about when growing grapes in Tahiti. First, there is the fact it is remote. Getting equipment needed to grow and produce grapes into the sunny vacationland of Tahiti is extremely difficult. Next is the tropical weather. There are two harvests. One in May and another in November. Can you imagine? Now let's talk a bit about the coral rock soil. Being so close to the ocean, it is salty, which significantly affects the grapes. Through all the trials and tribulations, producing red wine isn't happening. Everything is a white wine. I need to dive deeper into these Tahitian wines at a later date.
Bruno traveled all over, and a company in Napa contacted the winemaker to remap their vineyard. All this time, Bruno and his wife were ready to come back to the states, which brought them back to Oregon to plant their vines and open a tasting room within the vineyard. Diving in the meaning of the Domaine Divio is fascinating. During the Neolithic period, there was a city called Dijon, which later become a Roman settlement named Divio. This settlement was outside of Lyon on the way to Paris.
From the early 11th century to the 15th century was home to the Dukes of Burgundy. The vineyard Bruno planted is called Clos Gallia. Clos is French for a vineyard enclosed by a wall. Gallia is the Latin name for Gaul, which means a native of France.
You must sit down with Bruno sometime and get to know him. He is so approachable and is a wealth of knowledge. Someone else you should know at Divio is Sara. She takes time to talk with you not only about the wine and the property, but she also takes the time to ensure everything is perfect for you. Once this pandemic is over, many people, including myself, will be lining up to give Sara the biggest hugs.
Over the Christmas break, I HAD to get out of the house. I scheduled an outdoor tasting at Divio, and of course, Sara was there. Sipping through the wines and catching up with Sara warmed my heart through and through. I was sitting out front under the overhang for the tasting, with a heater keeping me warm. I was surprised how warm I was. My beanie had to come off my bald head, and a couple of times, I had to change seats to cool off a bit. Sitting there putting the finishing touches on my Oregon Wine Report for 2020 was blissful. If you haven't been out for a tasting and are worried about staying safe, I highly recommend Divio. If you can play hooky during the week from work, do it. Do it now!
One other thought before I part ways this week. During the tasting, Sara poured me a 2019 Willamette Valley. I was apprehensive. I won't touch 2018s, or at least I try not to. Having the will power not to open young bottles is so troublesome. Seeing a 2019 in front of me felt like being forced to take the training wheels off my bike. My heartbeat increased, drops of sweat swam down my head, and my hands were all clammy Ferris Bueller style. How do I tell Sara without disappointing her I don't like it? Luckily she went inside. I hovered over my keyboard with the 2019 staring back at me. I swear it had puppy dog eyes staring me down as I typed away. Finally, I gave in. A little sniffy sniff and not what I was expecting. Instead of bright red young fruit on the nose, some good ole barnyard funk was going on. I sipped. I savored. I swallowed. Yes! Some barnyard funk on entry, mid-palate, and the finish brought a smile from ear to ear. I was unexpectedly surprised. When Sara came back out, she knew I was a happy camper wearing a smile compared only to a kid in a candy store.
I have heard great things about the 2019 vintage. This puppy-eyed bottle is setting the bar on all 2019s for me. What 2019s have you tasted so far, and what did you think? Hit me up on the socials and let me know what you thought.
When you visit Sara and Bruno at Domaine Divio, please hug Sara for me if the pandemic is over, and let them know A.J. sent you! Oh, and if you are lucky, Sara might have some Sparkling Rose looking for a new home if you are in the market to adopt a few bottles.
With Gratitude,
A.J. Weinzettel