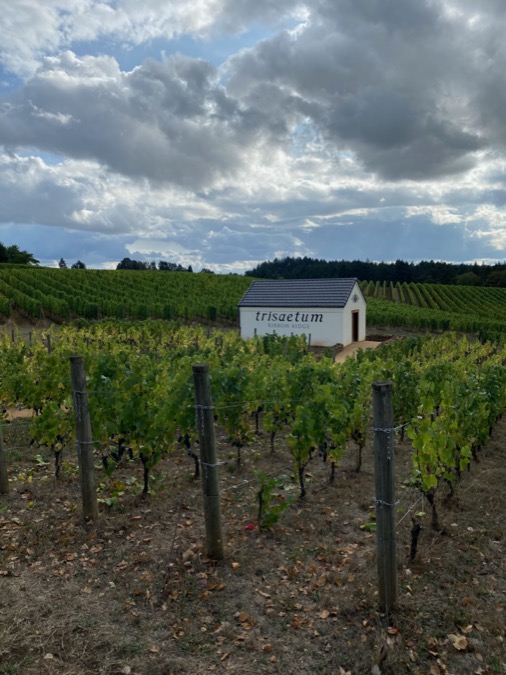 We all know Oregon is known for Pinot, and Chardonnay is up and coming. These two varieties of wines take up at least 98% of all wine conversations. Syrah does come up in conversation but mostly Walla Walla. Tempranillo pops it's head a little as well. Another variety that doesn't get much attention is Riesling. In an attempt to broaden my spectrum of wine, I visited Trisaetum with the sole purpose of tasting their Rieslings.
The winemaker James Frey and his wife Andrea Lassa were supposed to go camping in Yosemite for their honeymoon, but a late snowfall canceled their plans. Instead, they decided to honeymoon in Napa, where the hook was set, and wine became a passion for both of them. Before they bought land, James planted a one-acre vineyard in their backyard. During the weekend, James would be working in the vineyard or painting. During the week, he worked a corporate 9 to 5 gig. James and Andrea have two kids named Tristen and Tatum, which is how the name Trisaetum came about.
Currently, there are two other brands under the family crest. Pashey, and 18401 Cellars. Pashey is all about the bubbles and is James's grandmother's name, who we never met. She passed away in 1953 at the age of 38. As a celebration of her 100th birthday, James named his sparkling wines after her. Please take a quick minute to read her extraordinary story. 18401 Cellars is an extremely limited production of a couple wines from Walla Walla. Currently, on the website, there is a Cab and a Red Blend. 18401 is marketed as bringing the finesse of Pinot making to a Bordeaux style blend. To say the least, I am intrigued and would take extreme pleasure in tasting both of these.
There is one other brand, James spearheads but the end product isn't wine. James always had this creative expressionism throughout his whole life. Hop over to the website and marvel at his portfolio of paintings.
Walking into the tasting room, you are greeted with an amazing painting of the vineyard. I assume James painted this. For some reason, I didn't ask. Maybe my brain wasn't fully functioning with it being late in the day, and it was my third winery of the day. I will say the sun came out and it was gorgeous. Earlier that day, I was at Elizabeth Chambers, and it was raining (not that I am complaining about the rain, purely making an observation).
I was seated outside to bask in the sun on the covered back deck. Max came out to greet me and was exceptional on so many levels. He indulged my Riesling itch by letting me taste 4 different Rieslings, a Chard and a Pinot. Overall I came away extremely happy, but I should dive in a little on the wines.
2015 Ribbon Ridge Chardonnay
With 80% neutral oak, I wrote down interesting several times in my notes. I enjoyed the high acidity, and the finish was unique in a good way. I went home with 2 bottles.
2018 Wichmann Dundee Hills Dry Riesling
In 2010 99 vines were grafted from Pinot Gris to Riesling. This Riesling is going to age like something fierce. The complex stone fruitiness hit you mid-palate and gave you a slight petrol sensation lasting an extremely long time on the finish. I went home with 2 bottles.
2018 Ribbon Ridge Estate Dry Riesling
For Pinots, I am all about the spice. I found this Riesling to have a little spice kick to it. I am making a note to try this one again later. The high acidity will give it some time to age. The finish was exciting! At first, there was nothing, but it slowly opened up like a flower taking its time to blossom in the morning sun.
2019 Ribbon Ridge East Dry Riesling
It is always an enjoyable pleasure doing a side by side vertical. Comparing the 2018 and 2019 side by astounded me. The 2019 is the driest Riesling Trisaetum has. I got so much fruit on this right from the get-go, continuing mid-palate and slowly dissipating into a nice long fruit slumbering finish. The 2019 was more complex and fruity to me over the 2018.
2017 Wichmann Dundee Estate Pinot Noir
I am so grateful I listened to Max and tried the Wichmann Pinot. I might have and will never admit it in public, but I fell in love with this wine. I got nice Earth tones on the nose and the oh so subtle spice. The moment it hit my lips, gliding through mid-palate and a finish leaving me satisfied only until the next sip.
There is another reason I am grateful Max introduced me to the Wichmann Pinot. Tavern on Kruse bought a metric crap ton of the 2015 Wichmann, and you can buy the bottle for $40. This is a smoking deal on so many levels. The 2017 Wichmann on the Trisaetum's website is $55. The 2015 is on par with the 17 and if you can grab a bottle at Tavern on Kruse, do it!
You don't hear Trisaetum talked about too much, and you definitely don't hear much about Riesling in the Valley. Here is a suggestion to you for a nice long afternoon. Make a reservation for two at Trisaetum. One person gets a flight of Red. The other gets a flight of Wine. Share your flights and explore both sides of the spectrum. Afterward, take a drive to Lake Oswego and have a delicious bottle of the 2015 Wichmann for dinner at Tavern on Kruse. I promise you will not be disappointed. If you go, as always, please tell them A.J. sent you.