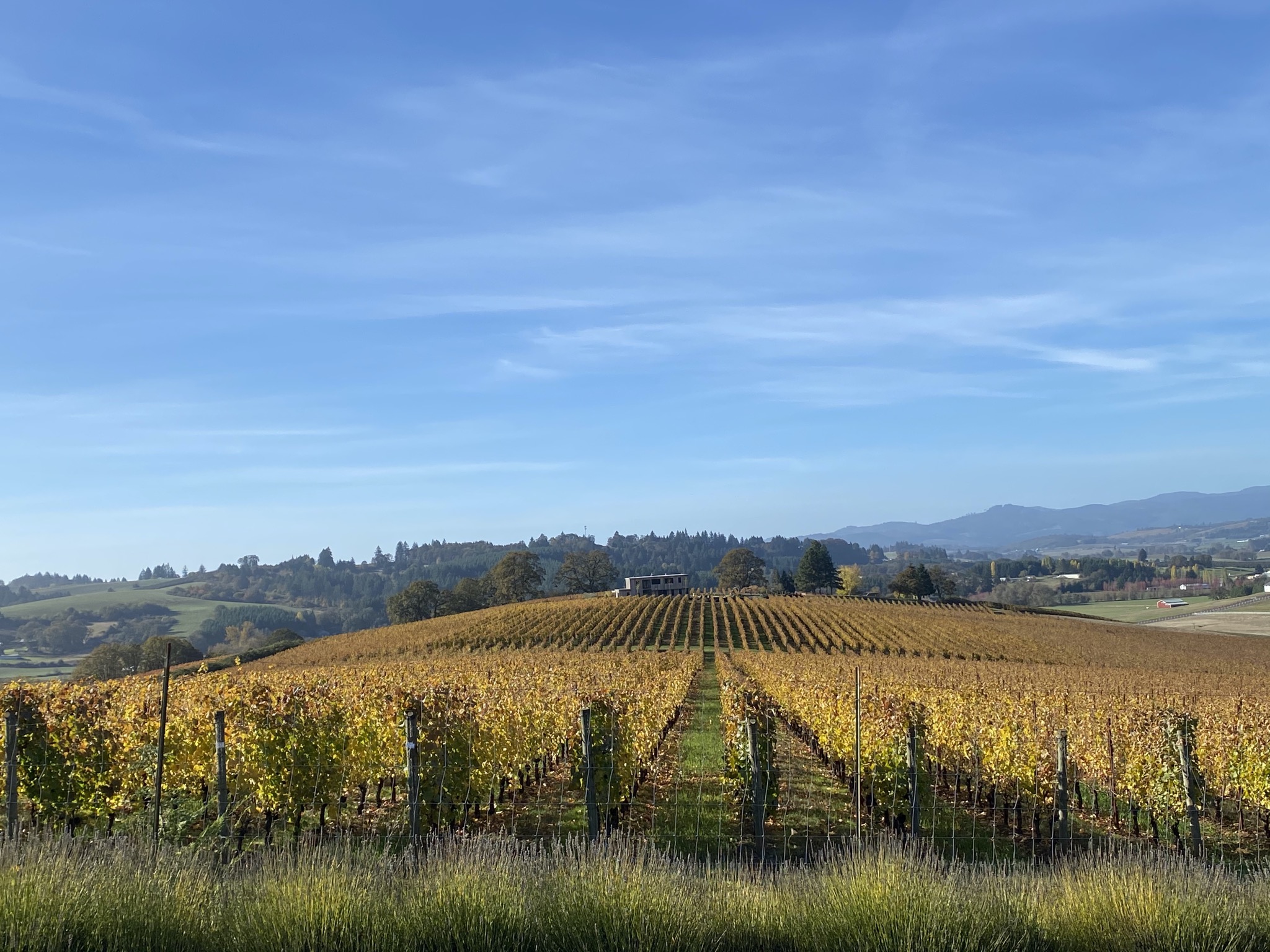 Every year I scroll through the endless amounts of photos I take from the year and printed on glass. Walking through my house, you will see some great photos along with some meh photos. They serve as a memory of what the year was like for me. It is one single snapshot representing what the year meant to me. A moment in time. Very similar to when you open a bottle of wine. You are taking a peek into a 20 – 30 year process and living that moment. This year's photo came on the last day of October this year when I visited Lenne for their "Pinot Noirs Around the World" blind tasting.
I was fortunate to capture the vineyards at a peak moment in time, transitioning from harvest of 2020 into a new vintage. There were other pictures I was looking at, but this one spoke the loudest to me.
Speaking of Lenne. I don't remember when it was, but I read about their periodic bland tastings and was sold hook, line, and sinker. The sheer fact a winery is holding a blind tasting is unheard of, but it also shows off the community aspect of Oregon Wine Country. Everyone is here to collaborate, educate, and grow for the greater good of the community.
On to the "Pinot Noirs Around the World" Blind Tasting! There were 8 different Pinots in front of me, and I was a little giddy with a side of nervousness. The winemaker Steve Lutz gave a great introduction to the process. He explained there were wines from Oregon, California, Burgundy, Canada, and New Zealand in front of us, and we would be going from left to right sampling each wine. After giving us some more information, there were about 30-35 minutes alone processing each wine. I took my time sampling, trying to figure which wine was from which region. Could I tell the difference between an Oregon Pinot and one from Burgundy? Short answer, no. Here is something interesting, though. The two I thought were from Oregon were from Burgundy. One of Oregon's I thought were from Burgundy. The only region I got correct was the Russian River Pinot. It was obvious beyond belief, and I didn't let myself down too much, picking the big, bold bad boy out of the lineup.
I got a little ahead of myself, revealing my shortcomings of the blind tasting, and so after the 35-ish minute study of liquid grapes in the glasses, Steve went through each wine to his opinion/guess which wine it was. Of course, he was spot on with each wine, and I enjoyed the audience participation after Steve's thoughts. I didn't take a picture of the amazing charcuterie board provided with the tasting for some crazy reason. What was I thinking?
My favorite Pinot from the group was a 2007 Blue Mountain from the Okanagan Valley in Canada. The Earthiness on the nose and finish is what sold me about this wine, along with some great tannin structure signifying this could keep aging for a bit.
Being at the blind tasting was a great event, but it left me wanting to know more about Lenne itself. Plus, I normally go a little more in-depth for the newsletter about the winery, wines, and the most important factor, people.
I was fortunate to sit down with Steve and Eric to talk and taste through 9 different wines. Sitting down with Steve, the depth of knowledge at his fingertips is astounding. Steve planted vines in 2001, but it wasn't until six years later when vines produced fruit. The hard work and dedication Steve puts into his wines show in the glass through and through. Seriously, how many people have given up on trying to accomplish something in 2020, much less six years of back-breaking dedication getting a vintage out the door. Steve considers Owen Roe, his mentor, who was crafting wine since 1999.
Steve spent time in Napa in tasting room management, and this is where he got the idea of holding the blind tastings. There was a stent of about 5 years where Steve went into the pizza business, and from what I hear, his members get the treat of some amazing pizzas in the summertime. When you get a minute, check out this video of Steve giving some pointers on making pizza.
The vineyard at Lenne is mainly comprised of Pinot, but there is a little Chardonnay. Come to find out, Steve's wife Karen is a fan of Chardonnay. In 2015 some Chardonnay was grafted, and the 2019 vintage marks the 4th vintage of Chardonnay at Lenne. I was lucky enough to taste the 2019 Chardonnay and the 2017 Chardonnay Reserve. Steve mentioned Drew Voit consults with Lenne and getting into the weeds a little Steve mentioned how they pump oxygen into the juice after pressing the grapes turning the juice black. If you have been reading my newsletter for a bit, you know I am a little obsessed with the Black Chardonnay method, where the juice also turns black. I couldn't help myself and had to ask Steve if they pressed the grapes gently or smashed the ever-loving tannins out of them. His response was the normal gentle press you give Chard, but expose them to oxygen afterward. Fascinating! Even now, my mind is whirling all over the place with questions, and yet again, Drew's name came up. In 2021, I will talk with Drew!
Don't worry, I will let you know what I thought of the Chards, but I have to preface I feel the Chardonnay landscape is traverse with so many different expressions of what is in the glass. Bottom line, did I enjoy the wines? Yes, very much so! What I enjoy in a Chardonnay is an entry immediately grabbing my attention, along with a mouth-watering acidity mid-palate, and a finish where I am pondering what in the whole wide world of sports just blew up in the mouth? The 2019 and 2017 Reserve was not my picture-perfect Chard, but both gave me a delightful entry whispering "hello," leaving me curious what to expect next. I felt like every time I tried to grasp the "hello," it would vaporize into thin air only to have another sip and try again. If I had to pick one of the two, it would be the 2017 Reserve. I feel the finish was more satisfying over the 2019.
On to the Pinots, and my word count is getting close to its limit. Sigh, here we go! I tasted the 2017 Jill's Pinot from 100% 115 Dijon clone, the 2017 Kill Hill, 2016 Lenne Estate, 2018 Eleanor, and the 2018 Cinq Elus. From these four Pinots, the Cinq Elus was my favorite, with 75% new oak giving it that spice finish I adore repeatedly.
If you have been keeping track of the number of pours, there is one pour missing. This was the final pour of the day, and from what I can tell, this label is not promoted all that much. When I go on the website, choose Pinot Noir, I don't see it listed. When I do a Google search, I can find a link. Since this isn't promoted all that much, I am also going to be a little aloof. In talking through this wine with Steve, he was a little apprehensive about putting this wine into his blind tastings, but I think the feedback he would get could be insightful. Hopefully, you have enough information to be curious and to pursue further.
It is always difficult to put a bow around a story behind a winery and the enthusiasm contained within. I was grateful to visit Lenne 2 times to burrow deeper down the rabbit hole within the last month. On my first visit, I didn't notice the outdoor deck overlooking the valley. Combine the deck's view, Steve's pizzas, and the wine summertime has to be amazing here. I will be going back in the summer and carefully watching for emails surrounding pizza. When you go out to visit Lenne, say "Hi" to Steve and if you wouldn't mind, tell them, "A.J. sent me."
​
With Gratitude,
A.J. Weinzettel