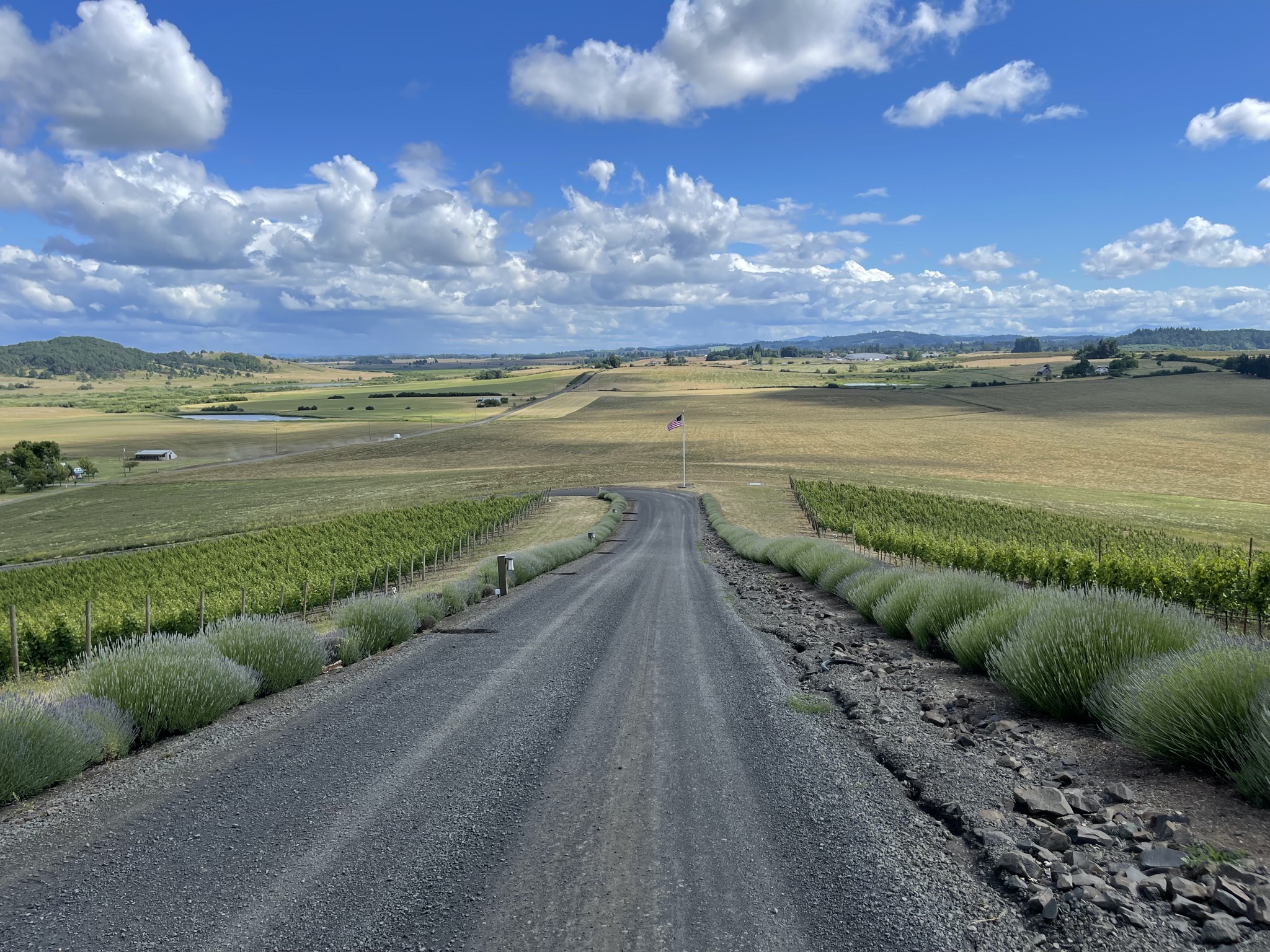 How can I not start the newsletter this week without mentioning the crazy three-day heatwave? I have been to Egypt, Saudi Arabia, and Kuwait. I never experienced heat like I did this past week. It felt like a piano falling from a five-story building window onto my head. The winds started to pick up Monday night, and it went from 109 at 6 pm to 89 by 8 pm. It was magical to sit on my back deck and savor a glass of Pinot watching the dogs play. Let's hope this was a fluke, and the remainder of the summer is typical for Oregon.
Have you ever driven onto Worden Hill Road coming off of Highway 240 and see a big sign saying "Van Duzer Vineyards?" I have seen it multiple times and wondered, who is Van Duzer Vineyards? Why isn't there a tasting room? It doesn't take long before another squirrel runs through my head to chase, and the questions fall away into the ether. A few weeks back, I caught the Worden Hill Road squirrel, and it all started with an email from Brandon at Van Duzer Vineyards, the Direct to Consumer Manager. We worked out a date, a time, and it looked like I was meeting with the winemaking team, getting a tour of the vineyard, along with anything Brandon could help with in terms of Hospitality. Wow, this was turning into a great visit!
I have this internal debate with myself consistently. Should I research before visiting a new vineyard or allow myself to go with the flow? A majority of the time, I go with the flow. I will never forget when I went to watch A Beautiful Mind starring Russell Crowe. I never saw a preview of the movie, and the storyline sucked me in. I didn't know until the end Russell Crowe's character had a multiple personality disorder. If I had researched beforehand, I have a hunch the reveal at the end wouldn't have had the same impact. I am not sure I would have enjoyed the movie as much either. Whenever Matrix 4 comes out, there is no amount of money you can pay me. I want to know nothing! When I visited Van Duzer Vineyard, I knew nothing.
I wonder what criteria I hold myself to because I wanted to know as much backstory as possible when I visited Corollary.
When I was driving out to the tasting, the weather was a crazy mess. It was a little sunny, with a bit of rain, a little more rain, and then all of a sudden, it was a downpour to the extent of going 20 mph on I-5. It was so uncharacteristic of Oregon to have a gush of rain appear out of nowhere. If this would have been Tennessee in the summer, ok, fine, I can see it. However, once I got closer to my destination, there is no way in the world you would have guessed I came through a torrential downpour. I turned down a gravel road and up a hill, with colossal lavender on both sides. Atop the hill sat a tasting room overlooking the valley.
Walking inside, Brandon greeted me, and we shook hands. We freakin' shook hands!! I missed so much shaking a person's hand. In my head, a nice, firm, not hard handshake is a proper greeting showing respect for the other person. It felt so good to show Brandon the respect he deserved for putting the day together.
After our little greeting, he introduced me to the winemaking team. First, he introduced Drew Voit, followed by Steve Misoewicz. When I heard the words, Drew Voit, I think I blacked out a little. If anyone of you remember, when I did a newsletter on Cramoisi, I mentioned how I wanted to sit down and talk with Drew this year. Never in my wildest imagination did I think I would be sitting down with Drew today. I was a little star-struck. In case you don't know, Drew has his hands in many projects throughout Oregon, including his label Harper Voit and consulting for Elizabeth Chambers, Cramoisi, Five Fourteen Vineyards, Moffett Vineyards, Sylvanus Estate, and Holmes Gap Vineyard. Before consulting, he worked at Shea and Domaine Serene.
Sitting down at a long table, Drew and Steve were on one side with a fantastic decked-out charcuterie board dividing us. Still having a feeling of being a teenager and going out on a date with a girl I have been pining over for years, Drew asked a question, "Where would you like to start?" There are times in my life where I say ridiculous things. For instance, I recently met another biker for the first time and wasn't expecting to meet him. As soon as I said the words, "Oh, you totally have a biker's body," my face turned the brightest red, and all credibility went out the door.
How do I answer Drew's question without my face turning the shade of a 20-year-old Pinot and not coming across like a complete idiot? I should have done my homework. I should have researched. I should have been more prepared. Instead, I blurted out, "Normally, when I visit, it is a normal tasting to give readers what a natural experience is, and I am not used to having all the attention on me." Truth, but also frightening as all get out. My face wasn't a Pinot color, but I am sure it matched that of a lovely salmon-colored Rose.
Drew, being the seasoned veteran, started talking about the team. Carl and Marilynn Thoma, the proprietors, are wanting to take Van Duzer Vineyards up a notch. A couple of years ago, Steve came to the team, and Drew came on a little over a year ago to help achieve Carl's vision. Steve chimed in with his background. He grew up in New Hampshire, lived in the Finger Lakes, Spain, Australia, and California. After spending some time in California, he decided to come up to Oregon.
It was my turn to talk. I mentioned my Sparkling report coming out in September and how I recently tasted Sophia's Blanc de Noirs from Cramoisi. I complimented Drew on the wine, and he replied, "Thank you, and I was told about your Sparkling report. We would love to have you come out towards the end of July." My internal reaction was, "WOOHOO!!!" My external response, "Thank you so much. I look forward to it!" Why do we hide our genuine emotions so much?
Once all of the introductions were done, Steve said, "Let's open up some wine!" So starting with a bit of 2020 force carbonated Muscat. I can easily envision sitting outside in the shade of the tasting room overlooking the valley, sipping on these refreshing bubbles! I mean, who would turn down bubbles?
Next up was the 2020 Rose made from 30% Pinot Gris, clone 114. Drew mentioned how there are not many producers making a Rose from Pinot Gris, and I agreed. I said Vincent does a Rose of Pinot Gris. Drew asked how long Vincent keeps skin contact, and I failed his pop quiz.
We tasted through the 2017 Willamette Valley Van Duzer and the 2018 Estate Pinot. Both were great, but I sucked at taking notes as we were talking. The site near Salem has 83 acres under vine, while the site off Worden Hill road has 38 acres. Before we left the table to do some barrel tasting, Drew mentioned the grapes for 2020 in Dundee were picked before the fires where the grapes on site were brought in after the fires.
Walking into the barrel room, it was immaculate. I have a feeling keeping this room is a pet peeve of Steve's. He and I found a geekery type of bond. I mentioned how I write code, and there can be a certain elegance to it. His response was, "There is beauty and art in everything if you take the time to look around and find it." He also enjoys woodworking in his spare time, perfecting the art of making dovetails. I mention this side of Steve because it correlates with his experience in Napa. There have been many vintages where he has worked with smoke contact. We all know the 2020 fires is a delicate topic, but there is something to be said for someone who has experience with smoke while expecting nothing short of perfection on any project he lays his hands on.
We tasted through 4 different 2020 Pinots from the barrel. At this point, they are eight months old, and if you had said these grapes were exposed to smoke, I would have said, "No way." However, as we talked about the 2020 vintage, Steve mentioned the vines had an excellent distance from the smoke. In addition, the wines he produced in Napa were much closer to smoke.
As we went through each sampling in the barrel room, it became apparent to me I need to practice my spitting skills into the floor grates. Steve and Drew were natural pros. Brandon joined us in the barrel room as well. Even he was spitting into the grates. I swallowed my tastings and poured the remainder down the drain. Do you own one of those oversized aluminum Folgers coffee cans I can have? I need some practice.
We were wrapping things up in the barrel room, and Bruce, the Vineyard Manager, swept me away in a Joh Deere Gator for a tour of the vineyard. If you remember, I mentioned the torrential downpour earlier. Thank goodness there wasn't a drop of rain anywhere in sight. We zipped up and down through the rows, and I marveled at the depth of knowledge Bruce has. I asked him did the rains a couple of weeks ago effect the grapes during bud break. Without hesitation, the gator came to a stop, he walked me over to a baby cluster, held the cluster in one hand while slapping it with the other. After removing his hand, he showed me how there wasn't much that fell into his hand. This is a good sign of how the rains didn't affect the grapes. If the tiny buds would have broken off into his hand, well, then there would have been a reason to have some concern.
The 83 acres on-site has marine sediment and volcanic soils. Some rows are comprised of both soil types, which makes farming the rows interesting. Most of the time, when you look at a row of vines, there is cover crop. Sometimes every row has cover crop, while sometimes, every other row has cover crop. What was fascinating to me, some rows were part cover crop, while the rest of the row was bare. With ten years of experience At Van Duzer Vineyards, Bruce knows the ins and outs of every single row. For example, when part of the row is growing faster, then another part adding cover crop takes away some water from the vine to slow down growth. There are little white cones to designate with rows get tilled.
As Bruce was driving, he told me a story about the Gold Eagle block at Domaine Serene, where is used to work. He mentioned there are a couple of rows planted too close to the trees providing quite a bit of shade. Every year, those rows are picked later than everything else because they're not ready yet. I soaked up that story like something fierce because Gold Eagle is one of my favorites at Domaine Serene. Also, how freakin wonderful is it, I am talking with two people who worked at Domaine Serene on the same day?
If you remember, last week, I mentioned the 828, aka upright clone from Corollary's Cattrall Bros Rose. Jeanne and Dan called it the upright clone. I mention this to Bruce, and he was like, "Yeah, we have some 828 here, and we like to call it the Viagra clone. So he drove over and showed me. Sure enough, there it was, growing upwards!
There is part of the vineyard sectioned off for the sanctuary of a very special Fenders Blue butterfly. In 2000, the butterfly was listed as an endangered species. Apparently, they are attracted to a unique Lupen plant. So in 2009, Van Duzer Vineyards created a habitat with Lupin plants to attract the butterflies. Four years later, in 2013, they spotted their first Fenders Blue butterfly.
Another fascinating tidbit I learned from Bruce was a system called the Scott Henry trellis division. When vines are pruned back, there is one vine on the bottom trellis going to the left or right. With the Scott Henry method, there are two vines. One vine goes to the right, say on the bottom trellis, while the other vine going to the left is above the other. They can't be at the same level. Otherwise, the vine is smart enough and doesn't produce as much fruit. When both vines are at different levels, the division tricks the vines, and more fruit is produced.
We pulled up to the Homestead block, planted in 83. I had to snap a few pictures to notice there were no fences around the vineyard to keep deer out. Bruce pointed a bit down the ways and mentioned plenty of deer not too far away, but there isn't enough cover to make the deer feel safe to make the trek. One year a doe gave birth on-site, and the fawn got caught behind the electric fence. Poor thing couldn't get out. The crew turned the fence off, took it down so mom and fawn could go on their way.
Bruce asked me, "Have you ever seen a Heron eat a gopher?" Nope, I have not seen anything of the sort. It sounds like the herons enjoy eating their gophers whole. It boggles my mind; the more we let nature take its course, the more nature gives back to us. As humans, we all seek control in our lives. Letting go can be good.
Bruce brought me back up to the tasting room, we shook hands, and I thanked him for a fantastic time. I finished the remainder of my day talking with Brandon a bit and walked about taking some pictures. There was so much take in and process from the last two and half hours, but bottom line, I have to agree with Brandon, "There is something special about taking a trip out to Van Duzer Vineyard." It is a trek, but to visit a vineyard with 83 acres under vine, an infinite view. I realize it is not the standard drive to Newberg, Dundee area to visit wineries, but it's worth every minute. You will not be disappointed and of course, when you talk to Brandon, tell him, "A.J. sent me!"
With Gratitude,
A.J. Weinzettel