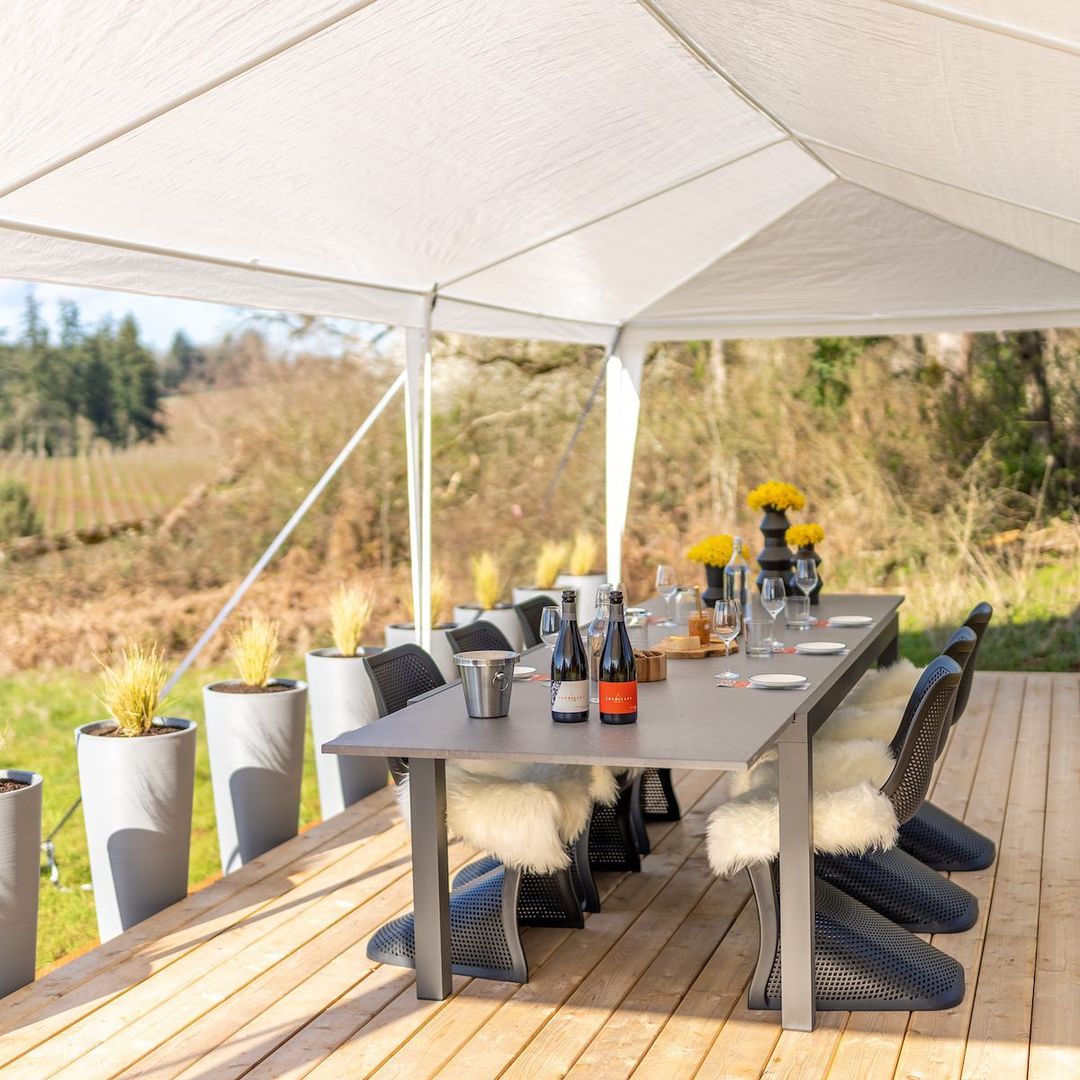 Some stories start in places we least expect them. For Corollary Wines, I think back to last weeks Apple's Developer Conference, WWDC, aka Dub Dub. 2021 was the second year WWDC was held virtually. Every year it floors me how much they add to their whole platform (iOS, macOS, WatchOS tvOS) along with their vision for the future. It wouldn't surprise if they have a 50-year timeline drawn out. I could spend multiple weeks of newsletter speculating where they are taking their products and us along with them, but let me just say the next couple of years will be fascinating. AirPods are already augmenting our reality with sound while controlling pieces of technology around us. Something to think about as this technology takes small increments adding functionality. When I take Globgor for a walk, I use my AirPods to start a workout, play music, turn off my lights and close my garage door.
I remember the first time I went to Dub Dub in San Fran. It was my second visit to the city, and if you think I am an introvert now, you should have seen me 11 years ago. I stayed in a super teeny tiny hotel room in the financial district. The inspirational morning walks to Moscone, I miss! Getting dinner in the overly crowded bar in the hotel might have traumatized me. Saying everyone was shoulder to shoulder is an understatement. I was overwhelmed by the sheer number of people and finally figured out I could order food to take up to my room along with a Long Island Tea. Today, I miss sitting at the bar, coding with a glass of wine while eavesdropping on conversations.
I would have enjoyed overhearing one conversation in San Francisco when Jeanne Feldkamp had a whiskey, and Dan Diephouse walked up to her. If you know Jeanne and Dan, from Corollary Wines, there is probably no need to read any further. Still, I have a sneakin' suspicion you don't know this magnificent duo who focus only on Oregon Sparkling Wine at Corollary Wines.
Dan and Jeanne both come from Tech, and when I spoke with them a couple of weeks ago, Jeanne was exuberant being out of Tech. One day I need to dive deeper into why wine feeds the brain of us Tech people. Dan still has a couple of side projects and is currently working on some AI tech that will tell us, "I'll be back."
I am hoping you have the same question I did at this point. How in the whole wide world of sports do two people who meet over whiskey in San Francisco end up in Oregon focusing purely on Bubbles. If you were to ask Jeanne, she would say, "It is a very slippery slope going from drinking bubbles to making bubbles." I don't have to process that statement very much to understand where she is coming from. Dan and Jeanne come from a background of curiosity, drive, and lifelong learners. With a passion for wine on the consumer side and an obsession with sparkling, the dynamic married duo set off to travel, exploring different sparkling regions.
Their first foray in making Bubbles was a visit to the Farmers Market, a few Apples, and a crusher. Frustrated with the fact that the apples had an invisible force field surrounding their precious juice, the team walked away and stacked the apples in the garage to wither away into nothingness. Something happened to the force field a couple of weeks later. Maybe it wasn't a force field at all; maybe, just maybe, the apples needed to soften up a bit before being pressed into obedience. This little California Apple project back in October of 2015 was one small step to making outstanding Corollary Wines Oregon Bubbles. From what I understand, Dan still has a couple of bottles of the initial project.
Success with apples got the team thinking about the possibility of making an incremental change from apples to grapes. Calling up vineyards all over California, nobody wanted to sell grapes to someone who hadn't made wine. Yet another obstacle, but I have a suspicion Dan has read Ryan Holiday's "The Obstacle is the Way." In August 2016, Dan called up Jeanne out of the blue and asked her something like, "Do you still want to try and make wine" Jeanne's response, "Yeah, sure," not sure where the conversation was going. Dan replied, "Good, we are picking up a couple of tons of grapes tomorrow!" Can you imagine getting a phone call to pick up two tons of grapes at the drop of a hat? Sounds fantastic, fun, and scary as all get out to me!
The couple had "fun" hand-crushing all the Pinot grapes from Filigree Farms at a facility where the guy had lost the lease on the building. In 30 days, everything had to be removed from the building. Of course, the heroes of our story stepped to the challenge to blaze their path to Sparkling glory. In looking at where to settle their winemaking roots, Oregon was a solid fit. The microclimates and the soil types matched those experienced of trips exploring other Sparkling regions of the world. It didn't hurt Jeanne grew up in Beaverton.
Once the couple was in Oregon, they set out on a journey to find vineyards with higher elevations. One fact about Sparkling you may not know is you want late-ripening vineyards or grapes are picked early. For Bubbles, grapes are picked at a lower Brix level, aka lower sugar levels, since sugar is added later in the winemaking process. Jessica Cortell, a great steward of the land, set out to show Jeanne and Dan some great vineyards. Corollary Wines is currently working with a few vineyards, including Winter's Hill, Namaste, Cattrall Brothers, Momtazi, and not yet released X-Omni.
I started following Corollary Wines when I noticed Jeanne signed up for the newsletter early last year. It has been a blast to follow them on Insta and to read their newsletters! They had planned to launch in March of 2020, but some global event occurred. It's kind of hard to understand. Over the past year, I've been tempted on many occasions to click the "Buy Now" link in their emails and try out this new winery whose focus is only on Sparkling. Why didn't I? Well, connection. You should know me by now. I am all about the face-to-face personal relationship. I didn't have a fellowship yet with Corollary Wines, and it is my fault for not reaching to make the connection sooner.
Back in May, a group of us got together to enjoy some wine, and Jessica Cortell showed up with a bottle of 2017 Cuvee One from none other than Corollary Wines. After it was opened correctly with a saber, I am pretty sure I was first in line to get a pour. I was blown away, posted an Insta Story, and Corollary Wines reached out about setting up a tasting. Another person in the group, Andrew, was also blown away.
April of this year, 2021, Jeanne and Dan set up their first "tasting room" with no walls and the exceptional Oregon breeze flowing through, providing an excellent setting. I am sure the Corollary Wines team has visions of a gorgeous tasting room with Bubbles all around for customers to share. I have a notion that setting up a tent for tastings is nowhere penciled into their 50-year plan. It works, though, and for me, I enjoyed it on many levels!
Driving down the road to Winters Hill winery, I wasn't sure if I was in the correct place, but once I got to the parking lot, the red Corollary Wines signs helped ease my anxiety of messing up. Walking up a little path, Dan was waiting for me and proceeded to the tasting tent. I had seen the time-lapse video of the building of the tent. To see it in person was fabulous. Sitting across the table from Dan and Jeanne, my view was exalted, filled with a skyline view, trees and wilderness. At one point in the tasting, a group of people was horseback riding. Marveling at the tent and the setting, Jeanne mentioned the first tent didn't hold up, and it was quite a feat putting this one up.
Dan poured the first Sparkling of the day, the 2017 Cuvee One from Corollary Wines. It is a blend of 50% Pinot Noir, 32% Chardonnay, and 18% Pinot Blanc from five vineyards (Cattrall Brothers, Namaste, Winter's Hill, Yamhill Springs, Sienna Ridge). I could nerd out on more details, but not everyone will appreciate the nitty-gritty details. If you want the nerdy erudition, hit reply, and we can dive deeper!
Did you catch the blend or just read over it super crazy quick? Pinot, Chard, and Pinot Blanc. What a combination! Who would have thought something like that would work, but it works on so many levels! The Silicon Valley experimentation mentality comes through in the wine world for Corollary Wines. One question I had been wondering was if Dan was more of the winemaker or Jeanne or both. Come to find out, both are heavily involved not only in the winemaking process but also in cleaning and fork lifting. It makes me wonder what other experiments they have fermenting in some deep dark corner of a cellar room.
Next up was the 2017 Winter's Hill Pinot Blanc from Corollary Wines. Yes, a Sparkling Pinot Blanc. Who does this sort of yummy madness!? These vines were planted in 1990 at Winter's Hill. Older vines at higher elevation (approx 700ft) make for that tremendous bubbly sensation we all want mid-palate.
Early on, Corollary Wines was named Perseid Wines, but Meteor Vineyards in California was already using the name for one of their vineyards. Luckily, it takes a while for grapes to ferment in the barrel, and then there is the whole disgorgement process for Sparkling. While the grapes were going through their chemical reactions, Jeanne and Dan came to peace with a name with a mathematical background where proof proves another proof. The logo for Corollary Wines is an equiangular triangle, meaning each angle of the triangle is at 60 degrees. You didn't know you were getting a math lesson today, did you?
Moving on to the 2017 Namaste Blanc de Blanc from Corollary Wines. The Namaste vineyard was planted in 1980, and can you guess who farms it? You got it, Jessica Cortell! She is quite a superhero in of herself! What Dan and Jeanne enjoy the most about this vineyard are how long it takes for the grapes to ripen. More characteristics form, giving the Blanc de Blanc an incredible mouthfeel and deliciousness with longer hang time on the vine.
A side note about Jeanne and Dan, they are gravel bicyclists. I don't know how we got on the subject, but I find it interesting that I am terrified of biking on gravel while having zero interest in navigating a bike with cars.
Onward, the 2017 Cattrall Bros Rose from Corollary Wines has many interesting facts you should research, but I am going to do my level best to be short and sweet about the 828 clone of Pinot Noir. A legend of Gary Andrus brought clippings from France hidden inside a London Fog trench coat. When I was at Van Duzer Vineyards the other week, Bruce showed me the 828 clone. When talking with Dan and Jeanne, they called it the upright clone due to its upright growth. Most grapes grow down, not the Viagra clone, as Bruce likes to call it. I soaked up every little morsel of data like a dry southern biscuit sopping up the last bit of sausage gravy on the plate after a deafening Saturday morning breakfast.
Let's dive a little into carbonic maceration. Do you know what it is? If you do, feel free to skip ahead. You can also skip ahead if you have no interest. I promise there is no test at the end of the newsletter (fingers crossed). Most of the time, grapes are crushed, and the juice ferments to giving us a lovely social glue found in our glasses. For carbonic maceration, fermentation happens before the grapes are crushed inside the skin of the grape. How does this happen? The grapes are in a covered container with CO2. In the 2017 Momtazi Rose case, the grapes were covered for eight days before being crushed. I am putting on my wine bucket list to try one of these grapes before it gets crushed. More than likely, it will taste awful, but I want to experience it nonetheless.
There is a Portland-based wine writer. Her name is Katerine Cole, and her book on Bio-Dynamic farming is fabulous! Sitting there, I told Jeanne how jealous I was she got to meet Katherine. She proceeded to tell me she met Katherine after a seminar and was fortunate in many ways. Katherine was working on a book titled "Sparkling Wine Anytime." It was set to launch when things started to shut down. With the book delayed, Jeanne was able to get a bottle of the 2017 Momtazi Rose to Katherine for inclusion in the book.
Here is what Katherine says about the Momtazi:
Along with Lytle-Barnett, Corollary Wines is an exciting new star in the Oregon sparkling scene. This rich, spicy, red-tinted wine is the product of a technique, called carbonic maceration, that extracts color and pure fruit flavor from whole clusters of Biodynamic Pinot Noir grapes.
Maybe I need to see if Katherine is willing to give lessons on writing wine descriptions. So much detail about the wine and vineyard. Zero tangents.
The Frosted bottles of Corollary Wines
Speaking of tangents, I only have one left of Corollary Wines hand frosted bottles. Check out the bottle on the left compared to that on the right. Doesn't that 2017 Momtazi look out of this world amazing? Jeanne and Dan hand frost every single bottle. With the level of detail they put into the tasting tent, the name, short URLs on the bottle, and the wine, I had to apologize. As we were wrapping up, I confessed to not reaching out sooner. Jeanne and Dan are great people with an artistic 50-year plan. Fingers crossed that they can send out emails in the next few years and be sold out to give room for other side projects.
With summertime being in full force, popping open some cold sparkling sounds amazing right now. Sit with Dan and Jeanne from Corollary Wines to experience it for yourself. Insider tip, if you take notes during the tasting, you will earn brownie points with Jeanne and, as always, tell them, "A.J. sent me" when you make your reservation!
With Gratitude,
A.J. Weinzettel