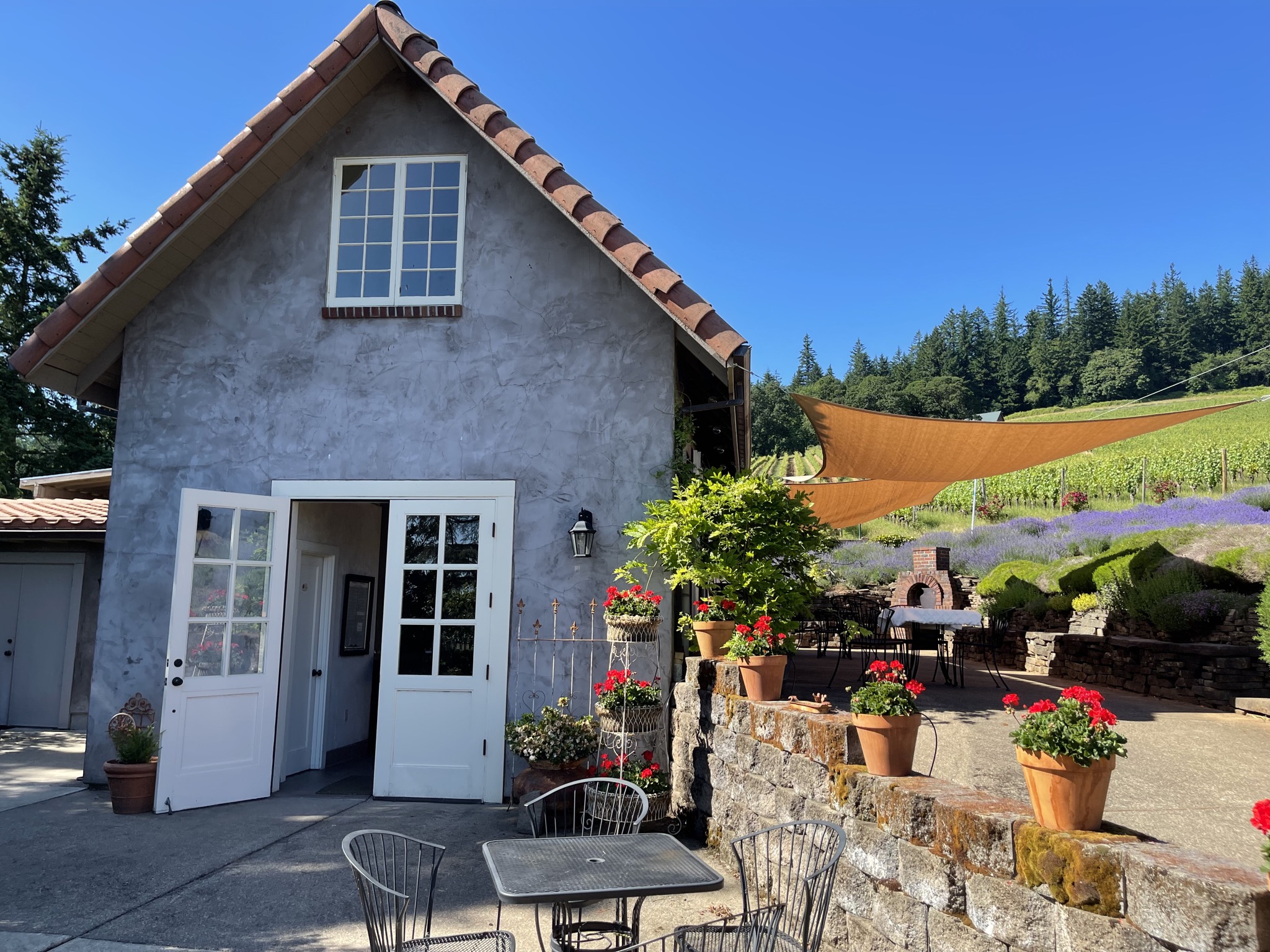 What a blast last weekend was! The 4th of July is my absolute favorite holiday of the year. There are no expectations of gift-giving, and everyone comes together to celebrate America's Birthday. I consider myself exceptionally fortunate. My neighborhood gathers every year in our cul-de-sac bringing food, conversation, and boom booms. For me, the celebration starts early in the day with prepping food. I smoked ribs all day while my daughter and friends made gooey chocolate bars. Both were fantastic! Maybe five fireworks were lit on the pavement with a water hose and bucket nearby with the firework ban in place this year. The little kid in me NEEDED to light something off. One of the other dads came up to me and said, "You are just a little kid, aren't you?" His remark was meant to come off in a good way. My face got the biggest of grins with my reply of, "Yes!"
Another time in recent memory when I said, "Yes!" was after reading an article from Rusty, aka The Prince of Pinot, on a winery I knew nothing about. Rusty talks about wines from California most of the time, but he mentioned the transition of ownership of Prive Vineyard in Oregon near Newberg. Rusty has been a fan of this cult winery for quite some time. He has tasting notes dating back to 2003.
The previous owners' Mark and Tina Hammond, lived a dream life for this wine geek. Back in 1980, the original Müller-Thurgau vines on the property were planted in Jory soil. In 1995, the Hammonds grafted over the two acres of vines with the Pommard Pinot Noir clone. The two-acre vineyard produces 300 cases a year with some other grapes from Walla Walla, including Syrah and Malbec. What is fascinating to me is that Mark had a hardware store in town while Tina worked on making wine and raising a family. In 2001, her Le Nord won a gold medal at the Northwest Wine Summit. With such a small production, getting on the allocation list has been challenging to say the least. However, it also leaves no room for error or a bad vintage.
Here is how Rusty describes driving up to Prive in 2006
My arrival was signaled by two aged wine barrels next to a sign reading, "Rue de Privé," and I knew I had found a slice of France in the Chehalem Mountains.
Let's spend some time translating French to English a bit. Rue de Privé means Private Street. Prive means private. Le Nord is north, and Le Sud is south. Mark and Tina wanted you to be transported to France, driving up their private driveway. They even converted an old barn into a French-style winery. Getting back to the property. I mentioned Le Nord, which is at 650 feet and is practically the backyard. Le Sud is couple hundred feet less in elevation, showing off its old vines driving past the house that divides the two vineyards.
In 2018, Tina and Mark decided to put Prive up for sale, and on October 20, 2020, a new owner by the name of Piper Underbrink took ownership. Piper first got the wine bug while working at Flowers Vineyard and Winery in Cazadero, California. Then she went to Old Town Cellars in Utah, back to California for Harvest at Joesph Phelps Vineyard and Alpine Distilling in Utah before going into a partnership with her dad for a stint. During this venture with her dad, her heart was wanting to get back into wine. But, as we always say, there is good that comes out of everything. In Piper's case, the venture with her dad allowed the accumulation of seed money for Prive, where she is the owner, winemaker, and viticulturist.
Enough what the boring background information already. Let's get down to business and talk about the visit!
After reading Rusty's blog post, I reached out via Insta to make an appointment, and we agreed upon a date to come out. At the time, the website didn't have an option to call or email to make a reservation. In looking at the website now, there is a phone number to call for tastings.
Pulling into the driveway, a little sign saying, "Members Only," made me wonder how I was lucky enough to get an appointment, but wow, what a little slice of French heaven. I slowly pulled up the driveway and gawked at the old vines before me. Then, shifting my car into Park, the tasting room was cuter than a button on a little girl's sweater for Santa pictures. I was blown away by how quaint and secluded this little gem was tucked away back to surprise and delight.
Getting out of the car, I walked into the tasting room, still in a little bit of shock. Piper asked if I wanted to sit inside or out. Part of me wanted to sit inside. The sun was out, but there was shade outside. Choosing the table with the most shade, Piper started me off with the 2019 Prive Pinot. I am sure Piper told me about the wine, but I was still trying to recover why in the world hadn't I heard of this place. Nobody in our group has mentioned it once. The 2019 Prive was solid on many levels and is very enjoyable.
As I started to gain my internal composure a little, I relished in the fact Piper sat down with me and chatted up a storm. She gave me all the backstory info I mentioned earlier and then some. Looking at her, the last expectation you have is someone who gets out in the vineyard to prune, trellis, and take care of the vines, much less makes the wine. At first glance, you might think she is part of the hospitality staff. Well, she is, but she does everything else as well.
As the 2019 Le Nord was poured into my glass, Piper explains that most members are either Team Le Nord or Team Le Sud. As I mentioned earlier, Le Nord is a bit higher in elevation compared to the Le Sud. I took notes and tasted. Wow, this was gorgeous. Am I Team Le Nord already?
The 2019 Le Sud was next for comparison. Comparing the two, Le Nord was darker in color. Le Sud was brighter on the palate and more velvety on the finish. I can see advantages of both, but I was 100% Team Le Nord on this particular day. My heart adores the darker fruit right now.
What's interesting to me in comparing these is that both wines are practically the same. The only differences are Le Nord is a bit higher in elevation along with a tad less oak. Diving deep into Terroir, these two wines are a classic example of how Terroir comes into play with wine. The soil is the same along with the clones. Both wines are made with minimal intervention as well. Who would have thought a few hundred feet in elevation would make such a difference between these wines?
Next up was the 2019 Les Collines Syrah. Piper was telling me how hard Tina worked to get fruit from this vineyard in Washington. I know brownies were sent to the General Manager on at least one occasion. The Syrah was smooth as all get out. Zero tannins and I enjoyed every tiny drop.
To finish out the tasting, Piper poured me their Ruby Port. I am not a big Port person, to begin with, and it was too sweet for me. However, if you like Port, I would give it a try.
I looked at the wine list, and there was one we didn't try called Joie De Vivre, translation Joy of Living. It is a blend of Le Nord and Le Sud with very few cases produced and not available for tasting.
Finishing up the tasting, I asked Piper can I get a couple of bottles of Le Nord? Her reply left me a little sad. The allocation list for Prive sells out quickly. The 2020 vintage sold out in March of 2021 in which I can conclude the 2019 vintage probably sold out in March of 2020. Piper added my name to the allocation list with zero hesitation. Maybe if I am lucky, I can get my hands on the 2021 vintage. Piper is also working to source more fruit to provide more options. It sounds like there is some Chardonnay on it's along with Pinot from Ribbon Ridge.
Here is a side story for you, not related to wine, but pertaining to Prive. Piper's partner, Ben, has a VW Bug van. Way back when his mom bought it. Ben had many adventures in the van as a kid. Ben's mom sold it to a friend, and over the years, it became worked down. Ben recently bought it from the friend and has been working on restoring it. After all these years, it only has 105,000 miles on it. When I talked to Ben, he mentioned how much of an "adventure" it is to drive. The "adventure" part is the uncertainty of returning home. Ben was telling me one time, he and Piper went out, and something was going wrong. Ben told Piper, "Oh, it's not so bad. We are only out of gas. At least that is what I think I wrong. The gas gauge stopped working about 4,000 miles ago." These "adventures" drive Piper bonkers!
I am very much looking forward to more chapters of this story unfolding. I am also hopeful of getting my hands on some 2021 Le Nord. It seems like Prive has been pretty much off-limits in the past, but I get the sense more offerings are on the way to allow more people to enjoy the fruits of labor Piper works to produce. So when you call to make a reservation, please let Piper know, "A.J. sent me!"
With Gratitude,
A.J. Weinzettel