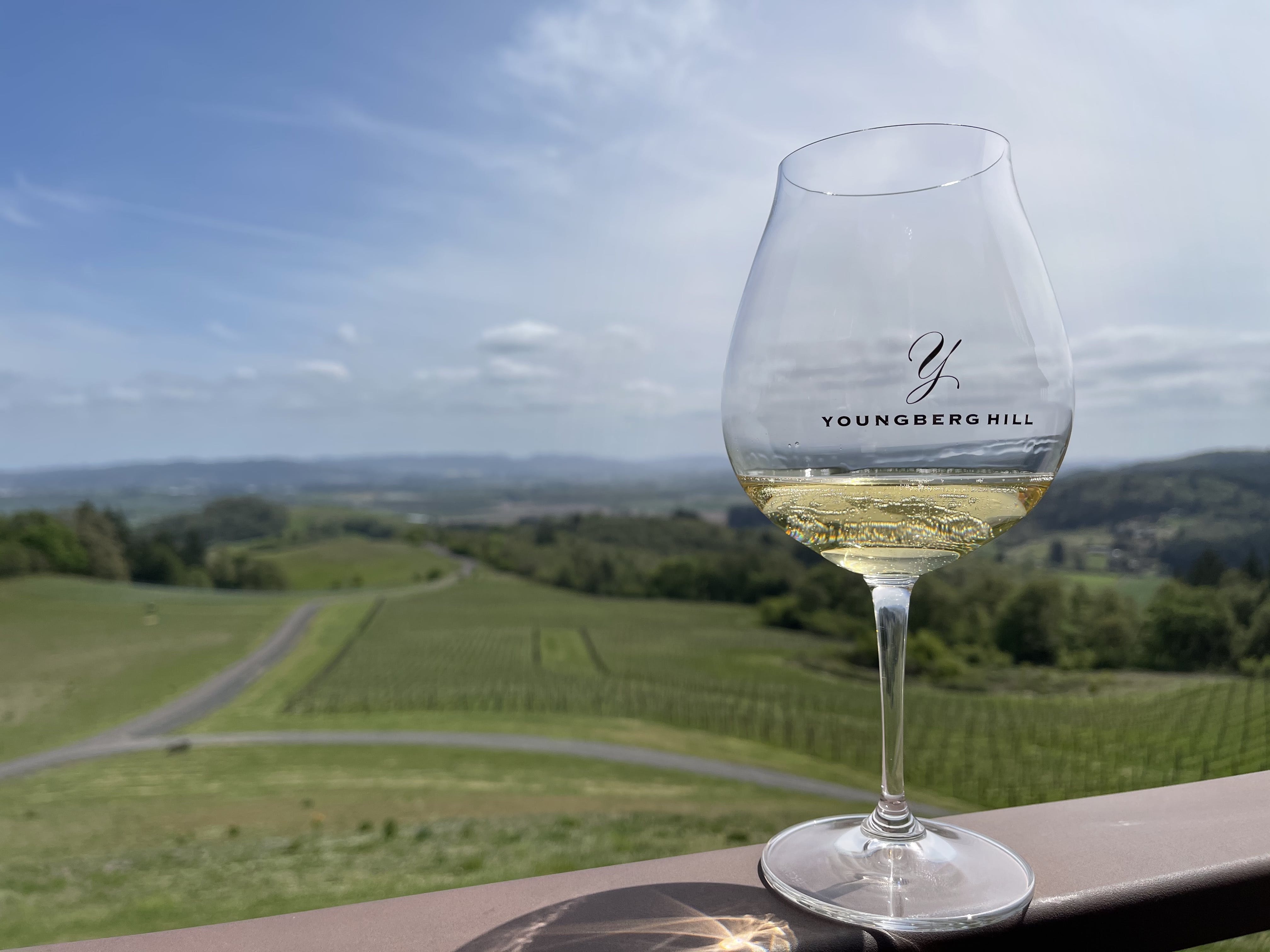 Earlier this week, I picked up my daughter from school and decided to pick up a Chocolate Tundra cookie from Hungry Hero as a snack on the way home. It was funny how she immediately saw the semi-hidden cookie and darted for it. I voiced how shocked I was to see her laser-like focus find the surprise cookie. Her response was something like, "I learned very quickly in the second grade when you used to hide cookies in the car." The remainder of the week has been a blast hiding more cookies!
Normally, I can find some sort of transition from my rambling to the story of the week. I have to say transitioning from cookies to my visit with Wayne Bailey at Youngberg Hill is proving next to impossible. Pardon, the abrubtness and cookie crumbs on the keyboard.
When I was driving up the long driveway to Youngberg Hill, one of Wayne Bailey's daughters, owner, was zipping around on a lawnmower waving with a big ole smile. I couldn't help but smile.
I had previously seen pictures of Youngberg Hill, but nothing could prepare me for what was before me. The driveway, maybe I should have said a short one-lane 3/4 mile road leading up to a mammoth of a tasting room / Inn perched on a hill overlooking vines and a break-taking view of the valley. I was pleasantly surprised.
Somehow I was fortunate enough to chat with Wayne as we moved out onto the deck to talk with a glass of 2016 Sparkling Blanc de Noirs. Back in the 1800s, a Swedish farm family with the last name of Youngberg owned 1600 acres of land where the vineyard and winery are located today. In 1987, Norman Barnett from Boston bought 700 acres from the Swedish family to build an Inn. 1989 Ken Wright planted two vineyards here for his Panther Creek Pinot Noirs. At this same time, Ken Wright was also making wine for Domaine Serene. Eventually, in 1994, Ken Wright launched what we know today as Ken Wright Cellars. A farmer in 2003 by the name of Wayne Bailey bought the property, putting the property's farming first and foremost. Wayne progressed to Organic farming in 2011, Biodynamic in 2017, and is now no-till. Of the 50 acres, Wayne owns 21 are under vine.
Despite the fact, Wayne was in shorts, and it was a tad bit chilly, Wayne took me over to the Jordan Block. I presume Ken Wright planted it in 1989. I immediately took an interest in these old own-rooted vines. In case you are wondering, own-rooted means these vines haven't been grafted. Sometimes a varietal such as Pinot Gris will be planted, but Pinot Noir or Chardonnay will get grafted onto these vines. The Jordan Block is at 800 feet in elevation with Pommard and Wadenswil clones. The number of older own-rooted vines in Oregon is getting challenging to find. When you find own-rooted vines, take note of the vineyard and look for the label when you are out and about.
Walking over to Jordan block, Wayne was enthusiastically nerding out about the soil and rocks. Seeing the different layers in the crumbling stones was interesting. It's also interesting to see how the Jordan block is nestled into a small corner of vineyard off by its lonesome.
As we were walking back in, Wayne proceeded to tell me about some of the issues he ran into with farming. In 04, 05 and 06 there was a lot of fruit dropped. The quality just wasn't there. From his time in France, he learned women do a better job of pruning over men. Women are more sensitive to the vines. To this day, Wayne and two women prune the vines. With the Jordan Block being a little older, it doesn't need hedging. It gets less fruit, but there is better airflow on the canopy.
I realize I am getting a smidgen technical than usual, but there is a reason. When Wayne bought the property in 03, the vines were stressed big time! Cover crop was removed to take away any competition for nutrients. In 09, he experimented with plowing under and not plowing. In '15, he bought an optical sorter to ensure the best grapes. Today, he can look back on the hard work from the previous years. It reminds me of reading a passage in a book Teal Walker recommended to me. In the book, it mentioned how Tony Soter was consulting for Shafer Vineyards in California. Tony would say something like, "Go and walk the vineyard. See what the vines are telling you." Without good farming, there is no chance of getting a wine that blows your socks off upon entry.
We got out of the brisk, almost Spring weather to taste some wines while having a fantastic conversation. First up was the 2017 Bailey Family Chardonnay Reserve. Wayne has three daughters, Aspen, Natasha, and Jordan. The Chard was from the Aspen block. Wayne and I got to talking about farming, and I mentioned the above reference to Tony Soter. He proceeded to say, "Half of the barrels I use are once used barrels from Shafer Vineyards." Oh, my freaking goodness! In 2011 the barrels, aka cooperage, was a light toast, but they are back to a medium toast. I wonder what toast topped with Tillamook unsalted butter would taste like with Chardonnay? Anyway, this Chard was delightful, and Wayne is targeting 20 years for this bottling.
We moved on to the 2017 Natasha Pinot. Natasha was the other block planted in 1989. The Jordan Block is at 800 feet, whereas the Natasha Block is at 600 foot and it is marine soil compared to the rockier Steiwer soil found in the Jordan Block. With 30% new oak and 16 months in barrel, the Pommard shows itself in a good way, with tannins making a presence but not overpowering the lovely dark fruit.
The 2017 Jordan Block has been renamed J Block. Why? I should have asked, but I got the sense it was a sore subject. I let it go. With this block being 200 feet higher in elevation, the grapes stay on the vines a week to ten days later. The tannins didn't seem as prominent, and the Wadensville spice came out to play in this sip.
In the main tasting room area, I hear Slash's guitar riff startup for "Welcome to the Jungle."
The 2017 Bailey Family Pinot is a reserve. I enjoyed how much darker this wine was, and the tannins were really pronounced. Longevity is the word for this wine. The structure for the Bailey Family is setting the precedence for an age-worthy wine.
Tasting the 2018 Natasha and J Block was similar to the 2017s. Sitting there talking with Wayne, we started talking about past vintages and what was my favorite vintage. It is difficult for me to pick an absolute favorite, but I lean towards 2012. He pulls out a 2012, the cork looks excellent, and in the bowl of the glass sat a deep dark red wine with an exceptional dark fruit nose. The tannins are a bit more integrated from the 17 and 18, but wow, this can still go for at least ten more years.
Wayne proceeds to ask me is there another vintage you are curious about. Well, 2013 is always an exciting year due to the monsoon-like rains we had during harvest. He proceeds to pull out the 13, and I stop him. Yes, I know why in the world would I stop this amazingness? I proceed to tell Wayne, "Please don't take this as an insult, but you don't need to open the '13 for me. I have had the pleasure of enjoying a wide variety of your wines already. The '13 isn't going to change my mind one bit." I loved his response, "Oh, don't worry about it. I want to take it home and enjoy it tonight with dinner!" What more can you say to that? The 2013 Natasha was wow. It was a bit lighter in color, with a bright nose and spicy finish.
Reflecting on the 2012 and 2013, I asked Wayne, "Do you think your daughters will dive into wine?" As Wayne thinks a bit about his answer Tina Turner's "We don't need another hero" song is faintly playing in the background. Wayne's reply is something like, "Aspen definitely not. Jordan maybe, but probably not. Natasha, who is 21, comes to the winery on the weekend, helps with the tasting notes, and is an author. She has several articles in the Oregon Wine Press. She and Natasha miss the farm." For me, there is something about being in the country and away from the craziness of life. We all are so connected to our screens these days.
Speaking of screens, I looked down at my watch and noticed the time. I apologized for sending an email real quick to let the office at IPNC know I will be a little late picking up some wine. Wayne joked with me a bit and said, "You are lucky we are allowing you to use your screen." I was a little puzzled, but Wayne explained that the rooms for the Inn don't have TVs. They kind of force you to get back to nature while you are staying on property. What a concept. Come to find out they are launching a new vineyard tour where you can use your phone, aka a screen, to scan a QR code and learn about the vineyard. Think about it, you and that someone special with a bottle of wine exploring the vineyard. Sounds fabulous!
Oh my goodness, how can I forget Nutmeg and Ginger! They are the Scottish cows on site. If you are on-site, find Nutmeg and call her name. She will come to you expecting food. Also, when you go into the tasting room, let them know, "A.J. sent you!"
With Gratitude,
A.J. Weinzettel