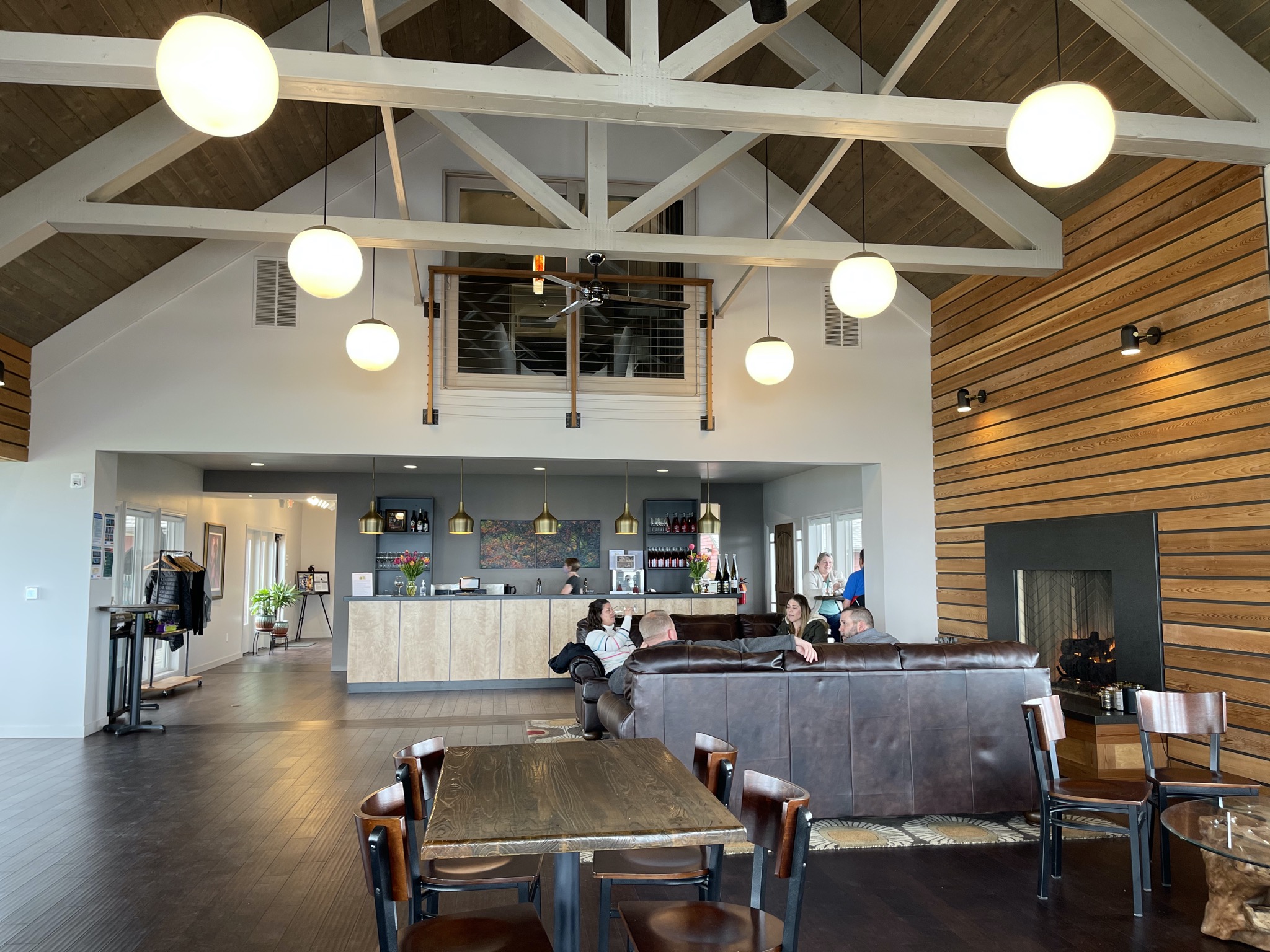 It is Memorial Day weekend. I am so ready for summer to be in full effect, and for most of the US, air conditioning units are running, allowing escape from the heat. In Oregon, the official start of summer is July 5th, but let's not get ahead of ourselves too much. In a blink of an eye, summer whirls by without stopping to say, "Hello." This weekend marks the 20th anniversary of my first visit to Oregon. I vividly remember freezing my patootski off at the coast and visiting my first natural hot spring like it was yesterday. During a Cycle Oregon ride a couple of years back, I rode past the same hot spring. Talk about some memories.
Here I am, 20 years later, fascinated to hear how others got to Oregon or how they ended up in the world of wine. I never in a million years thought I would be writing these stories down for you to read. Thank you!
During the McMinnville Wine Competition, I had the pleasure of meeting Karyn Howard Smith, Director of Hospitality at Bryn Mawr. We exchanged emails and scheduled a time for me to come to the winery. Karyn's husband, Egon Smith, is a winemaker at Anne Amie. When I read his bio, I made a note of his favorite food.
If you do any research about Bryn Mawr, there is one person who constantly comes up over and over again. It is the winemaker and vineyard manager Rachel Rose. When I coordinated my visit to the winery, it needed to be a weekend, and Karyn let me know Rachel doesn't work on the weekend. I was a little bummed, but I understood. Looking back, I wished I would have found a way to visit during a weekday. There are so many little amazing stories to glum on to. When asked, "Why wine?" Rachel's answer is, "Because food. Because nature. Because science."
Rachel's journey into wine started with a rabbit hole into food which lead her to wine. Going into the local wine shop, she would explore different wines to see what pairs well, and as we all know, the bunny hole of wine is this neverending free-falling magical bliss. Rachel decided to help in a tasting room, and when she learned the science side of wine, her inner nerd gleamed with joy.
Taking a couple of online classes from UC Davis landed her in Australia to study viticulture. Rachel already studied Molecular, Cellular, Developmental Biology before getting into wine and set her sights on getting an M.S. in Oenology after her postgraduate degree in Viticulture. At this point in her journey, the educational background was there to work anywhere in the world. She wanted to work somewhere with a cool climate, and guess where she wanted to go? Burgundy, of course!
There were a couple of hurdles with going to Burgundy. First, I feel there was a self-confidence issue. In multiple interviews, Rachel mentions how rigorous the process is to get a working visa in Burgundy. To say you can do a better job than those already in Burgundy felt close to impossible for her. When I meet Rachel, I want to bring up this topic and see if she still feels this way. I hope she doesn't feel this way anymore. The TEXSOM judging competition released the results this week, and Bryn Mawr walked away with a gold for their Chard along with three silvers for Pinot. Rachel knows what she is doing!
The other hurdle for Rachel going to Burgundy was her boyfriend. Liam is a musician and didn't want to be traveling the world chasing harvests. The couple settled on the New World Burgundy, aka Oregon, where she worked at Ponzi and Penner-Ash. Working all the different sites for Penner-Ash, a love affair with Temperance Hill emerged. She was driving up to the future site of Bryn Mawr with thoughts of Temperance Hill racing through her mind like a little girl waiting for Santa on Christmas Eve. Arriving on-site to meet the owners, Jon and Kathy Lauer, her heart sank the teeniest little bit. It wasn't Temperance Hill, but it was across just on the other side of the road!
Rachel and Liam spent five years on-site in a trailer building up the vineyard. Eventually, a winery was built in 2018 and a beautiful tasting room in 2019 with a view to DIE for! There are now 32 acres under vine with Pinot, Chardonnay, Riesling, and Tempranillo. The Lauer's youngest son, David, graduated college in 2016 and worked with Rachel over the years. At one point, he was in charge of hospitality, wine club director, and handling all the shipping for club members. In May of 2018, Karyn was brought in to take over hospitality.
Quick tangent.
It was the end of the day for the wine competition, and one of the judges immediately said, "Corked!" Karyn was right there, no questions asked, had the second bottle in her hand ready to open to ensure everything went off without a hitch. I might be exaggerating a bit, but at this point, the MC immediately tore open his shirt to reveal a giant S in the middle of his chest. Lasers shot from his eyes only to be deflected by Karyn's desire to make sure everyone was happy. Clark Kent came back to being the MC once a bit of discussion prevailed amongst us judges. I mention this exaggeration to display how another aspect of the team at Bryn Mawr. Rachel kills it in the vineyard and winemaking while Karyn is the "boo-boo kisser" in the tasting room.
You wouldn't believe the number of browser tabs I have open on the backstory of Bryn Mawr, along with another two hours of audio interviews I haven't gotten to yet of Rachel. Real quick, though, before I get into the tasting. This year Bryn Mawr announced they are LIVE Certified, and the levels of sustainability Rachel dives into blows my mind. In an interview with Kathleen Wilcox, Rachel goes into some of the sustainable practices. Here is a quote from the interview.
"During the pandemic, there were incredible delays all along the supply chain, and it made me really focus on where every element of the bottle was coming from," says Rose. "We had a hard time getting tin capsules, and I started thinking about what those caps are made from and where they're mined. I figured it was a third-world country. While investigating that, I found out that ours were molded in Canada, sent to France for embossing, then shipped back to us. I started to imagine the carbon footprint we were creating by air-freighting capsules." Rose decided to eliminate the capsules entirely and replace them with a more eco-friendly, domestically produced blended wax seal.
In 2012, Rose switched to eco-glass for half of Bryn Mawr's 6,500-case run of wines—a decision that allows the winery to ship 56 cases per truckload as opposed to the 42 cases that fit using ultra-premium bottles. "I started thinking about how that would reduce the number of delivery trips, which would ultimately reduce the wear and tear on the roads, and the tires, which would need to be replaced less and less often," says Rose. "It sounds crazy, and it's unquantifiable, but once you let your imagination go, you realize that even chipping away at some of these issues can make a big difference."
As a consumer, I don't consider these practices very often, but when it's put into black and white for me, I feel a little like Homer Simpson. I adore the fact Rachel gets all geeky on everything she touches!
Don't worry, I am moving on from the backstory to the tasting. Here we go!
When I walked into the tasting room, it was a semi-gloomy rainy Saturday outside, but inside was ready to bring happiness to all. As Karyn directed me to a table near the window, I took notice of the view. I can only imagine what this place looks like on a sunny summer Friday afternoon.
My first tasting was the 2019 Sparkling Rose. It is compromised of 52% Pinot Noir, 28% Pinot Gris, 17% Tempranillo and 3% Marechal Foch. Going back to that sunny Friday afternoon, this would be perfect sitting out on the deck overlooking the valley. I found it to be light and refreshing. Something totally different when it comes to bubbles!
As Karyn was pouring the 2020 David's Block Pinot Blanc, I asked her about Egon's, her husband's, favorite food in his bio. Taken a little off guard, I mentioned his bio calling out a recipe she makes called the "Bacon Cheeseburger in Paradizza" pizza. Karyn quickly put two and two together and said, "It from a recipe book." She also mentioned how it was quite an undertaking to make, and she doesn't eat any of it. My questioning look prompted an answer, "Because I am a vegetarian." Oh, got it! Here is the recipe if you are curious.
The David's Block Pinot fits David to a T. He used to be blond but is now a redhead. All of the white wines come from David's block. The nose on this was spectacular, with a fruity green apple mid-palate. The acidity on this will help bring out those secondaries in the coming years.
The 2018 Estate Riesling is a Medium Dry on the IRF scale. All of the 2019 Riesling went to distribution. I found this wine to fit perfectly into the Medium Dry category. Sipping on this on a summer day is excellent. With a bit of ethanol mid-palate and pleasant acidity, I want to revisit this in a few years.
Next up was the 2017 Estate Chardonnay. I found the entry to be fabulous, sticking around mid-palate with great acid and a savory finish. I enjoyed it and can see why the 2018 won a Gold Medal at TEXSOM.
As you can tell from the Sparkling Rose, Rachel enjoys experimenting. The Innovation Series dives into the possibilities of what is possible with wine. Each label has original artwork. The 2020 Starry Night artwork is from 4-year-old Adelaide J Lauerer and Bryn Mawr's first "Black Chardonnay." If you are a long-time reader, you understand my obsession with Chardonnay getting tons of oxygen.
The other label from the Innovation Series is a table wine consisting of 75% Pinot Gris and 25% Zweigelt. The label was created by Robert J Lauer, age 1, and is the 2020 Cosmic Sky. With 12% ABV, this is a perfect little table wine and is super light purple in color. I would love to throw this into a blind and listen to the reactions.
​
When I think Tempranillo, I am reminded of the hot vineyards in Rioja. Bryn Mawr is Welsh for "high hill." At 750 – 800 feet in elevation and getting the cold Van Duzer winds at night, harvest comes late in the year and is pretty much the opposite of a hot vineyard. In 1995, 150 vines of Tempranillo were planted, and Rachel's mentality for Tempranillo follows in the footsteps of Rioja. Reserva is a Spanish term meaning the wine ages in barrel for two years and another year in bottle before release. Allowing the tannins to soften a bit produces a wine you would expect from a hot vineyard. The 2015 Tempranillo still had some gritty tannins, but the finish is something to watch out for! It reminded me of being on a roller coaster ride. It felt like the finish would taper off, and all of a sudden, it would come back over and over again.
​On to the Pinots! Yes, I know I am long-winded yet again this week. What can I say? I enjoy what I do!
The 2017 Estate Pinot is everything you come to expect from an Oregon Pinot. Nice medium red, integrated tannins on the mid-palate, and a lovely spice finish.
Both blocks were dark red, but Jeffrey's Block was a bit darker. Krista felt lighter in body, where Jeffrey's was almost a medium-plus body. Krista has this silky smooth finish, but Jeffrey had this lingering finish of dark fruit I thoroughly enjoyed.
My time with Karyn was coming to a close, and what a blast it was exploring through 10 different wines. I seriously want to sit on that deck in the sun over the summer! Earlier this week, I got an email saying "Taco Tuesday" is back. In reading, Bryn Mawr is staying open late on Tuesdays throughout the summer with live music, and Foodology's food truck is providing dinner. I can get my head around this! Who's with me? If you decide to go without, please tell them, "A.J. sent me!"
​With Gratitude,
A.J. Weinzettel