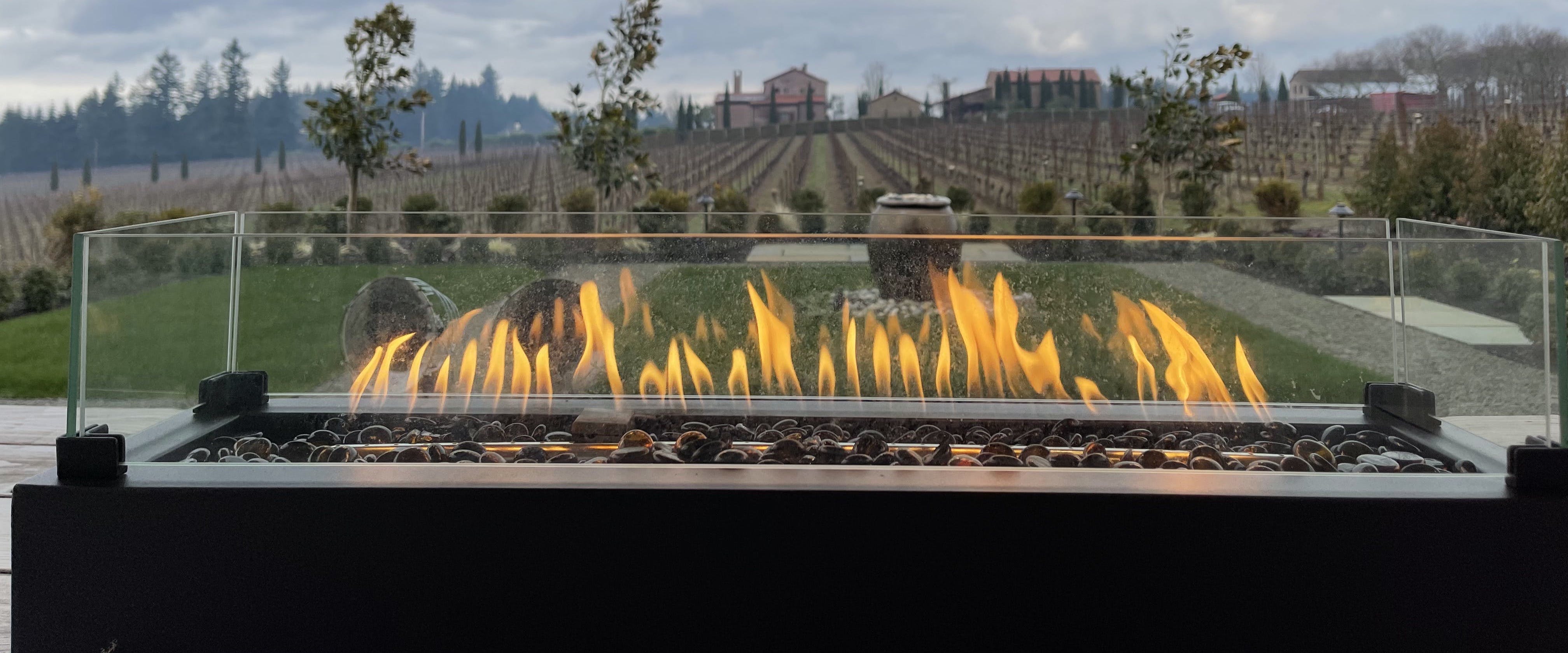 Long-time readers know I enjoy my bike rides during the summer. I used to live in Sherwood, and my main route was always down Lebeau Road. There is one main reason I enjoyed this route. Towards the end of the road is a fantastic downhill. I would strive to get up to 50 mph but could only get to 48 no matter how hard I pushed. I think it has nothing to do with me and was all about the bike's incorrect gear ratio. It is always the gear and never the person!
​
The other side attraction on this route is a unique house I continually gawk at. It is a vast house and unique on so many levels. The view from their backyard has to be breathtaking. I always hoped it would be up for sale. I wanted to attend an open house to satisfy my curiosity about the interior.
Down the road a bit from this house are vines. During my bike rides nine years ago, I never gave much attention to the vines. Still, when I decided to visit Alloro Vineyard towards the end of January, I took a pleasant journey down memory lane. While we are here on memory lane, let me share a story about David Nemarnik, the owner of Alloro, and his discovery of the property.
Excerpt is taken from The Wine Write:
The Wine Write: Tell me about finding the Alloro Vineyard site.
David: This was a farm not far from where I lived. I would take long bike rides in the hills of the Chehalem Mountains. I used to stop at this field, drink my water, and watch the sunset. The property had a nice southwest exposure. It was at about seven hundred feet in elevation. I just thought it was a nice piece of ground. I had worked on farms growing up as a kid. The soils looked good to me. They're laurelwood series soils, which is basically decomposed basalt with a layer of loess on top. Those are great to farm.
When I decided to buy some vineyard land I hired Mike McLain. Mike was a realtor who specialized in vineyard properties. I wanted a Class A site, as good as anything that could be found in Oregon. We drove from Eugene to Forest Grove overtime looking at properties. We found some sites that looked pretty good. One in the Eola-Amity Hills area was nice, but it was a bit larger than I wanted to handle.
We had been looking for about a year when I told Mike about that land I would bike past. I had him look at it and he agreed it looked pretty good. We had some soil tests done. It was a Class A site. It had everything we were seeking, but it wasn't for sale. The owner was in his late eighties and living in California. I made him some offers and he turned me down twice. He accepted my third offer. We did the whole deal over the phone. I started planting grapes here in 1999.
It is a remarkable sight, and biking through this area is spectacular.
The reason I wanted to visit Alloro was twofold. First, I couldn't believe I had yet visited a winery so close to me, and secondly, they opened their new tasting room back in December. Pulling up and seeing this unique building was stunning. Late in the summer of 2019, ground was broken on the new tasting room. Brett Fogelstrom helped design, plan, and build the tasting room.
With it being January, tastings were still outdoors, but I was toasty warm. Brianna, who grew up in Texas, was hosting the tasting and did a fabulous job. She started working at Alloro back in August and is loving it. We got to talking about something. Maybe it was the fact I was a single child or something else, but she is the oldest of six siblings. She came from the world of beer and is having a blast visiting different wineries. The winery that stands out the most for her right now is Blizzard Wines and their GSM blend.
She poured me the 2018 Chardonnay. It spent eight to ten months in oak with 10% new French oak. As I was checking out the Chardonnay, she started to tell me the winemaker is Tom. He found the property while training for an Ironman. 02 was the first vintage for Alloro, and in 2010, Tom took over as the winemaker.
Now here's the thing and a bit of my process for these newsletters. Most of the time, I go into these tastings pretty blind. I want to be shocked and awed. I want to have rose-colored glasses during the whole tasting. After my visits, I dive deeper to get the juicy nuggets. So far, this process hasn't bitten me in the patootski.
When I looked more into the winemaker for Alloro, it was none other than Tom Fitzpatrick from Elevee. My heart gleamed with joy. Tom, France, and Four are a joy and hold a special place in my heart. I will do my level best not to crush too much on Tom, and so forgive me if I go a little too far.
When I first met Tom, my first impression was his passion for Terroir. If you don't know, Terroir is a timeless topic. It's more extensive than the land where the grapes grow. It is an ideology on every conceivable plane for wine. Terroir is a worldview. Tom does way more justice to his belief of Terroir in an interview with The Wine Write, than I could possibly convey here:
The Wine Write: Did you already have a passion for Terroir before you went to Burgundy or did you acquire it there?
Tom: Great question. I had a familiarity with the idea beforehand. We talked about it. Even at Davis there were discussions centered around whether it even existed. I walked away from my time in Burgundy feeling like Terroir was the center point of wine in general and Pinot Noir in particular. At its core that's what Pinot Noir is all about.
In hindsight, my master's thesis indicated the power of Terroir. I didn't set out to prove that. My thesis looked at four different clones of Pinot Noir on different rootstocks across some really diverse sites in California. My professor was interested in measuring phenolics in fruits and wines. I was interested in determining the influence of clones and/or rootstocks on the phenolic profile of Pinot Noir. I chose those diverse sites partly to assure that the driver was really clone or rootstock selection. The takeaway turned out to be that clone and rootstock did not have much influence on the level of tannin or phenolics in general. Environment was the driver. That spoke to me of the power and influence of Terroir.
Tom's Terroir passion follows in his winemaking prowess outside of Pinot. When I finished my tasting of Chardonnay, Brianna told me there is Riesling planted on-site, and in 2020 more Riesling was planted along with Nebbiolo. Tom does a Ridgecrest Riesling under his Elevee label and is gorgeous. According to Tom, Riesling has just as much potential as Chardonnay does in Oregon.
The history of how Tom got into winemaking is easily another newsletter. I had a 2017 Estate Pinot, a 2018 Estate Pinot, and a 2018 Riservata Pinot for the remainder of the tasting. It was nice to have a small vertical of the 17 and 18 Estate side by side to compare. I enjoyed the 18 over the 17. Both of them are age-worthy without question. The Riservata had the darker red fruits on the nose and came out mid-palate with a nice lingering finish.
I talked with Brianna about the Justina, and she mentioned there are only 50 cases of this wine produced with 80% new oak with silky dark red fruits. I went home with a bottle of the 2017 Justina, and here is what I thought of it.
The 2017 Justina from Alloro speaks to Tom's masterful craft of winemaking. I melt when I get dark fruit on the nose. Upon entry, this wine immediately grabs your attention and doesn't let go until the long finish entices you for another taste.
After sitting outside for about a little over an hour, my toes started to chill a bit, but I envisioned what it would be like sitting out here on a Friday night during summer with the sun setting in the background. Take a look at these views. There is plenty of patio sitting. Having hot wood-fired bread with some superb Pinots sounds decadent to me. Summer, can't get here soon enough!
I know you will visit soon and when you do, let them know A.J. sent you and if you see Tom, say hi for me, please.
​
With Gratitude,
A.J. Weinzettel