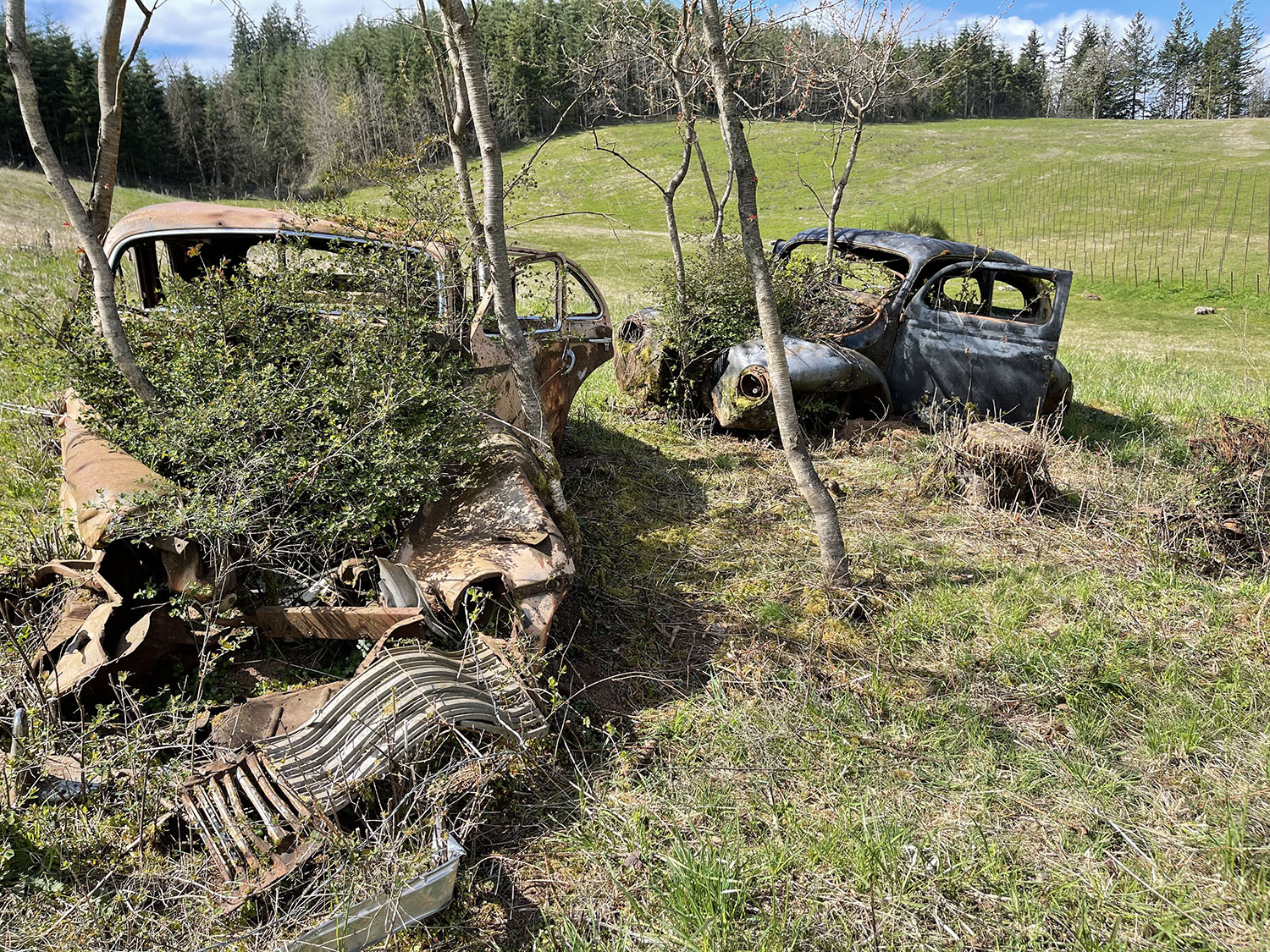 I heard of the new tasting room and finally found time on the calendar to visit. Walking into the tasting room, I was greeted with a glass of 2019 Pink Vinyl Rose. Angela proceeded to take me out onto a fantastic porch/balcony overlooking the property to get acquainted. She talked about how the land used to be a steer ranch of 55 acres with an acre planted back in February. She pointed towards a grouping of trees and said something of the nature "There is a story, I can't confirm, where in the 1950s there was a bank robbery. Supposedly these two cars are from the robbery, where the drivers left the cars and proceeded to run into the woods." I did a little research, and this is all I could find regarding a robbery in the 50s. Who knows if this story is true, but the future block planted here will be called "Robbery." If you know anything about this robbery, please, for the love of wine, reply to the email.
Coming back inside the tasting room, you get a sense of newness while also being invited into the winemaker's home. With a long table positioned behind me for tastings, I was sitting in front of a fireplace with a lovely table and glasses begging for wine and attention. As Angela was pouring the 2018 L'Alliance, I began to understand a bit behind the history of Nicolas-Jay.
Jean-Nicolas Meo from Domaine Meo-Camuzet in the Cote de Nuits produces some exceptional Burgundy wines. There is quite the estate history, starting in the early 20th century and its founder Etienne Camuzet. In 1986 Jean-Nicolas took over the estate. Iconic Burgundy producer Henri Jayer retired in 1988 and advised Jean-Nicolas. Meo-Camuzet is farmed organically, and at this time, Jean is not going through the certification process.
Jay Robert Boberg, born in 1958, founded I.R.S Records in 1979. I.R.S records are known for discovering R.E.M, The Police, The Go-Gos, and others. In 1993, Jay sold I.R.S to EMI, and he headed off to Harvard to get his MBA which led him to become President of MCA Records. Within that first year, Alanis Morrissette's "Jagged Little Pill" was produced under the MCA label.
Jagged Little Pill was released in 1995. I vividly remember this album on CD. It was played over and over while I was in the Air Force overseas deployed to Egypt. On the way to Egypt, there was a layover in Germany. I purchased Smashing Pumpkins, "Mellon Collie and The Infinite Sadness," and a cooler. We will not talk about the cooler, but Alanis and Smashing Pumpkins were played quite a bit during my 90 days in Egypt.
After finishing the Pink Vinyl Rose, Angela poured what she calls "The Unicorn Wine." The 2018 L'Alliance is a blend of Pinot Gris and Chardonnay. If memory serves me correctly, Angela mentioned this is the last year of the Unicorn with the Pinot Gris being grafted over with Chardonnay. I can't say I ever had a blend of Pinot Gris and Chard before, but it was delightful to get the fruity aromatics of Pinot Gris mingled in with the crispness Chardonnay brings to the glass.
Speaking of Chardonnay, Angela noticed it was time to pour the 2018 Bishop Creek Chardonnay. The Bishop Creek vineyard is considered an estate vineyard and was purchased in 2014 while Jay and Jean were out in the valley doing their due diligence tasting fruit from multiple vineyards. It's a 17-acre parcel with mostly Pinot, with two acres of Chardonnay. I enjoyed how this wine got me from the get-go with a grand entry, a wild mid-palate, and a satisfying finish. This wine will age great with its acidity structure aiding time in bottle for years to come.
Angela poured the 2015 Nicolas-Jay Pinot and took me for a tour of the winery. Walking out of the tasting room, down the ramp, and overlooking the state-of-the-art gravity-flow winemaking facility, you can see how the building used to be an old barn. Walking into the cellar was a little warmer than I expected, but it was due to fermenting still occurring, sending off heat. Call me weird, but there were a bunch of unwrapped barrels. Typically, they are all on their side, filled with wine and stained. These were so pristine. The last gold nugget in the cellar was a case of the 2017 Domaine Méo-Camuzet Grand Cru Corton. I may or may not have gone home with a bottle.
What was nice once we got back inside the tasting room was completing a vertical of the Nicolas-Jay Pinot with the 2016 and 2017. All three of them were charming, but my favorite was the 2016. I felt the fruit was darker, and the entry was electrifying!
After the trio of Nicolas-Jay Pinot was the 2017 Momtazi Pinot which was one of my favorites. I had never heard of the vineyard, and in researching, it is in the McMinnville AVA near the Van Duzer Corridor, think crisp harsh afternoon winds. The vineyard owners, Mo and Flora Momtazi, purchased 500 acres in 1997 for wheat and decided to biodynamically farm Pinot Noir on a portion of the property.
As Angela was pouring the final pour, the 2018 L'Ensemble, a dog showed up to make sure I was enjoying my tasting. Talking up taking the hospitality factor up a notch! I couldn't help myself and have to give her some pettings. It didn't take much for her to give up some belly and was the perfect accompaniment for the best of the best tasting. The L'Ensemble is the Reserve from 2018. I immensely enjoyed this pour and what I found interesting were the outer edges of the wine had the slightest tint of purple. This is unusual for a Pinot. I enjoyed the dark silky mid-palate. I feel with its great acidity, this will be a powerhouse in ten-plus years!
As things were wrapping up, I had to take a small stroll to the deck. I imagined that when the property has more vines in the ground in five years and the word gets out more about Nicolas-Jay, this deck will be packed. I can only imagine what club events will be like. Oh club events, I miss thee and can't wait for social events to be a thing once again!
I enjoyed the visit, but over the last few weeks, I pondered a bit. Jay doesn't know how to make wine. Nicolas-Jean is a winemaker, but he can't always be here in Oregon with responsibilities in Burgundy. So, who is the mysterious person behind the curtain at the end of the Yellow Brick Road? Sorry to disappoint, there isn't a mystery. Visiting the website, the associate winemaker is Tracy Kendall. Reading her bio is quite impressive!
Born and raised outside of Seattle, Tracy fell in love with wine in her early 20s, while earning a degree in anthropology from the University of Washington, and working towards her masters in global health. Traveling to tasting rooms in Walla Walla, Willamette Valley, and Napa Valley, Tracy would often sneak away from her friends in search of the winemaker, so that she could ask more complex winemaking questions. In 2009, Tracy worked her first harvest at Oregon's Torii Mor Winery, where she learned from winemaker Jacques Tardy, a native of Burgundy. During her time at Torii Mor, Tracy lived at Cristom Vineyards, where she became friends with Winemaker Steve Doerner, as she helped out the Cristom team with their nightly midnight punchdowns.
Tracy quickly fell in love with the camaraderie and collaborative spirit of winemaking, and found that she enjoyed its constant challenges, and its potential to be a part of creating something enduring and special. Eager to gain as much experience as possible, she began working both southern and northern hemisphere harvests – experiences that took her to Vasse Felix in Australia, Darby Winery in Washington State, and Felton Road and Seresin Estate in New Zealand, where she worked with noted Winemaker Clive Dougall. In 2011, Tracy returned home and joined Winemaker David Paige's team at Adelsheim, where she spent more than four years as enologist, before leaving with David's blessing in 2014 to join Nicolas-Jay.
"I've been incredibly fortunate to learn from some of the very best people in the business," says Tracy. "People like Steve Doerner, who taught me to be passionate about the vineyards and treat wine as a living thing, Clive Dougall, who inspired me with his energy and artistry, David Paige, who instilled in me a standard of meticulousness and excellence, and now Jean-Nicolas, who is sharing his incredible breadth of winemaking knowledge with me."
Today, Jean-Nicolas, Jay and Tracy oversee every decision that goes into making the wines of Nicolas-Jay. "As a winemaker, this is a dream come true," adds Tracy. "Not only am I making Pinot Noir from the finest vineyards in Oregon, I'm doing so side-by-side with one of the world's great Pinot Noir winemakers. And what makes it even more special is that it is so collaborative. It's never about ego. It's always about the vineyards, the grapes, and the wine."
When Tracy was asked, "What's your favorite beverage to drink during harvest?" Can you guess what it is? "Beer, beer and more beer. In all seriousness beer does become quite a staple during harvest. While normally I'm a fan of super hoppy Northwest IPAs, I find harvest requires a lighter more refreshing ale, something you can drink and finish before you fall asleep after a long day. And two key words: Shower Beer. There isn't a lot of time after a day of harvesting so killing two birds with one stone makes for a nice ending!"
I highly recommend visiting Nicolas-Jay, and I am usually oohing and awing over a winery being a husband and wife team, or something that catches my attention. My visit on every single level was solid, even though it isn't family ran. The tasting room gave off a warm ambiance. Angela went overboard to make sure everything was perfect. The wines were all solid. You know what I am going to say next! When you make a reservation, let Angela know "A.J. sent you!"
With Gratitude,
A.J. Weinzettel