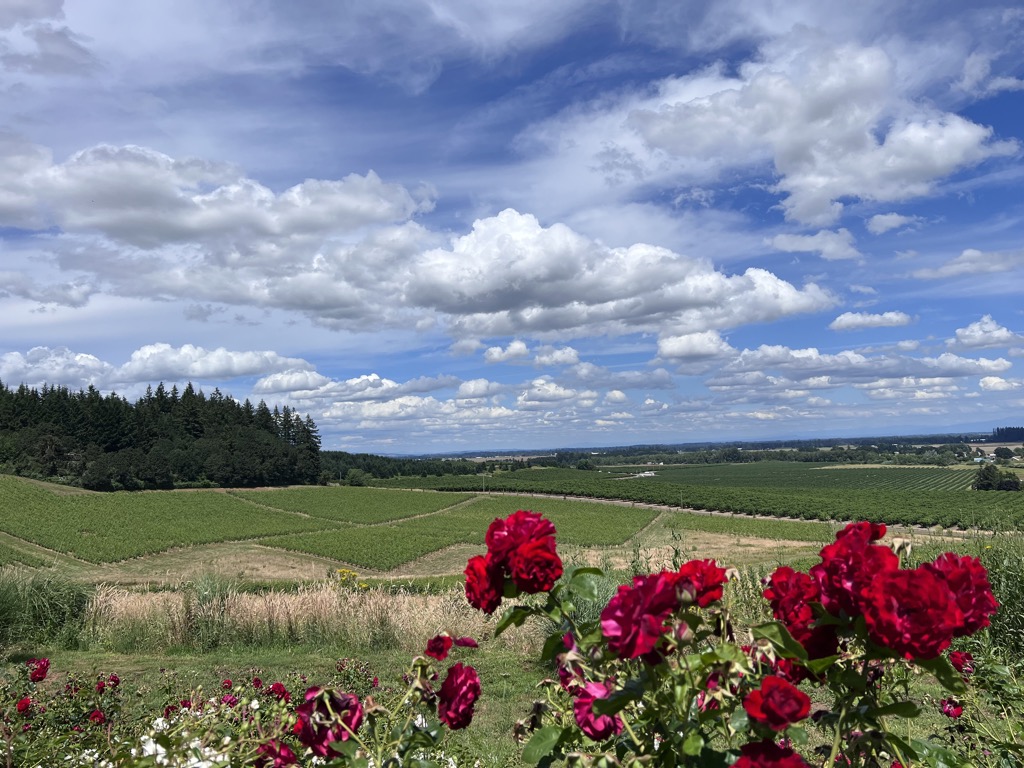 Many moons ago, I mentioned I would tell you about my trip to Bledsoe McDaniels. Well, today is the day! As I was saying two weeks ago, it was a quintessential Oregon Summer Day. The sun was in full force, it wasn't too hot, and the day screamed to have all the windows down in the car. I've been heads down coding a lot lately, and Siri decided to play Touch by Daft Punk. Driving down the road these lyrics spoke volumes.
A tourist in a dream
A visitor it seems
A half-forgotten song
Where do I belong?
Tell me what you see
I need something more
Before I get into the visit at Bledsoe McDaniels, you need something more in terms of backstory.
Bledsoe McDaniels is a joint effort between former NFL quarterback drew Bledsoe and Josh McDaniels (not the NFL coach). Drew and Josh grew up in Walla Walla. While Drew was playing football in High School, Josh decided to start a winery. By the time he completed High School, Josh was selling 2,000 cases of wine a year. He was also working at Leonetti under superstar winemaker Chris Figgins. Josh kept his winery going until 2015.
Before I go further into the backstory, think about this for a minute. You have an 18-year-old son who owns a winery and sells 2,000 cases of wine a year. Can you imagine? I have so many questions, like "What made you want to make wine at 16?", "How did you convince your parents to let you do this?", "What was your biggest takeaway from that experience?" Sitting across the table from Josh, what would you ask right now?
In 2008, Drew and his wife Maura started Doubleback to produce high-quality Cabs. Chris Figgins was at the winemaking helm, and by 2009 Josh was working as many hours as possible at Leonetti. I am not sure how old Josh was in 2009, but he looked up to Chris Figgins as a second dad. Outside of learning the ropes at Leonetti and Doubleback, Josh also helped with Toil, an Oregon Pinot Noir project of Figgins. At 26, Josh McDaniels took over as head winemaker for Doubleback, and wow, he has been kicking patootski ever since.
I first came in contact with the Doubleback brand after reading Owen Bargreen's review. So I decided to splurge and bought a few bottles of their Cab. I was dumb-struck at how young and promising it was. Completely approachable, and I was hooked.
Somehow, I found some faint rumblings about a new Oregon project Drew and Josh were starting called Bledsoe McDaniels. I found the website and immediately signed up for their allocation list. Maybe a few months after that, their allocation list was full.
It was also around this time Mimi Casteel sent an email to her list saying:
I have found the next stewards of the place I have called home since 2014. I have confidence in their intentions and their commitment to the community and to the health of the land. It is more than I hoped I could find for the next watch, and it makes this much easier on my heart.
I am farming this vintage to the end, and I will make one last vintage from this site. After the harvest we will be packing up the animals, and will be somewhat nomadic as we search for the place where Hope Well will continue. I know this will be shocking to many. I am a private person, and this was one of the hardest decisions I have ever made, and it has taken me years. Our time here is short, and I am not clairvoyant. I only want to work on the things that for me, matter most right now.
I hope you will stay along for the ride.
It wasn't too long after Mimi's email that I got an email from Bledsoe McDaniels saying:
We are 100% committed to Willamette Valley Pinot Noir, and this investment is another big step in our future plans for a greater presence in the Willamette Valley. Beyond premium Pinot, the property holds enormous potential for the label and Bledsoe McDaniels as a whole. We're excited to see the ways our team continues to build upon the reputation of previous owner Mimi Casteel from Hope Well Winery, and how this property will play a unique role within the upcoming years.
While Bledsoe McDaniels will continue to focus on small production, high-quality wines, we are excited to see how these wines continue to authentically respect and represent the land of the Willamette and Walla Walla Valleys. This property opens the door for future opportunities to construct production and hospitality facilities in the Willamette Valley.
In a Sept 2021 newsletter is when I first mentioned Bledsoe McDaniels. In January of this year, I described the dinner they held in December of 2021, and today I want to share with you their first event at the vineyard they bought from Mimi. The vineyard is now called "Coulee Estate."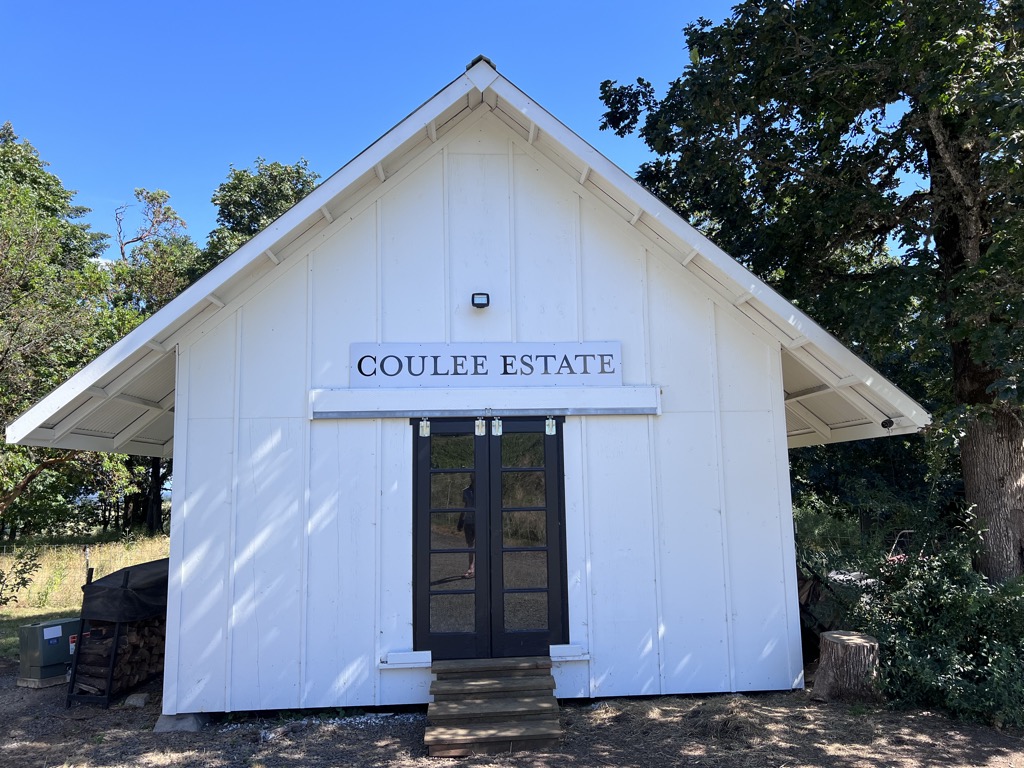 When I pulled up at Coulee Estate, the final lyrics of Daft Punk, the wind blowing through my hair, and the sun kissing my bald head couldn't prepare me for the next level of happiness I was about to experience. Off the side of the house was a greeting table and some 2021 Willamette Valley Chardonnay. Taking a little sip and walking to the back of the house, there was a breathtaking view of the Valley.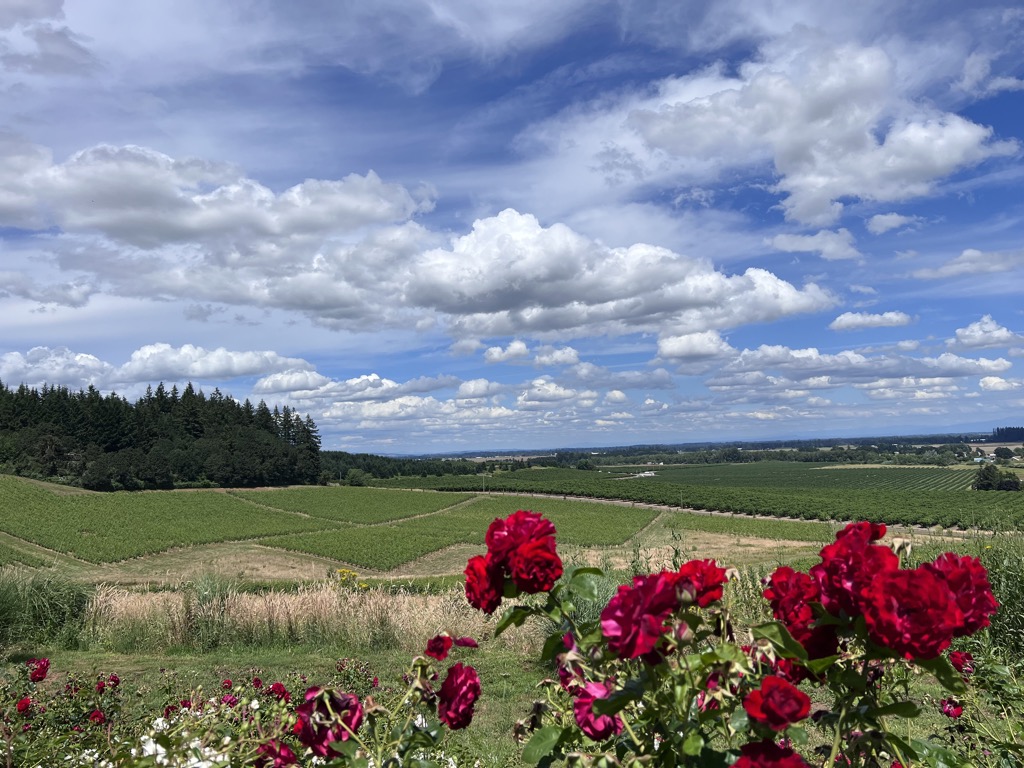 Turning around is a table full of food to explore. I grab a few nibbles and afterward start a conversation with Josh McDaniels. I mentioned how much I enjoyed the Chard, and Josh let me know it came from this vineyard and pointed to the block of vines.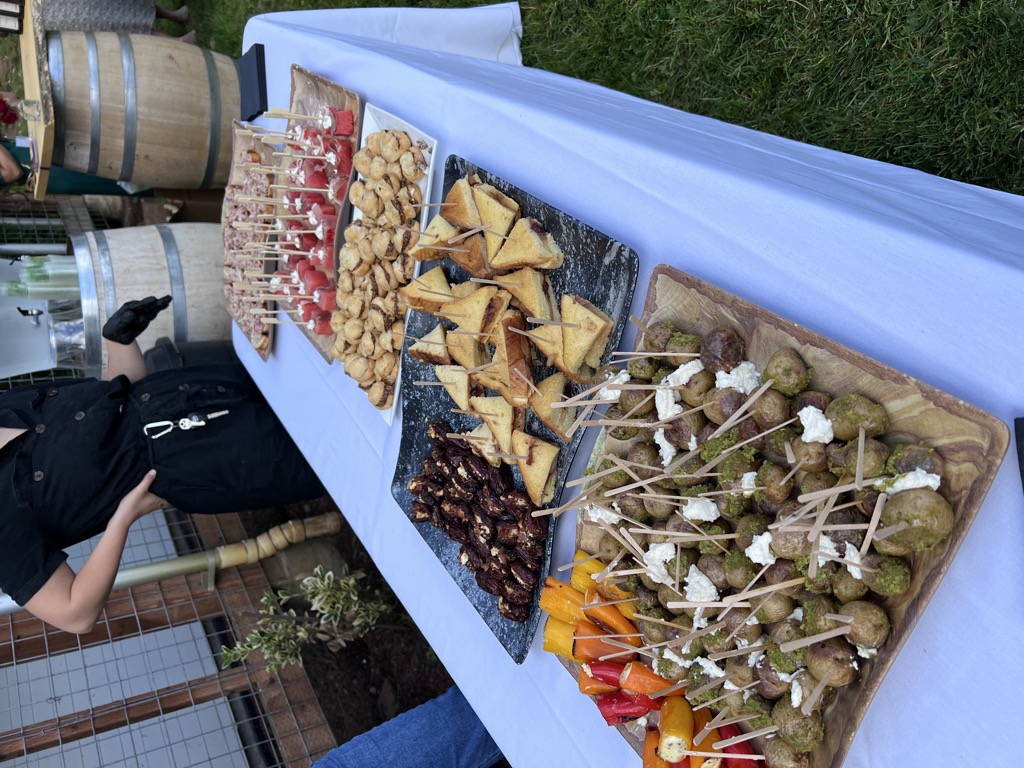 As we were talking, a tall gentleman approached leading with a handshake and said, "Hey, how are you doing?" I was slightly taken off guard but then realized it was Drew Bledsoe. Trying my level best to imitate a duck on still water whose feet are scurring underwater while looking calm and collected on the surface, reciprocated with a handshake.
My one side tangent for the week is all about handshakes. I always thought t was the silliest thing ever when I was young and told, "You can tell so much about a person from their handshake." As I grow older, there is something about a handshake that speaks volumes about a person. There have been handshakes where I felt a little gross afterward. The handshake was flappy and had no backbone to it whatsoever. Guess what? That person has zero backbone in life.
Now I am going over analyze Drew's handshake. Yes, sorry, I am going there. After being in the NFL for some time and being a quarterback, it is evident that he has a tremendous amount of hand strength. His handshake could easily crush my weak computer typing hands in a heartbeat. I am sure he wouldn't intend to destroy my hand, but he definitely has the ability. He could also go in the other direction of overcompensating and be delicate. He did neither! Drew's handshake conveyed strong confidence and respect through and through.
As the three of us talked, I apologized to Drew and Josh face to face about my mishap of saying the other Josh McDaniels, an NFL coach, was the winemaker. Drew blew it off and told me I wasn't the first person to make the same mistake.
He then told me about the first time he met Mimi Casteel to buy what was then Mimi's Hopewell vineyard. Mimi started the conversation with Drew and Josh and said, "We've met before." I can only imagine what Drew was feeling at that moment. She didn't let him sweat too long, though. She told him how she was helping for one of the Super Bowl practices. During the practice, she gave him Gatorade and recalled to Drew, "You were super nice!"
At this point, I hogged up a bunch of Drew and Josh's time. I needed to move on and try some more wine and food! When I went back up to get more Chardonnay because I hadn't written down my thoughts, I ran into Julie. I have known her since October 2019. We chatted and caught up. She lives in Bend, and she is handling all the tastings for Bledsoe McDaniels on the Coulee Estate property. She has been with the team for about a year and couldn't be happier.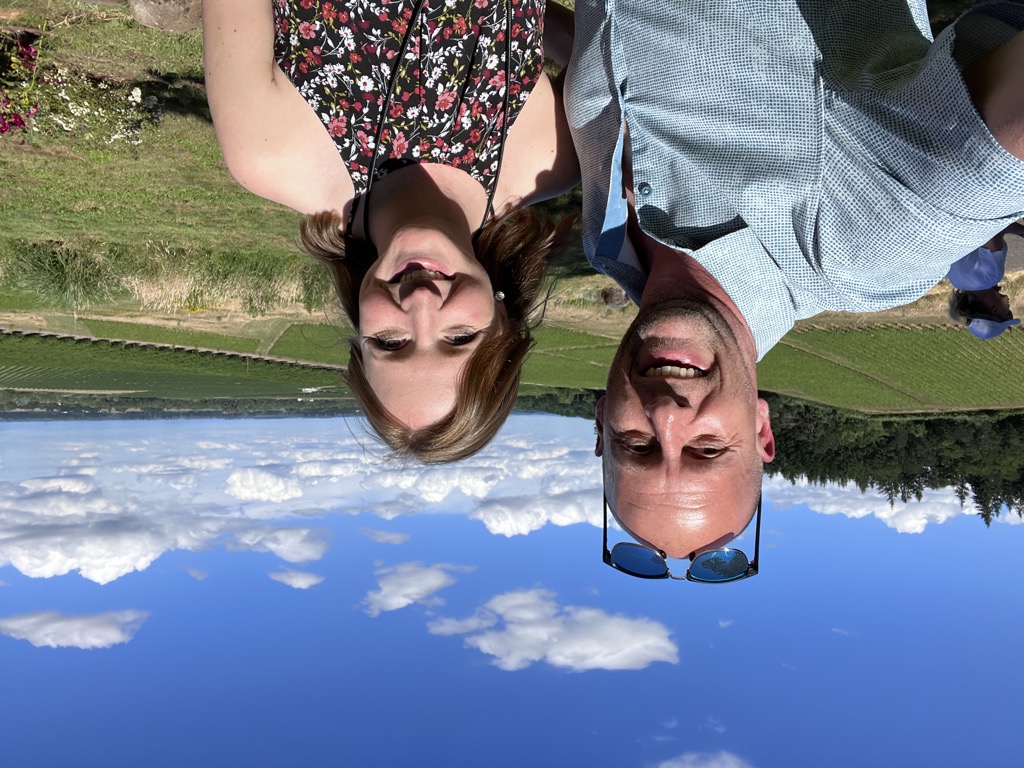 The Wines of Bledsoe McDaniels
By the way, the Chard was pretty darn tasty, and I love how acidic it is. But, again, it was the 2021 and is super young. What I am noticing about Josh's wines is he wants them to age well over time.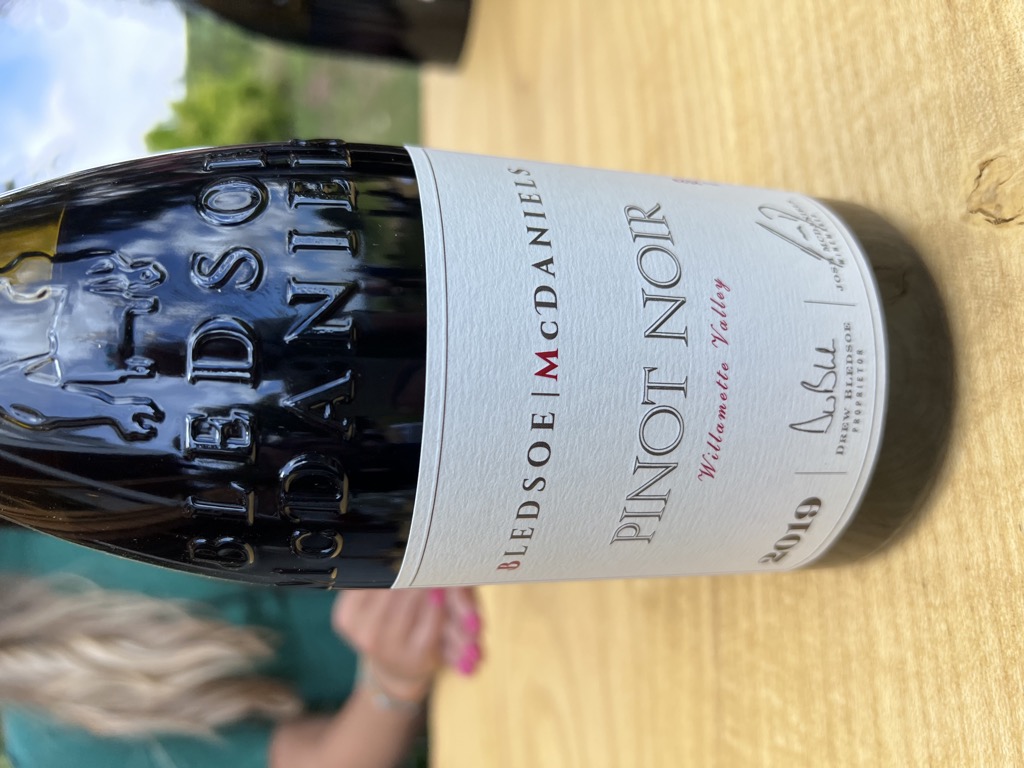 Next up for wine were the 2019 Willamette Pinot Noir and the 2019 Lefore Syrah. The Pinot was friendly and super smooth, but the Lefore Syrah was the stand-out of the day. For Syrah, it felt lighter in the body compared to other Syrahs. I wrote down super crazy smooth in my tasting journal. I revisited it with the Ratatouille Cream Cheese puff, and after being a bit more critical, I noticed an excellent tannin structure.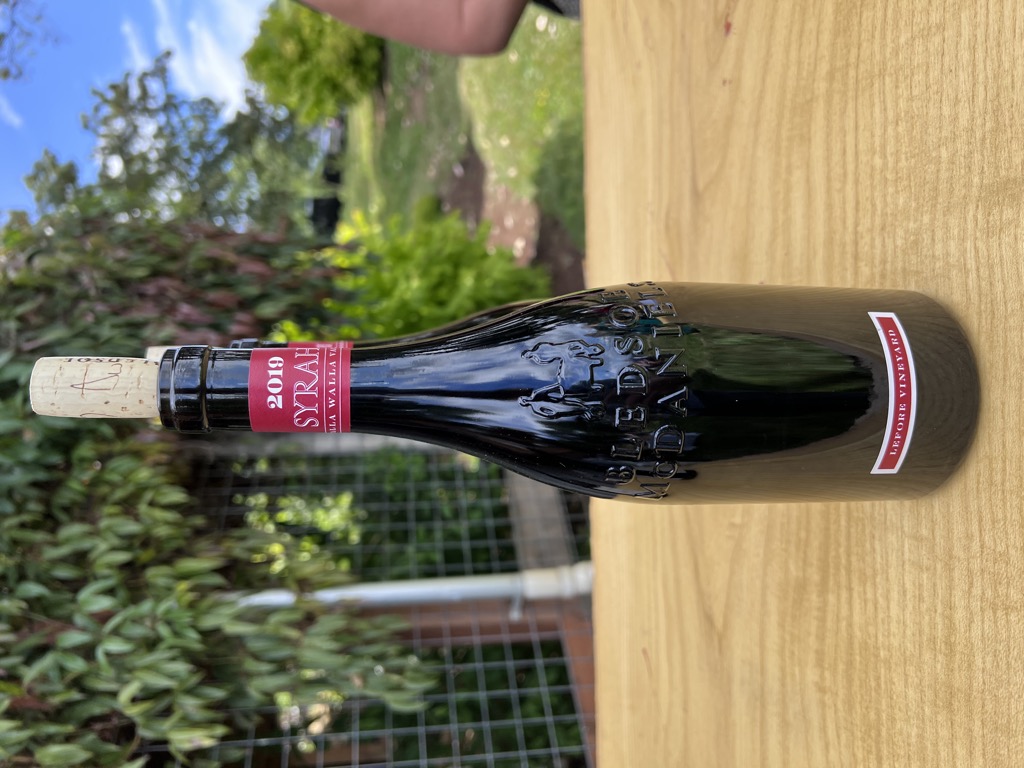 I also have to say the Ratatouille Cream Cheese puff blew my freakin' mind. It was out of this world!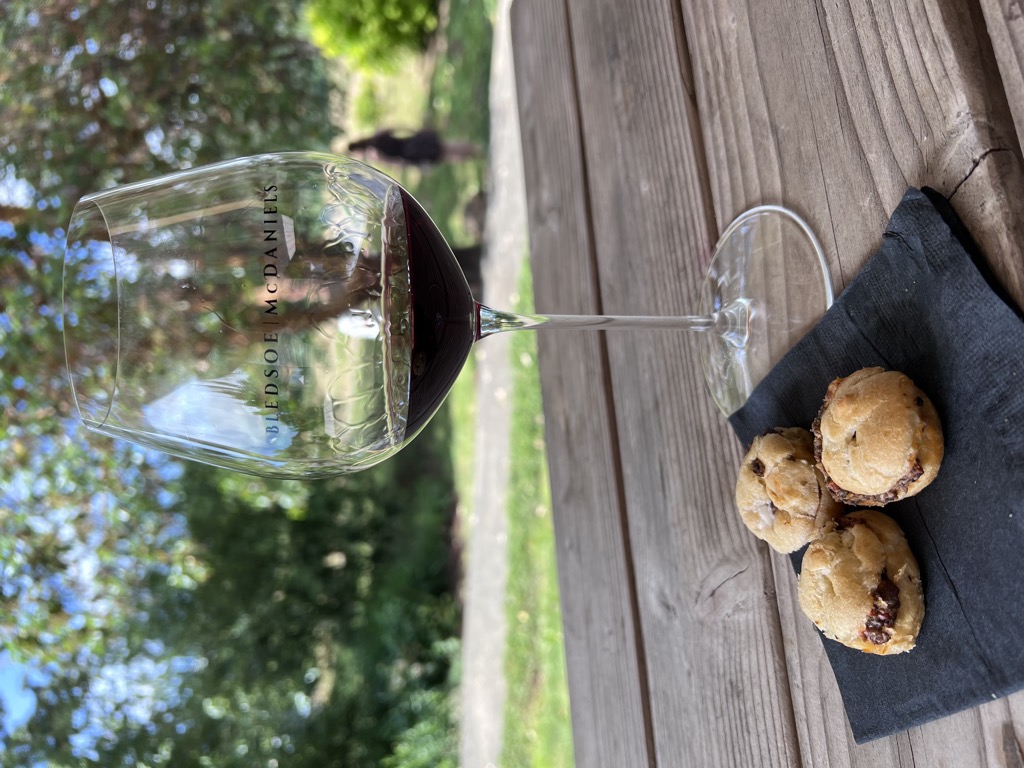 As I walked around a bit and chatted with other people at the event, I noticed how Drew made sure he went around to talk with everyone. One time I saw him kneeling on the grass, being more personable to get on other people's level as they sat.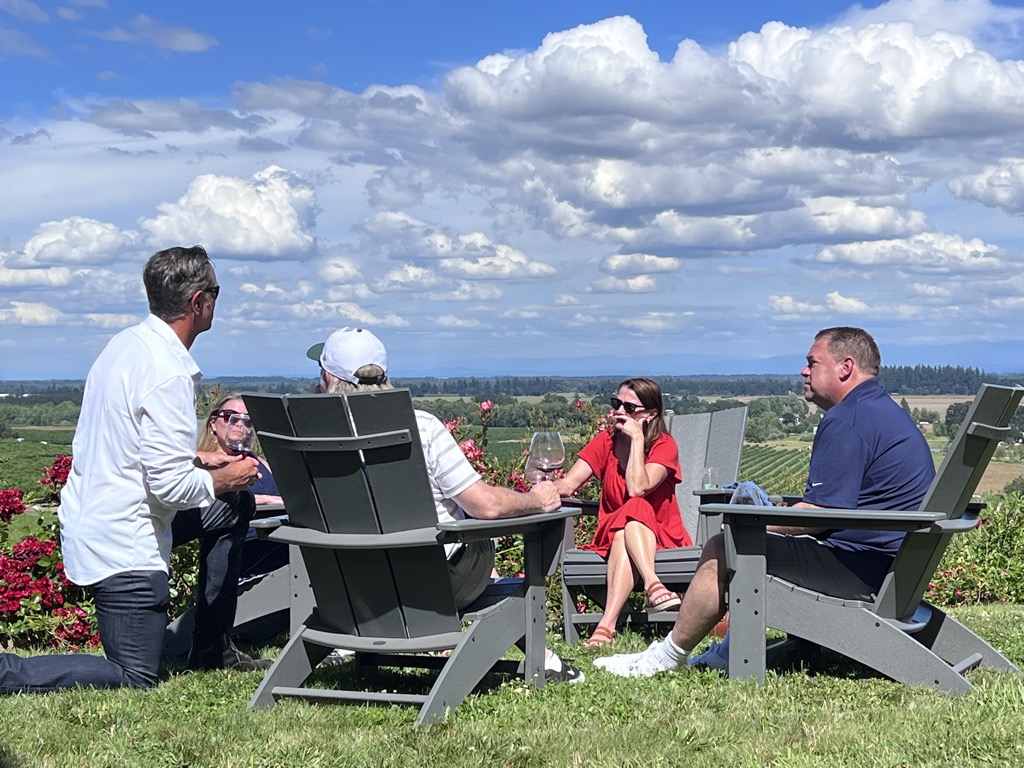 I started to head out and noticed Drew wasn't talking with anyone. So I walked over and thanked him for so being so approachable. As we got into the conversation, I mentioned how happy Julie was, and out of the blue, Drew talked about a time when the turnover was less than desirable. Josh and Drew took a step back to see what was going on. Josh decided to step up to become a leader. In the last four years, only two people have left the company. The motive for leaving was family reasons, and both left cried leaving.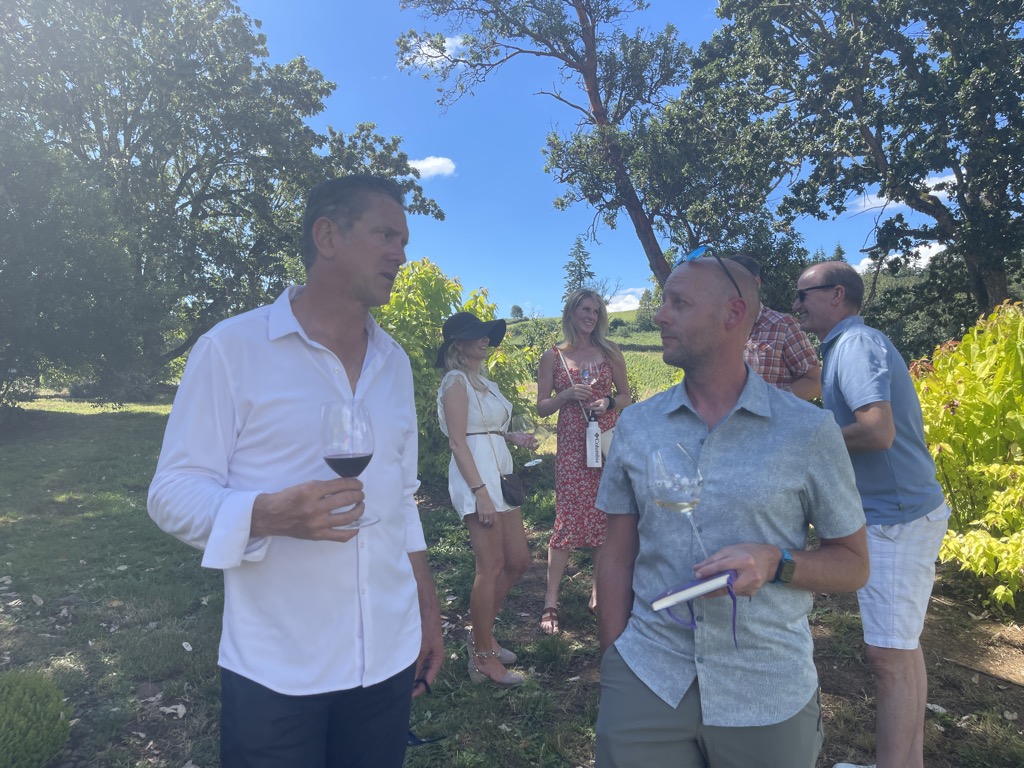 It has been about a year since I started interacting with Bledsoe McDaniels, and I have to say it has been spectacular. I know Mimi wanted to only sell Hopewell to someone who cared about the land and the community. I am ecstatic to see what the future holds for Bledsoe McDaniels. As I mentioned, their allocation list is full, but I would suggest getting on the waitlist sooner than later. It sounds like there is a lot of exciting activity happening. The wines are great, and you couldn't ask for better people. When you see Julie, please tell her, "A.J. sent me!"
With Gratitude,
A.J. Weinzettel