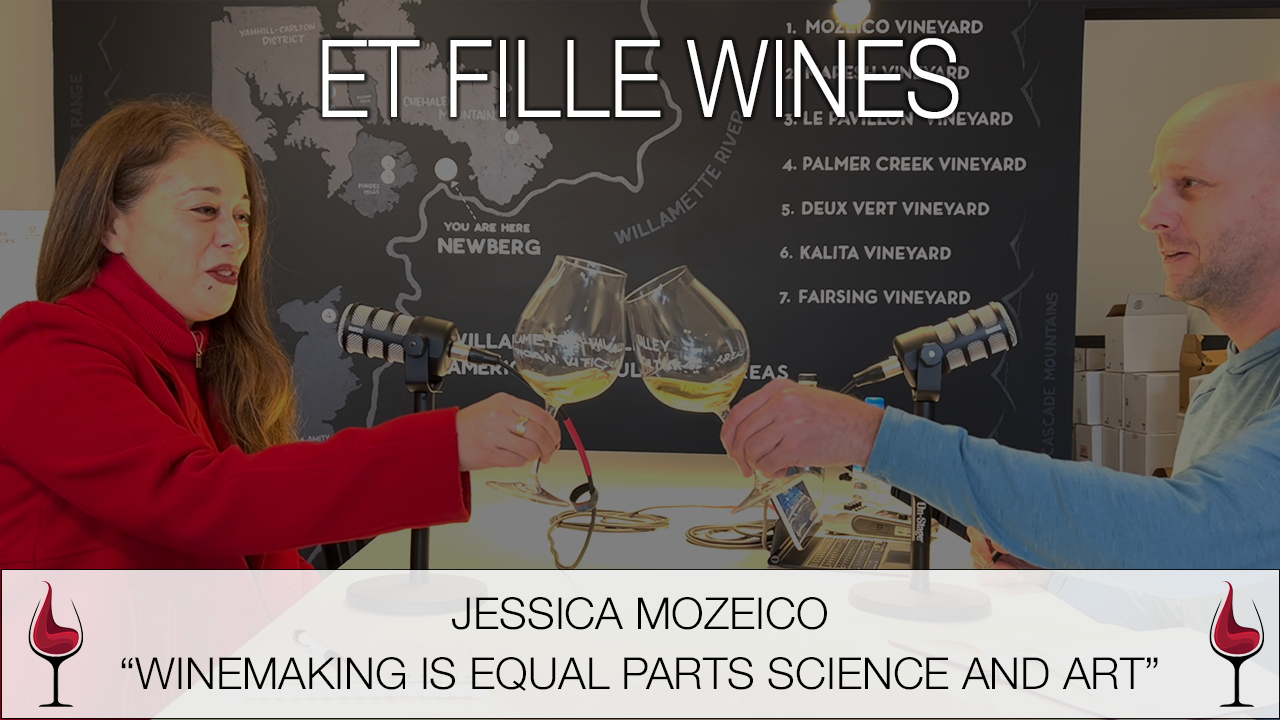 Transcription of interview
A.J.:
Welcome to Weinnotes, where we take the concept of a wine tasting note to a whole new experience by highlighting the people and stories of wine from vineyard to glass. Today, I had the pleasure of speaking with Jessica Mozeico of Et Fille Wines. Her dad, Howard Mozeico, started making wine in 1984, and we get a little behind-the-scenes glimpse of the back-of-the-envelope origin story. But still, we get no answer to the magical four steps of wine making.
The backbone of Et Fille is family through and through. Diving into stories of bonding with her dad over wine, creating bubbly Monday, and exploring the vineyards today with Jessica's daughter, is only a small glimpse into Jessica Mozeico, the winemaker, business person, single parent, and currently the nicest person in Oregon wine country. Pour yourself a glass of wine, enjoy, and be sure to stay tuned until the end for the grand reveal of our blind tasting. Cheers.
A.J.:
All right. Well thank you, Jessica, for coming on today. I really appreciate your time. I thought we'd pour us a little bit of wine to enjoy and talk about throughout our conversation.
Jessica :
That's wonderful. Thank you for coming, A.J.
A.J.:
It's been a long time coming. I have to tell you, the first time I heard of you in wine country, I was sharing an Uber with Dave and Lars. We drove by the front of the tasting room, and Lars was like, "Have you met Jessica yet?" I'm like, "No." "Oh, you've got to meet Jessica. She is the most nice person in the world." And I told her that there's a little bit of a competition between her and now Janice and [Argin. 00:02:12]" And what Lars said was like, "Yeah, bring it on." You have quite reputation out there for being such a nice person. That's such a welcome thing out here in the world that we live in, so thank you.
Jessica :
Thank you for sharing that with me. As I told you, it made my mother laugh very hard. She thought it was hysterical, but I'm up for the challenge.
A.J.:
Well, very nice. Well, cheers.
Jessica :
Cheers. Thank you so much for bringing wine to share.
A.J.:
Yes. Thank you.
Jessica :
Appreciate it. So you're not going to tell me anything about what this is, right?
A.J.:
No, I will reveal it toward the end. It's to enjoy. A lot of times these are all about wine. So let's take the wine out of the focus and talk about the humans behind the wine.
Jessica :
Excellent. Thank you. This is a really pretty chard. It's lovely.
A.J.:
It is.
Jessica :
Really pretty.
A.J.:
It's one of my favorite chards from the 2019.
Jessica :
And it has some nice minerality to it. The oak gives it structure, but not too much. Doesn't overpower it. Really pretty.
A.J.:
Yes. So outside of wine country, you also have a little bit of a reputation as well. I quote this not right? Jessica, she's elegant, she's humble, and wicked smart."
Jessica :
Oh my gosh. I want to know where this came from.
A.J.:
"She's kind of a badass." Right? So again, I'm thrilled to be here. Reading on your backstory with your dad, there's so much there. The one question that constantly comes up to the top of my mind is the envelope that your dad wrote down the four instructions. From what I can tell, there wasn't any information to pass along what those four instructions were. The envelope sounds like it was thrown away. Did you give your dad any crap about what the heck?
Jessica :
Why don't I have the envelope? How come when they interview me for Oregon Wine History Archive, I can't say … Why didn't I have the envelope?
A.J.:
Right. That would be amazing to have the envelope up here on the wall or something.
Jessica :
I know. Well it was such an afterthought. So it all started with the envelope. That's how our path into wine started. We had moved from Hawaii to Oregon and this is in 1978. And yes, because the, as I recall, the Trail Blazers had just won. So we thought we were moving to basketball country. And anyway, so we moved in 1978 and my dad was a software engineer. And he started enjoying wine, just for fun, just to appreciate it. And one year, for an anniversary present, my mom gave him a present of a wine-tasting class with Matt [Kramer 00:05:21]. And then he just started from there taking wine-tasting class. So he was just appreciating it as a consumer. And he was always in the garden just for fun. And a neighbor said, I see you're always in the garden and I have some extra, I don't know, they're sticks from this guy named David [Leck 00:05:39]. He gave me some grapevines and I have some extra so why don't you just stick them in the ground and see what happens?
Jessica :
So he did that and three years later, my dad said, "So I think it's ready. What do I do?" And the neighbor said, "Oh, wine-making is really easy. There are only four simple steps. You can just make the wine." And my dad had just gotten the mail so he had the mail in his pocket and he pulled a bill out and just said, "What are the four simple steps?" And wrote down the four simple steps. And that started the pathway to wine.
Jessica :
So our journey really was that he started as a home hobbyist just for fun and when I was growing up, I always helped him in the garage with our tiny backyard vineyard. And never thought that it would become anything other than something that was enjoyable. But he did that for 20 years and after doing that for 20 years, he called me at my job which I was working in biotechnology in San Francisco. And he said, so I want to start a winery. And I said, "That's great, you should go do that. You're so passionate about it, it's terrific." And he said, "Well, I think I would want a partner." And so we started it together. I had certainly never had wine on my radar. But I didn't think he'd do it unless I did it with him. So we started it together almost 19 years ago, 2003.
A.J.:
That's awesome. In all those moments of wine, it sounds like that your mom doesn't drink wine or anything.
Jessica :
No. She always says she's allergic to it which is code for I don't try anything.
A.J.:
That's fair.
Jessica :
But she has an excellent nose. She smells everything, can give great feedback. There are times when I'm either writing notes or trying to make a technical decision and I'll just ask her for her aroma perspective.
A.J.:
Right, that's awesome. How did the bond between you and your dad start with wine?
Jessica :
Yeah. Well I think it's because my mom doesn't drink that because my dad, by the time I started to get older, he was so excited to have somebody that appreciated wine with him. And it became absolutely the glue for us of what we talked about, what we analyzed, what we went out and tried to find together. We spent my 21st birthday in Burgundy which was a tremendous gift. I was a science major undergrad and I saved up all my elective classes for one semester to go to Italy. And I completed my junior year Spring in Italy. And my dad said, "Well why don't we meet you and we'll drive up through France?" And so we spent my 21st birthday in Burgundy. And so there's no possibility that you could not be completely immersed and interested and passionate about wine.
A.J.:
Of course. There's no way. And I can almost envision your mom probably at times, the two of you just [crosstalk 00:08:44].
Jessica :
Exactly.
A.J.:
I'm sure.
Jessica :
In fact, when we wanted to start the winery, we had a lot of family conversations about this is your thing and you guys are going to start this whole big project and it's going to create a lot of work for me. Are you really sure you want to do that? But after that, she's been tremendously supportive. But I feel just really lucky that I have that experience. It fundamentally changed my relationship with my dad completely because we have this one thing that we were both so excited about we wanted to share together. And then that spilled over into other elements of our lives where we wanted to share a lot of things with one another.
A.J.:
That's amazing. That bond is just –
Jessica :
Yeah. I mean I have so many memories of whether it was trade-tastings or trade-technical tastings or the social component afterwards or anything. That it was … You know when you think of peak moments in your life? Like this is one of those moments that I'm never going to forget. Where we'd be so excited to be trying things and talking about it. And I feel so blessed that I had that opportunity.
A.J.:
Yeah. No, absolutely amazing. And then after your dad passed in April of 2017, the wine community just helped and came out and helped you, right? I won't forget the first time I met Bill Hatcher. I was going up for a tasting, the first time in Hatcher, getting to go up the stairs to go up to the tasting room. And there's this guy walking down. And just hour in, I had no idea who he was. And I'm like, so how was the tasting? Was it good? And he's like, "I hope it was good. I'm the owner." And I'm like, "Oh, I'm sorry."
Jessica :
He's so humble.
A.J.:
Yeah.
Jessica :
Yep.
A.J.:
Yes. So it's just amazing how he brought you in to the new facility, and I think the exact word was, if you need it change. That's just –
Jessica :
Exactly. Yeah, so my dad died extremely suddenly and unexpectedly. It was a tragic accident. In fact, the morning he died while he was going out to work in the vineyard on the tractor. And that morning, we had … My daughter was a little over a year, a year and three months. Maybe a year and a half. And we had spent the night at my parents' house. And in the morning, my dad and I were frantically talking about what we had to do that day. And I said, "We're coming back for dinner anyway so I'll talk to you about it later tonight. I have to go." And then I didn't know that was going to be the last time I saw him, of course.
Jessica :
And after he died, the community absolutely stepped up. So one of the things that Bill Hatcher has always been a very close family friend. We invited, we had a viewing for my dad, and there were only I think six people there and Bill was one of them. This is the day after he died. And he drove me to the car, my car, the next day. And I said at some point, we're going to have to talk about what I'm going to do about the business. Can I really go on without him? And he said, "So no one's ever going to replace your dad, ever. But I'm here to tell you that you are never going to feel alone in whatever decision you make. If you choose to go on, I will be here for whatever sounding board I can be." And he meant it and lived it. And so after that, he showed up every week at my house for a month or two to just help me put one foot in front of the other and say you need to release this wine. You need to pay these bills. You need to get a new … blah, blah, blah. I mean it just was amazing.
Jessica :
And one of those decisions was exactly what you're referencing is that Bill Holloran, who owned Holloran Vineyard that we had just actually been working with only for a year. He emailed me and said, "Jessica, if you could use a change of pace, I just built this new winery on Worden Hill Road and I have extra space." So he welcomed to move in and I said, "Thanks so much but I can't handle any change." And I told that to Bill Hatcher and he said, "No, no, no, no, no, no. You will go next week and I will go with you. It doesn't matter when it is. You just tell me. And you at least need to talk to him and figure out what this means."
Jessica :
So we went and I said, Bill, what do you mean? And he said, "I have no idea. All I know is I've got something. If you need a change of pace and clean start, you're welcome to do that here." And it's been a tremendous opportunity.
A.J.:
Yeah, no. That's one of the things I really love about the Oregon wine community is everybody has one another's backs in that way.
Jessica :
Yes. So when we say that we're a collaborative region or industry, these are examples of that. That when the chips are down, you know you can rely on your community to be selfless and say this may not help me, but I have something I can give to you.
A.J.:
Yes. It's just beautiful. If I remember correctly, when we emailed back and forth over the summer, this was the first year that you reached your goals.
Jessica :
Yeah.
A.J.:
Yes.
Jessica :
Yeah.
A.J.:
So how did Bubbles Monday with you and your dad start?
Jessica :
Great question. So at the time, I still had my … I think I may have … At that time … Oh, I know what happened. So I had been in biotechnology. My dad and I started the winery. I thought it was going to be on the side, that I would continue with biotechnology. But I was totally passionate about biotechnology which I can come back to later. And so I thought it would be on the side. So we did that for five years. And then sometime in there, when I was really … Well, when Mondays were different than they are to me now. Mondays are hard for most people. You just got to get in and blah, blah, blah. Well I wanted something to look forward to. So when I was still living in San Francisco, I started Bubbly Mondays. And then when I moved up here, I said, "Dad, we're going to do Bubbly Mondays." And we got together every Monday to have bubbles on Monday.
A.J.:
That's great. That's wonderful. So in that, I'm trying to put a time [crosstalk 00:15:41].
Jessica :
Oh yeah.
A.J.:
So you're sparkling came out in 2021. Did you start it in 2016 or –
Jessica :
Yeah. I started it earlier. Well actually, I started it after. But my dad and I had always talked about doing sparkling wine. And I will be candid in saying that we didn't for a long time, partially because I'm such a grower champagne freak, that I felt like if we couldn't make something that had a quality that I feel I would rather buy than a grower champagne at that price point, that I didn't think we should make it.
Jessica :
What changed is that the quality level of the valley sparkling wines went up so quickly.
A.J.:
Yes, over the summer, I think I tasted over 40 different sparklings from Oregon. And there's still others that I didn't get a chance to try. But yours, it was easily within the top ten of everything I tasted. I loved it. It was absolutely gorgeous.
Jessica :
Thank you.
A.J.:
You're welcome.
Jessica :
I think what I wanted to do with it was, and this is a theme for me, with essentially all our non-pinots, so for violet rose and sparkling. This is the theme, that I want a style that has clarity and transparency and that it's bright and I'm not afraid of high acid. And so I guess that just pairs with things I like to eat and it pairs with the things that I kind of enjoy. So that was the intention.
A.J.:
I loved it. I was just, wow, this is [inaudible 00:17:28]. That was really nice. So you're talking about life memories.
Jessica :
Yeah.
A.J.:
When you visit your website, you have the drone footage of the vineyard and it cuts to you and Gabriella hopping through the vineyard. And then there's another shot of a higher picture of the vineyard. And you can see two little people and then you can see this one little person, I assume it's Gabriella, she's either pointing up at the drone or waving at the drone or something. And to me, that would be … I look at that and it just totally encompasses all of your stories and everything. That day, in the vineyard, doing that photo shoot, is that one of those moments?
Jessica :
Absolutely. So first of all, all credit for that goes to Andrea Johnson who I have known for years and she understands our story and she understands what moments I care about. And she just happened to catch it. And so credit goes to her. But absolutely, I feel really lucky that I get to share this. I'm so grateful that I had this bond with my dad. And now I get to share a bit of it with Gabriella. She's six so it's too soon to know whether this is going to end up being what she wants to do and I don't want her to feel that pressure. But what I do know is that I'm inspired by her. And I'm inspired by trying to create something for her generation. And that I love the moments that I have with her. She loves coming to vineyards with me. Doesn't matter the weather. When we're going to go check out a vineyard, she wants to be there. Particularly the last year, we've started to work with two new vineyards. And she was very eager to see them and get to know them.
A.J.:
That's amazing.
Jessica :
Yeah.
A.J.:
Can I ask what the two –
Jessica :
Yeah, yeah. So for our sparkling program for this year, which we started a rather much large larger program. So it won't be ready for … We'll see, but three to four years. We started with Eola Springs Vineyard in the Eola-Amity Hills for chardonnay for that. And then also, I will be in 2022, we've signed a contract for Gamay which is the first time I'm making Gamay.
A.J.:
Wow.
Jessica :
Yeah. From Cherry Grove Vineyard which used to be a medium [inaudible 00:20:06] and yeah.
A.J.:
That's awesome. Well congratulations.
Jessica :
Thank you.
A.J.:
So Gamay is starting to get a name in the area and it's a fun little [inaudible 00:20:18] to play with.
Jessica :
Yeah. I'm going to have fun doing it. So –
A.J.:
Yeah, that'll be –
Jessica :
That'll be fun to learn.
A.J.:
Yes. Going back to behind the label, or back in the envelope, the pinot noire option this year. I think that was … It played a perfect part in your story and you decided to use the Pavillon Vineyard and Fairsing Vineyard. Contrasting the old bright fruit and dark fruit. When you were doing that, were you going into that with an intention or were you barrel sampling and then it happened?
Jessica :
I had an intention. So first of all, I was so nervous about the option. I sat on the sidelines and didn't participate for a few years because I was like, we've been around for a while but we're a small brand. We don't have a lot in distribution. What if nobody bids on it? What if nobody … It's the typical middle school. What if nobody picks me for the team?
A.J.:
Oh no, I'm picked last, that's awful.
Jessica :
Exactly, exactly. So I was very intimidated. Yeah, no, I wanted something to be representative of the potential of the valley. And I felt that if we had two different regions represented that it might do that. And typically, you would think that if you were going to pick Dundee Hills and Yam Hill Carlton that it would be bright, red fruit from the Dundee Hills and it's kind of the deeper, darker intensity from the Yam Hill Carlton district. But in my case, it's flipped with these two particular sites. And I thought that that was kind of fun.
Jessica :
So at my particular block at Fairsing Vineyard which is at the top of the hill right near the tasting room and is all [inaudible 00:22:17], it tends to be really bright red fruit, elegant, have a restraint to it, almost some floral in the nose. And then Le Pavillon Vineyard which is on Worden Hill Road, just happens to be blackberry, briery, brambly. And so I thought, well that's kind of fun because it's combining the potential of the valley but in a way that might be unexpected.
A.J.:
Right. And it is. I didn't get to try it or anything but it is unexpected to bring those two together and formally flip, flop them. That was really great. So coming from a biotech background, your dad being a software developer, would you consider wine art?
Jessica :
I think it's both. I think that wine-making is equal parts science and art. And I think that some people come into it with a scientific perspective and some people come into it with an artistic perspective. For me, and this is my dad and I did this as well. For me, I come into it with a scientific framework and an analytical approach because that's how I approach everything. So an example of that is that I start blending …
Jessica :
First of all, every stage of the wine-making process, my dad and I would always meet first with whomever our staff was at the time. You know, seller interns and harvest interns. And we would start with, okay, what are the strengths and weaknesses of what we have? What do we anticipate about the vintage and what's our game plan? What are our objectives? And then we can back into how we do that. And so we start with that approach.
Jessica :
And then when I start blending trials, I actually start with a spreadsheet which is that I start with here's my input and what's my output? So my input is, the barrels that I have. How many do I have? What are the percentage one, first euro, percent second euro, percent of blah, blah, blah, blah, blah. So I start with an inventory of what we have and then I create an output based on what excites me? What do I think will sell? And what would excite me? And I start with some quantifiable targets which are between X and Y, number of barrels of this, duh, duh, duh, duh, duh. But then you start tasting and that goes out the window because you really need to follow the art side of it.
Jessica :
So I would say, I start with science and I deviate with art. But then I have a lot of wine-maker friends who don't have that, that are more on the art side completely.
A.J.:
And out of curiosity, diving more and more into that art side of things, or art for wine-making, have you noticed any other aspects of your life where you're tingling and exercising that part of your brain?
Jessica :
Yeah. I think that I always, before I started making wine, I always wanted something. It was painting, I used to paint. I enjoy writing. So I always had some creative element. But I think it's so much more comfortable and familiar to me to go on the analytical side.
A.J.:
I'm right there with you.
Jessica :
Yeah, I would imagine given what you do. And so I relate to that because my dad had that background, I have that background. So it's so much more comfortable to me. And so, I don't think I could have made that transition to starting analysis and then allowing yourself to be lead astray had I not been through some of the life experiences … I couldn't have done it when I was younger.
A.J.:
No, yeah. You got to have a certain comfort in your skin to even allow that to happen.
Jessica :
Yeah. And a certain amount of experience to say even if I don't have the perfect quantifiable proof, I believe this is the right way to go. And trust your intuition.
A.J.:
So I know Gabriella is only like six or seven. My daughter, her mom and myself, we're both techy geeks. I feel sorry for my daughter. She's going to be a techy nerd geek and it shows.
Jessica :
But maybe that's why she's so into ballet.
A.J.:
It could be. And asking her what do you want to do? And she's like, I really want to go to NASA or SpaceX.
Jessica :
Cool.
A.J.:
And I'm like, yeah.
Jessica :
That's great.
A.J.:
And at 13, I asked, she was like … Then I asked, well what about dance? And she was like, I know that's not a forever thing. And I know I could be a teacher or whatever but dance isn't going to be around all the time. Can you see, in Gabriella, any signs that she might be going on a more technical side or more on the artistic side? Or …
Jessica :
So ever since a young age, she is … I don't want to feel … I'm hesitant to say this because I don't want to hold her back. But my perception is that she has always felt much more comfortable with math and science. And she will ask me … Two nights ago, she said, "Mommy, mommy, let's go home and do an experiment." And I said, "Well what experiment did you want to do?" And she said, "Well first we can look at the book but then I have some other ideas." So she loves it. And I probably cultivate that a lot because I love that curiosity. That sort of curiosity can never be replicated. You can't train that in a person or a child.
A.J.:
Right, you can't go to school like oh, let's go learn curiosity.
Jessica :
Yep.
A.J.:
That just doesn't happen.
Jessica :
Yep.
A.J.:
Yeah. No, that's awesome.
Jessica :
Yeah. I mean she used to say … So she was born prematurely. She's my miracle child. I was 42 when I got pregnant with her and I had already failed many, many years of fertility treatment and been told I could never have a child. And I got pregnant with her. And so she's my absolute miracle child. She was born two months early and so we spent the first month of her life living in the NICU together. And so we're still very connected to the NICU where we were, Providence Portland. I swear, like half of our NICU nurses are wine club members here. I go every Christmas, on Christmas day, to drop off wine for the nurses that are working. And we participated in a clinical trial recently to give the patient and caregiver perspective to redesigning the NICU process. And so we're still really actively involved. So she tells me that she wants to be a neonatologist which I love. But we'll see what she wants to do. Then she'll turn around and say, but really, I want to be a wine-maker just like my mommy.
A.J.:
Yes, I'm going to go explore Europe and go all over.
Jessica :
Yep, yep. And she says, I'm going to be the wine-maker and you're going to watch my baby.
A.J.:
Oh darn.
Jessica :
Yeah. That's great.
A.J.:
That is awesome. I know that you have another meeting here shortly.
Jessica :
Oh my God. Time goes by so quickly.
A.J.:
So I just have some rapid-fire questions. And then I'll do the reveal on the wine.
Jessica :
Okay.
A.J.:
And we can kind of wrap things up.
Jessica :
Sounds great.
A.J.:
Okay. Favorite musical artist to listen to during harvest?
Jessica :
Whitney Houston.
A.J.:
Your favorite indulgent food?
Jessica :
Nachos. I'm embarrassed to say. And Kyle's spinach artichoke dip.
A.J.:
Kyle does amazing stuff, oh my God.
Jessica :
I know.
A.J.:
If you could choose a superpower of any sort, what would it be?
Jessica :
To hold time static.
A.J.:
Okay. Your harvest notes, are they digital or hand-written?
Jessica :
Both. The meaningful ones are absolutely digital which no shock, a big spreadsheet. But I often write things down and shove them in my pocket so I can go home at the end of the day and put them in my spreadsheet.
A.J.:
Okay. Your favorite superhero?
Jessica :
Superhero … I have to think about that.
A.J.:
That's fair.
Jessica :
Well I think I would have to say Wonder Woman.
A.J.:
Okay.
Jessica :
Because when I was a kid, I used to run around thinking that I could be Wonder Woman.
A.J.:
You are Wonder Woman. I mean if you look at everything that you do, you're running a winery, you're a single mom, and you're doing all the wine-making. I mean come on, I'm sure you get what? Like three or four hours of sleep a night or something?
Jessica :
No, I'm actually a good sleeper now. I used to be a very bad sleeper. But one of the things that has … Can I go on a meandering tangent?
A.J.:
Yes, yes, yes.
Jessica :
I actually do sleep really well and one of the reasons is that when I left biotech, it took me a while. So we started the winery in 2003. I didn't leave my job until 2008. And one of the reasons was that I felt confused or guilty about the fact that I was working on bringing products to the market, drugs that would help cancer and autoimmune diseases. And I was so focused on the patients, that I thought how can I go from that to making wine? That doesn't seem like I'd have this big connection to changing the world. And what I found is that actually, we can all make our own little community and our own little world better by living exactly the way we want to. And by creating the culture that we want in our work environment, in our family environment. And that we can … You can't change the whole world. But you can change your little world.
Jessica :
And so as a result of that, I think that I'm really comfortable with where we are. We have a team that is very committed. We started putting it on all of our bottles now. That are committed to sustainable wine-making, diversity and equity, and our community. And therefore, I sleep better.
A.J.:
When you're making a difference and you have a name out in the community of being a super nice person, that has to feel so nice.
Jessica :
It does. I feel like everything … A couple of years ago, we had a staff meeting and I looked around and I realized that only one person was there when it was my dad and I. And so I wrote the Et Fille Ethic which is five statements of what I think wine should be and why are we doing it? And if it doesn't align with that, we ought not to do it. So one of them is, we are, as a winery, we're inevitably tied to our land, seasons, and community. And it's our responsibility to leave it all in a better place. The name of our winery is still Et Fille so I'm focused on organizations that make things better for all of our daughters, yours too. And that means supporting wine-making practices in community organizations that make the world a better place.
A.J.:
That's beautiful, that's great. All right, one last rapid-fire –
Jessica :
That was not rapid, sorry. That was a –
A.J.:
It's fine, it's fine. We're totally fine. What was the last book you read?
Jessica :
Right now, I'm reading Ruth Ozeki. I love fiction so …
A.J.:
Okay, nice.
Jessica :
Mm-hmm (affirmative).
A.J.:
All right. Should we refill the wine?
Jessica :
Yes.
A.J.:
All right.
Jessica :
Can I guess?
A.J.:
Yes. I got to stand up [crosstalk 00:34:40].
Jessica :
No. I mean it has pretty citric notes and yet that supportive. I was …
A.J.:
Do you want to –
Jessica :
I was going to ask what was the [Lingua Franca 00:34:49]?
A.J.:
Very interesting. Okay. So this is Arlyn.
Jessica :
Oh my gosh, my competition.
A.J.:
But [Thomas 00:34:59] is the wine-maker.
Jessica :
Oh my gosh.
A.J.:
So –
Jessica :
It's so bright and pretty.
A.J.:
Yes, that's the 2019 Oh my Darling's Chardonnay from Arlyn. And it's amazing that you said [Lingua Franca 00:35:12] because Thomas is the wine-maker.
Jessica :
[crosstalk 00:35:15]. It's really pretty, well done. Thank you for sharing it with me.
A.J.:
Yes, no. Thank you for taking your time out today and it's the holiday season so I'm sure you're running around crazy. So thank you so much.
Jessica :
Thank you.
A.J.:
Yes.