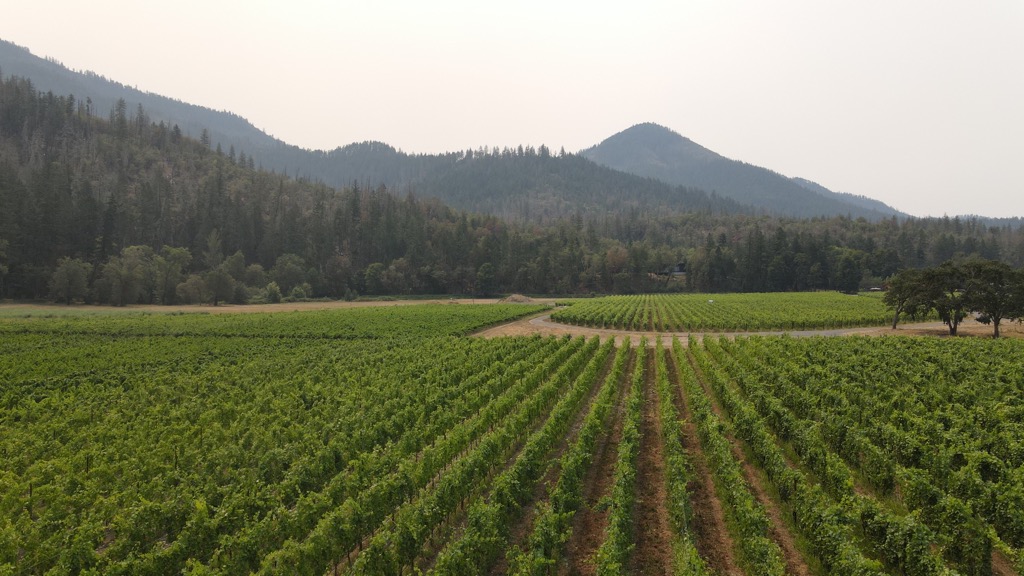 A few weeks back, I warned of pulling you down to Southern Oregon to explore a bit. Well, unlike my warnings to my daughter, I am backing down. Today we are visiting a winery called Cowhorn located in the Applegate Valley. It is almost on the California border, approximately 5 hours south of Portland and about a 30-minute drive from Medford.
In 2002, Bill and Barbara Steele bought 117 acres of land in Southern Oregon, leaving their jobs in San Francisco. Not sure exactly what they wanted to do with the land, there was continuous testing done to include thermal imaging, soil, and climate analysis. With results in hand, many similarities were found to that of the Rhone Valley in France. So grapes were planted in 2005, and from the get-go, they wanted to farm the land Bio-Dynamically.
Today, there are 25 acres under vine with varietals such as Syrah, Grenache, Viognier, Marsanne, and Roussanne, and a bit of Tempranillo. It is still farmed Bio-Dynamically, but Bill and Barbara no longer own the vineyard. Around April of 2021, an investment group lead mostly by Katherine, aka Mini, Banks has taken ownership of the property. The investment group consists of herself, her aunt, and friends Mark and Grant Gustafson. The new winemaker, Sarah Thompson, came from another Southern Oregon winery, Troon, where she was the assistant winemaker.
Now that we have all of the formalities out of the way, let's talk about the visit! Coming into the tasting room, we were greeted with a beautiful tasting of the 2020 Rose of Grenache. Taking the party outside, Mini and Sarah introduced themselves. I was standing there with a glass of wine in one hand, my journal in the other, and unable to take notes. Thank goodness my digital brain, who never forgets anything, allowed me to video Mini's impeccable speech. It felt rehearsed, and she had solid answers for every single question brought her way.
Walking through different parts of the vineyard, Mini and Sarah tag teamed, showing us the different soil types, canopies, the asparagus, and the lavender fields. At one point, Sarah stopped to talk about "Dr. Seuss" vines. One of the goals of Cowhorn is to be completely dry-farmed. Sarah and Mini are experimenting with head training the vines, encouraging them to go deeper into the soil. Currently, they irrigate, but watering is done at long intervals to help stress the vines.
Farming Bio-Dynamically is complex and takes a lot of work. However, the overarching philosophy behind BD farming is cultivating a farm where plants are animals are self-sustaining with no outside influence. Currently, there is no livestock on the property. Still, with Mini's desire to expand the property, she is currently in the works bringing livestock onto the farm, accompanying the fields of asparagus and lavender.
After our vineyard tour, a 2019 Syrah from the barrel was tasted, and it was delicious! With it starting to get a bit warm outside, the winery was a nice place to escape and enjoy the Syrah. You would think a vineyard tour and a barrel tasting would suffice, but the visit didn't end there.
We were treated to a beautiful lunch accompanied with the 2020 Spiral, a Rhône style blend, a 2014 Reserve Viognier, and a 2014 Grenache. I felt entirely out of place. My knowledge of these wines is next to nothing. It's hard to escape the Pinot, Chardonnay vortex of the Willamette Valley. I enjoyed the wines, but I need to expand my horizons more seriously. Oregon has so much to offer in the Willamette Valley and outside of my comfortable little bubble. So, in 2022 I am doing my earnest to dive deeper into the depths of Oregon. Of course, you will be there next to me, exploring, tasting, and learning.
Later in the day, after we left Cowhorn, we made a quick stop at another winery where I bought a bottle of Cava to enjoy by the riverside. We got to chatting about how young and confident Mini was. She was maybe in her late twenties, possibly early thirties. She knew her stuff inside and out. As we talked more and more, the gossip came out that Mini's family owned the infamous cult California winery, Screaming Eagle. It made more sense now. She knew her stuff!
It's been a solid month since my visit to Cowhorn, and my opinions still feel the same as they did while I was sipping the wonderfully chilled Cava. Cowhorn has lots of room for expansion with a total of 117 acres with 25 under vine. Mini has had exposure to high-end organizations with her family and past employers. She knew how to impress our group, and the lunch was top-freakin-notch. In the next 3-5 years, you are going to hear more and more about Cowhorn. I don't know if it will become a cult winery, but it will bring more attention to Southern Oregon wine, no doubt. The success of one winery will bring success to those around it. My suggestion is to visit soon and make it a point to visit at least once a year, noting what changes occurred between visits. At this point in the newsletter, I usually say, when you visit, tell Mini, "A.J. sent me," but Mini doesn't know who I am. It will not mean anything to her. Instead, you can tell her, "I read A.J.'s newsletter about his visit here during the Wine Media Conference, and he wanted me to say hi."
With Gratitude,
A.J.