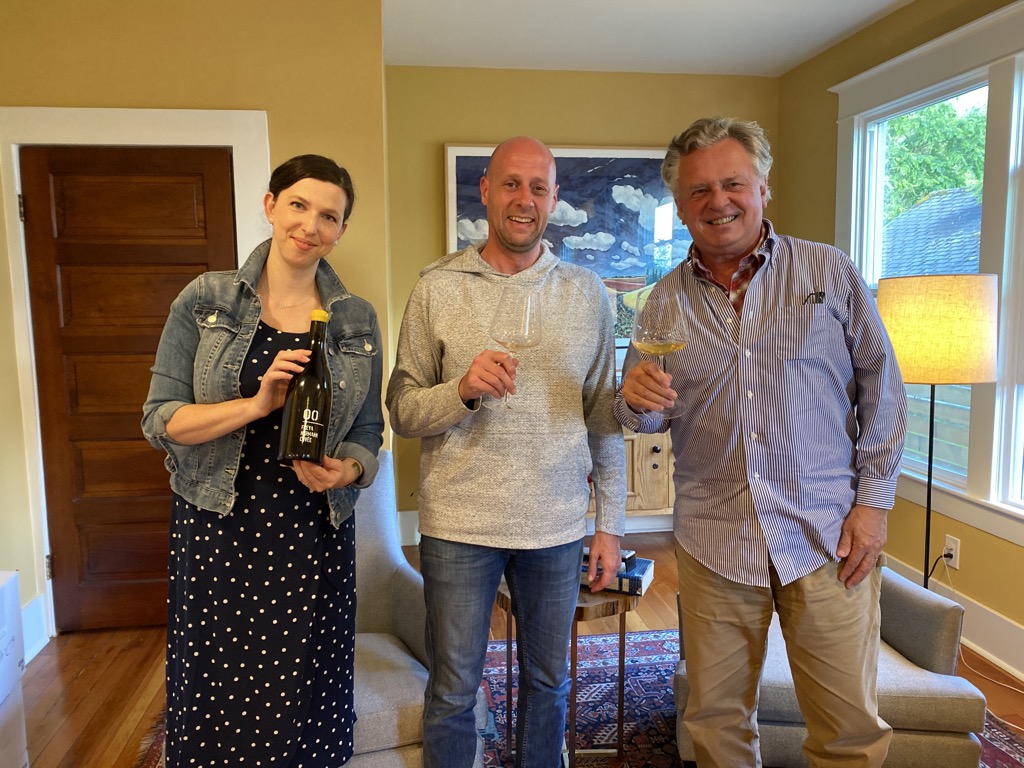 I have highlighted 00 Wines in the past, but it never felt like I did justice to the story, the people, and of course, the wines. So, today, I will do my level best to dive a bit deeper down Alice's rabbit hole and have some wine along the way while having a pot of Saturday morning coffee. Yes, this morning, you will probably need more than one cup. It's a long one….
It's easy to say 00 Wines started in 2015 with a partnership between Mark Tarlov, Chris Herman, and Kathryn Herman, but as with any story, it's way more complicated. In the 1950s, Freya and Richard Herman moved to Oregon from Munich, Germany, to teach at Oregon State College. Richard became a botanist and would travel throughout the state. Chris remembers his Dad coming home some nights mentioning new wineries.
With Richard being a wine collector, the family would take trips down to Napa and Sonoma. Chris went with his Dad to visit Eyrie, Adelsheim, and countless other Oregon wine pioneers during the summer months. Wine was in Chris's blood at a very early age.
Growing up in Corvallis during the 60s is nowhere near what it is like today. A printed issue of Monday's New York Times would show up on the doorstep Thursday or Friday. Being an only child and growing up in such a rural part of the country, I wonder a couple of things when Chris had the opportunity to finish High School in New England. First, I wonder how this opportunity came about, and secondly, what was Chris's motivation for moving across the country? Was it a desire for independence or sheer curiosity? Maybe it was both.
After living in New England for a bit, Chris's individual exploration led him with a desire to discover Europe. He wanted to understand why his parents came to the U.S., but Chris had to make a deal with his Dad to satisfy his yearning for self-discovery. After a few years of spending time in Germany and Switzerland, Chris decided to come back home. He now knew living in the US, there weren't as many limitations on his life.
Keeping his end of the deal with his Dad, Chris went to school in Eugene for a law degree. His time in Europe allowed him to see how the world of wine was built around multiple communities. Wineries needed lawyers, bankers, accountants, along with other industries, to flourish. Understanding the circle of influence within the wine industry helped Chris become the person he is today.
Just like most of us, we all get bitten by the wine bug and want to dive in. Chris wasn't exempt here either. When Richard Herman was 90, he and Chris decided to start their own label making only Pinot and Chardonnay. Chris's Dad was a student of classical music. The father, son team, took many car rides out to different AVAs sourcing the best fruit, but the philosophy behind the wine started way before any car rides. Coming from Germany, the Herman family was a fan of German Rieslings' great acidity, making the perfect foundation for what you want in a Pinot and Chardonnay. Chris compares this acidity to violin strings. The intention for 00 Wines was to make you pay attention to the wine in the same fashion you would with music.
The name 00 ( double zero) has a couple of different meanings. First, it is a representation of "distance in time and space from the grapes on the vine to the wine in the bottle." Second, there is also representation where the first zero is the Old World and the second zero is the New World.
Here I am knee-deep in the newsletter, and I have only mentioned Chris and his Dad. Trust me, there are other people involved in the project. I want to set a baseline for how Chris thinks. It will help a little with the why as we burrow further down.
The first vintage in 2013 for 00 Wines was considered an experiment of five barrels of Pinot with winemaker Mike Etzel Jr. consisting of hand clipping grapes from stem straight into barrels. Madame Lalou Bize-Leroy of Burgundy inspired the hand clipping of the grapes. Over time, this has progressed with using different barrels, amphoras and seeing how the wine flourishes with different barrels' aging. In 2021, the grapes are still hand clipped from the stem and go into amphora with dry ice. There aren't many other producers using amphoras in Oregon, and there are even fewer hand-clipping grapes. The current case production for 00 Wines is somewhere around 3,000.
Here's a tidbit for you to ponder a bit. There are approximately 25 cases in one barrel, meaning 00 Wines produces somewhere around 120 barrels of wine. One ton of grapes makes 2 barrels of wine. So if my math is correct, there are 60 tons of grapes hand clipped to make the wines we lavish over. There are so many people behind the scenes to make this magic a reality, I can't begin to acknowledge. All I can do is give a vast blanketed, "Thank you!"
Let me introduce you to Kathyrn Herman, the other side of 00 Wines making magic happen on so many levels. When Chris and Kathryn met in the Pearl downtown Portland, the two never imagined they would be where they are today in a million years. Chris tried to convince Kathryn to come over and taste some blends with Mike Etzel. She was not from a wine background and had no clue who Mike Etzel was, Kathyrn politely declined. Even though a blending session didn't appeal to the future Mrs. Herman, she did agree to meet Chris again. Chris brought an early 2000s Comtes de Lafon Meursault Clos de la Barre White Burgundy on their first date. Something clicked between the couple on that first date. By the end of the bottle, the two were already making plans for 00 Wines to become a global luxury wine brand.
When I think about the symbolism of 00 Wines from a perspective of Old World and New World, Chris and Kathryn fit this perspective to a T. Chris is comfortable in an analog world of using paper maps while navigating long road trips. Kathryn represents the New World using Apple Maps on her iPhone to navigate the same journey. Both bring their strengths to the table, providing an incredible experience. For example, Kathyrn worked with Liviri to ship wines. Typically, wines might be overnighted using ice packs to keep wine cool, but the collective sat down to figure out a way to send shipments in a fashion that felt like the wine never left the cellar using the Liviri Vino. Again, this is not the most efficient method to ship, not the most cost-effective, but it is best for the wine, the experience, and the customer.
Bringing in the winemaker for 00 Wines for today's story, Wynn Peterson-Nedry is a newsletter in of itself. She is a second-generation winemaker learning from her Dad, Harry Peterson-Nedry. Harry needs a newsletter all to himself as well. He planted vines in 1980 before the Ribbon Ridge AVA was created. It was because of Harry the AVA came to be. It is also Harry who helped Oregon get the Coveted European Union PGI Designation. This designation is enormous, meaning the relationship between the specific geographic region and the product's name, where a particular quality, reputation, or other characteristic is attributable to its geographical origin. Napa is the only other US wine region to achieve this status.
Getting back to Wynn. She is a powerhouse! Growing up, all she knew was wine and needed to get away for a bit. She came back to and loves pushing the boundaries of what can be done in Oregon. In 2020, she was thrilled to plant some Chenin Blanc on Ribbon Ridge. Wynn had only been waiting ten years to plant the vines!
In December of 2020, she gave birth to a wonderful healthy baby boy. Over the past year, she has been juggling raising a newborn and making wine. Can you imagine what harvest looks like for her? I told you she is a powerhouse, and I have mad respect for her!
There is another crucial member of the team, and that is Pierre Millemann. He is a wine consultant from Burgundy who helps with the Oregon wines along with the French and Champagne projects.
With Chris being a lawyer, the business side of the house is run on the very straight and narrow. There is a lot of creativity in the wine world, and sometimes business rules are broken. For example, when Chris hired Pierre, there was no contract between the two of them. Chris had red flags all over the place and asked, "What if things don't work out and I don't like the wine?" Pierre's simple response was, "Well, you don't hire me for the next vintage." Plain and simple, I love it!
Pierre brought over an old method of making Chardonnay called "Black Chardonnay." The basic premise is the winemaker squeezes the ever-loving patootski out of the grapes exposing the juice to as much oxygen as possible. This whole process causes the ordinarily clear liquid from the grapes to become black, thus "Black Chardonnay." The first time Chris saw this in person, he was just the teeniest bit scared the Chardonnay was ruined. I am inferring a little here, and this is not a stated fact. Chris had to be thinking, "I knew I should have gotten a contract from Pierre." Let me restate, I have zero clue this is what Chris was thinking, but I would have been thinking that if I were Chris.
After some time, the wine returned to its beautiful Chardonnay color and has received some killer reviews.
00 Wines Reviews
2018 Chardonnay Eola-Amity Hills Freya Hermann Cuvée – 98
2018 Chardonnay Chehalem Mtns Kathryn Hermann Cuvée – 97
2018 Chardonnay Eola-Amity Hills Richard Hermann Cuvée – 97
2018 Pinot Noir Eola-Amity Hills Richard Hermann Cuvée – 97
2018 Chardonnay EGW 2018 – 96-97
2018 Chardonnay EGW – 96
2018 Chardonnay VGW – 94-95 
2018 Pinot Noir Eola-Amity Hills Richard Hermann Cuvée – 94-95
2018 Chardonnay VGW – 94
2018 Chardonnay Chehalem Mountains – 93
2018 Pinot Noir McMinnville Hyland Vineyard – 93-94
2018 Pinot Noir McMinnville Hyland Vineyard – 95
2018 Pinot Noir VGR – 94
2018 Pinot Noir Yamhill-Carlton Shea Vineyard – 93-94
2018 Pinot Noir Yamhill-Carlton Shea Vineyard – 96
2017 Chardonnay Chehalem Mountains – 95
2017 Chardonnay EGW – 97
2017 Chardonnay Eola-Amity Hills Freya Hermann Cuvée – 98
2017 Chardonnay Eola-Amity Hills Richard Hermann Cuvée – 94
2017 Chardonnay Eola-Amity Hills Seven Springs – 97
2017 Chardonnay McMinnville Hyland – 95
2017 Chardonnay Open Claim – 97
2017 Chardonnay VGW – 97
2017 Pinot Noir Eola-Amity Hills Richard Hermann Cuvée – 93
2017 Pinot Noir McMinnville Hyland – 95
2017 Pinot Noir VGR – 95
2017 Pinot Noir Yamhill-Carlton Shea – 95
2016 Pinot Noir Yamhill-Carlton Shea – 96
I am not necessarily a wine points chaser when it comes to wine, and the only reason I mention the scores from James Suckling is to provide another perspective. When a winery consistently scores high marks from JS, the wine world at large takes notice. I am sure that the first night where Chris and Kathryn were sitting down over the bottle of White Burgundy, they talked about creating a brand for the wine world. It has to be satisfying to see dreams come to fruition.
Towards the end of summer, the 2019 vintage was released, and a few weeks ago, I was very fortunate to sit down to taste through the line-up. My overall impression was spot on with previous vintages. I have zero doubts James Suckling is going to hand out some crazy high scores again. During the tasting, some standouts for me included the Richard Herman Chardonnay, Kathryn Herman Chardonnay, Hyland Pinot, and the Chehalem Pinot. The Kathyrn Herman Chardonnay also comes from Chehalem, and the 2018 vintage included a Chehalem Chardonnay. Unfortunately, there wasn't enough quality fruit to produce a Chehalem and Kathryn Herman Chardonnay for 2019.
Interestingly, the 2019 Chehalem Pinot is the first year for this label, and I have to tell you it was stellar! Over Chris's and Kathyrn's dinner table is a picture of Judge Herman sternly looking over everyone to ensure nobody messes around. There is a possibility the Chehalem Pinot might get renamed to Judge Herman Cuvee. Stay tuned!
I briefly touched on Pierre helping Chris and Kathryn with the French side of the house. There are currently two vintages of 00 Wines Corton-Charlemagne Grand Cru Chardonnay starting in 2017. Pierre is in charge of sourcing the best fruit possible for this bottling, but it doesn't stop there. 2016 was the start of their Blanc de Blanc Champagne. When I asked Kathryn about where this project is, she responded with, "It is waiting to be shipped over." If you aren't aware, getting any cargo shipped from overseas is a colossal nightmare right now. I can't wait to taste this once it's ready.
I have followed the 00 journey for almost two years now. It's been a joyous ride to see their success and how integral they are in bringing more attention to Oregon Chardonnay. When "The Boys Up North" started their pursuit to put Oregon on the map as a world-renowned wine region, everyone teamed together to make the highest quality wine possible. At that time, Pinot Noir was the main focus. Chardonnay is the next varietal of focus. The spirit of Erath, Eyrie, Blossor, Ponzi, and countless others are still alive and kicking today. Kathryn has worked with Audeant on a joint venture. Chris is super generous in sharing his knowledge and wine while being super approachable. I would love to see them produce an Oregon Sparkling, the next big thing behind Chardonnay for Oregon.
The times I have tasted with Chris and Kathryn have been nothing short of outstanding. I have the luxury of a face-to-face connection with these two spectacular human beings. With global distribution, I ponder what it is like being a 00 Wines customer who lives in Tokyo. Comparing our two experiences is night and day. I seriously doubt that the Tokyo customer has had the luxury of sitting down to talk wine face to face. On the other hand, the global customers are thrilled with the wines and are grateful to collect/share the wines. In the tech world, 00 Wines would be a unicorn.
I haven't mentioned the Carlton Winemaker's Studio yet in the whole scheme of 00 Wines's story. If you have never been to CWS, it is a shared facility for winemakers to help reduce the cost and overhead of making wine. Some fantastic wines are coming from this facility. If you have never been, go for a couple of reasons. First, this is where you go for a 00 tasting, and secondly, there are very few places you can get a flight to taste wine from multiple wineries in one stop. Keep reading until the very end for a little inside scoop.
The road 00 Wines has taken to get where they are is a precise, well-thought-out plan of action. As with anything in the wine world, it takes a lot of time and patience to achieve any sort of traction. The road ahead for the team has to be exciting. As a winery, 00 Wines is super young. So this begs the question, where is 00 Wines going? There are rumblings of the possibility of buying an old farm in the next year or two to plant a vineyard. With global warming being a genuine concern in 30-50 years, there is talk of growing Cab, Merlot, and Zinfandel shortly to have some lovely old vines for the next generation of Oregon wine.
It is fascinating to think about what Oregon wine will look like in 30 years. Of course, the possibility of an Eola-Amity Cab blows my mind in 2021, but who knows, maybe it will knock my socks off in 2051.
Thank you for taking this extra long deep dive into Alice's rabbit hole this morning. I adore the story of 00 WInes and can't wait to consume more chapters. As I mentioned earlier, you can taste 00 Wines at the Carlton Winemaker's Studio. As for the insider's tip, I would call the studio and ask for Nick. Let Nick know you read my newsletter, do a little name-dropping and say, "A.J. sent me for a 00 Wines tasting!" BTW, if you get the chance to talk to Nick, do it. A super fascinating guy who is going to make some waves in the Oregon wine community!
With Gratitude,
A.J. Weinzettel