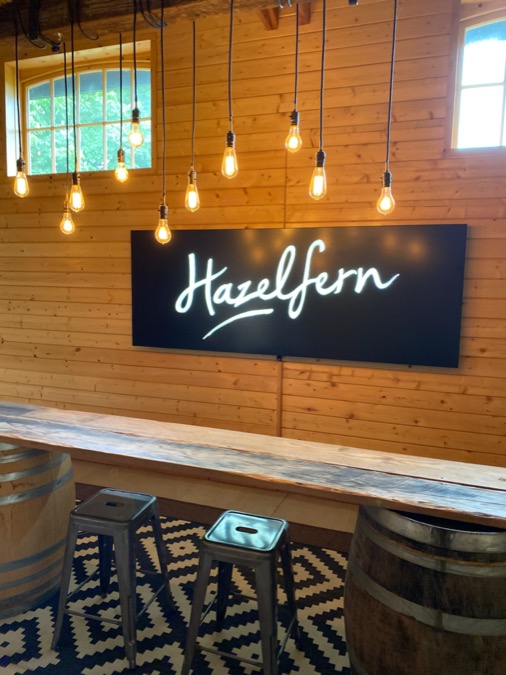 When I think about Oregon Wine Country, there is an artistic state of mind winemakers possess to show off the terroir, the vintage, the grape, the process of making the once it has left the vine. So many factors on the artistic and experimental side of winemaking. The desire and willingness to break the norm to bring a perspective to the table or to fail while still learning is what speaks to me most about Oregon.
Starting back in 2006, Bryan and Laura began making wine in their basement producing fine gallons of wine at a time. 2014 was a pivotal year in their journey, leaving the basement to produce the wine we have the privilege to taste today. A close friend of the family who beat cancer at 18 was living in Hawaii went to set up at the local Farmers Market. After everything was set up, a truck ran through the Farmers Market. Bryan and Laura were hiking Multnomah Falls when the call came through about their friend's tragedy. At that very moment, they decided life is too short, found a horse stable, that never housed horses, and transformed the barn into the stunning tasting room we see today.
Bryan and Laura have the best helpers with their two daughters Adalyn and Ava. They are the glue that holds everything together! Adalyn and Ava help around the winery, and if you are lucky, they might sale you some eggs from the farm. I am not sure how many people are aware of these special eggs, and so let's keep this little treat between you me!
Have you heard the term Black Chardonnay? I have to admit up until last week, I wasn't versed in the term either. Here are some links for you to research more about Black Chardonnay (https://daily.sevenfifty.com/meet-black-chardonnay/, https://blog.vinfolio.com/2017/09/14/promoting-oxidation-winemaking-black-chardonnay-prevent-premox/, https://punchdrink.com/articles/a-new-era-for-white-wine-burgundy/). In short, the grapes for Chardonnay are pressed extremely hard, oxygen is combined with the grape, and the wine actually turns a brown color. This process is starting to become more of a de facto standard when it comes to Chardonnay. Usually, Chardonnay is gently pressed, and every attempt to keep oxygen away is of the utmost importance. I mention Black Chardonnay because this is the method Bryan uses for HazelFern's Chardonnay. Ultimately, Bryan wants to have a Chardonnay only flight when customers come for a tasting. I think he is there and not sure what is holding him back.
Time for the good stuff, the wines!!
2018 Stormy Morning Vineyard Pinot Noir
The Stormy is delightful, and the very first sip pulls you into a fruity state of bewilderment. So much complexity happening at one time, and yet so delicious. Hints of forest floor tell me I need to flag this one and try again in 10 years. I can't wait to taste the aged funk!
2018 Ana Vineyard Pinot Noir
I first experienced the Ana vineyard from Holloran, and hands down is my favorite Pinot from Holloran. Bryan worked amazing magic by bringing the settle red fruits to the surface in a most refined manner. The long subtle spice finish is freakin decadent.
2017 Prime Cut Pinot Noir – (the best of the best)
The 2017 Prime Cut came from the Ana vineyard with a blend of Wadenswil, Pommard, 777, and 115 clones. Oaked for 15 months with 55% new oak. The tannins were a little high along with a higher acidity, and so keeping this one down for a bit is going to be fabulous. There is nothing wrong with drinking it now. I enjoyed it through and through!
2018 Prime Cut Pinot Noir – (the best of the best)
It was amazing to taste the Prime Cuts side by side. Coming from vineyards in Yamhill, Eola-Amity Hills, and Robinson Family vineyards, you can smell and taste the difference. 2018 was more of a modern, warmer year for Oregon. More upfront red fruits on the nose were delightful. The tannins are young, but again this bad boy is going to age well.
2018 Robinson Family Pinot Noir
This was a little darker in color, with 100% Pommard clone with dark red fruits coming through on the palate. The striking pronounced spice finish is excellent, long, and velvety.
2018 Little Hells Chardonnay
I could talk forever about Little Hells, aka Seven Hells or Hellspawn, but seriously it is "wine for your soul" (thanks Jason). The raves about Seven Hells is what brought me into HazelFern. I hadn't heard so many different people talk about one wine, much less a Chard, so much before. Little Hells is the start of the Chard Party at HazelFern with a spice complexity on the nose, green fruit on the palate, and a lasting finish begging for more hells on wheels.
2018 Stormy Morning Vineyard Chardonnay
If Seven Hells is "wine for your soul," Stormy Morning has to be the Hawaiian smooth escalator ride up the stairway to heaven. Stormy has a beautiful full jazzy body with the complexity of tropical fruit. The finish is dreamy, with a reminiscence of the sea blowing through your hair.
2018 Prime Cut Chardonnay – (the best of the best)
You would think after going to heaven and hell, there couldn't be any other place to go, but this couldn't be further from the truth. The Prime Cut Chard brings you back to reality from a vineyard with 1100 feet of elevation. It has been oaked for 11 months with 28% new oak. I am seriously kicking myself right now for not taking more notes on the Prime Cut. It was the best of the three Chardonnays.
2015 Walla Walla Tempranillo
I had no clue Bryan made a Tempranillo, and we were all surprised with this pour. These were the first grapes in the door, and Bryan's mentality on this wine is to make it from the Reserva standard in Spain. The Reserva standard means three years in barrel and one year in bottle before release. I also didn't take many notes on this pour, but I was amazed by the bright red cherry on the palette. At first, I felt it was a little overpowering, but it calmed down on the finish. My emotions were a bit mixed if this were a bottle I would enjoy. I knew I would appreciate a glass, but would I relish a bottle. After the third sip, it was a done deal. I went home with two bottles.
Their Rose is coming out any day now, and I pre-ordered a few bottles without having a sample. Their last batch sold out fast! Going through all the wines from the tasting, the strong reputation they have with the community, their desire to produce kick-ass wines while experimenting speaks volumes to me. Go to the website, make a reservation, and try these wines for yourself! Let me know what you think, and when you visit, I would appreciate it if you told them, "A.J. sent me."