My story of de la boue reminds me of how small the world of wine is and starts with Tess. She oversaw day-to-day hospitality operations and events at Domaine Serene. I knew she was married to a winemaker but didn't know any further details. Tess moved on to other opportunities during the pandemic, and I hadn't heard from her again until earlier this summer while I was having dinner in McMinnville at La Rambla. We noticed one another. I walked over, gave her a big hug, and shook her husband's hand, Travis, whom I had visited a couple of weeks prior, tasting his wines.
While tasting Travis's wines at de la boue, I knew Tess was his wife, and seeing Tess after a couple of years was a treat. As I mentioned, the World of Wine is super tiny. So you never know who you will run into and the stories accompanying those chance encounters!
If you remember, a couple of weeks back, work kicked my patootski, and the story I wanted to get out didn't happen. I made a promise two weeks ago, and here we are talking about a winery 99.8% of The Wine World has zero clue about. So today, I am diving into de la boue!
As with any wine expedition, I must create a starting point going backward in time to appreciate what we have today. Many moons ago, Travis Todd was a self-proclaimed ski bum who took advantage of the fresh powder by day and worked at the Yellowstone Club in Montana by night. Over time Travis was the wine buyer for the Yellowstone Club and fell head over heels for the complexity wine brings to the table. I don't know 100%, but I think Travis and Tess met at the Yellowstone Club. Of course, I could be wrong; it wouldn't be the first time.
Like myself, if you are unaware of the Yellowstone Club, it is an oh my holy Toledo batman getaway. However, it looks like it is way more than a resort getaway. From the website, there are 3,000+ square feet houses you can buy to get away for the winter or summer. In doing the teeniest bit of research, in 2015, condos were starting for $4 million, single-family housing at $5 million with initial dues at $300k and $36k in annual dues. If you have watched the TV series Yellowstone, I am pretty sure the Dutton family was fighting to keep entities such as the Yellowstone Club out of Montana.
Besides falling in love with wine and Tess, Travis had a soft spot in his heart for 2007 Oregon Pinots during his time at Yellowstone. He also met a person named Chris Andrew during his tenure. As Travis dove deeper and deeper into wine, he attended Pinot Camp in 2014 and did Harvest the same year for Wine by Joe. In the following three years, Travis's desire to make wine intensified. Tess and Travis talked about where he wanted to make wine, and his answer was, "Oregon!"
The couple made the trek. Tess got a job at Domaine Serene, while Travis got a job helping make wine. I am pretty sure this was also at Wine by Joe, but the timeline is a bit fuzzy. He moved to Integrated Beverage Group, which makes Rascal and Duck Pond. In 2020, he transitioned from helping make wine to becoming the head winemaker.
Not long after the 2017 move to Oregon, Travis and Chris decided to create their own label, de la boue. Their first vintage was in 2019 and sold out extremely quickly. When I went out in late July, the 2020 lineup included a Chardonnay, two Pinots, and a Syrah. I am not sure how much they produced in 2019, but for 2020 there were a little under 390 cases (150 cases of Pinot, 140 cases of Syrah, and 100 cases of Chardonnay).
The four vineyards de la boue source fruit from are the Vista Grande vineyard located in the Chehalem Mountains at 800 ft, the Gregory Ranch Vineyard in Yamhill Carlton, and the Lewis Vineyard located in the Columbia Gorge.
When I met Travis for a tasting for his de la boue wines, it was at Gregory Ranch. One of the stories he told me was the very first Oregon Chardonnay he poured at the Yellowstone Club came from Gregory Ranch. Bergstrom has sourced Pinot from Gregory Ranch along with Chardonnay used for Sigrid. On top of everything else Travis is doing, he is also farming the vineyard.
Starting the de la boue tasting, Travis poured some Chardonnay, and we headed out into the vineyard. I enjoyed seeing Travis's excitement about the vines and the vineyard tour. It always amazes me how every vineyard has some different characteristics to it. For Gregory Ranch, I found one vivid point: one block nestled into its little valley. I also adored seeing the ground cover. According to the Gregory Ranch website, the vineyard is farmed Bio Dynamically.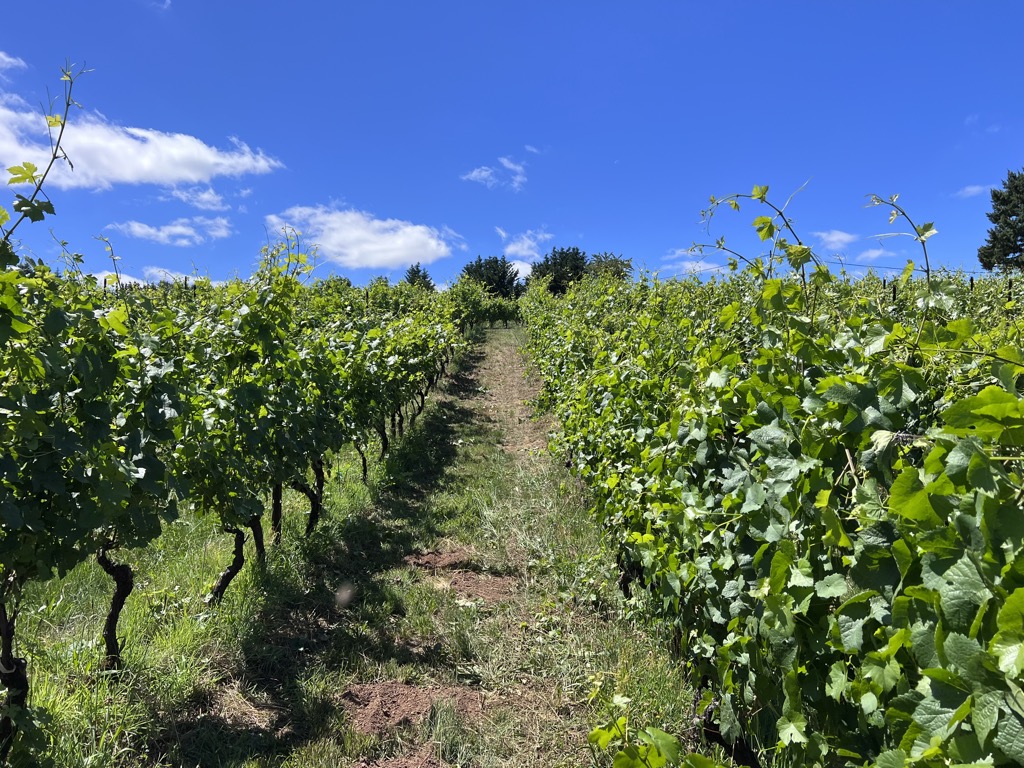 I thoroughly enjoyed the de la boue Chardonnay as we walked around the vineyard and finished it off as we walked back to the green barn where the Pinots and Syrah were waiting. Reading 2020 on the labels, I was apprehensive. I have tried 2020 de la boue Pinots and Syrahs picked after the fires, and the number of wines I have enjoyed was few and far between.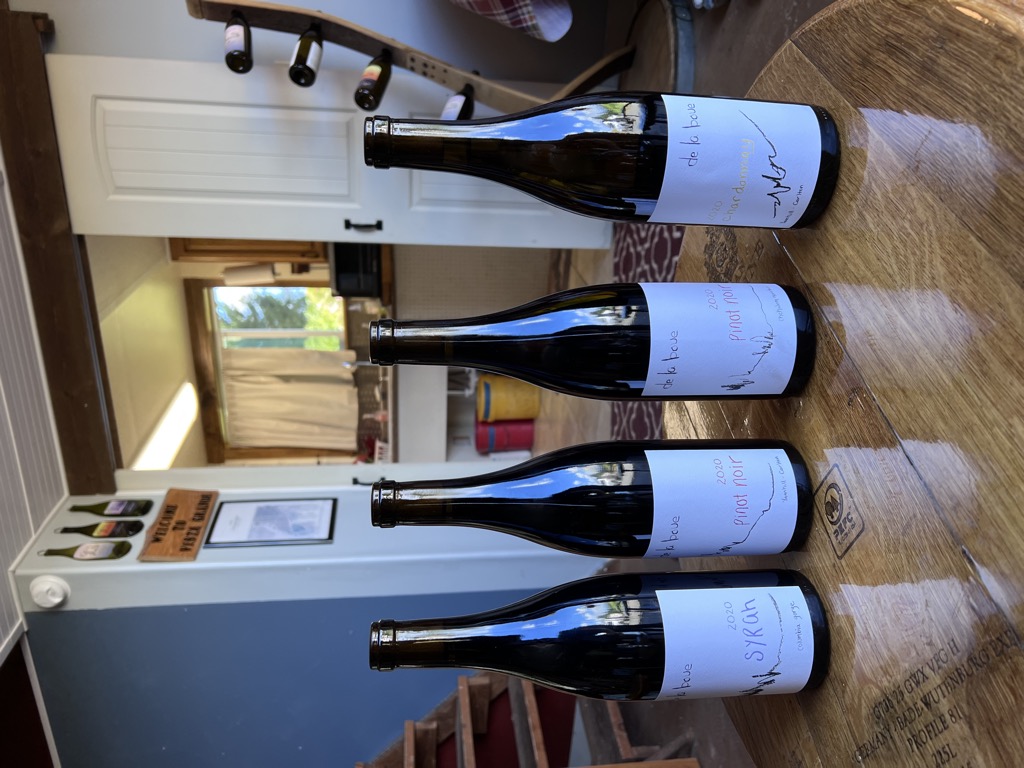 The first de la boue Pinot was the Vista Grande, and I was very pleasantly surprised. There is no way I would have figured out it was a 2020 in a blind setting. Travis and I talked some, and the Gregory Ranch Pinot followed suit. I was a happy camper in Pinot Land! I still haven't figured out how to take notes on a glass of wine while keeping a conversation going with a winemaker. It feels insulting being heads down feverishly writing away with the winemaker talking.
Next up was the de la boue Columbia Forge Syrah from the Lewis Vineyard nestled at the foothills of Rattlesnake Ridge in the Columbia Valley Appellation. Besides Syrah, this vineyard is also known for Cab Sauv, Merlot, Riesling, and Chardonnay. I didn't take any notes on this wine; zero are needed. I vividly remember this wine.
When you think about a typical Syrah, it is a heavier, fuller-bodied wine compared to Pinot. It would also be super easy to pair it with a steak to cut through the fat, helping balance out one another. However, the 2020 de la boue Lewis Vineyard Syrah is dainty compared to the typical offerings. I was blown away, and Travis's goal is to create a Syrah that pairs perfectly with Salmon.
One of the stories Travis told me was how he wanted to get grapes from Temperance Hill. He tried multiple times over and over throughout the years with no success. Then, out of the blue earlier this year, he got a call asking if he was still interested in fruit, and there was only one possible answer, "YES!" So, I was fortunate enough to try an early sample of the 2021 Pinot from Temperance Hill. Again, I don't have notes, but it was fabulous!
A lot is happening in Oregon Wine Country. Mega facilities are built off of 99 with waterfalls and all the works. There are also acquisitions occurring we may feel a little uncertain about for the future of Oregon Wine. I get it, but the spirit is alive and kicking on what Oregon Wine stands for. The work Travis and Chris are doing with de la boue is a classic example of a gemstone I want to share with everyone. Please visit their website, make a reservation, tell Travis "A.J. sent me," and have a fantastic time!
With Gratitude,
A.J.