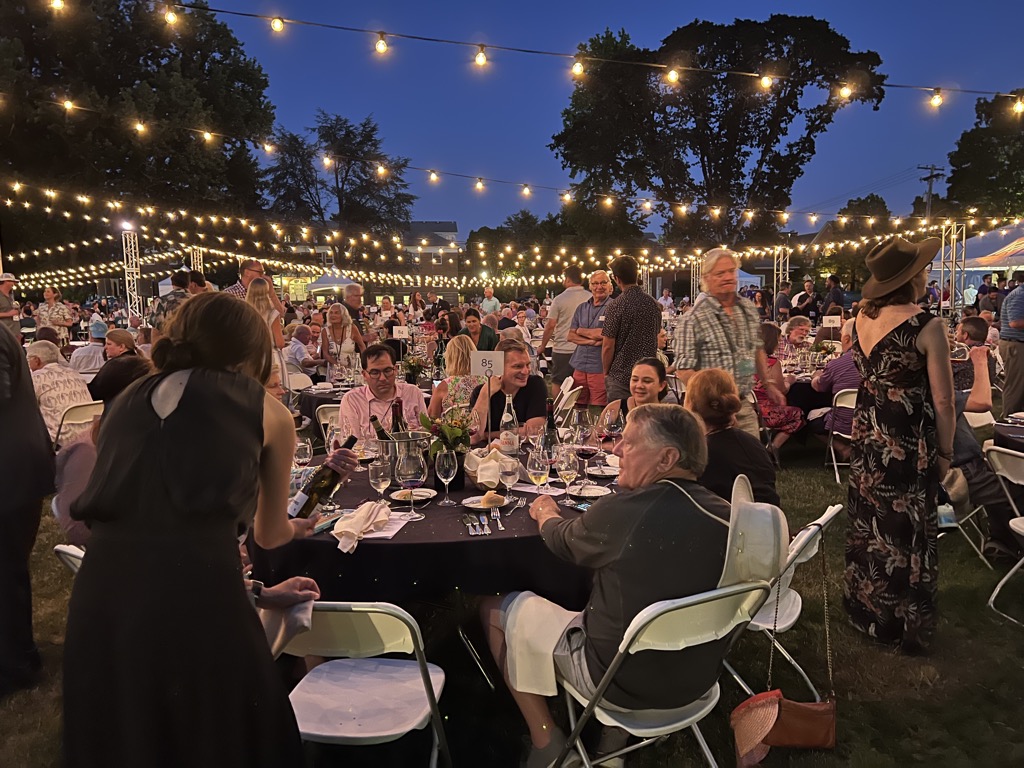 Last week the launch of Philippe Andre's podcast episode signified the kick-off for this week's newsletter focusing on IPNC (International Pinot Noir Celebration). With Philippe being the Master of Ceremony, I had a small window to grab some of his time, and after the interview, we were both off to registration.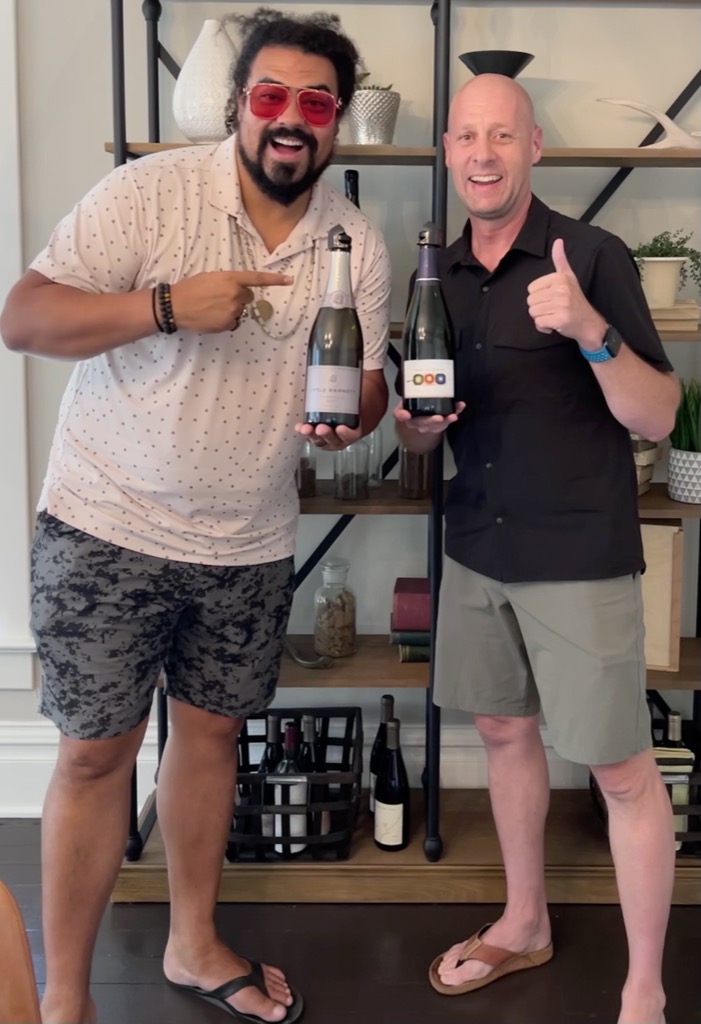 The theme for this year's IPNC celebration was "Through Rosé Colored Glasses," emphasizing Sparkling and Champagne, but before I get too deep down the rabbit hole. The last in-person IPNC was in 2019. Last year, I wrote about the virtual event along with a dinner that wasn't part of IPNC.
I wrapped up the interview with Philippe around 3:00. By 5:30, I was in a van heading to Hazelfern for pre-IPNC festivities and a whirlwind of a weekend filled with friends, food, wine, unforgettable experiences, and smiles all around!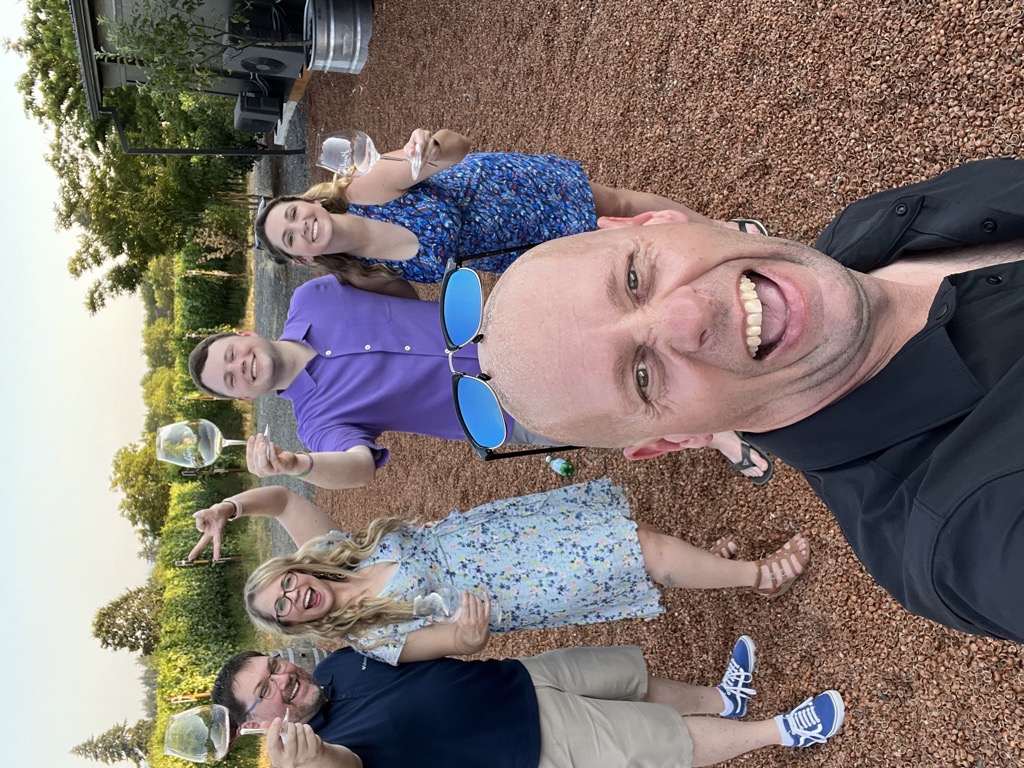 Also, heads up, this week's newsletter will have many pictures; otherwise, you will still be reading well onto your third cup of Saturday morning coffee.
Hazelfern was ready to go with Laurent Perrier Champagne to start everyone off, and let me tell you. I am so glad Champagne and Sparkling were the highlights this year. It was hot, and drinking Pinot on hot days isn't all that fun. Also, in true Hazelfern fashion, people brought a bottle of two to share. I brought the blind bottles from Philippe's interview (Lytle Barnett and Francoise Bedel Champagne).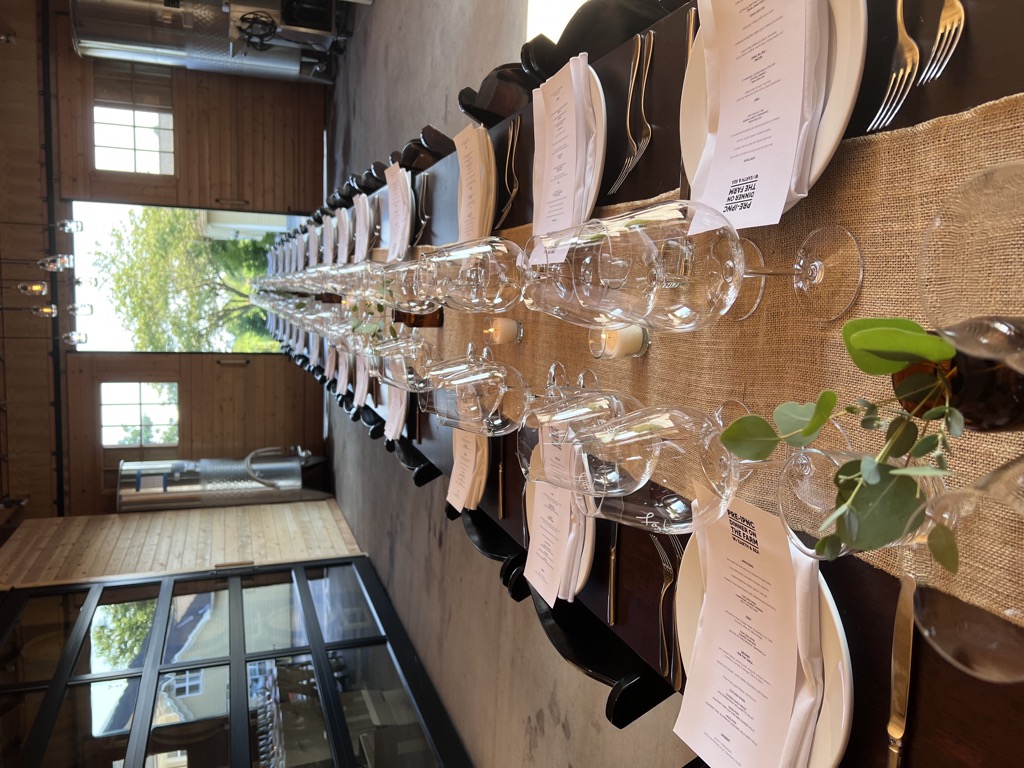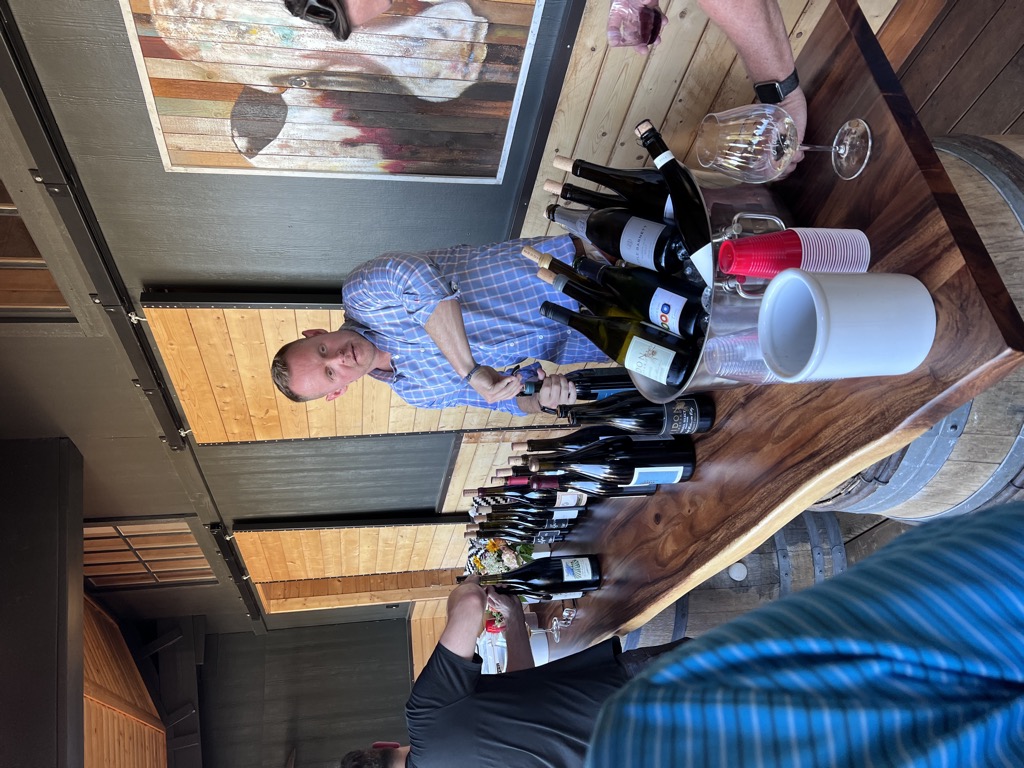 Here's an interesting tidbit about the Champagne I brought. The bottle was with all the other chilled wines on the community table, and there was still easily a quarter of a bottle left after dinner. So I pulled it out and shared it with a couple of people. Why don't we explore more about bottles we don't know much about?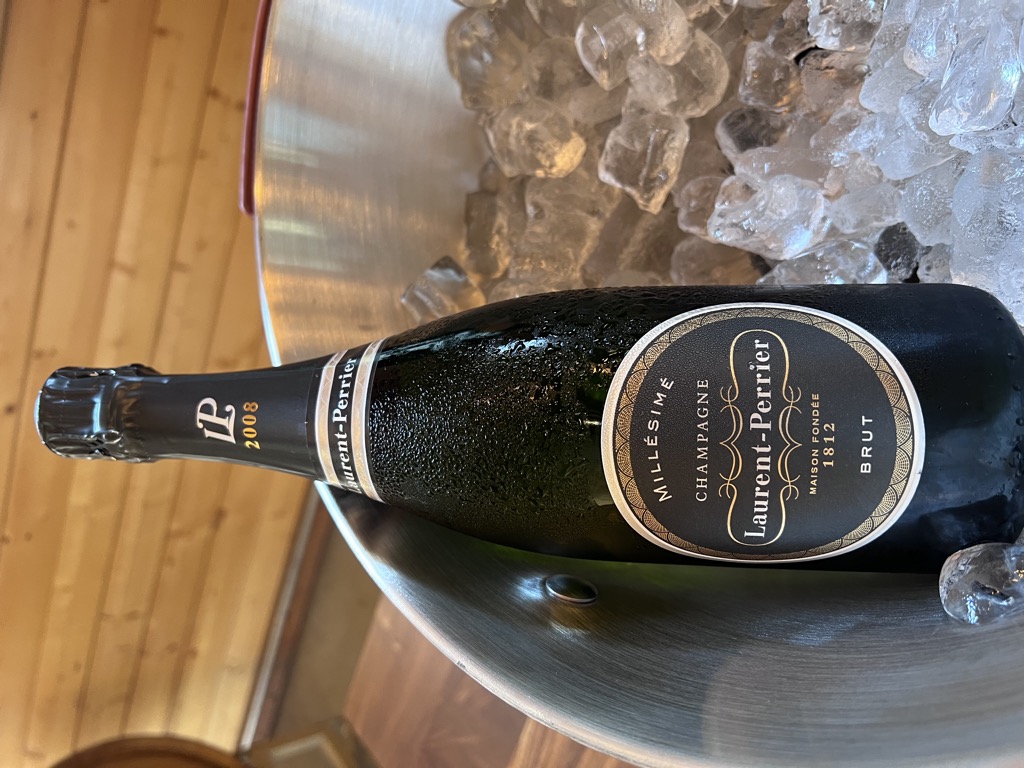 Anyway, the dinner was freakin fabulous. I finally got the chance to taste Compris's 2021 Valley Skies Rose of Tempranillo, and I wasn't disappointed one bit! Chosen Family served their 2019 delightful Chardonnay! The last two wines of the evening were from Hazelfern. Both wines are personal favorites from Hazelfern. The 2018 Ana Vineyard Pinot Noir and the 2019 Silvershot Pinot.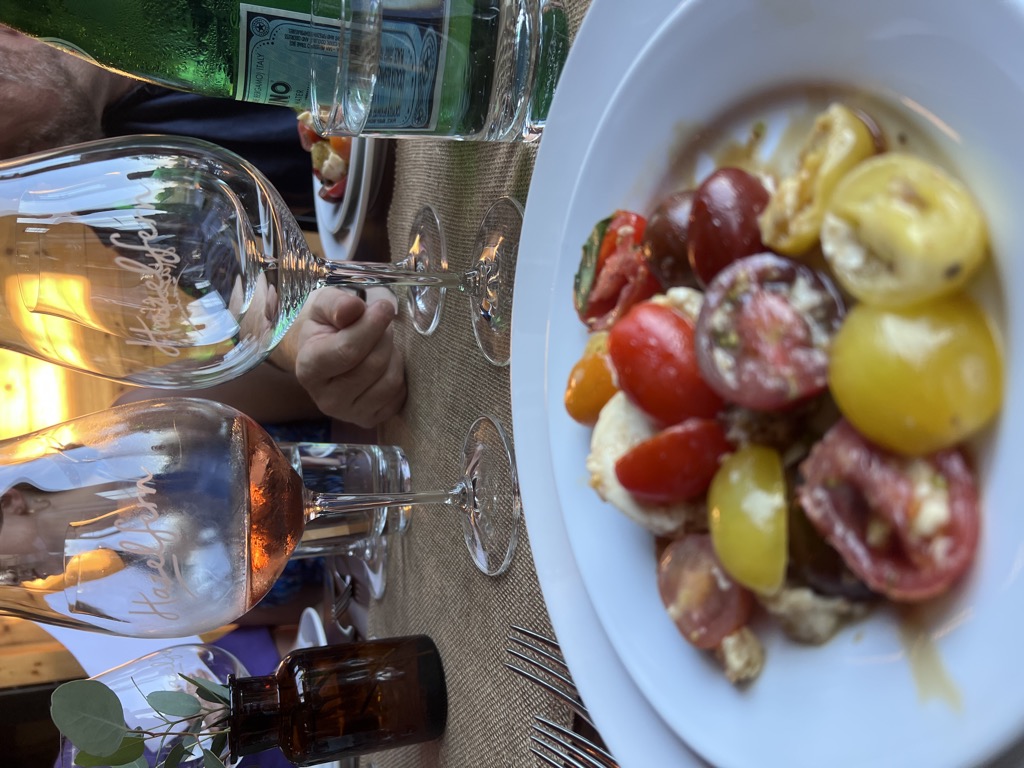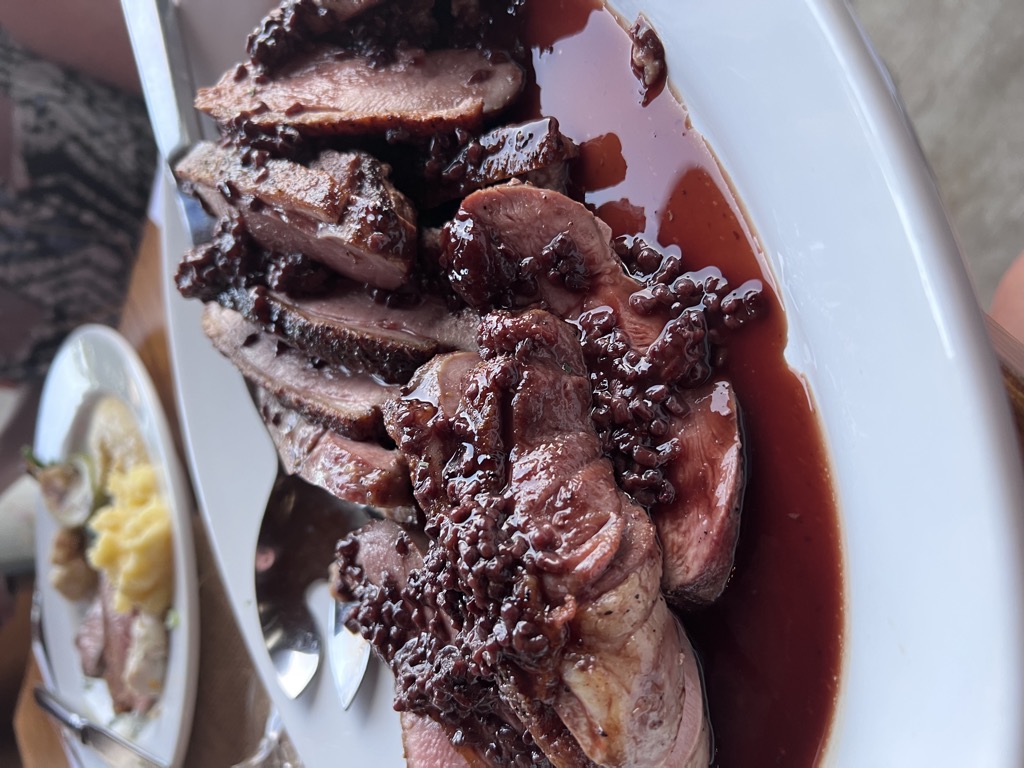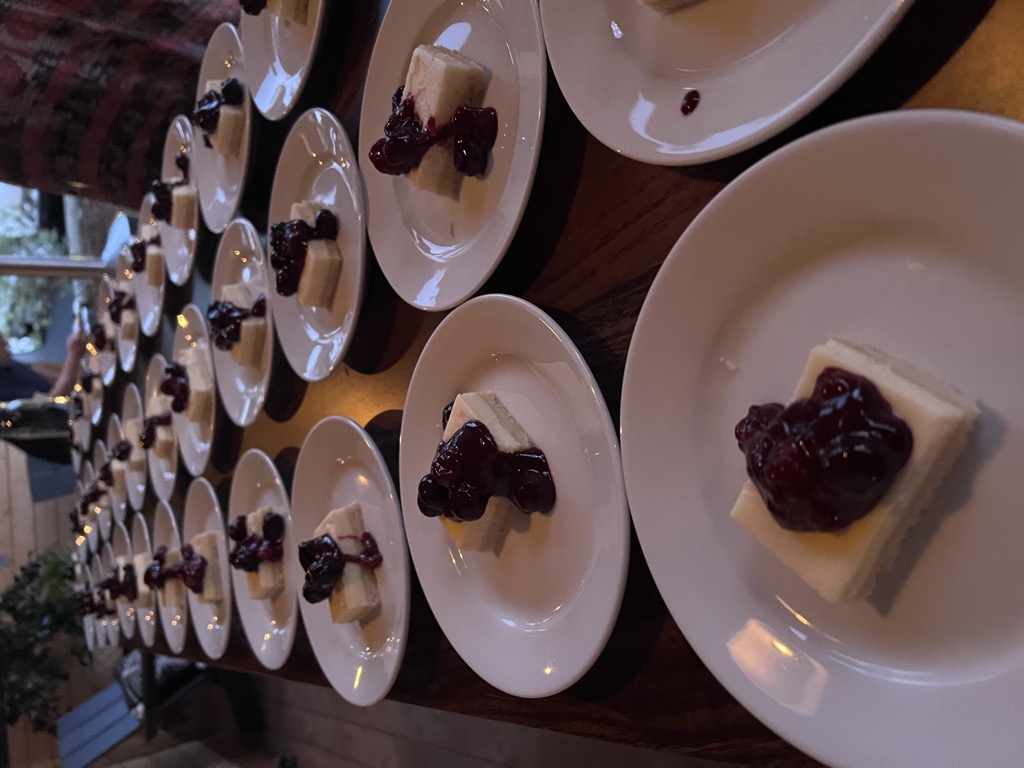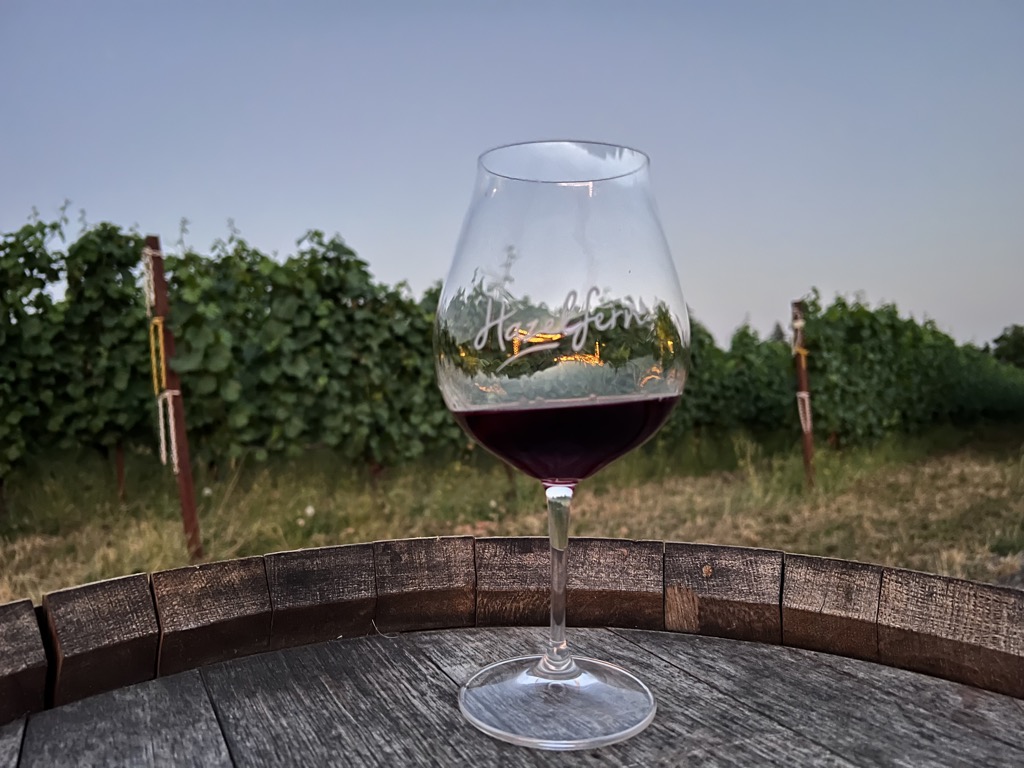 The vans picked us up at around 9:45, and talks around the breakfast table Friday morning said the festivities were still going until 11:30. Part of me was bummed to have left so early, but I also knew the weekend ahead was all about having the mentality for a marathon. I mean, if I had stayed until 11:30, would I have been able to fully enjoy IPNC's Champagne toast from Charles Heidsieck that Philippe Andre brought at 9:00 in the morning?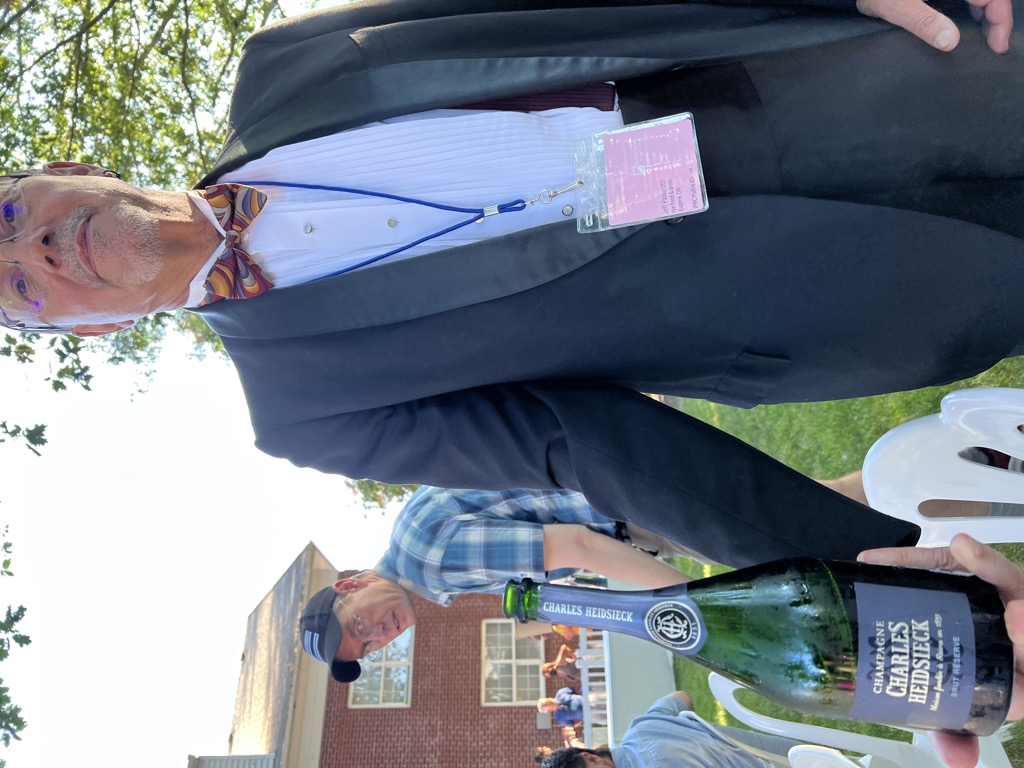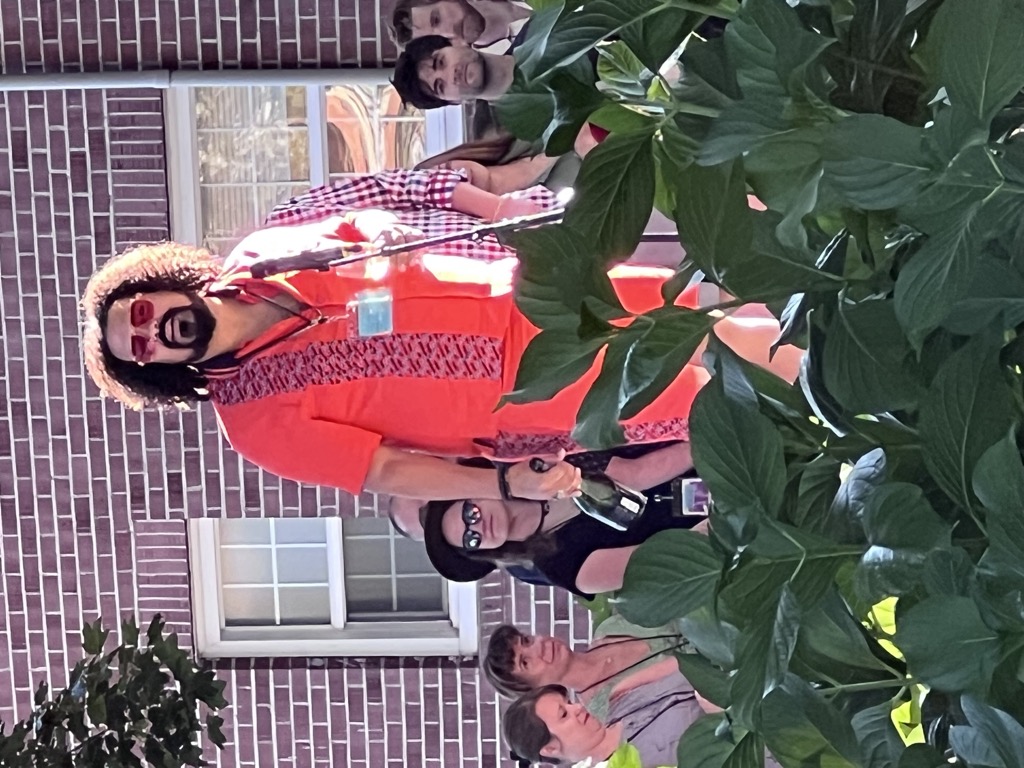 After our Champagne Toast officially kicked off the weekend, Philippe gave a short speech, and we were off to IPNC's activities for the day. There were two massive groups. One group was going to a winery, and the other for The Grand Seminar. So my group got on a bus to a winery destination of unknown origins.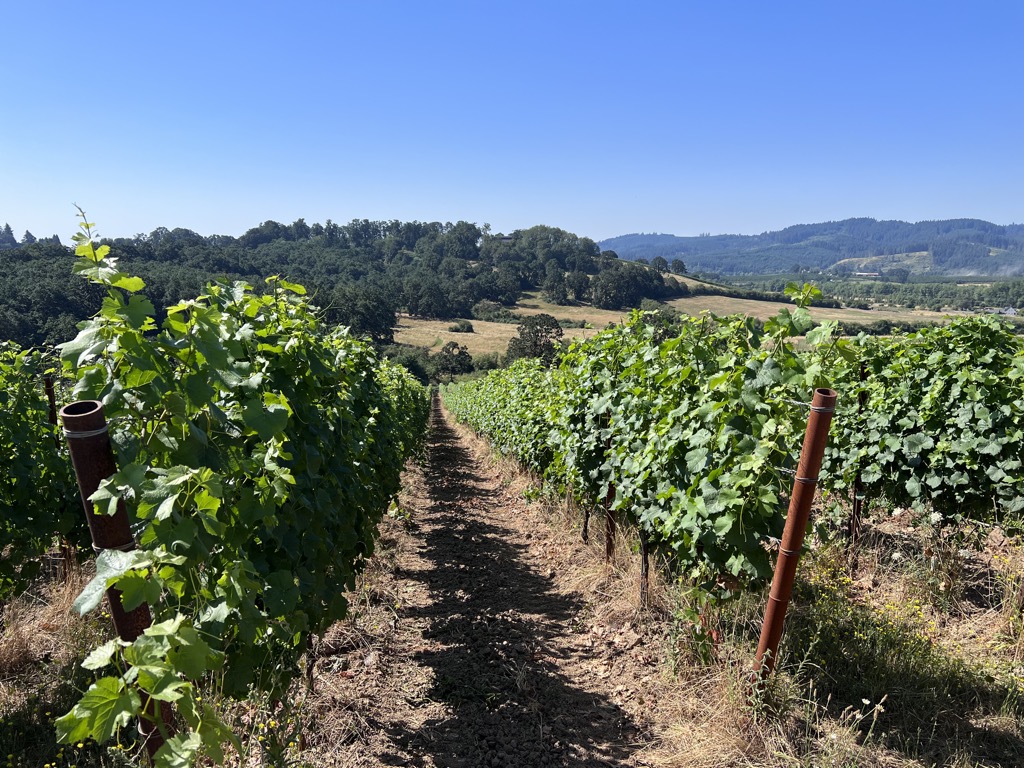 Getting off the bus at Resonance, glasses of Chardonnay were patiently waiting for us atop a hill overlooking the vineyard. We all gathered into smaller groups for a trek through the vineyard. Waiting at the winery for us was a tasting of six Pinots in the coolness of the AC.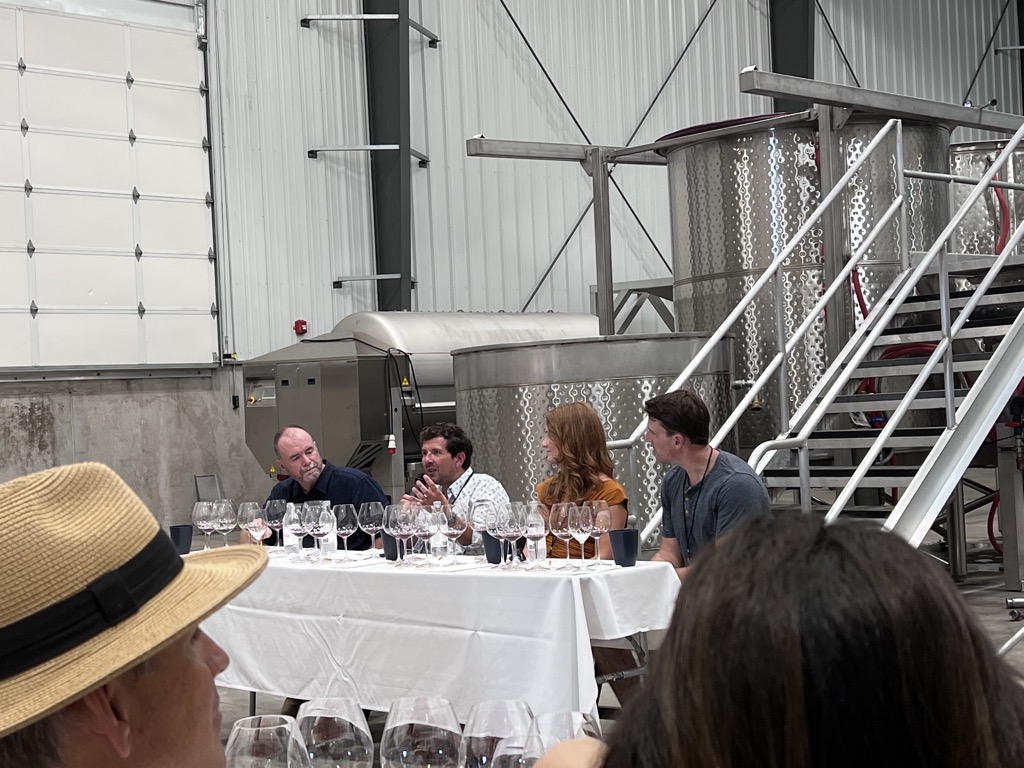 The wines were 2017 Hamacher Wines Paloma Vineyard Chehalem Mountains, 2015 Hamacher Wines Beize Vineyard Eola-Amity Hills, 2019 Kanzler Vineyards Estate Reserve Russian River Valley, 2019 Kanzler Vineyards Walker Station Vineyard Green Valley of Russian River Valley, 2017 Resonance Decouverte Vineyard Dundee Hills, 2017 Resonance Decouverte Vineyard Yamhill-Carlton. I enjoyed all the wines, and my biggest surprise was the California Pinot from Kanzler. It was terrific! The winemaker Alex is fantastic, and his cousin Morgan, who moved from North Carolina to California, is equally awesome!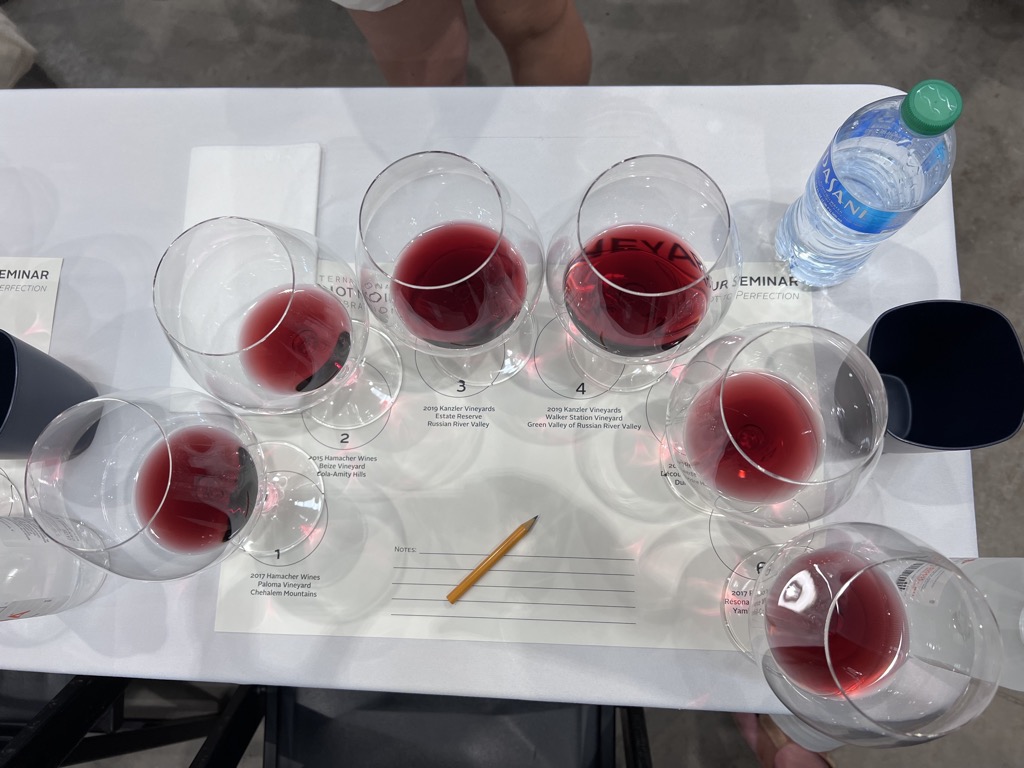 After our tasting, it was time to head up to the tasting room for a few appetizers and the 2021 Resonance Pinot Noir Rose outside overlooking the Valley before lunch. The first time I saw this view was in November 2019, and I was blown away. I was equally blown away looking at it again in the heat of July 2022.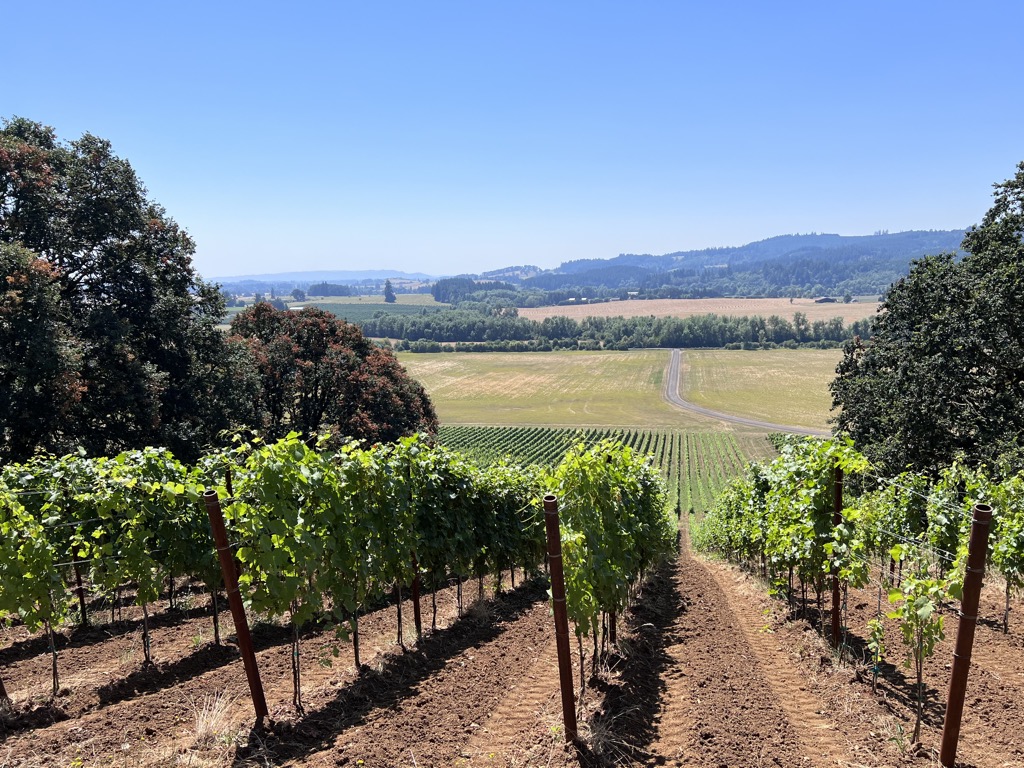 Our lunch had three wines listed, 2020 Resonance Decouverte Chardonnay, 2017 Resonance Decouverte Pinot Noir, and 2016 Resonance Decouverte Pinot Noir. In addition, there were other bottles opened, but I didn't document what they were.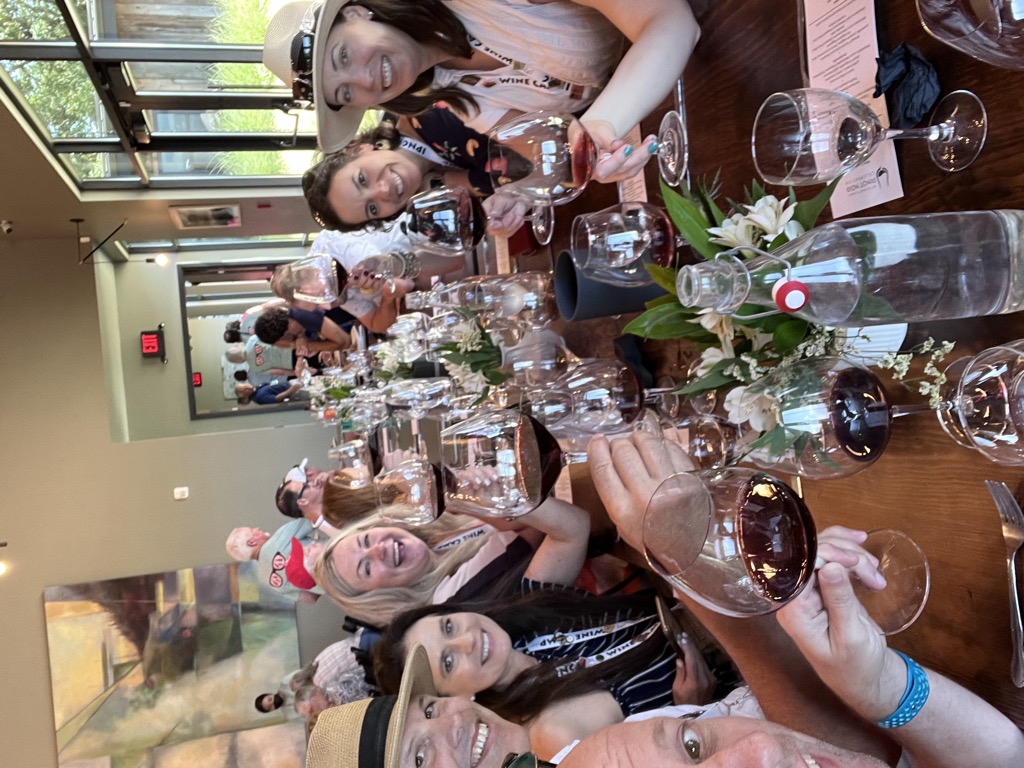 Getting back on the bus, it wasn't easy to stay awake. So before the IPNC pre-dinner Al Fresco tasting, there was only one thing to do: take a nap!
There were so many wines to check out, but I zeroed in on anything that was cold and Bubbly!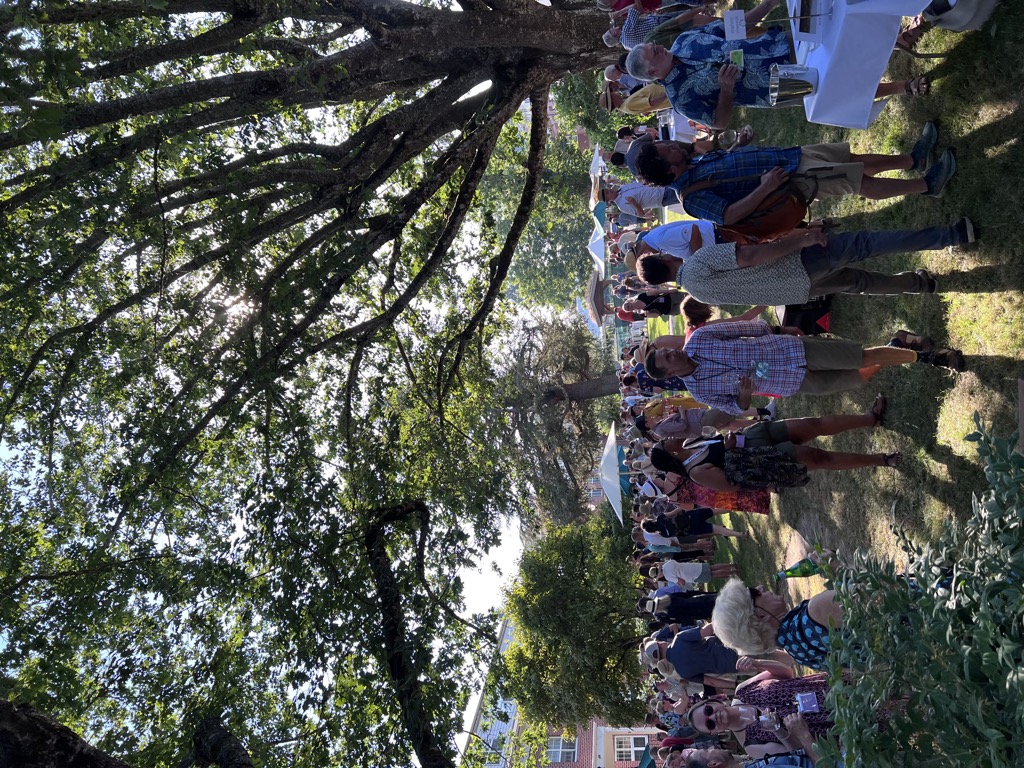 Not too far into the "open air" tasting, the line for the IPNC Grand Dinner was already forming, and lucky for us, it was in the shade. Unfortunately, the SOMM pouring wine for the table wasn't as fortunate, decked out in a full tux. I felt so sorry for him, but he appeared to enjoy himself even though you could tell his white shirt under the jacket was soaked through and through. After the sunset, he continued to wear the coat with the soaked shirt providing an internal cooling system.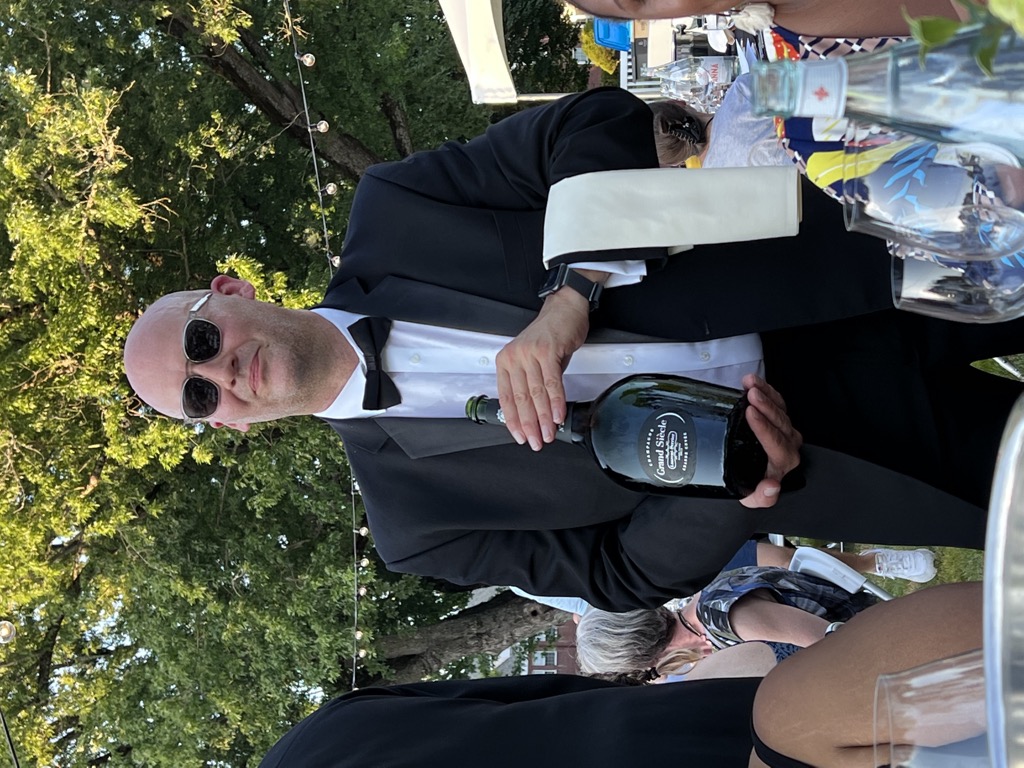 There was so much food and tons of wine to go with it. Philippe Andre came over and poured some wine he brought over in his suitcase, a 2004 Hospices de Nuits Nuits-Saint-Georges 1st Cru. I don't know how I got so lucky, but wow! I stayed until 11:00-ish that night because Saturday morning comes early for those who wake up around 5 am with no alarm clock.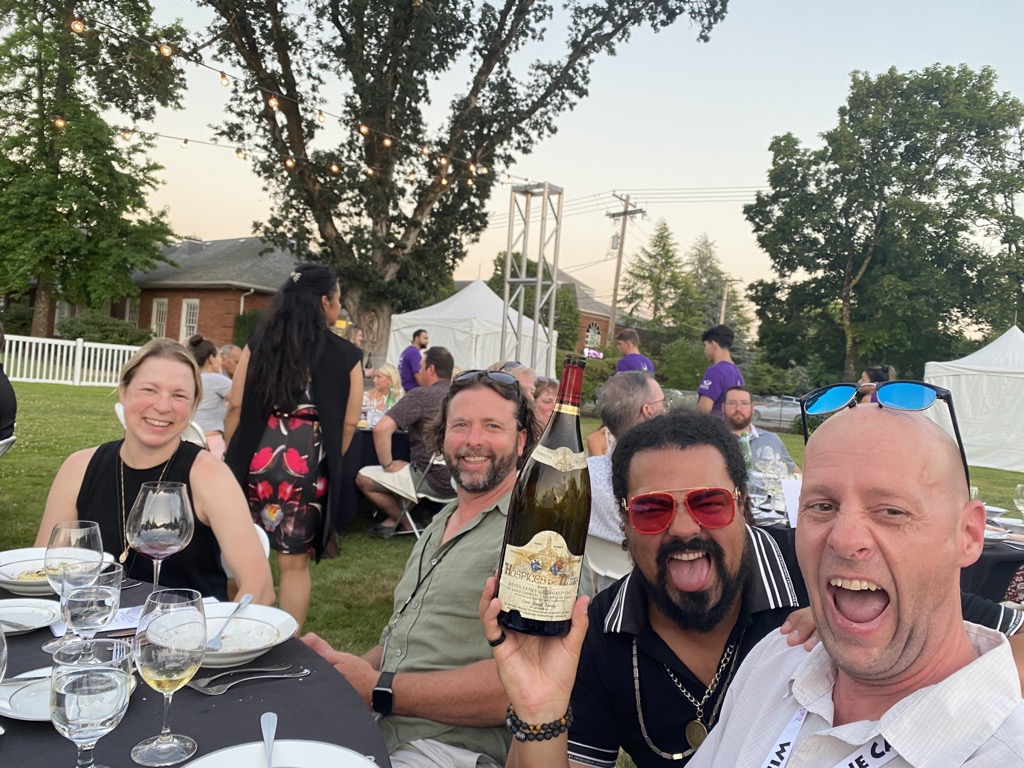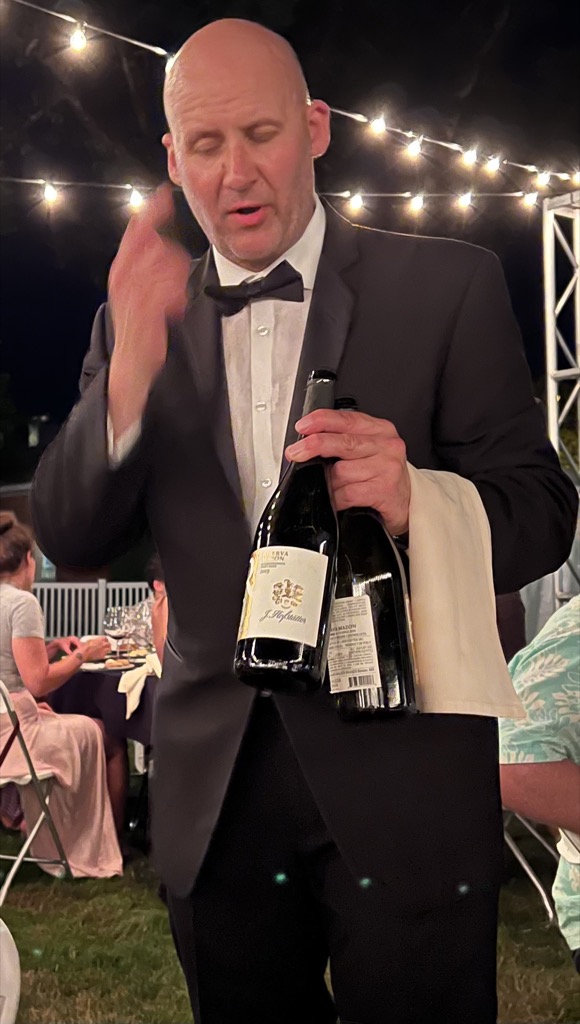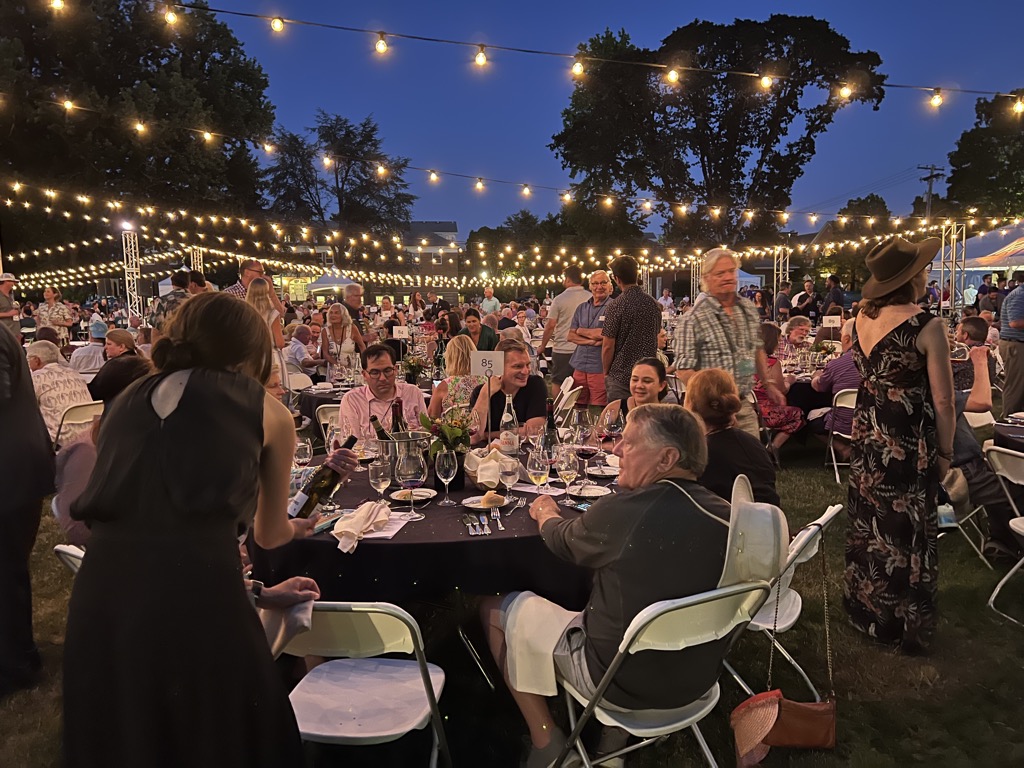 Getting up and ready to go Saturday morning was easy, peasy! I loaded up on protein, a few carbs, and water before Saturday morning festivities for IPNC kicked off. Since my group did the winery tour on Friday, it was time to taste Sparkling from all over the world and listen to the winemakers talk about their wines, aka The Grand Seminar.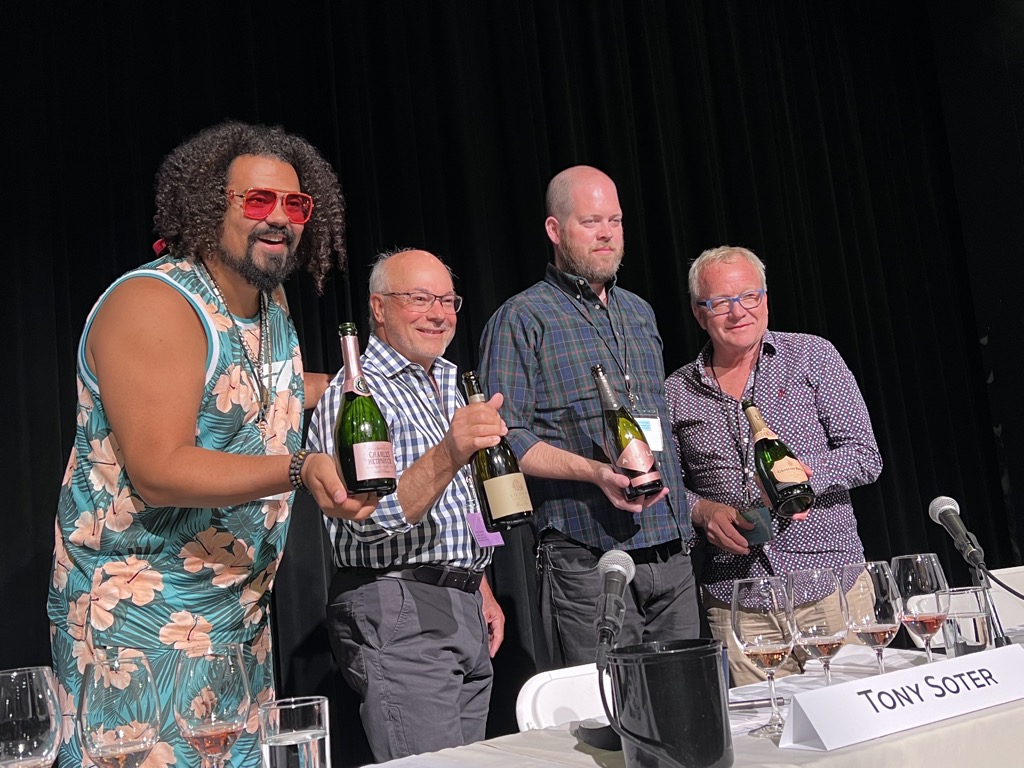 There were three flights consisting of four different Sparklings

IPNC Grand Seminar Flight #1
Soter Vineyards – 2018 Brut Rose Yamhill Carlton
Argyle – 2018 Brut Rose Willamette Valley
Graham Beck – 2017 Rose Western Cape
Champagne Charles Heidsieck Rose Reserve
IPNC Grand Seminar Flight #2
Champagne Henri Giraud Dame-Jane Rose
Champagne Louis Roederer – 2015 Brut Rose
Roederer Estate – Brut Rose Anderson Valley
R. Stuart Winery Rose d'Or Willamette Valley
IPNC Grand Seminar Flight #3
Champagne Laurent-Perrier Cuvee Rose Brut
Jansz Tasmania – 2018 Vintage Rose Pipers River
RMS – 2019 Brut Rose Willamette Valley
Dr. Loosen – 2013 Brut Rose Mosel
How does one begin to sum up these 12 wines and 12 magnificent people who shared their time and wine with us over three hours? It's absolutely impossible to give it proper justice, but here are some of my random thoughts of IPNC's Grand Seminar.
I will forever associate Soter's Brut Rose with Joni Mitchell's "I Could Drink a Case of You." Every time I see Tony Soter, I cherish every minute. He has done some fantastic work, and his spirit shines freaking bright as all get out. It would be awesome to have him on the podcast, but I have no idea what I would ask that hasn't been asked 1,000 times already.
The Charles Heidsieck Rose Reserve is 99% reserve wine, the base vintage being 2014 and 11 different vintages intermingled inside the bottle.
The Graham Beck Rose wasn't planned. In 2002, there was a leftover bundle of Chardonnay on the press, and Peter, the winemaker, said, "What the hell!" They mixed in some Pinot, and poof, have made it ever since.
Rob Stuart from R. Stuart Winery went to England when he was 17. His future father-in-law asks, "Do you want some bloody Bollinger?" Come to find out, it was a '61 Bollinger, and Rob has been chasing to recreate that wine ever since.
Laurent-Perrier has seven miles of under tunnels. The Sparkling from Tasmania, wow! Pinot Noir is the third biggest grape variety in Germany. The 2013 Mosel Sparkling spent eight years in bottle and was fabulous.
I was leaving the almost too cold building of IPNC's Grand Seminar to get lunch felt nice! Fortunately, there was some cloud cover, and our table was in the shade. At this point in the newsletter, I feel like I am bragging about all of the wine and food I consumed. However, the last feeling I want to convey is bragging. So instead, I am trying to share my experience.
All I will say about lunch was that it was terrific, Philippe Andre continued to show the love, and Morgan from Kanzler was pouring a gorgeous 2014 Sonoma Coast Pinot Noir!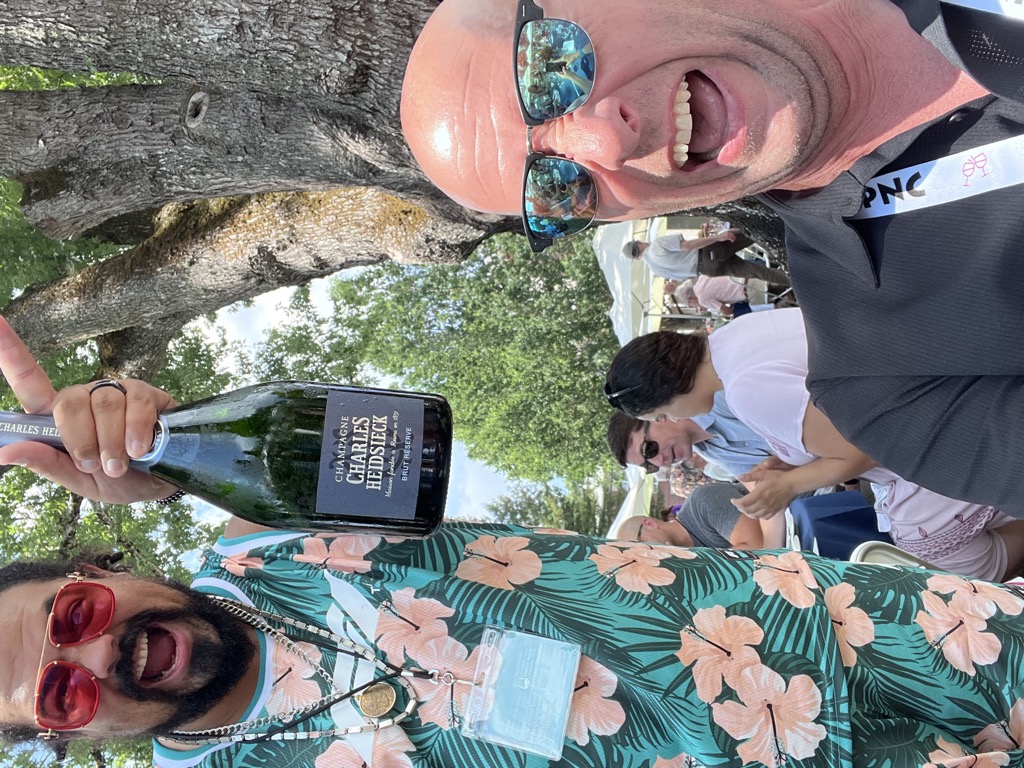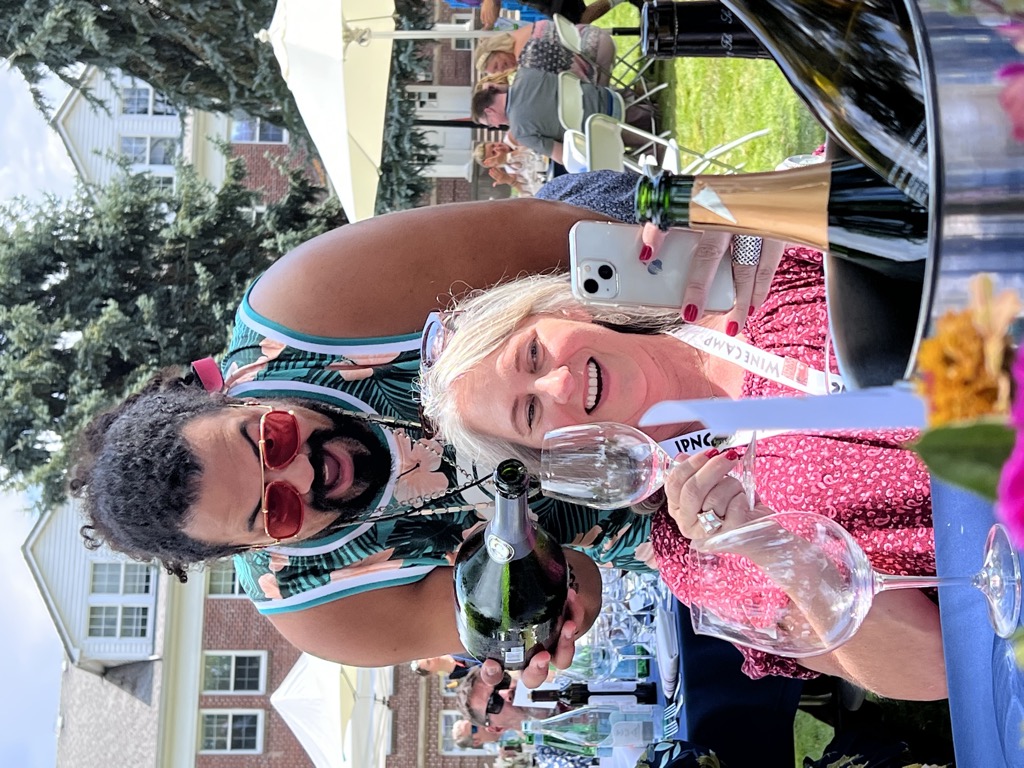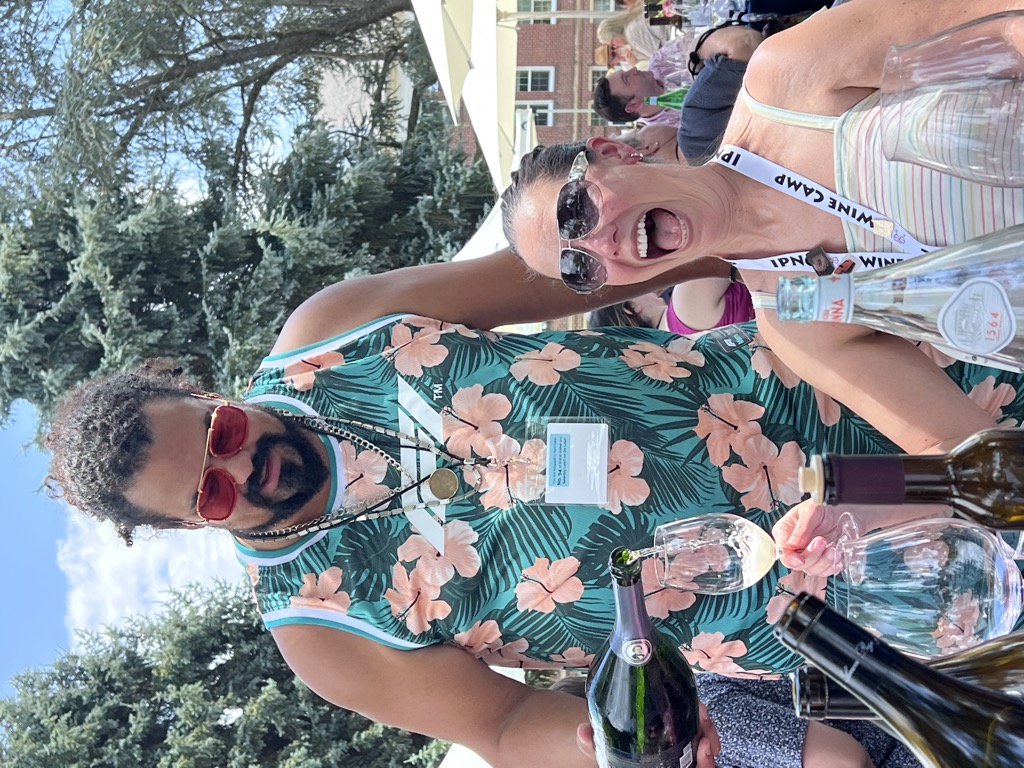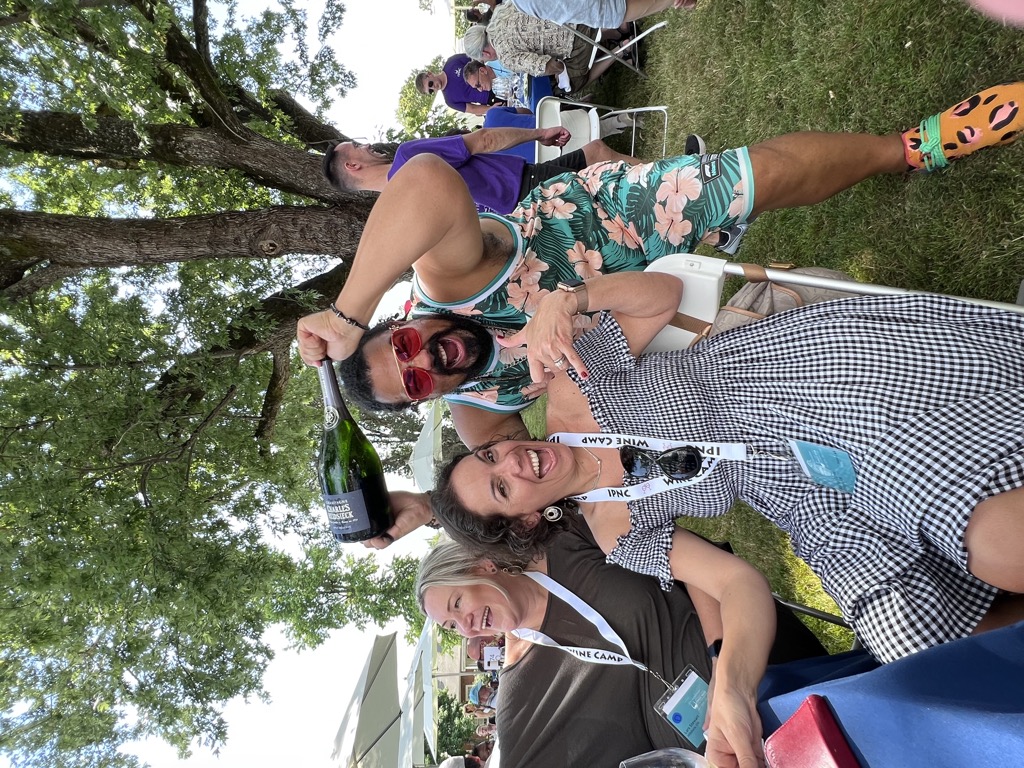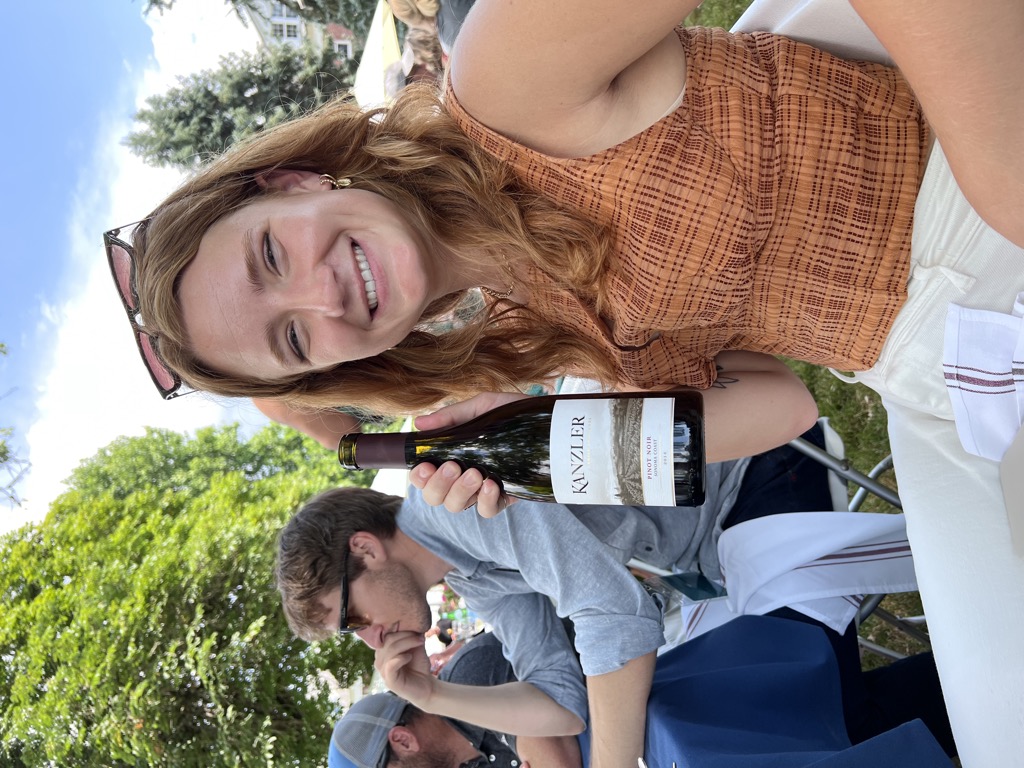 There was another mini seminar after lunch comparing still wine versus Sparkling. Again, I learned a lot and tasted more wine, but I got to get this story moving down the road.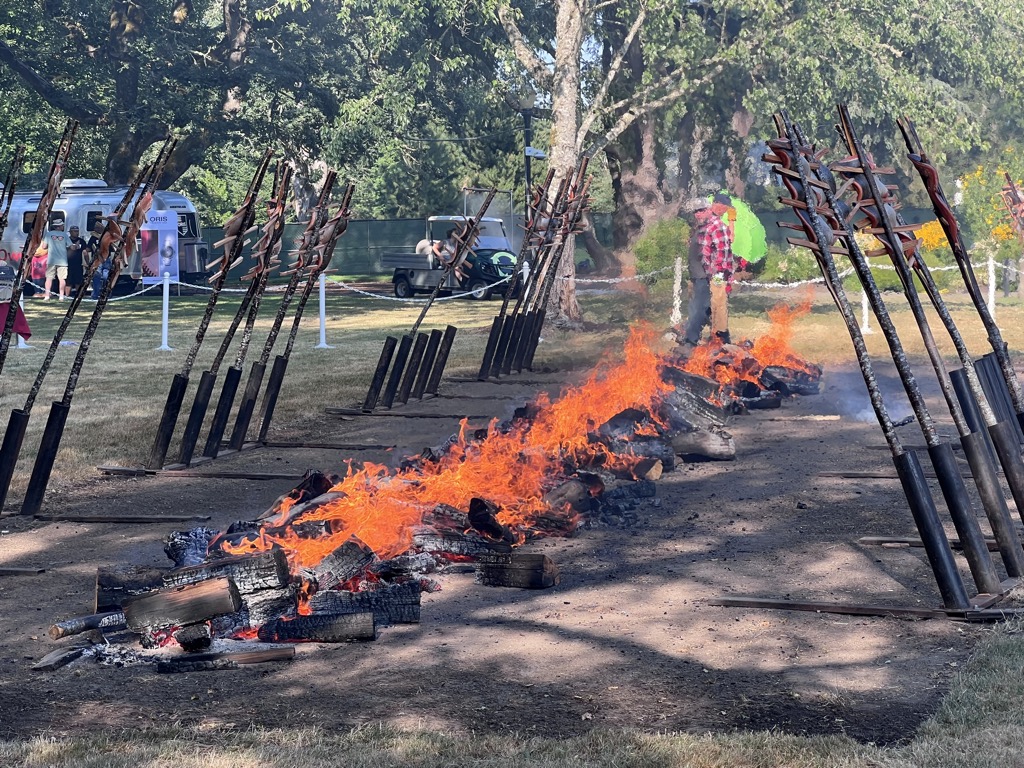 Fast forward to Saturday night's IPNC Salmon Bake because you don't need to know all the nitty gritty details. I have been babbling on for long enough. Salmon Bake is THE highlight of IPNC. People are serious about sharing their wines at Salmon Bake. For example, Alexana brought a 9 liter, along with a cooler full of Rose and a backpack stuffed with six magnums. Everyone brought at least one bottle. I was pretty sure no one else would bring an aged Oregon Riesling. I was partially correct—more on that in a minute or 13.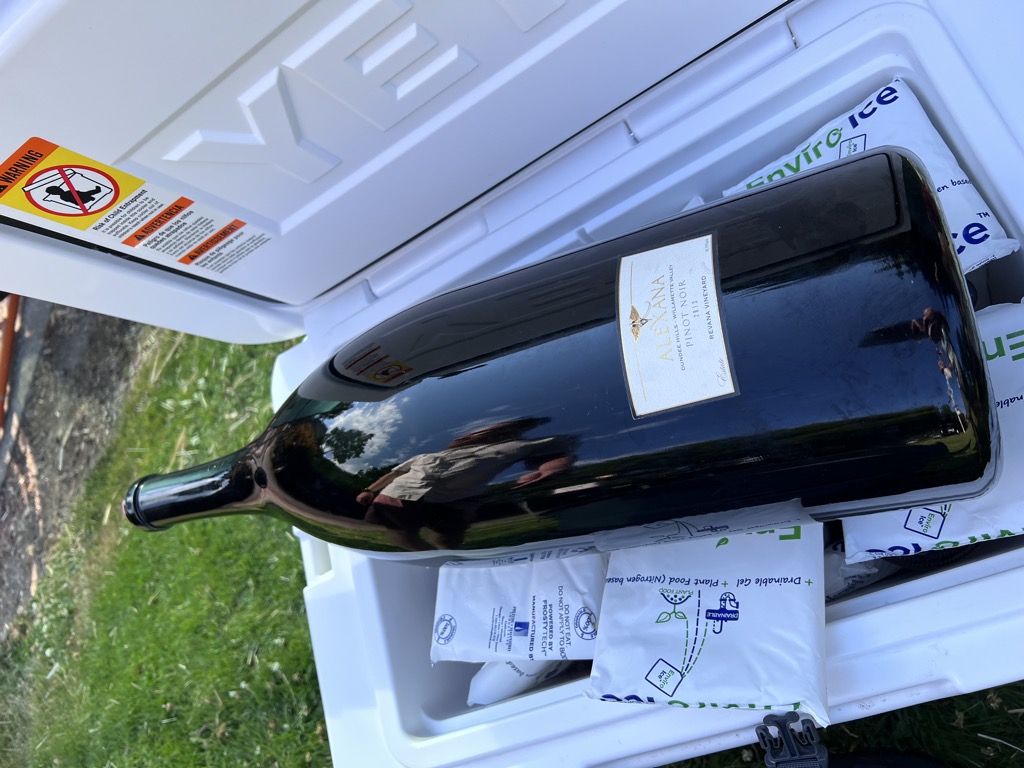 The lines to get a table were piling up, wine was flowing, and plans were devised to which tables everyone was going to sit, accompanied by runners to grab the tables. It was on like Donkey Kong! Once we got inside the fenced-in area and got to the tables, people walked around pouring wines left and right. I grabbed two glasses, one for red and the other for white. Lines for the buffet-style dinner were firmly already in place. I wasn't hungry and wanted to walk around and take in everything for IPNC's Salmon Bake.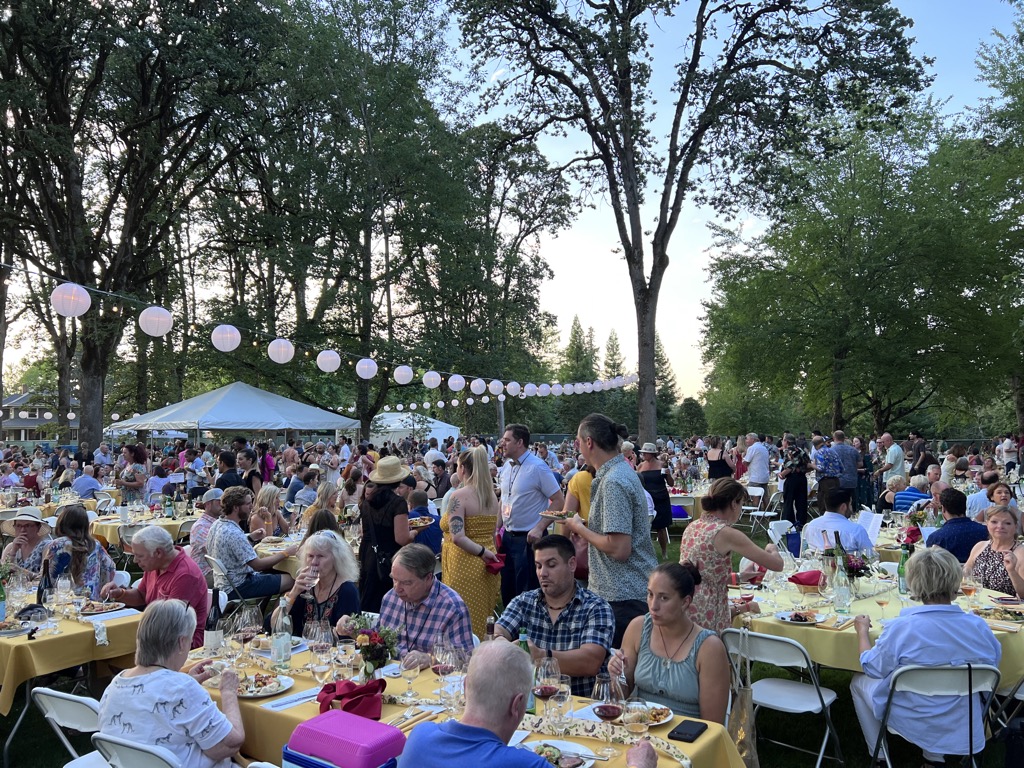 Upon walking around, there were multiple times I heard my name mentioned. So I walked over one time, and the owners of Phelps Creek poured some Regina Pinot Noir, Jackson from Granville poured a 2017 Blanc de Noir, and the list didn't stop for the next 5 hours.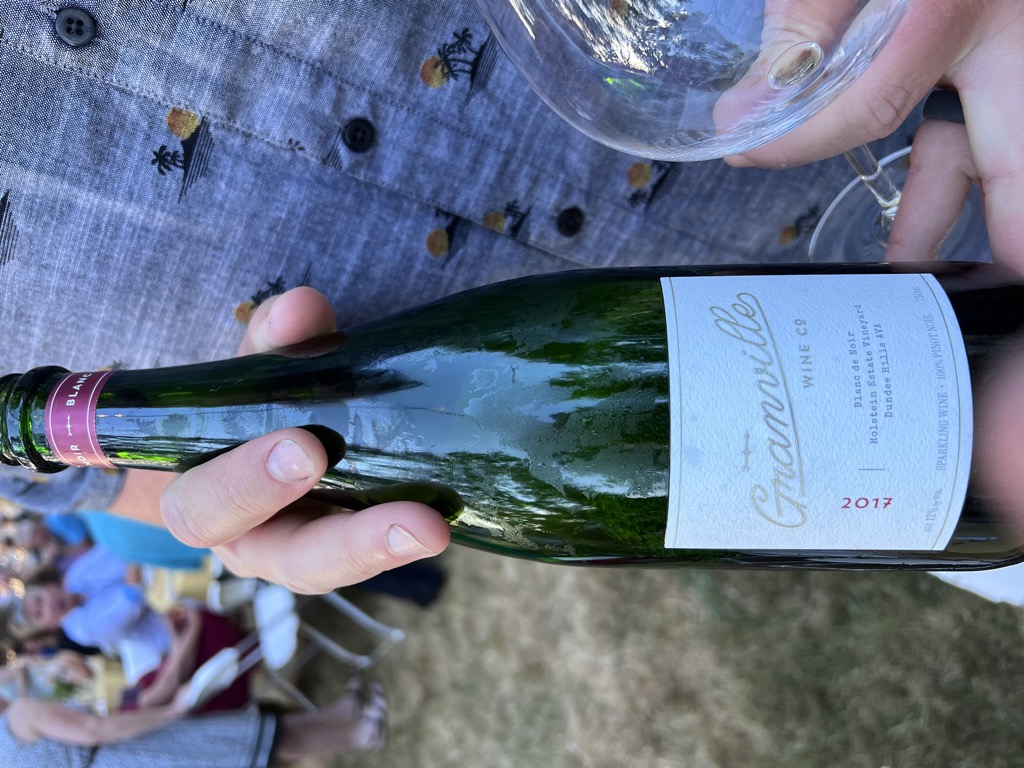 A few highlights include Dru from Compris pulling out a Beaux Freres 2009 Grenache. I instantly introduced Dru to Jason, who is also a vast Beaux Freres fan. The two of them started talking. I faded away, continuing to speak with everyone I could, including Jessica Mozeico from Et Fille. We talked about kids and summer. Dan and Jeanne from Corollary were having a blast. I ran into Paul de Lancellotti, and he poured me a 2007 Estate Pinot Noir.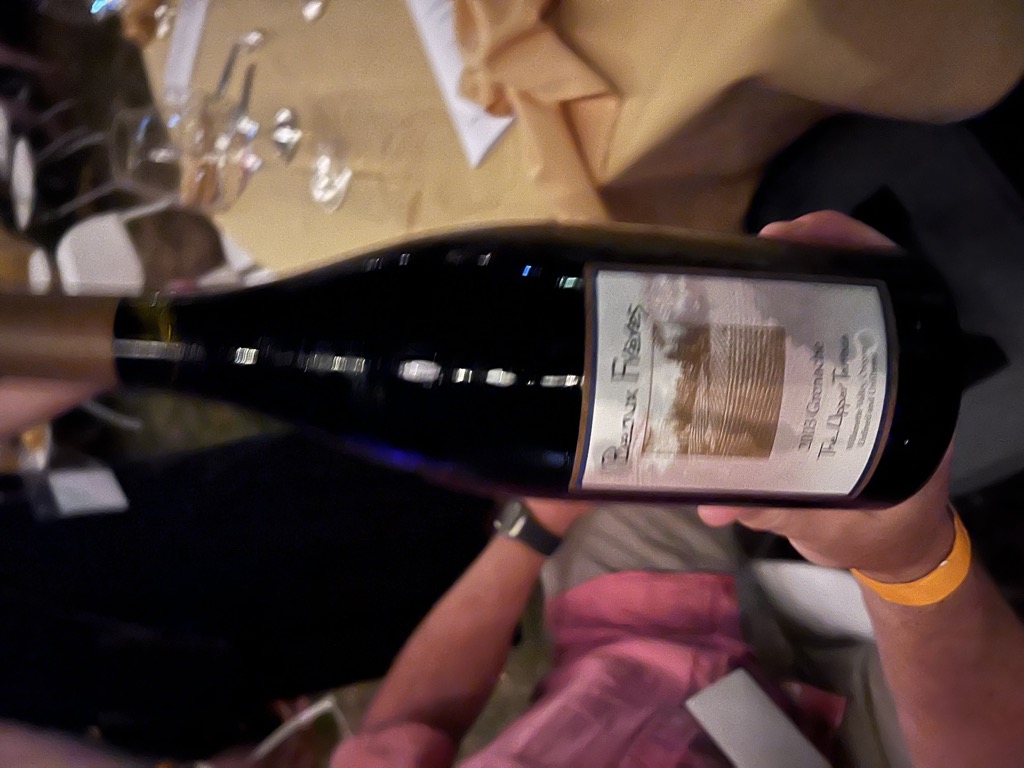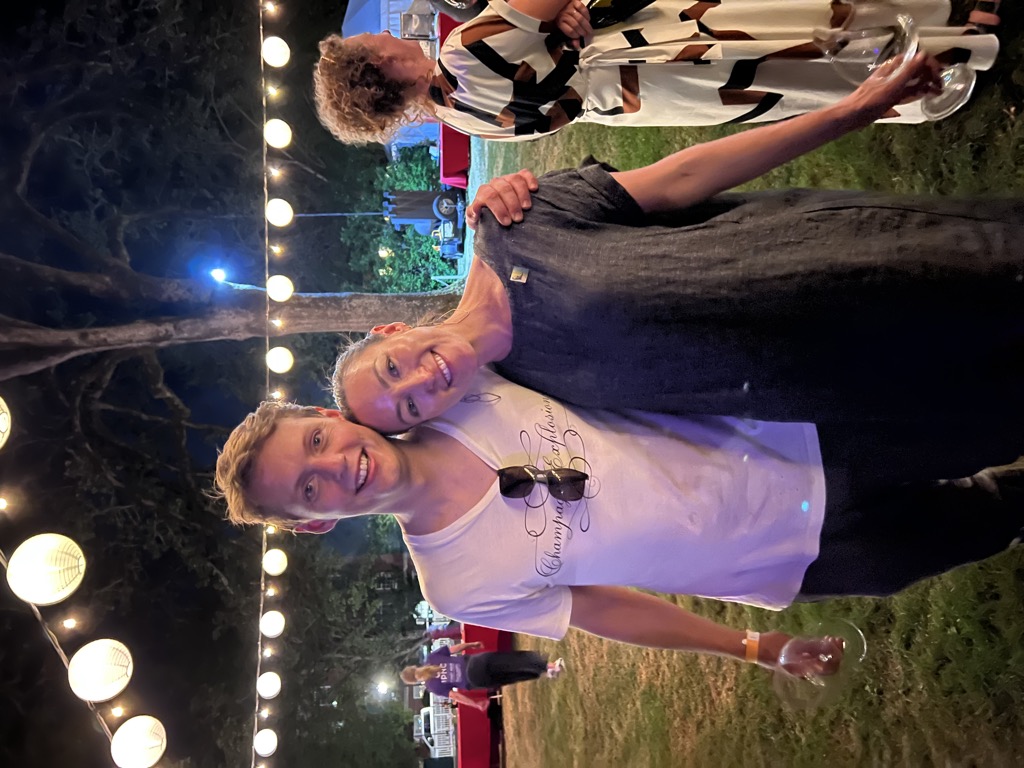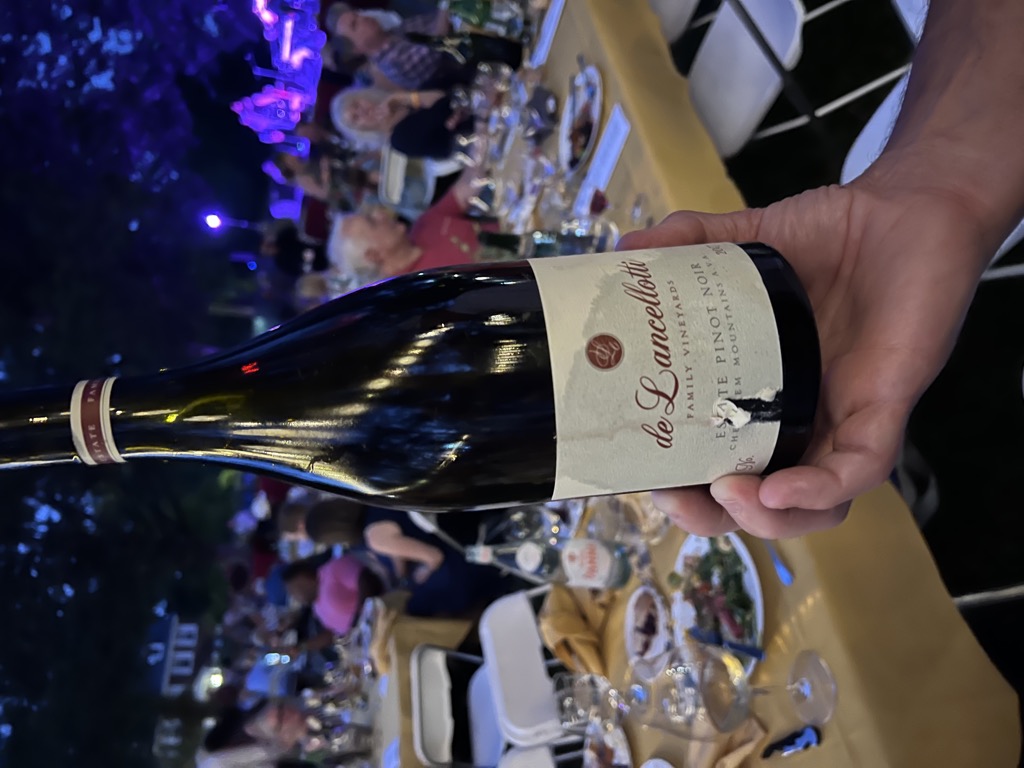 The magical moment for me was when I ran into the winemaker from Holloran, Mark La Gasse. He was pouring the current vintage of the Le Pavillon Riesling while I was pouring the 2008. He asked me a couple of times, "How did you get your hands on that?"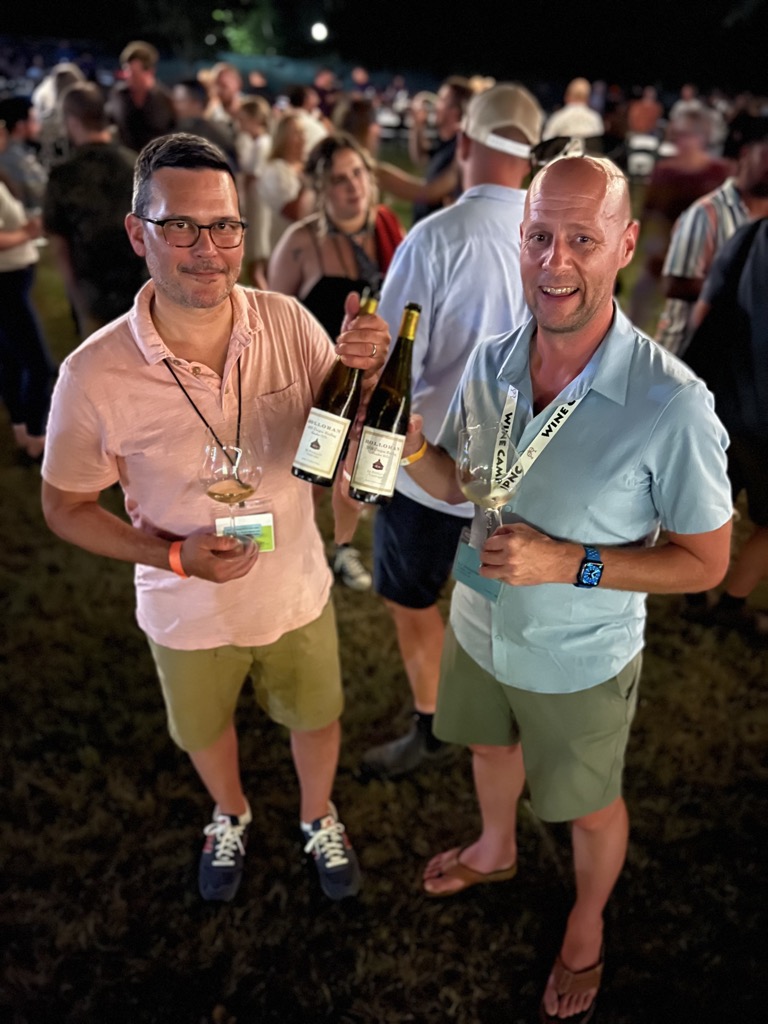 I don't remember when I went to bed Saturday night, but like clockwork, I was up at 5:30 Sunday morning, ready to cross the finish line for IPNC's Champagne Brunch. As with the whole weekend, the food was out of this world, and the wine, oh the wine. I tasted wines over the weekend that I will never get the opportunity to taste again. What a spectacular weekend, and when I got home Sunday evening, I crashed hard! But, it was well worth over-depleting every single introvert battery I had in reserve.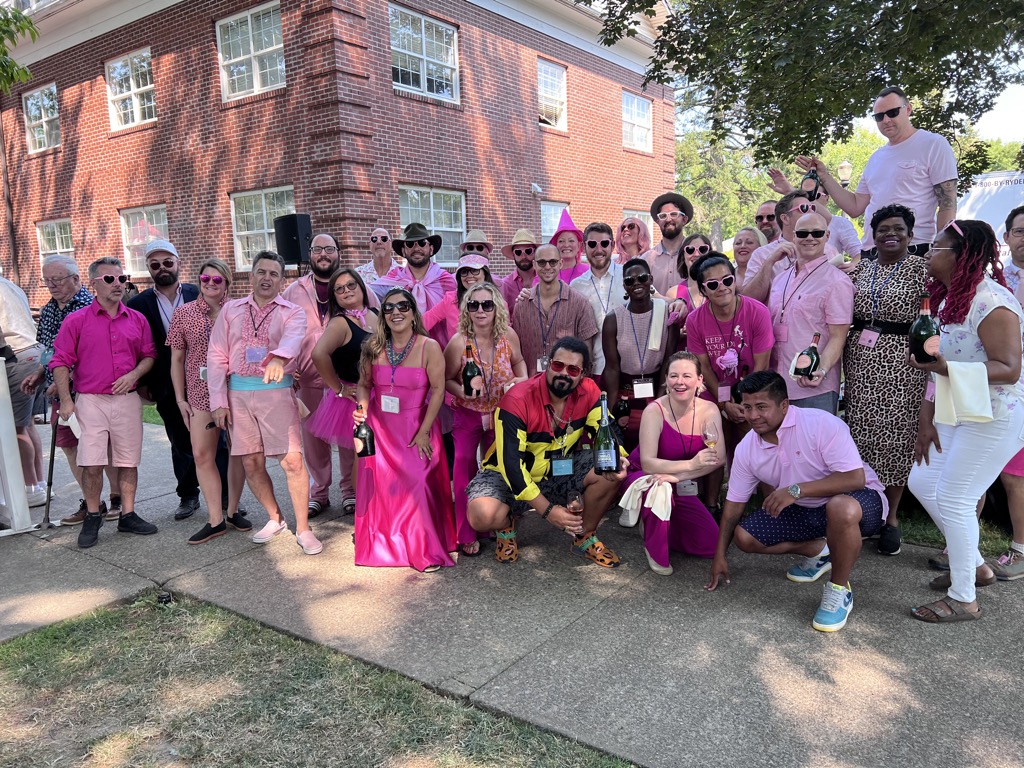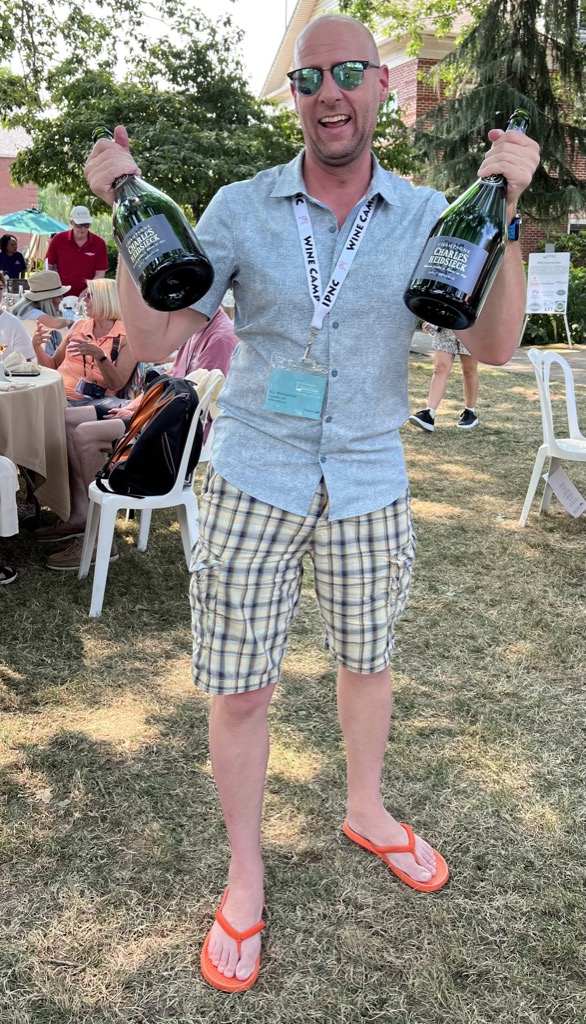 If you are considering attending IPNC next year, I suggest you get your ticket(s) and hotel reservations in place now! Thousands of people from all over the world attend the event. If you wait, there is the likelihood the event will be sold out like this year, and getting a place near Linfield might prove difficult. Here's the website for IPNC, and find a way to put a comment somewhere, "A.J. sent me!"
With Gratitude,
A.J. Weinzettel