The newsletter on Dion last week took a solid year to come to life. I have no idea how long this story has been brewing for me. I know it started before November 13, 2020, but it was on this date I knew I wanted to visit Siltstone Wines.
I was introduced to Siltstone Wines via Instagram following Lucy Bellville's IG Handle willamettevalleywine, but it wasn't until the hosts of the Crushin' It Podcast interviewed Lucy on November 13, 2020, I was sold on visiting. The hook for me was that 2013 Pinots were on the flight!
Siltstone Wines has always been on the back burner with many other wineries, but it wasn't until March 2022, when I attended the McMinnville Wine and Food Classic – SIP, I was like, "I have to go stat!".
When I walked up to their booth, tried their 2013 Pinot (I wish I would have taken a picture), and saw the price, I was stunned. A 2013 Pinot at $21 is unheard of, and a solid 9-year-old Oregon Pinot is like finding a unicorn running through the vineyard on a sunny day with snow on the ground. I have seen a couple of unicorns, and trust me, they are rare!
Siltstone Wines started in California with a husband and wife (Tucson and Lonnie) team with two boys (Mark and Joel) known as the Myers family, who lived across the street from the Coury family. Yes, the infamous Charles Coury, the man behind the Coury clone, aka the suitcase clone, and his wife Shirley and two boys, Brad and Charley. Somehow living across the street led to the Myers getting to know David Lett and Werner Koblet, who was attending UC Davis when Charles Coury was in attendance.
I assume you know who David Lett is, but I am pretty sure you don't know Werner Koblet. I had no clue either. In short, Werner ended up being one of Europe's top vineyard researchers. Also, Jaime Goode documented on his blog that David Lett was influenced by Koblet's work.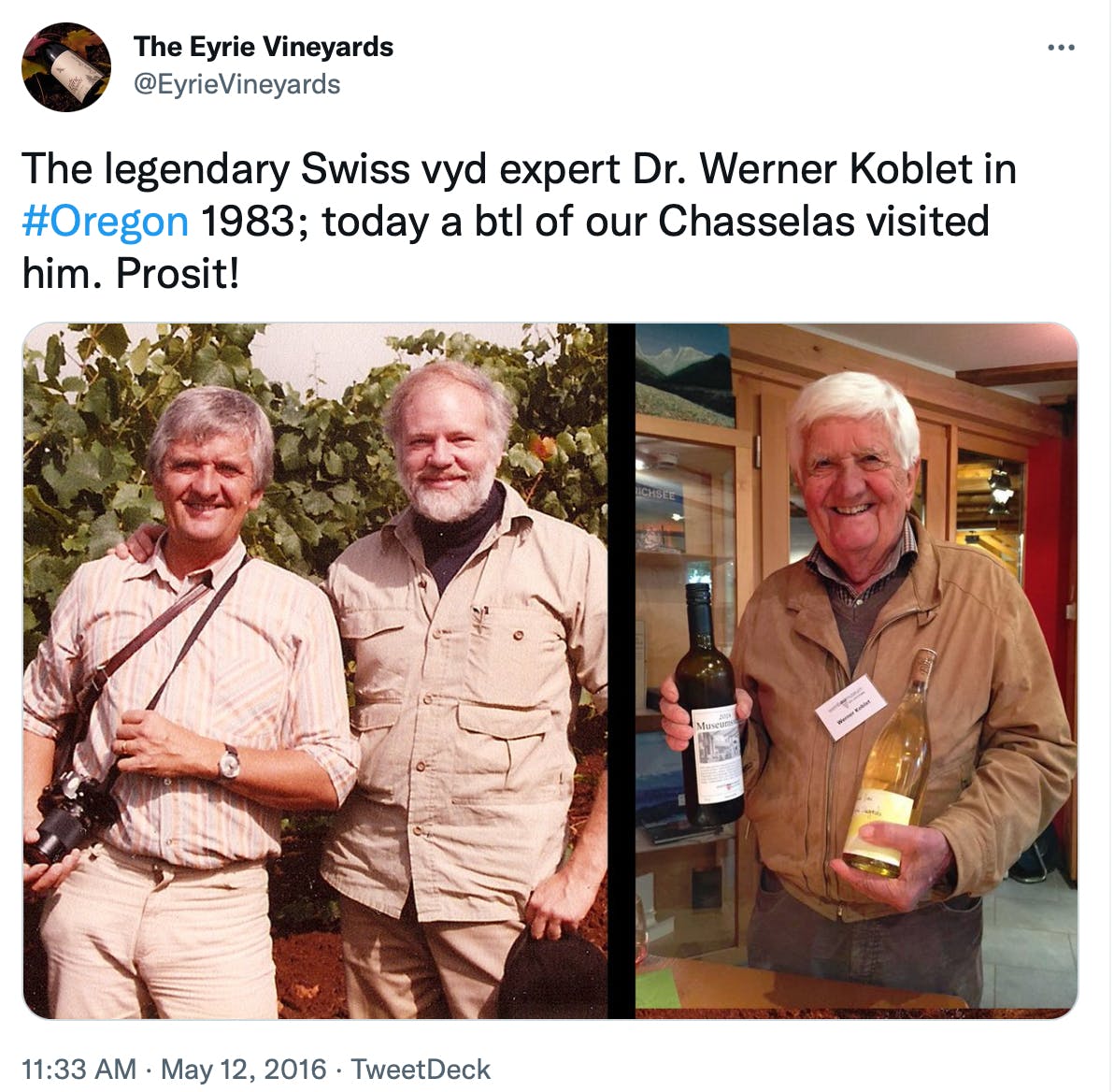 Joel's Dad, Tucson, took a position with the State of Oregon in the 1960s when Joel was ten when he started helping plant and trellis the vineyard for the Letts. In 1976, Joel took a semester off from college to visit vineyards and wineries with Charles Coury in Germany, Austria, and Yugoslavia. Three years later, Joel graduated from U of O and took a harvest portion with Eyrie leading to a full-time vineyard and cellar manager position.
Another person was working at Eyrie at the same time, Louise Bernards. She was a teacher and artist from a local farm. Joel and Louise ended up getting married in 1981. The couple traveled to Switzerland, where Joel worked with Werner and took his teachings back to Oregon. Eventually, in 1984 Joel founded Vinetenders, focusing on vineyard management. At one point, Vinetenders was managing 500 acres of vineyards in the Northern Willamette Valley. I don't know the current amount of acreage they are working today. I should have done a bunch of research before visiting. It wasn't until 2000 when Siltstone came out with their first vintage.
On the day of my visit, I was the first guest in the tasting room at 11:00. As I was tasting the 2021 Siltstone Wines Rose, I was talking with Heather. I think she is Louise's daughter-in-law. During our chat, I mentioned attending the booth at the McMinnville event and expressed how crazy it was their 2013 Pinot was only $21. She agreed it was crazy and said they should raise the price a bit because they completely sold out during the event.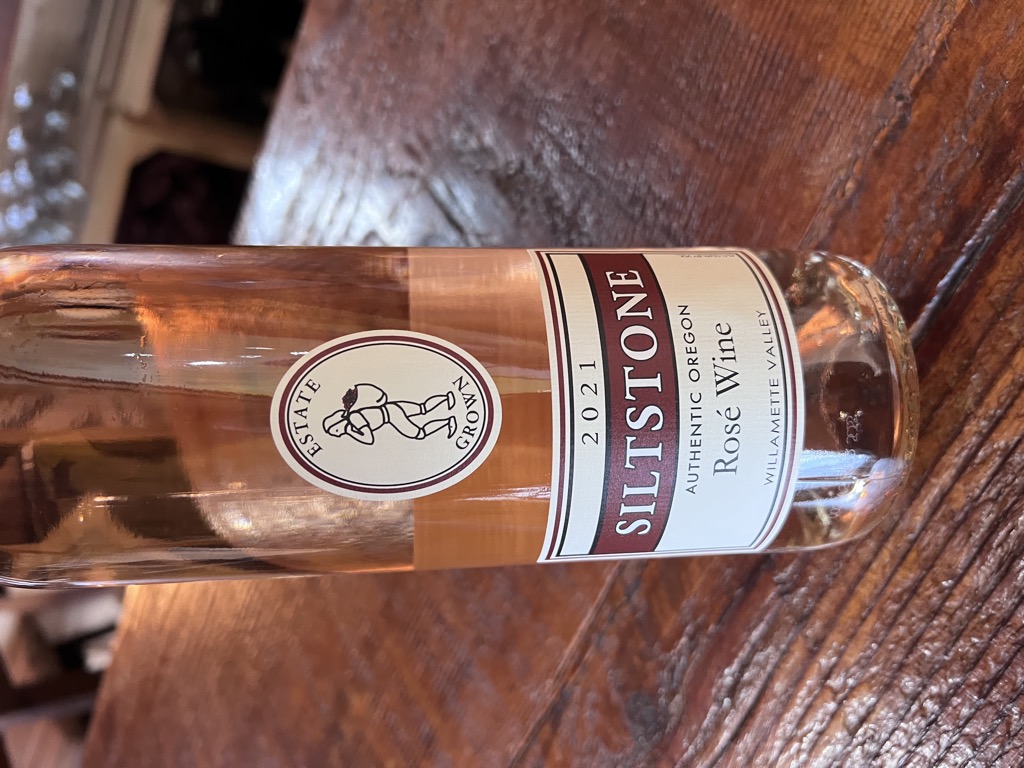 My next pour was the 2017 Siltstone Wines Pinot Gris. I don't know what it is about 2022, but I feel I have tasted more Pinot Gris this year than in the last 10. Maybe it's part of my wine journey to explore the depths of Pinot Gris more. A Pinot Gris did win "Best of Show" for the McMinnville Wine Competition over a Sparkling for some strange reason. I will also add Pinot Gris is growing on me, and I am starting to appreciate it more.
During the third pour, a 2020 Chardonnay, two women came into the tasting room for a quick taste on their way to the beach. No reservations, totally welcomed, and the cool thing about Siltstone is you can't miss it with the tasting room being a super easy stone's throw from 99W. As the two were tasting, I got a chance to look around the tasting room. There are paintings of roosters all over the place.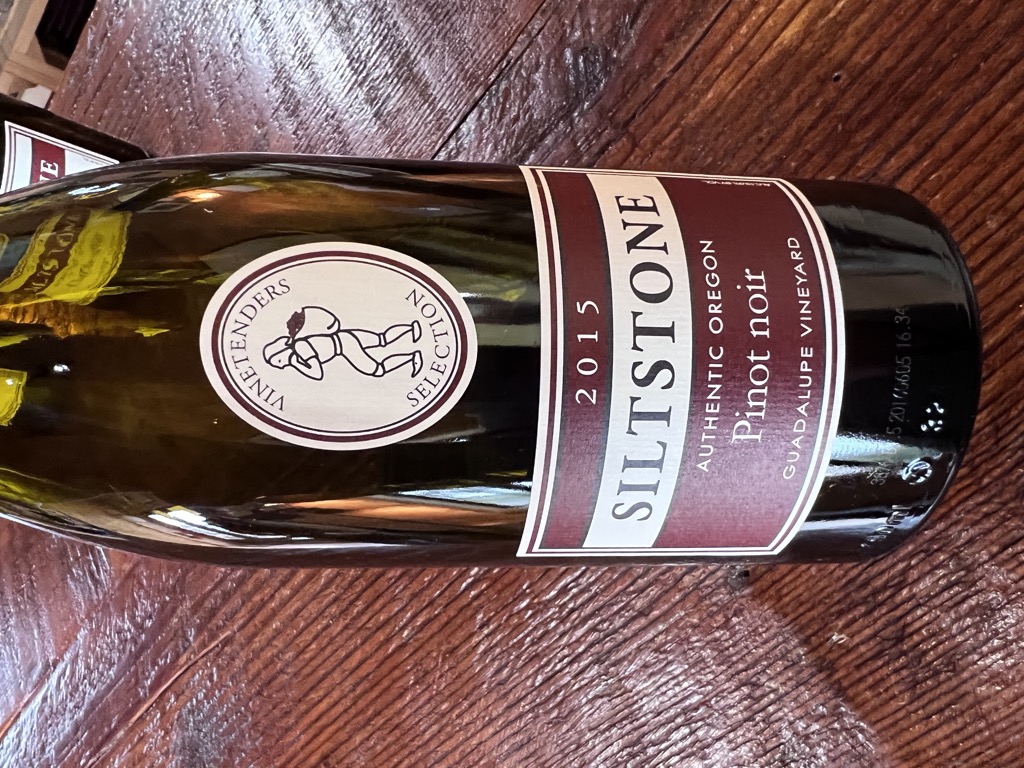 My third pour was the 2015 Siltstone Wines Guadalupe Pinot Noir. Heather told me the vineyard was planted in 1989, and the Meyers family convinced them to let Siltstone make some wine. 2016 is the last vintage of the Guadalupe vineyard and is being replaced with Estate fruit.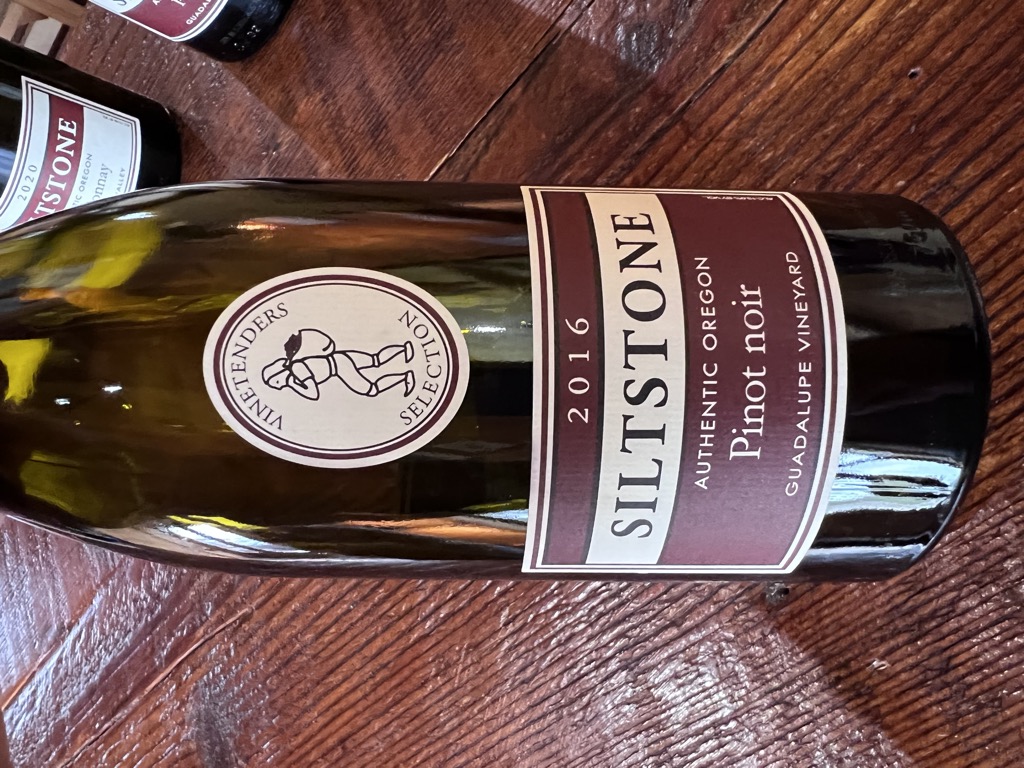 The other visitors finished their tasting continuing their trek to the coast. I believe Louise and a friend came into the tasting room and started a pleasant conversation with Heather. It was at this point I was transported back to Junior High. I had a friend whose parents owned a bluegrass music store. His Dad gave guitar lessons, and in the shop, they sold guitars, banjos, violins, and so much more. Every Saturday night, musicians would come to jam while others came to listen. The vibe and the atmosphere of Siltstone reminded me so much of those days when people would stop by, shoot the bull for no reason, and everyone was a welcomed friend.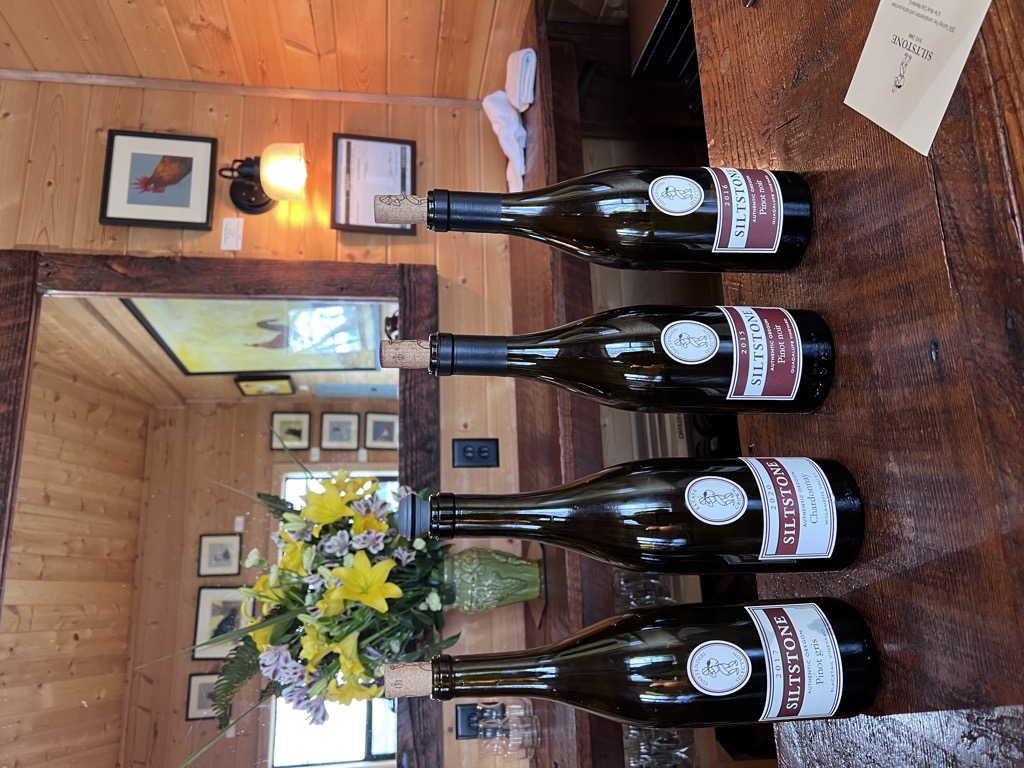 As I finished up with the 2016 Siltstone Wines Guadalupe, I was fortunate that Heather had a couple of bottles of the 2013 still available for me to take home. I believe it was Louise who invited me to come back when the sun was out during the summer, sit outside and be amongst the vines.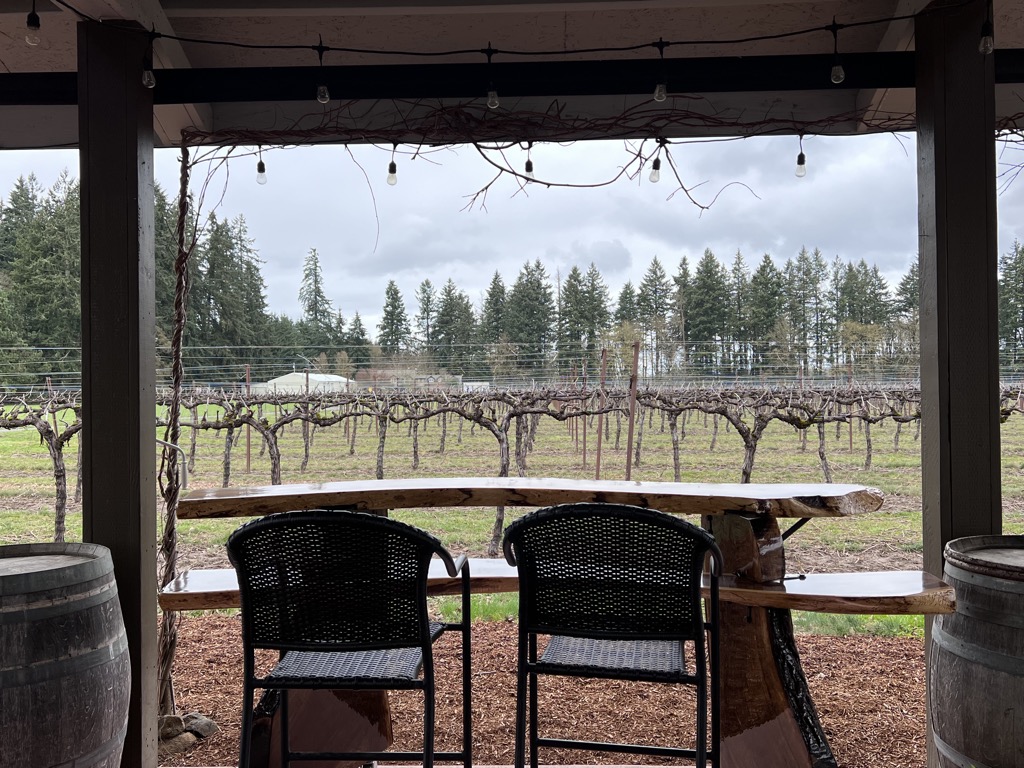 It was a total treat to experience a wine tasting like none other. When you are looking for solid wines, at incredible prices, with people who are everyday people, how in the world can you go wrong?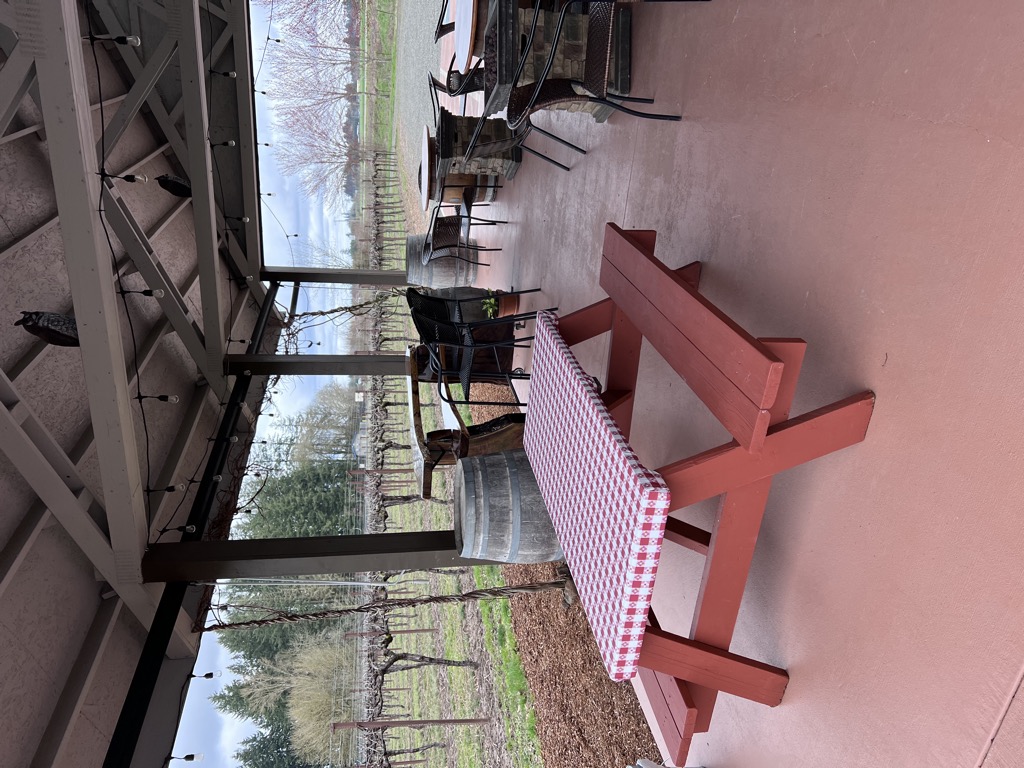 Before I leave, let's talk prices!
2021 Rose – $15
2017 Pinot Gris – $15
2020 Chardonnay – $22
2015 Guadalupe – $35
2016 Guadalupe – $35
Summer is coming up, and you know there will be events you are holding or attending. You will bring a bottle of wine or three. When you show up like a baller with a 2015 bottle of Pinot Noir nobody has heard of, you are going home as a winner! Finding 2015s in the Valley is rare, and paying $35 is unheard of!
You know the drill, visit Siltstone Wines website, make a reservation, or just show up and let them know as you are getting that first pour of 2021 Rose, "A.J. sent me!"
With Gratitude,
A.J. Weinzettel