Over the years, I have uncovered many people coming from the world of Tech into wine. I can relate to getting back to an essential kind of life and not having the stress of an ever-changing landscape of figuring out which metaverse will be the "metaverse." A stark contrast would be a foreign news correspondent for CBS in the Middle East with the ability to visit Old World wineries on the weekends?
It sounds awful visiting all of those wineries, but somehow Doug Tunnell suffered through the pain in his free time. He noticed all of his free time was spent in vineyards during these journeys. Growing up on Willamette River, his roots were close to Oregon Wine Country, and while in college, Doug asked a friend of his in California if you were going to invest $10,000 (at the time, that was a LOT of money) where would you invest it? The friend's reply centered around Pinot Noir and buying land in the Tualatin and Yamhill Valleys. At the time, Doug didn't have 10k sitting around to invest, but always kept the conversation in the back of his mind.
In 1987, Doug was in Paris when one morning he read an article in the New York Times talking about the Drouhin's buying land in Dundee. Having an awareness of the Drouhin family and familiarity with Dundee, Doug called his family in Newberg to start the search for a farm. A couple of years later, Doug was about halfway down the driveway of a property his family found and said, "Yeah, this is the place!" Doug's last contract with CBS was in 1992. He moved onto the farm and started the journey with a winery we know today as Brickhouse.
When Doug started Brickhouse Wines, there were many aspects to farming and winemaking he didn't know, but there was one thing he was sure about. Growing up on the Willamette River, he witnessed all of the pollution from the paper mills. He would not contribute any sort of pollution and decided to go organic before organic was overly popular. Today all 40,000 vines spread out over 30 acres are farmed Bio Dynamically.
Many moons ago, I met Jake Olson at Domaine Roy, and we kept in touch here and there via Insta. One of us suggested meeting up for a tasting earlier this year, and Jake wanted to take me to Brickhouse. I said ok, we set a date, and our timetables didn't match. A couple of months went by I noticed Jake had shared a bottle of Brickhouse with Renee Hunt on Insta, and long story short, we all went out to Brickhouse for a tasting.
Some of you might find this surprising, but this was my first visit to Brickhouse Wines. I heard many good things about the winery but never checked it off the list. So many wineries. So little time.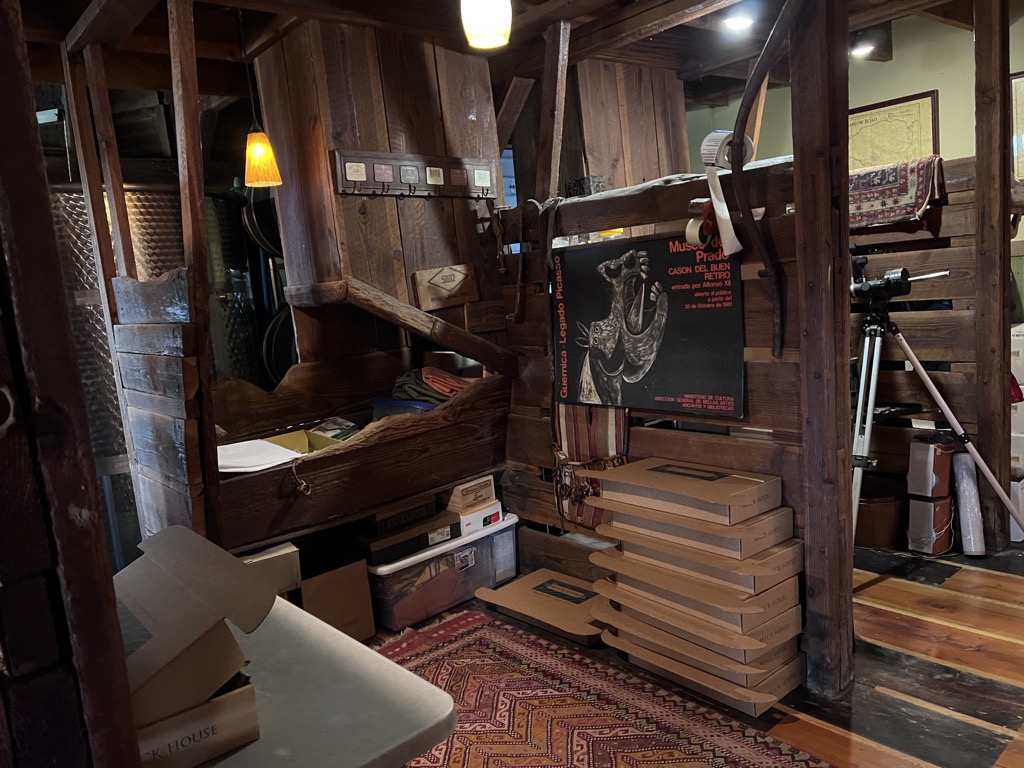 Walking into the tasting room, I didn't know what to expect, but I wasn't expecting what I saw. First, to call it a tasting room isn't how I would describe it. It is part tasting room, part horse stall question mark, part storage room, part winery while also being part of a house with wide strips of hardwood covering the floor. I was in heaven.
The tasting was in the barrel room, with a stage set for a killer tasting!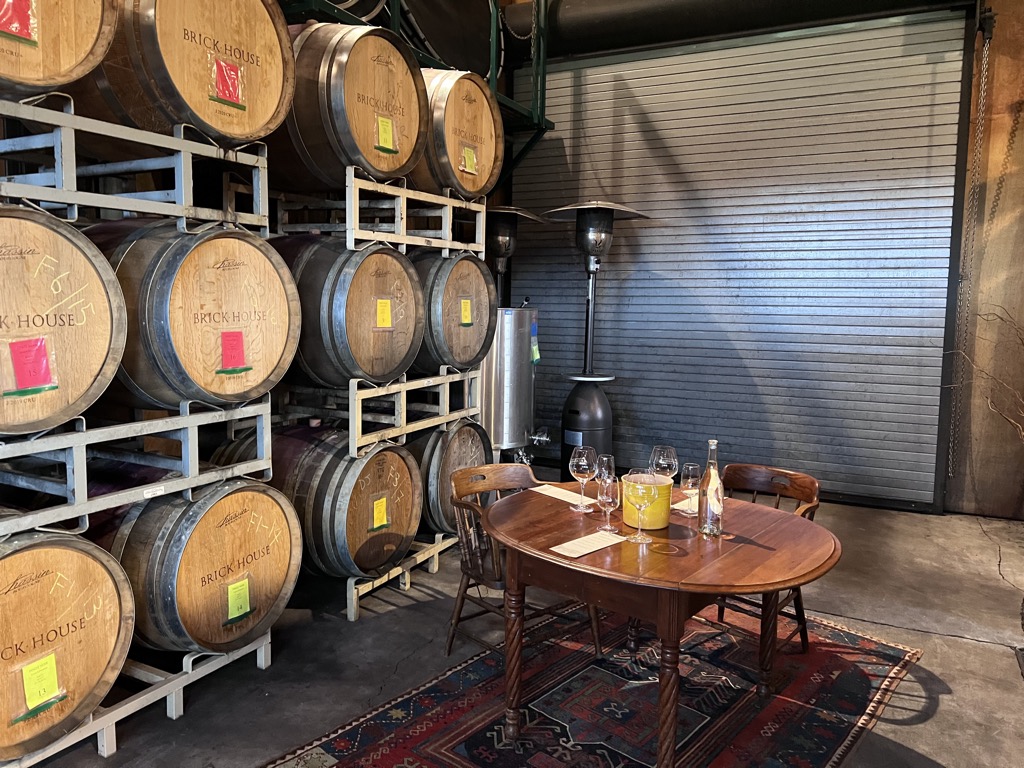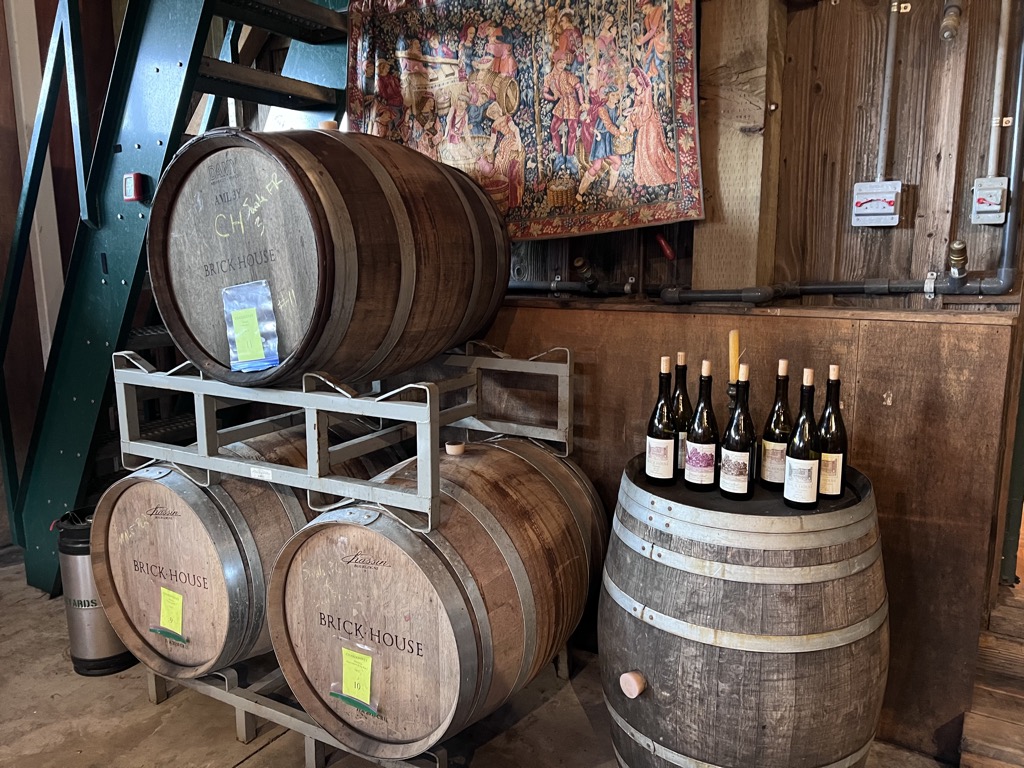 We started with a side-by-side tasting of the 2019 and 2016 Cascadia Chardonnay. Both of them had great acidity. The nose on the 19 was what you would expect from a lovely bright Chard. Comparing that to the 16, it was just a smidgen less bright. There was a wild sensation on the mid-palate for the 16 I thoroughly enjoyed. If I had to choose one of the two, hands down would be the 16!
For 2020, Brickhouse Wines did a little something different for their reds. They made a nonvintage Gamay and Pinot calling them a House Red. They took some 2019 and blended it in with 2020. They also used Organic Valley Whole Milk to act as a binding agent for the proteins to bind to and fall to the bottom of the barrel. According to my notes, a quart of milk was added per barrel.
The House Rad Gamay is precisely what you would expect from a Gamay and was enjoyable! However, I need to taste a more comprehensive selection of Gamay to fully appreciate the cult-like status Brickhouse has with their Gamays.
Jim and Karen Holiday are neighbors of Brickhouse. For 15 years, they did the labeling of their wines, stopping in 2017. Bethel Heights now does a single vineyard wine of Holiday Hill. The 2018 Holiday Hill Pinot from Brickhouse Wines is primary Pommard with a little bit of Dijon. I thoroughly enjoyed how the mid-palate went from bright red fruit to dark with the slightest tannins on the finish.
The 2019 Les Dijonnais Pinot blew my socks off with a killer nose. The fruit comes from the oldest vines on the property. With 30% new oak Les Dijonnais had nice acidity and the slightest spice on the mid-palate.
The final pour of the tasting included the 2015 Cuvee du Tonnelier Pinot, which was also fabulous. The nose wasn't as extraordinary as the Les Dijonnais, but still outstanding. I didn't write many other notes about the wine, but I wrote light and elegant.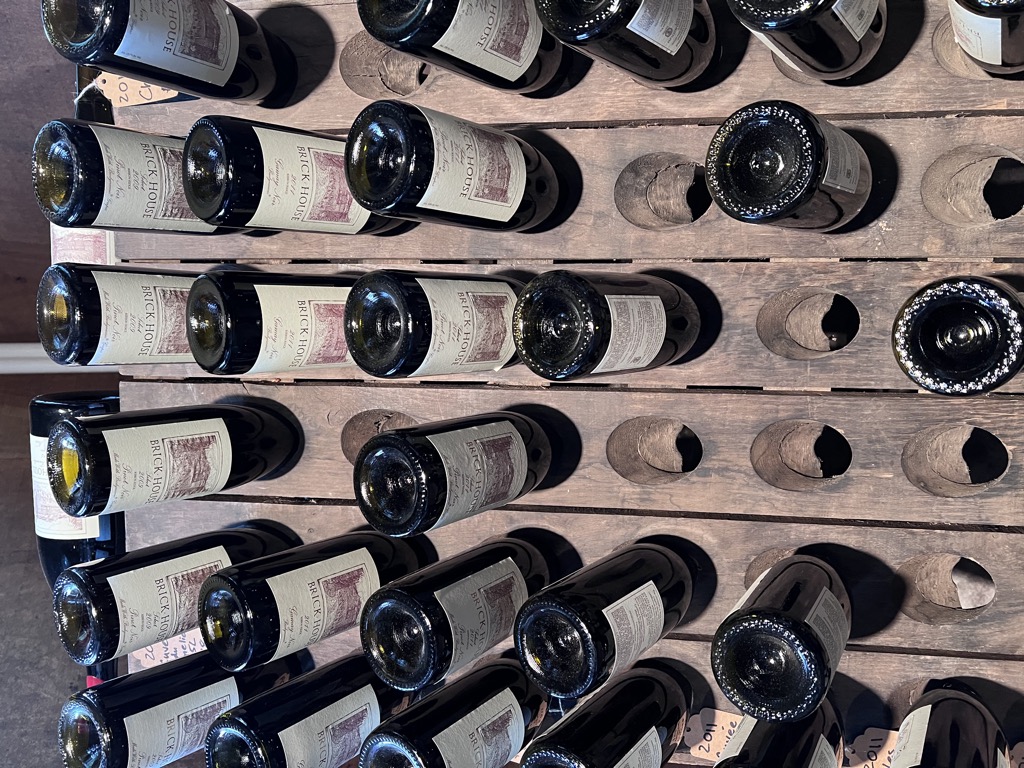 A riddling rack of library wines is in the barrel/tasting room corner. If you are curious, I highly suggest taking a gander only if you plan to buy something or have Thor's willpower before the Dad bod. Some fantastic wines were on the rack, and my willpower went out the window. I grabbed two bottles of the 2011 Les Dijonnais.
I took one of the Les Dijonnais to an event downtown saying farewell to Park Avenue Wines a few weeks after the tasting, and holy Toledo Batman, it was fan-freakin-tabulous!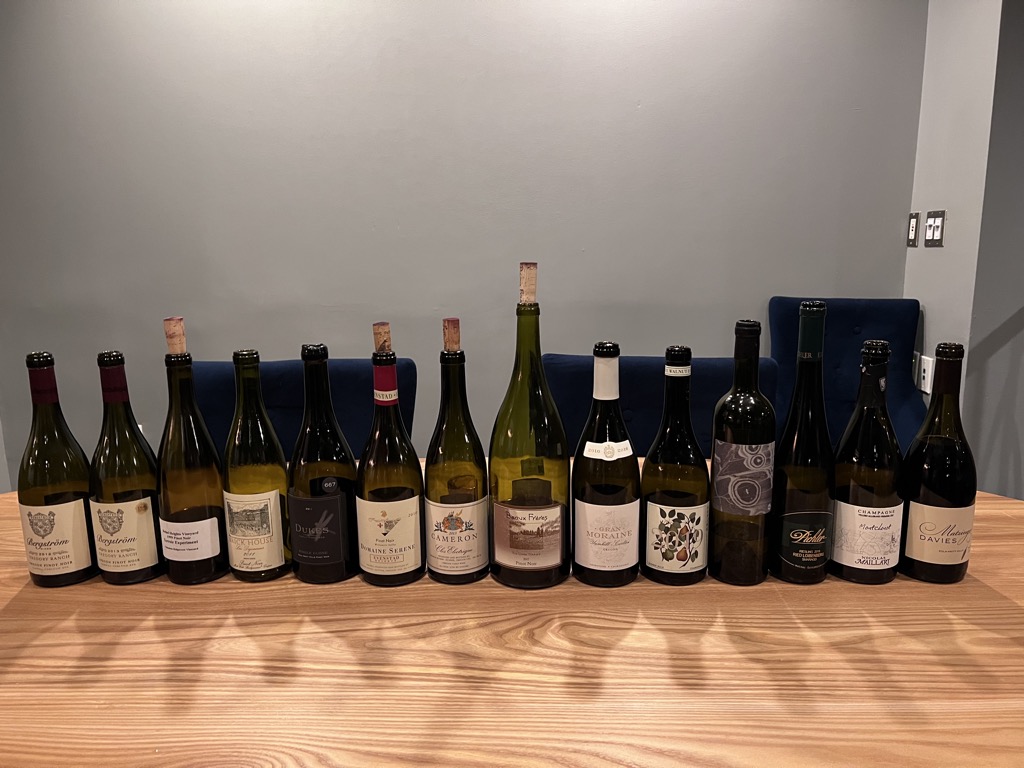 If you have been on the fence about visiting Brickhouse Wines, it is time to make an appointment on their website and visit. If you are standing on the sidewalk looking at the fence, take a few steps backward, run as fast as possible, jump over the fence and make a reservation to visit. In either scenario, you will not regret visiting. One of the items on my bucket list this summer is to sit outside looking over the vineyard while tasting some incredible wine. When you visit, let them know, "A.J. sent me!" They will look at you weirdly because they don't know who I am, but tell them anyway just to get a few laughs!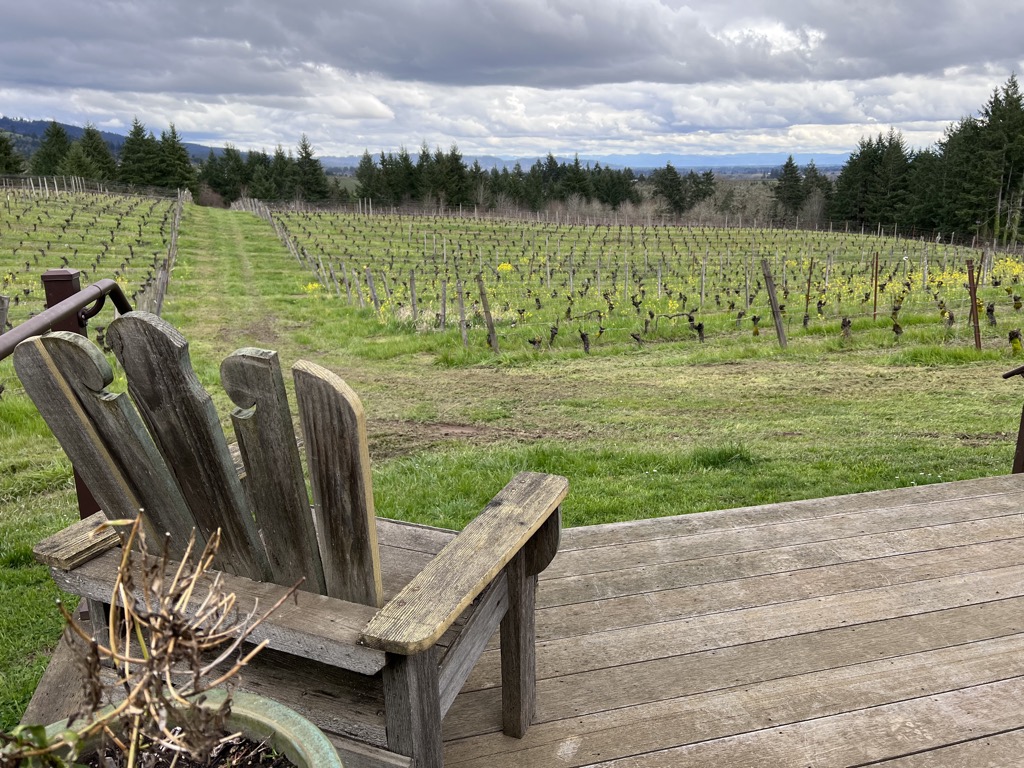 With Gratitude,
A.J. Weinzettel