On Sunday, I couldn't take being cooped up in the house anymore. The sun was bright. The sky was blue, and it was warm enough outside. I put on my biking gear and decided to take a nice ride on the backroads through Wilsonville, Newberg, and Sherwood. So many families were out taking walks and also basking in the sun. Runners, bicyclists, and automotive drivers talked, waved, and gestured during the whole ride. I am sure there was a smile on my face the entire time. I was grateful for the weather and the sincerity of others. I have held onto this small treasure all through the week.
Another treasure I have been enjoying the past couple weeks are emails from Brooks Wines. The emails continue on the story I was first introduced to when I visited in January. If you know anything about me, I am a sucker for stories. I mean, stories are the fabric of our society that are passed down from generation to generation. There are stories happening today and will share in 30 years to your family and dear friends. Sit back, relax, pour yourself a glass of wine (yes, I know it is Saturday morning, but this is self-isolation time, meaning anything goes) and enjoy.
Jimi Brooks, the founder of Brooks Wine, grew up in Oregon, went to Beaverton High School, and graduated Linfield College in 1989. He is a man who traveled the world, spent ten years in Europe while doing a harvest in Beaujolais. In doing some research, people describe Jimi as "a restless world traveler with a magnetic personality, who had a weakness for Moto Guzzi motorcycles, Unimog lorries, and vintage Land Rovers." Jimi moved to Oregon in the late 90s, where wine was starting to boom. Before Brooks Wines was created, Jimi was taken under the wing of Mo Momtazi, the vineyard owner of Maysara Winery. In this facility, Jimi was able to produce his first vintage in 1998 of 300 cases. His goal was to save up money to buy land, to crush his grapes and make wine at a cooperative facility. Jimi learned some insights from a guy named John Paul, whose story I will not dive into here. Some of these insights include keeping the business very small, under 4,000 cases, and instead of looking for a distributor, Paul mentored Jimi on selling the wines to restaurants and wine stores. Brook's Runaway Red was the result of another philosophy of Paul which was to produce an inexpensive Pinot blend. Jimi had his logic and direction for his north star. It is best to use Jimi's words here, "What interests me is my own sense of place and having something to pass on to my family." 
Going back in time a bit, in the early 90s, Jimi decided to get a tattoo on his left shoulder. The tattoo is an Ouroboros. To describe it with words, would be to say it is an ancient symbol depicting a dragon in a circle eating its tail. The interpretation of this symbol is an eternal cyclic renewal, a circle of life, death, and renewal. The tattoo is the wine label you see on every bottle of wine produced by Brooks.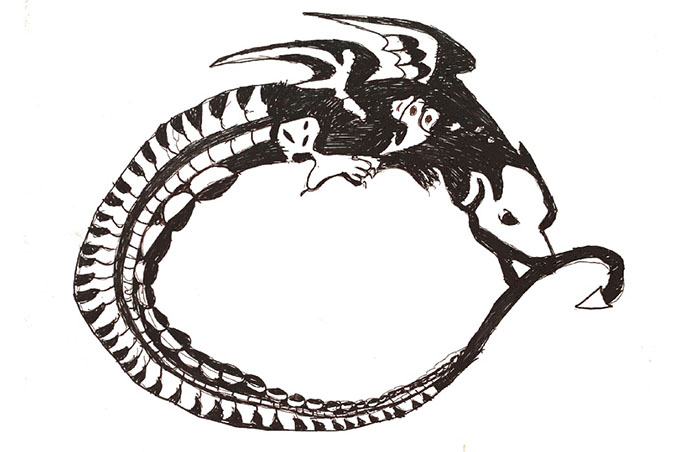 In the next part of the story, I struggled with how to put it into words. We are arriving at a part in the story where people chose to do the right thing. The reason I have so much passion for wine country is the human element where the community as a whole embraces one another. We come together to share this incredible beverage in our glasses to share the good and bad times. We have memories of life events over wine. We save bottles of wine for those special moments. This next paragraph is all about the wine community coming together to do the right thing and to embrace as a family. 
To refresh your memories a bit on the timeline. In 1998 Jimi started Brooks wine in 1998 with 300 cases. In 2004, Brooks wine produced 3,500 cases of wine. Six years of hard work, dedication, and persistence paid off. The problem with 2004, though, was Jimi suddenly passed away two weeks before harvest from an aortic aneurism (a heart attack). The next little bit, I can't begin to do justice, and so with the permission of Jimi's sister, Janie Heuck, here are her words to describe what happened next.
In 2004, when our founder, my brother Jimi, passed away at the age of 38, I was embraced by the Oregon wine community. Twelve wineries took our fruit and made wine for us for free to keep Brooks going. 

In the near term, their decision was driven by wanting to honor the fruit commitments Jimi had made. In the long term, it was to preserve what Jimi frequently said was all he had to pass down to his then 8 year old son, Pascal– the winery.

Those wineries included Patricia Green Cellars, Bergstrom Wines, Rex Hill, RR, Ransom, Cristom, Westrey, J.K. Carriere, Solena, J. Christopher, Ponzi and Momtazi. To this day, these people are my friends and my community.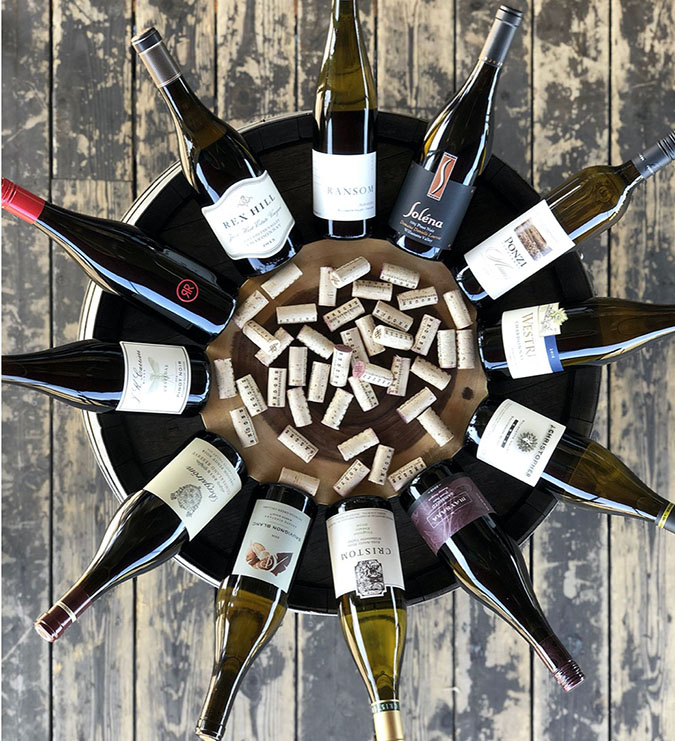 When I visited the winery, and my jaw hit the floor when I heard this story. My heart went out to Janie and Pascal. I can't even imagine the detour their lives took. I paused for many minutes and looked through the eyes of my 11-year-old daughter. What would she go through if I suddenly passed away? How would her life look? What lessons in life would she learn from me and take with her through life? What would she remember? What would she forget? What stories would she tell? Would she try to follow in my footsteps? Would she be brave enough to explore her passions? So many questions with so few answers. 
For Janie, I adore the love she has for her brother. Being an only child, I can't put myself in her shoes. Her life also took a significant detour. She studied accounting from the University of Arizona and had no intention of working in the wine industry. After graduating, she spent ten years working in the healthcare industry. I can't say enough about Janie for keeping the spirit of her brother alive by volunteering to manage Brooks Wines and learning everything she can about making and selling wine. 
When I visited the winery in January, I was overwhelmed by the sheer volume of labels presented before me. I tasted 12 different wines and ten various labels. When you visit the website, there are 24 different labels for whites (Riesling, Pinot Blanc, White Wine, Muscat, and Viognier), a Tempranillo, and 18 different Pinots. I am going to provide a few notes on what I sampled, but let's start with a great story from Janie about their Runaway Run.
Every once in a while I have a Jimi connection. On occasion, I meet someone that knew him, I hear a story about him or I walk in places he walked. Recently, I had one of these moments with our Runaway Red Pinot Noir, the kind of moment that reinforces my gratitude and sense of community. Right now, this wine holds a very special place in my heart as it is a work horse across the country supporting our distributors, their sales reps, our retail partners and in a few cases, restaurants. One distributor said "It might just be what keeps our lights on". This fills my heart. I thought I'd take this chance to share with you the story of how Runaway Red came to be.

The Story of Runaway Red Pinot Noir

During the 1999 vintage, Jimi was determined to make a hand crafted Pinot Noir at an entry level price. He was the assistant winemaker at WillaKenzie at the time and would do his Brooks work late at night. On one of those nights, Jimi was bringing two barrels of his wine on the forklift from the upper production area to the barrel room below. Part way down the driveway, one of the barrels rolled off its rack and into the darkness, followed by a CRACK and a SPLASH. Jimi was pretty bummed figuring he just lost one of his six barrels of Pinot.

He and a coworker grabbed a flashlight and headed down the hill into the dark. Upon getting to the bottom, they found the barrel was still fully intact. It rolled off perfectly to punch the bung in nice and tight. It made it down the hill…through a fence..and splashed into a small creek. With a little muscle they moved it out of the water and the next day brought a tractor down and loaded the barrel into the bucket to bring it back to the barrel room. Later that day Ann Williams, a friend and coworker, put a label on the front of the barrel that said "Runaway Red". Jimi hadn't created a label yet for this wine but liked that name.

Jimi was an avid reader of history from around the world. He decided to use the name Runaway Red and as a pun and decided to put Leon Trotsky's picture on the label since he was a runaway red. Trotsky was expelled from Russia in 1929 and fled to Mexico City where he eventually was assassinated at his home. In July of 2004, Jimi visited his home. In January of 2020, I visited his home. It is a wonderful museum and so meaningful to me to help me better understand what Jimi knew about this part of history. I love walking where Jimi did.

The label (photos at top) has plenty of symbolism to tell the story. Trotsky was killed with a pickaxe. Jimi put an ice pick on the label since it is easier to recognize. On the back label you see the barrel rolling down the hill. Peace. Bread. Land. were the battle cry during the 1917 Revolution in Russia. Jimi added "wine". Today, those four words represent out commitments. You can read more about these here.
Here is the list of wines I sampled during my January visit. Please note, not everyone has the same taste buds/preferences, and just because I like or dislike something, it does not mean you will encounter the same results. I will say overall I really enjoy the wines at Brooks and will be spending more time there this summer to dive into the other labels I didn't get a chance to savor.
2018 100% Pinot Rose – I am not a Rose person, and so I didn't enjoy this pour. If you like Rose, you will want to check this one out!
2016 Terue Pinot Noir – This is a Chris Williams label with inspiration from Japan. The tannins were high and had a little funk to it. I enjoyed it.
2016 Janus – If you like a smooth, elegant Pinot, Janus is a top-notch choice.
2012 Janus – To me, this a typical excellent 2012 and highly recommend.
2016 Old Vine Pommard – The oldest vines, planted in 1973, on the property make up this wine. For some reason, I could smell oak, and the taste was smooth all the way through.
2016 Big Cheese (50% 777 and 50% Pommard clones) – This is a bigger bolder Pinot, darker in color with high tannins a little funk. I am not a fan of bolder high tannins wine.
2012 Rastaban (Pommard, 777 and Dijon 157 clones) – I feel in love with this pour even with higher tannins.
2012 Temperance Hill (Pommard and Wadenswil clones) – Not as smooth as the Rastaban, but still very drinkable. I enjoyed the spice and kick on the exit of the palette.
2017 Brooks Estate Riesling – This was ok for me. I can't appreciate Riesling enough yet to seriously say anything about the varietal. It wasn't too sweet, and I need to circle back around once I get my head around Riesling.
2016 Sweet P Riesling – This was very sweet to me and wasn't a fan, but if you enjoy a sweet Riesling, give this one a shot! A factoid, I appreciate about the back label of the Riesling's at Brooks is they all have a Dry to Sweet scale. I knew this was a sweet wine, and I probably knew I wouldn't like it, but I wanted to be open-minded.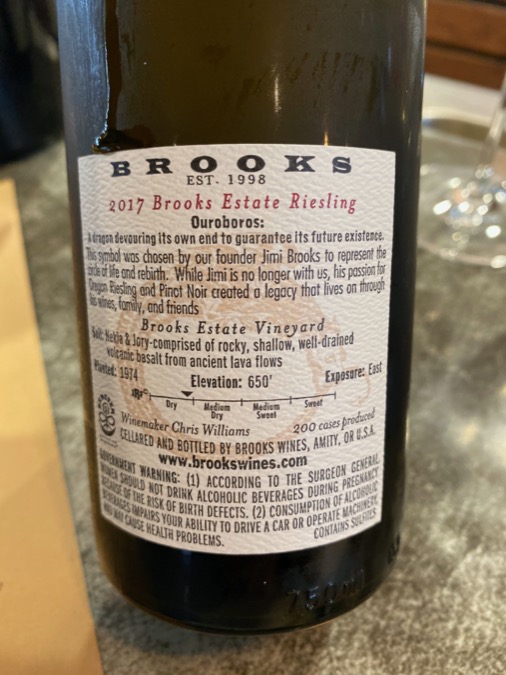 2013 The Triplets – From the back label: This is a set of three Rieslings (Glacier, Ocean, and Basalt). Three soils. Three winemakers. Nine unique wines. Fruit was traded between three riesling passionistas: Brooks, Chehalem, and Trisaetum to decide whether "Land" or "Hands" holds sway. At this point in the tasting, I had so many pours, my taste buds were shot, and so my last pour was the Ocean Trisaetum. It wasn't bone dry on the scale, just a little dry. I enjoyed the sweet smell without the sweet taste.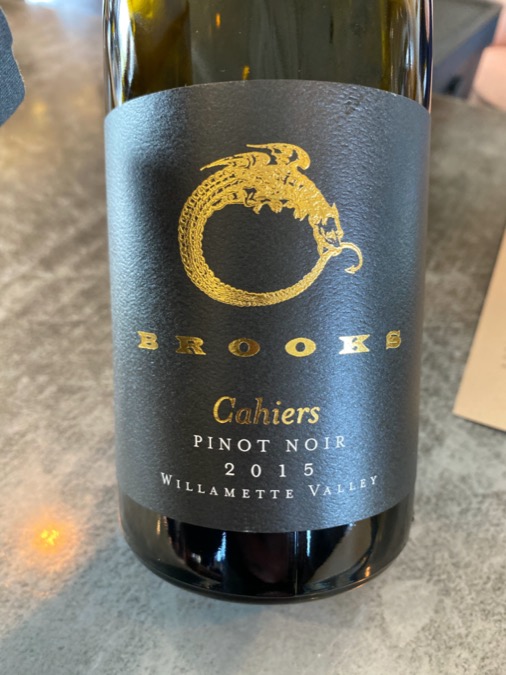 I am saving my favorite pour of the tasting for last, even though it was my second pour of the tasting. Also, I want to mention I knew nothing of the story behind this wine before I tasted it. I don't want you to think my judgment was swayed for my passion of the story. With all of that being said, my favorite pour was the 2015 Cahiers Pinot. If you are curious about how to pronounce Cahiers remember the very first Die Hard where Bruce Willis says, "Yippee ki yay". Cahiers is pronounced "ki yay". Cahiers in French means notebook. Pascal grew up reading his dad's journals/notebook to learn who is dad was and what he stood for. Pascal was asked to create his first label for his 21st birthday, and the 2015 Cahiers is the result.
As I have been exploring the depths of wine, more and more, I am finding a pattern that fascinates during introspection. The people I enjoy being around are those who have substance, provide an intellectual insight into life, and a particular fire/spark is emanating from their soul. These people carry themself with pride and have a purpose. They are complex and honest. I am finding the wine I thoroughly enjoy also share these same characteristics. I would describe the Cahiers to be this complicated and funky wine that grabs you immediately with the nose until the everlasting finish on the palette. The funk on this was delightful, not overpowering, and yet smooth through and through. I adore the fact there is a story behind my favorite pour. I am forever a fan of this label and will be buying/consuming every vintage going forward. During last week's wine meeting, Eric Drinkersaid the Cahiers Riesling was terrific. This summer, I am going back to Brooks for sure!
I ended my multi-hour tasting and left with:
– 2012 Janus Pinot Noir
– 2012 Rastaban Pinot Noir
– 2013 Triplet Ocean Riesling
– 2015 Cahiers Pinot Noir (2 bottles)
– 2016 Crannell Pinot Noir (the couple sitting next to me said to buy it)
Now, I have to go back to the real world and avoid reading the doom and gloom headlines of CNN. Engrossing myself, learning about Brooks, Jimi, Janie, and Pascal has been a treat and an honor. We are lucky they have shared so much of this story with us. If you want more, there is a documentary called "American Wine Story" that dives into the world of wine, but also the story of Brooks. "The Story of Brooks" is in the past, and it is so easy to get engrossed in the story. I would love to see what Pascal does in the future and hoping it is in the wine industry, but this isn't a Hollywood story. As much as I would enjoy consuming future Cahiers I ultimately want Pascal to find his path and to follow his heart wherever it takes him. If you are curious to hear from Pascal, here is a video from Janie's email last week. I highly encourage you to visit the website, scroll to the bottom of the page, and sign up for their newsletter. If you are interested in meeting up at Brooks when things open back up, reply to this email and let me know. I will put together a group to meet, share stories, wine, and good times in the sun.
​
With Gratitude,
A.J. Weinzettel